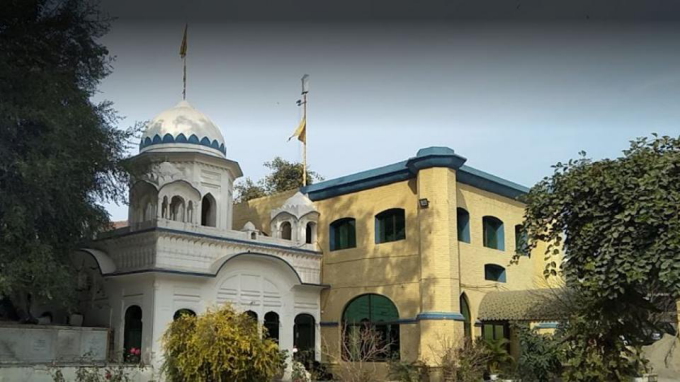 After leaving Rori Sahib we headed straight to city of Sialkot. We crossed the market street named Babe De Ber Road, and I was wondering how come this name? Suddenly, we were in front of the Gurudwara by the same name. The place was abandoned after the partition of the country in 1947, as most of the Sikhs migrated to India. However the Gurudwara was reopened in 2013 AD after essential restoration work was carried out. Now, the renovation of this shrine is taking place, and the significant thing is that the renovation effort is being spearheaded by the local Sikh community. It is a very hopeful sign of new found confidence and resurgence of the Sikhs there. Just yesterday, I heard the news item (500-year-old gurdwara opens doors for Indian pilgrims) that this Gurudwara has formally opened its doors for Sikh pilgrims arriving for 550th Parkash Purab of Guru Nanak Dev Ji in November 2019.
The stories associated with the visit by Guru Ji are frequently heard in Gurudwara discourses, but then the visit is not complete without a refresher, so let us revisit the historical association. After all, that is the connection to the roots which is always nurturing.
In 1510 AD from Eminabad, Guru Ji came to Sialkot, and decided to camp under a shady Ber tree near the burial grounds.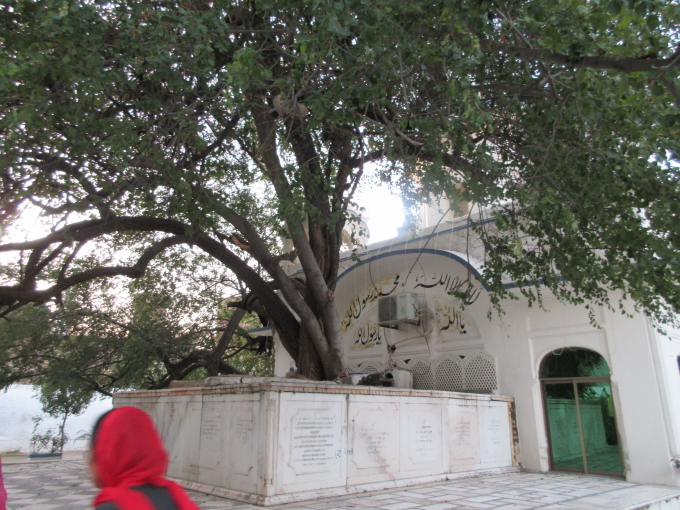 In this city lived a famous Muslim Pir named Hamza Gaus. He had great occult powers, and he used spells and charms to fulfill wishes of the people. Hearing about his fame an issueless wife of Khatri Hindu named Giga approached him and begged to intercede for them for the gift of a son.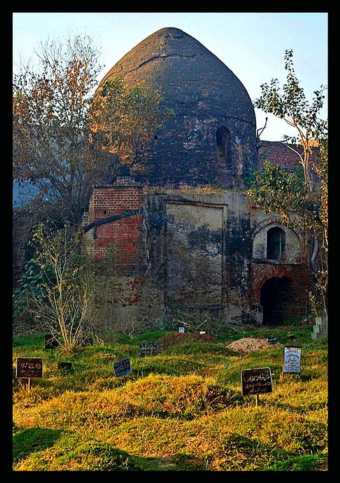 Giga agreed to the Pir's prerequisite that he give the first-born child to him. Hamza Gaus prayed for fulfilment of their wishes, in due course they were blessed with three sons. Giga took the eldest to the Pir and said; "Here is the child and now name his price. I shall pay that and buy him from you; for such is the practice in such cases."
Hamza Gaus insisted that Giga keep his word and give him the child. Giga's wife was not ready to part with the son, especially as she did not want him to be converted by the Pir. Although Giga offered him a large sum of money, even weight for weight in silver and gold, but the Pir would have none of it. Frustrated, Giga took the child back to his home, thus making Pir very angry. He vowed vengeance just not on Giga; but on the whole city which harbored such a promise-breaker. So he retired into a small domed room for penance. Closing the door from inside, he directed his disciples not to disturb him or let him to be disturbed on any account for forty days. With his occult powers he wanted doom to fall on the city and its people after 40 days destroying it completely.
Twenty-five days had passed; everyone was gripped in panic with the thought of approaching calamity. Many began to observe fasts and to say prayers to their various deities, asking to be saved. Guru Ji sent Mardana to the Pir's place. He was to tell the watchers at the door that a Minstrel of God Almighty has come and would like to speak to the Pir. The Pir's disciples said that they dare not to disobey him by informing him. So Mardana returned back. Guru Ji sent him again asking to appeal in the name of God and on behalf of the whole populace of the city. If all the appeals failed, he was to tell the watch-keepers at the door that their Pir's Chaliya or forty day penance would be broken by the Will of God exactly at mid-day. Mardana went and conveyed all this and returned back as the disciples of the Pir did not dare to inform him.
Gradually, the news spread in the city that Guru Ji has foretold that the Pir would not succeed in his objective. Soon crowds gathered around Guru Ji. He sat with his eyes half-shut and slightly raised in the direction of the dome under which sat the Pir. Mardana was playing the rebeck and singing one of the Master's Songs of prayer and invocation to the Almighty father of all.
Anxious people sat down waiting in great suspense. The sun slowly climbed up the sky. Exactly at noon a loud sound was heard from the direction of the dome. The dome under which the Pir sat in concentration had cracked as if it was hit by thunder bolt. The bright sun rays penetrated into the dark room through the crack and fell on the head of the Pir. The cataclysm of loud sound from the crack and the bright beam of rays penetrating the dome interrupted his concentration. The panicked Pir opened the door and rushed out for his own safety, his penance interrupted.
The people felt relieved from the consequences of the dreaded Pir's wrath. Elated, they all bowed to the Guru Ji and thanked him for saving them. In the meantime the Pir was briefed by his followers, humbled he came to the Guru Ji. Guru Ji pointed out to him that his wrath against a whole city was not justified. The Pir complained that the Giga had broken his promise and deserved the chastisement along with his neighbors, who had not impressed upon him to keep his word. "In fact," he added; "all people here are mammon-infatuated liars and deserve no mercy." Guru Ji response was that sinners should be reclaimed and not destroyed. Guru Ji added; "We men of God, should sow seeds of love and amity among the people. Moreover, why should a saint (faqir) wish to have someone as his son? You have your disciples to serve you. If you wish to have children, get married." The Pir was still spitting venom against the town folk. Guru Ji suggested that let us verify if everyone in the town is spiritually bankrupt as the Pir believed.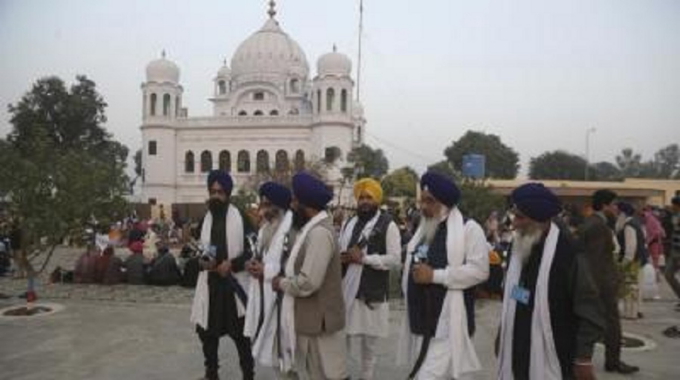 Guru Ji asked Mardana to go to the market and purchase for him truth and falsehood worth two paisas (2 cents of Indian currency). Mardana went around shopping for truth and falsehood. But all laughed out at his queer quest. None took him seriously until he reached the shop of one Moola Kirar. The latter wrote on a slip of paper; "Death is true! Life is false." This paper he gave to Mardana for delivery to Guru Ji in exchange of money.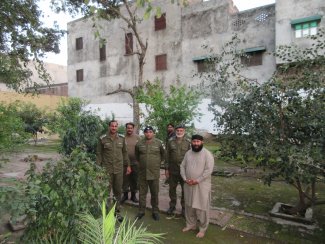 When Mardana gave the slip of paper to Guru Ji, he turned it to Pir and said; "You see, here we have one who is spiritually alive, who knows what is true and what is false and cannot be mammon-infatuated. So your wrath against the whole city was unjust and unjustified." The Pir convinced of his folly, bowed before Guru Ji and vowed to live, thenceforth, as a torch-bearer of the all-loving, Merciful God. The Jujube (Ber, Ziziphus mauritiana) tree, under which Guru Ji sat, is still green and alive. The ruins of domed cell of the Pir with its cracked top still stands within sight of the Gurudwara, but entry into the place is prohibited out of safety concerns.
Moola Kirar hastened to meet Guru Ji and fell at his feet. Guru Ji was glad to receive him. Moola accompanied Guru Ji on his travels for some time. Then he returned home. When Guru Ji visited the city the second time in 1517, he sent for him. Moola, it seems had enough of the sort of life which Guru's company entailed; and he did not wish to be away from family again. So he hid himself in a dark room within his house. His wife told Mardana that Moola had left for a distant place. When Mardana delivered her message to Guru Ji, he came there personally. Moola's wife said to Guru Ji; "He is not there." Guru Ji asked her if she was sure, but she replied in negative again. Guru Ji said to her; "If he is not there; then he is not there (in the world)." On leaving Moola's house Guru Ji turned to Mardana and said: "This man used to declare that life is false and death is real, yet now he seeks to cling to what is false. But who can escape death? It comes to all, wherever one may be."
As Moola lay hidden in the dark room, he was bitten by a snake and died instantly. On hearing this Guru Ji addressed Moola in these words:
ਨਾਲਿ ਕਿਰਾੜਾ ਦੋਸਤੀ ਕੂੜੈ ਕੂੜੀ ਪਾਇ ॥ ਮਰਣੁ ਨ ਜਾਪੈ ਮੂਲਿਆ ਆਵੈ ਕਿਤੈ ਥਾਇ ॥੨੧॥ 
नालि किराड़ा दोसती कूड़ै कूड़ी पाइ ॥ मरणु न जापै मूलिआ आवै कितै थाइ ॥२१॥ 
Nāl kirāṛā ḏosṯī kūrhai kūṛī pā▫e. Maraṇ na jāpai mūli▫ā āvai kiṯai thā▫e. ||21|| (SGGS, Pg. No. 1412)
Translation: False is friendship with "Kirrars" (false and greedy). False is its foundation. O Moollah, no one knows when death shall strike.
This message addressed in the name of Moola is defining the true reality of life-which is death. Let us not forget this reality of life. However, we have new treatments, surgeries, procedures, pills, vitamins and host of other interventions that are testimonials to the human desire to live longer and keep looking young forever. Let us try to remember the ground reality - inevitability of death.
Related articles:
Quest for Khuley Darshan - Part 1: Kartarpur
Quest for Khuley Darshan - Part 2: Janam Asthaan
Quest for Khuley Darshan - Part 3: Sacha Sauda
Quest for Khuley Darshan - Part 4: Birthplace of Langar
Quest for Khuley Darshan - Part 5: Bed of Stones
Quest for Khuley Darshan - Part 6: Birth of Martyrdom
Quest for Khuley Darshan - Part 7: Mother's Birthplace
Quest for Khuley Darshan - Part 8: Panja Sahib
Quest for Khuley Darshan - Part 9: Baba's Tree
Quest for Khuley Darshan - Part 10: Nanaki's Birthplace
Quest for Khuley Darshan - Part 11: 4th Guru Birthplace
Quest for Khuley Darshan - Part 12: HotBed of History
Quest for Khuley Darshan - Part 13: Conclusion