Other SikhNet Apps: Gurbani Media Center - SGGS Katha - SikhNet Audio Stories - SikhNet Mobile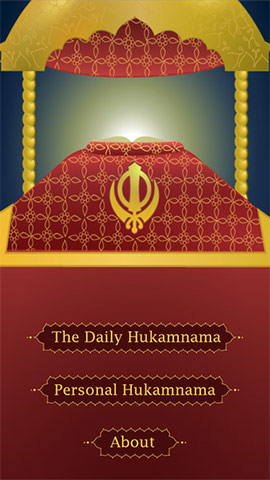 In our busy lives, it can be difficult to remember what is important in life. The SikhNet Daily Hukamnama App brings the words of the Guru into the hustle and bustle of your daily life, creating a moment of reflection and peace.
SikhNet and the Sikh Spirit Foundation are proud to launch the SikhNet Daily Hukamnama iPhone app. This app brings the wisdom of the Guru directly to your mobile device. The free app is now available through the iPhone App Store.


SikhNet would like to give a special thanks to Jasdeep Singh from San Antonio, Texas who volunteered his time to help create the Android version of this app, which became available in December of 2015.
DOWNLOAD ANDROID VERSION ON GOOGLE PLAY
A centuries old tradition, a Hukam (order of the day) is read aloud each morning at the Golden Temple in Amritsar, India to guide the hearts and minds of the Guru's Sikhs. Up until now, people had to go somewhere - to their Gurdwara, their email, or a website - to receive the hukam. Now you can see the Hukam the moment it becomes available and be notified as soon as it arrives and view translations and transliterations of the Hukam in Punjabi, English, Spanish and Hindi. The Guru's words and presence are now instantly global. Choose from four beautifully designed color themes.
Sharing the Hukam is easy. Use email, SMS, Facebook or Twitter.
The iPhone versions allows you to listen to the audio broadcast from Harmandir Sahib (Darbar Sahib) along with audio explanations in Punjabi or English. You can also receive a personal Hukam from the Siri Guru Granth Sahib for guidance whenever you wish.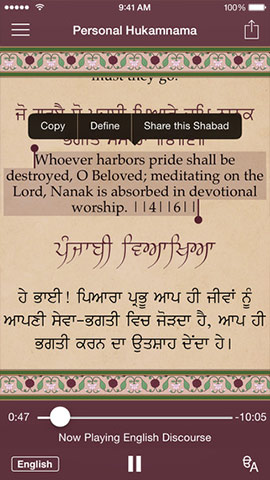 NEW Features
► App now totally free (no purchase needed for audio or personal hukam)

► Completely re-created (new code and simpler design)

► Drag and drop audio progress bar to jump ahead in audio

► New landscape option (full screen mode) great for Apple TV mirroring on large screen.

► Select a Gurbani line and share the "quote" and link to the hukam

► Native design now for iPad and all iphone versions.

► Writer, raag and Ang listed on top of the hukam

 
App Feature Details
► Receive notifications each day as soon as the Hukam from the Harimandir Sahib becomes available.

► Notifications pull a quote from the Hukam for an inspirational touch.

► You can read the Hukam in Gurmukhi, as well as Punjabi, English, and Spanish translations or Hindi transliteration.

► Chose from four beautifully designed themes to display the Hukam

► Share the Hukam via email, SMS, Facebook and Twitter.

► Listen to the original audio recording of the Hukamnama from Harimandir Sahib

► Connect with the meaning of what the Guru is saying with audio explanations of the Hukam in Punjabi and in English

► Ask a question of the Guru and receive your own Personal Hukam any time.


More Apps from SikhNet

SikhNet Gurbani Media Center - Access the largest collection of Gurbani Kirtan! 
Available on: iOS - Android

Siri Guru Granth Sahib Katha App - Receive notifications when the Hukam is ready, customize formats, and more.
Available on: iOS - Android
 
SikhNet Audio Stories for Kids - Entertaining and inspiring spiritual audio stories about Sikhs, Saints and Heroes. 
Available on: iOS - Android