In Part 2 of the Series, we explored the Gurudwara Janam Asthan in Nankana Sahib, and in this Part 3 we will visit the other historical shrines in Nankana Sahib.
Gurudwara Patti (wooden tablet for writing) Sahib: This is the place where Guru Nanak Dev was sent to learn Devnagari from Pandit Gopal Das, at the age 7 years. Guru Ji was first taught how to write the alphabets on the patti, which he mastered quickly. One day, Guru Ji sat alone in a corner and was fully engrossed in writing and humming along. The Pandit became curious and wanted to see what his pupil had written. He asked the child Nanak to show him the patti. Guru Ji handed over the patti to the teacher. The patti had each letter of the alphabet and its spiritual meaning and connotations. For one, Guru Ji wrote that One Lord takes away and that One gives. There is no second that I have heard of. To Pandit's amazement this is not what he taught in language or in mathematics. His amazement could not be contained and he read the poetry on the patti, again and again. Finally, Pandit admonished Guru Ji and asked why he is not learning what his father wants him to master, so that he will be proficient, accomplished and successful in life. Guru Ji's reply was:  
"ਬਾਬਾ ਏਹੁ ਲੇਖਾ ਲਿਖਿ ਜਾਣੁ ॥ ਜਿਥੈ ਲੇਖਾ ਮੰਗੀਐ ਤਿਥੈ ਹੋਇ ਸਚਾ ਨੀਸਾਣੁ ॥1॥ ਰਹਾਉ ॥
"Baabaa eh lekhaa likh jaan, Jithai lekhaa ma(n)geeaai tithai hoi sachaa neesaan.1. Rahaau."    (SGGS, Pg. No. 16)
Translation: O respected Senior! (Let me) Learn to write the account in such a fashion, that when your life's account is reviewed, it will bring Full Marks (of Truth – being debt free). Pause.
Pandit was quite amazed as he had never been challenged by a student like this. Finally, the Pandit in awe bowed his head to the words on the patti, and took the child Nanak to his father. There he told the father Mehta Kalu that the child has mastered whatever he can teach. Then he added, "In fact, child Nanak will teach the entire mankind." Mehta Kalu could not believe the teacher. The Patti that Guru Ji wrote is now inscribed in Guru Granth Sahib starting on page 432 under the heading of Patti Likhee. The second word of the title is conveying that the writing is by Guru Ji at that time, and it was not written later in life as a discourse on the purpose of life.    
Gurudwara Bal Lila:  When Guru Ji finished his studies under Gopal, next his father engaged a Sanskrit teacher named Brij Nath, but the results were same as before. Next, he engaged Maulvi Kutub-Ud-Din to teach Persian to Guru Ji, but the results were same again. Guru Ji sang this shabad in chaste Persian to the teacher:
"ਯਕ ਅਰਜ ਗੁਫਤਮ ਪੇਸਿ ਤੋ ਦਰ ਗੋਸ ਕੁਨ ਕਰਤਾਰ ॥ ਹਕਾ ਕਬੀਰ ਕਰੀਮ ਤੂ ਬੇਐਬ ਪਰਵਦਗਾਰ ॥1॥"
"Yak araj gufatam pes to dhar gos kun karataar. Hakaa kabeer kareem too beaaib paravadhagaar.1."   (SGGS, Pg. No. 721)
Translation: I offer this one prayer to You; please listen to it, O Creator Lord. You are true, great, merciful and spotless, O Cherisher Lord.
The teacher again declared that the pupil already knew what he had to offer and teach. Thus Guru Ji was free again to enjoy nature, have discussions with religious men and be with God. This is the place Guru Ji used to play with his friends, and also taught them how to engage in meditation of the Almighty. Guru Ji spent first thirteen (13) years of his life in this place.  When we visited this place, the hukamnamma there was:
"ਹਰਿ ਜਨੁ ਰਾਮ ਨਾਮ ਗੁਨ ਗਾਵੈ ॥ ਜੇ ਕੋਈ ਨਿੰਦ ਕਰੇ ਹਰਿ ਜਨ ਕੀ ਅਪੁਨਾ ਗੁਨੁ ਨ ਗਵਾਵੈ ॥1॥ ਰਹਾਉ ॥"
"Har jan raam naam gun gaavai. Jae koiee ni(n)dh kare har jan kee apunaa gun na gavaavai. 1. Rahaau."   (SGGS, Pg. No. 719)
Translation: The Lord's humble servant sings the Glorious Praises of the Lord's Name. Even if someone slanders the Lord's humble servant, he does not give up his own goodness. 1. Pause.
It is amazing to note that the words of Hukamnamma were actually befitting to the personality of Guru Nanak Dev Ji.
Gurudwara Kiara Sahib:  After Guru Ji finished his education, an amazing incident happened in 1482 AD. Mehta Kalu did not like Guru Ji idling away his time, so he thought that it will be to his liking to be in nature, so assigned him the task of grazing the cattle. Guru Ji started doing that work and he would take them out in the morning and return home with them in the evening. One day, while resting underneath a shady tree, Guru Ji was immersed in meditation and his cattle and buffalo grazed as they pleased, with none to watch over them or stop them. Straying into the neighboring field, they feasted on the green crop. Then suddenly the farmer who owned the fields appeared on the scene, seeing the ruined crop made him really mad. He drove the animals out and woke Guru Ji up and said look at crop damage your cattle have done. Guru Ji calmly responded that God will bless your fields. This further fanned his anger and he headed out to complain to the ruler Rai Bular. Rai Bular tried to calm down the farmer, and sent one of his men, for on the spot investigation. The person doing the investigation noticed no crop damage, so he shouted at the farmer for making false allegations out of greed. Both of them went back and reported the findings to Rai. Rai asked the farmer if what was being reported to him was true. Farmer said; "Yes sir!" Rai had earlier heard of many strange stories of child Nanak but this incident confirmed for him for sure, that child Nanak was man of God.     
Gurudwara Mall Ji Sahib: This place is very close to Gurudwara Kiara Sahib. This holy place is also associated with Guru Ji's childhood of taking cattle for grazing. This incident happened shortly after incident of Kiara Sahib. Here one day while grazing the cattle and buffalos, Guru Ji decided to rest under a shady tree. Guru Ji was soon in a deep trance. Guru Ji was in his own world, totally oblivious of this world, hearing nothing, and seeing nothing. The shade over him was removed with the Sun moving; suddenly the whole face was lit with sunshine. A big cobra appeared from nowhere and shielded Guru Ji's face by spreading its hood. Rai Bular, the ruler of Talwandi (as it was known then) while passing by, saw it with his own eyes. Concerned that the snake could have bitten Guru Ji, he rushed in quickly to check. He saw that the snake quickly snailing back to its pit. Rai Bular woke up Guru Ji, to make sure that Guru Ji was alive. Relieved to find Guru Ji safe and sound, he started back towards his house. On the way home Rai was thinking that Guru Ji must have some divine qualities that even the poisonous cobra snake does not bite Guru Ji, but instead shades Guru Ji from sunshine. From that day he revered Guru Ji as the holy prophet. He also told Guru Ji's father Mehta Kalu that Guru Ji was not ordinary child, but special and a holy preceptor of mankind. He advised Klu Ji not to treat him like any other normal child.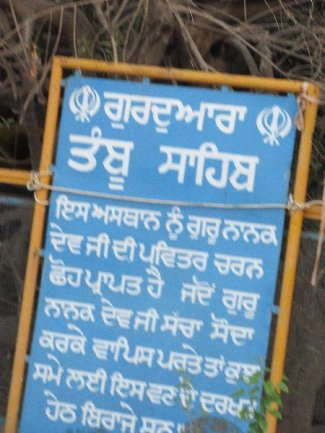 Gurudwara Tambu Sahib:  This is the place Guru Ji rested after returning Sacha Sauda (see next Part 4). Here next to a well under the tree Guru Ji rested which branches with leafs spread like a tent and completely sheltered Guru Ji. This tree still is green and alive. This is the spot where father Mehta Kalu came next day morning, along with Bala when he found out that Bala had already returned home a day earlier. Mehta Kalu's fury was in full rage when he heard the story from Bala, and on meeting Guru Ji he unleashed the fury with a slaps on face. It was Bebe Nanaki, who followed her father at the instructions of her mother and separated Guru Nanak by getting in the middle between the two of them. 
Gurudwara Panjvi Patshahi and Chevi Patshahi: These two shrines adjacent to each other were built in memory of visit of respective Gurus. Gurudwara Panjvi Pathshahi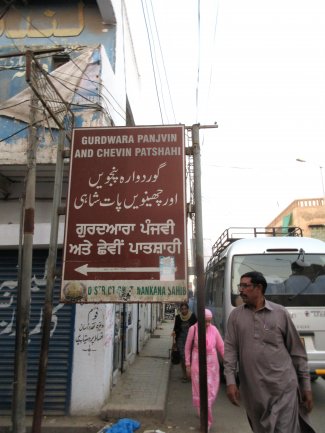 commemorates the place of stay of fifth Guru Arjan Dev Ji in Nankana Sahib. Gurudwara Chevi Pathshahi commemorates the place of stay by Guru Hargobind Sahib Ji in 1613 AD after returning from visit to Kashmir. The trunk of the tree to which Guru Ji tied his horse, before going to visit Gurudwara Janam Asthan of Guru Nanak Dev Ji is preserved in the glass case on second floor inside the domed Gurudwara. The visits by these two Gurus are an exemplar and an inspiration for us to visit these places associated with Guru Nanak Dev Ji.
  In part four we explore the Gurudwara Sacha Sauda.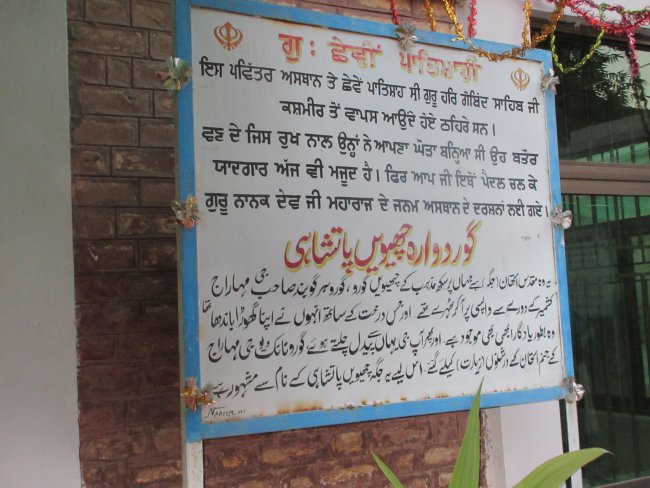 Related articles:
Quest for Khuley Darshan - Part 1: Kartarpur
Quest for Khuley Darshan - Part 2: Janam Asthaan
Quest for Khuley Darshan - Part 3: Sacha Sauda
Quest for Khuley Darshan - Part 4: Birthplace of Langar
Quest for Khuley Darshan - Part 5: Bed of Stones
Quest for Khuley Darshan - Part 6: Birth of Martyrdom
Quest for Khuley Darshan - Part 7: Mother's Birthplace
Quest for Khuley Darshan - Part 8: Panja Sahib
Quest for Khuley Darshan - Part 9: Baba's Tree
Quest for Khuley Darshan - Part 10: Nanaki's Birthplace
Quest for Khuley Darshan - Part 11: 4th Guru Birthplace
Quest for Khuley Darshan - Part 12: HotBed of History
Quest for Khuley Darshan - Part 13: Conclusion