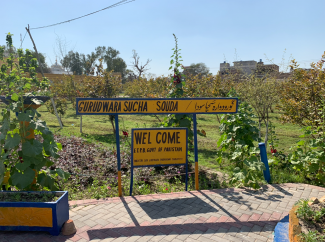 This small township known as Chuharkana during the times of Guru Nanak Dev Ji is the place of birth of revolutionary concept of langar, which today has spread worldwide. It is really amazing that one small incident gave birth to a novel idea that has captivated the world by its sheer size, scale and reach. Most of the time langar is associated with the Sikh place of worship known as Gurudwara. But in recent times the Sikhs have taken the langar to the places, where it was needed most: when a calamity strikes. This is truly in line with Guru Ji's original concept of taking the food to the hungry and needy. This place is now renamed as Farookabad, in Sheikhupura District of Pakistan. It is located close to on the highway that connects Lahore to Peshawar.
Let us first have a brief look at the history of this revolutionary concept that Guru Ji initiated there. In Part 3, of this series we saw the various sites associated with Guru Ji's childhood. Those sites were related to Guru Ji's early life as education, playing with friends, farming, trading, and also herding cows and buffalos. But, we also visited the site known as Gurudwara Tambu Sahib, in Nankana Sahib, this is the place Guru Ji returned to and spent the night upon return from Chuharkana. This is the place where Mehta Kalu Ji, Guru Ji's father commanded Bala to take him to, and it is here that he slapped Guru Ji on the face for "squandering away the money."
Mehta Kalu was concerned about Guru Ji's future, so he decided that marriage and family responsibility would bring about a drastic change in Guru Ji's life style. Thus, in 1487 AD Guru Ji was married to Mata Sulakhani of Gurdaspur District at age of 18. Shortly after the wedding, one day Mehta Kalu Ji came out with an idea that Guru Ji could learn to become a successful business man. He proposed to Guru Ji, "I will give you handsome money and you can make a good bargain with it, turning the investment into handsome profit by doubling or tripling it". Guru Ji responded; "I shall be glad to obey you, dear father."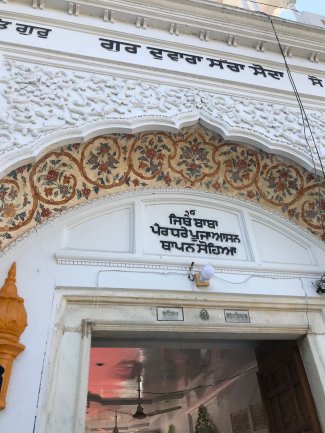 Guru Ji accompanied by Bala set out towards Chuharkana which is at a distance of 37 miles from Talwandi, with Rupees 20.00 from his father. Chuharkana was a famous salt wholesale market of the times. Guru Ji left the public road and started walking through less frequented short cuts. Suddenly he noticed a grove of tall, lush, shady trees and under it he saw a group of Sadhus. Guru Ji approached Sadhu Santren, the leader of the group and started a small conversation with him. In the process Guru Ji discovered that they had not had a meal for five days, but they were also not going to beg for food. Guru Ji thought that the best bargain with the money he had would be to feed these holy men of faith, who relied on God for food and chose not to beg. In Guru Ji's mind this would be a "true" and most "profitable bargain." Guru Ji offered the money to the leader for food. The leader refused the money informing Guru Ji that they had vowed not to touch money. Adding that, "In God we trust and He will send us food when it pleases Him." Guru Ji decided to become that channel. He along with Bala bought the provisions from the market, cooked them and served the food to the sadhus, who broke their five day long fast.
In fact, Guru Ji spent one and half months there, before returning back to Talwandi. Little did anybody realize at the time that this event was going to unleash the birth of a totally new revolutionary idea. The idea was that hungry and needy people can always get food without any charge or discrimination. In my life, I have been to many Gurudwaras around the world, and have partaken in the langars there. But I had never imagined or dreamed that one day I would stand at the spot where it all started. Then to have food there, where the revolutionary idea originated, felt like having the most delicious food ever tasted. It felt like as if I had been hungry all my life, and only today has that been satiated. We have talked about the place and also about the langar there, now let us visit the memorial there.
The Gurudwara there is a three story impressive structure with domes overlooking the wide swath of fields and green space. The shrine was built by Maharaja Ranjit Singh and is over 180 years old. After the partition in 1947, the Gurudwara was in disuse and it was only in 2,000 AD that it reopened. Now, Bhai Gurdas Singh is doing the service managing the shrine there by doing parkash daily. The ambience there is so soothing that a yearning emanates from within and whispers, "Why not just stay here?" The bani, and the kirtan recited there seems to transmit sweet nectar to the vegetation there, transforming it and making it even lusher. We even had green tea made from lemongrass grown there and it tasted refreshingly out of this world. Having that cup of lemongrass green tea under the shaded lawns in front the sprawling building and hearing the chirping of the birds, and then seeing the birds spreading their wings in a flight, etched a memorable image in my mind. I had never seen such an idyllic scenario in my whole life, and here I am today witness to it. If there is heaven on earth, it could be experienced here now and it could be stored in the memory for future replay and reliving.
Anyway, the approach roads to the motorway there show us another aspect of the township. The lanes are quite narrow and high piles of trash on either side leave just a small space wide enough to walk. So, driving the car is quite challenging, with overflowing sewers adding to the hurdles. It makes one wonder in amazement at the coexistence of environmental yin and yang together, with barking dogs, and squealing pigs adding their own music. If the Sacha Sauda Gurudwara is to become a showcase for the world for the concept of feeding the needy, then this township is in urgent need of sprucing up the place from garbage. We will have to bring the cleanliness drive to this township, so that Gurudwara Sacha Sauda can claim its rightful place from where the revolutionary idea of feeding the needy started.               
Related articles:
Quest for Khuley Darshan - Part 1: Kartarpur
Quest for Khuley Darshan - Part 2: Janam Asthaan
Quest for Khuley Darshan - Part 3: Sacha Sauda
Quest for Khuley Darshan - Part 4: Birthplace of Langar
Quest for Khuley Darshan - Part 5: Bed of Stones
Quest for Khuley Darshan - Part 6: Birth of Martyrdom
Quest for Khuley Darshan - Part 7: Mother's Birthplace
Quest for Khuley Darshan - Part 8: Panja Sahib
Quest for Khuley Darshan - Part 9: Baba's Tree
Quest for Khuley Darshan - Part 10: Nanaki's Birthplace
Quest for Khuley Darshan - Part 11: 4th Guru Birthplace
Quest for Khuley Darshan - Part 12: HotBed of History
Quest for Khuley Darshan - Part 13: Conclusion