We have earlier covered few prominent historical Gurudwaras in Lahore, but besides those, there are other gems in this historical, which we will briefly explore in this part one by one.
Lahore Fort: The historical fort of Lahore was first constructed by Akbar, and has additions that were made by subsequent Mughal rulers as Jahangir, Shah Jahan and Aurabgzeb. It is here that Guru Hargobind Sahib Ji sent Bidhi Chand to retrieve the two horses – Dilbag and Gulbag; which were forcibly taken by Governor Anait Ulah. These two horses were being brought to Guru Sahib by the sangat of Kabul as gifts. Bidi Chand was a professional thief before he embraced Sikhism from Guru Arjan Dev Ji. Bidi Chand had to use disguise to gain entry into the fort for this high risk and daring task of bringing back the horses. He brought these horses by jumping into the river Ravi from the ramparts of Lahore fort to evade the security apparatus. Later Maharaja Ranjit Singh ruled his empire from here, and also made some significant additions in the fort. Maharaja Ranjit Singh built Ath Darra (building with eight openings) where he used to hold his court. Princess Bamba's (granddaughter of Maharaja Ranjit Singh) collections of rare oil paintings are displayed at the gallery bearing her name here. There is also Sikh Armory Gallery where arms and scenes of war are displayed. Besides these artifacts on display, there is a trove of Sikh collection which is in storage since independence that needs to find a suitable home for its display.     
Gurudwara Patshahi Chhevin Muzang: This was the birth place of Mata Kaulan. Her father's name was Qazi Rustam Khan. She received her education from Saint Mian Mir (see below for further details). Bibi Kaulan used to recite Gurbani and Qazi objected to her saying that she should not recite verses of the infidels. Bibi Kaulan said to him; "Saint Mian Mir holds Gurus in such high esteem, and considers it his honor to be with them. So how can one call that person an infidel?" But Qazi was a fanatic, so he imprisoned her daughter with plans for beheading for reciting Gurbani. When Mian Mir heard about the plans to kill her daughter by beheading, he asked Guru Hargobind Ji to save her. Guru Ji rescued her from imprisonment and set her free. Guru Ji brought her to Amritsar, made a separate accommodation for her there. Guru Ji also got a pool of water named Kaulsar dug in memory of her devotion in 1627. Bibi Kaulan died in 1630 A.D.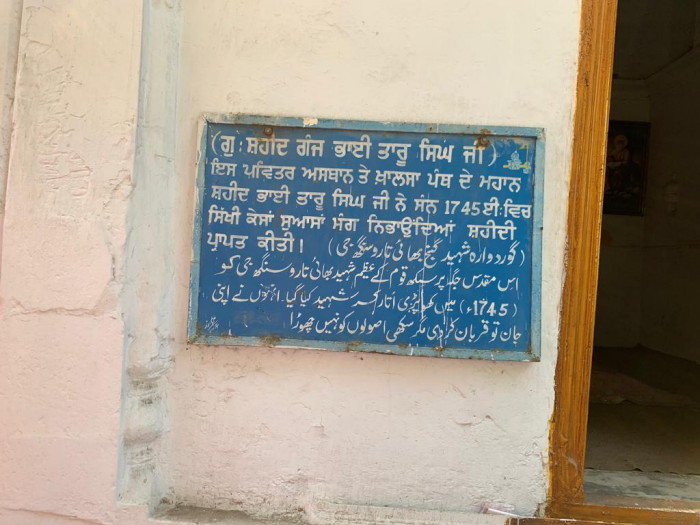 Gurudwara Bhai Taru Singh: This is the place where Bhai Taru Singh's scalp was removed in 1745 by the cobbler with a hoe, at the orders of Governor Zakaria Khan for refusing to embrace Islam. Bhai Taru Singh simply replied that he would keep his faith with his hair, and there was no need for asking him again. The punishment was given so that his hair which he refused to cut, may not grow again on his scalp. After the scalp was removed Bhai Taru singh was thrown in a ditch. Bhai Taru Singh's sacrifice is eulogized in the Sikh daily prayer with the words of "khopree-aan luhaa-ee-aan" as under:
"ਜਿਨ੍ਹਾਂ  ਸਿੰਘਾਂ  ਸਿੰਘਨਣੀਆਂ  ਨੇ  ਧਰਮ  ਹਿਤ  ਸੀਸ  ਦਿਤੇ, ਬੰਦ  ਬੰਦ  ਕੱਤਆਏ, ਖੋਪਰੀਆਂ  ਲੁਹਾਈਆਂ..."
"Jinhaan singh-aan singhnnee-aan ne dharam haet sees ditae, band band kattaa-ae, khopree-aan luhaa-ee-aan……."
Meaning: Those lionhearted men and women who never surrendered their faith but for its sake sacrificed their heads, imprisoned prisoners whose bodies were dismembered joint by joint, whose scalps were removed from their skulls,….
Bhai Taru Singh's sacrifice inspired Sikhs then and it continues to inspire even today. At present there is no parkash of Guru Granth Sahib taking place at the site, and the upkeep of the place is with a Muslim caretaker.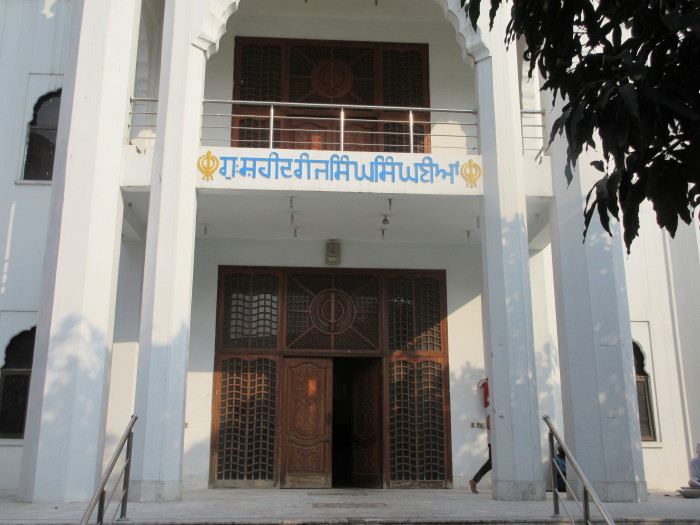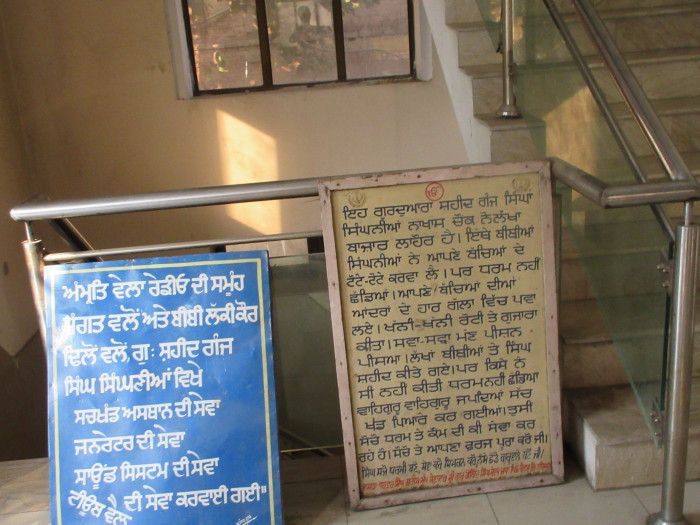 Gurudwara Shaeed Ganj Singh Singhniya: This place is right across from Gurudwara Bhai Taru Singh. According to the history 250,000 Sikhs including men women and children were martyred here on the orders of Mir Manu in 1764. These were Mir Manu's efforts to exterminate the Sikhs, leaving none alive. The dark basement where women were made to mill the grain is still preserved. These women were subjected deprivation, torture and also witnessed slaughter of their own toddlers and infants. Then they were made to wear garlands made from their severed limbs and heads, to break their spirits; yet they remained steadfast in their faith. I wonder if Bhai Taru Singh from his grave was giving them solace and strength to bear atrocities but remain firm in their faith.Their supreme sacrifice is remembered in the daily Sikh daily prayer in the line quoted above.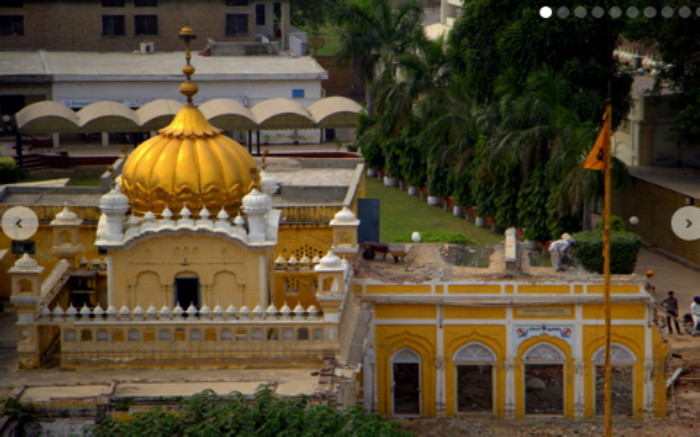 Samadhi of Maharaja Ranjit Singh: The Samadhi of Lion of Punjab is next to Gurudwara Dera Sahib, the place of martyrdom of Guru Arjan Dev Ji. The location of this Samadhi is near Lahore Fort and Badshahi mosque. The Maharaja died in 1839 CE and this Samadhi was completed in 1848. Inside the building on the right of Maharaja's Samadhi his son Maharaja Kharag Singh rests. The beautiful gold plated dome and building itself is a blend of architectural styles of Hindus, Muslims and Sikhs. The 180th death anniversary was recently celebrated on June 27, 2019 in Lahore Fort with the installation of life-size statue outside the Sikh Gallery. This is very significant celebration in his historical capital Lahore, as the picture of him that has been painted over there is as "infamous" Ranjit Singh.
Mausoleum of Hadrat Mian Mir: Mian Mir was person chosen by Guru Arjan Dev Ji to lay the foundation stone of Sri Harimandir Sahib, in Amritsar. Guru Ji had first met Mian Mir in Lahore during his first visit to attend the wedding of his cousin. During that visit Guru Ji stayed across from Janam Asthan of Guru Ram Das Ji and had become friends with Mian Mir. In the words of Dara Shikoh; "Had there been any human shape of good manners, it would have definitely in the shape of Hadrat Mian Mir." Imagine Guru Arjan Dev Ji is giving shape to the holiest shrine of the Sikhs, where the Guru Ji did "Shabad Parkash" and its foundation stone is being laid by Mian Mir. This is a testimonial to Guru Ji's secular outlook and a salute to spirituality of Mian Mir. According to publication by the institute there, Guru Hargobind Ji participated in the funeral rites of Hazrat Mian Mir.    
Fakir Khana Museum: This place is a treasure trove of artifacts specially related to Maharaja Ranjit Singh's era. The museum is the brain child Fakir Syed Saifuddin, who is sixth generation descendant of Fakir Family. His forefathers Fakir Azizuddin Fakir Imamuddin and Fakir Nuruddin were ministers during the reign of Maharaja Ranjit Singh. This is the largest private museum in Pakistan and only museum where Maharaja Ranjit Singh's legacy is honored in that country. Amongst the unique collections are Maharaja's handmade Jamawar robe, Kamarkasa (waist band), Rani Jindan's shawl, besides guns and swords. In addition to Maharaja's collection he has a unique knife of Hari Singh Nalwa, the legendary general of Ranjit Singh.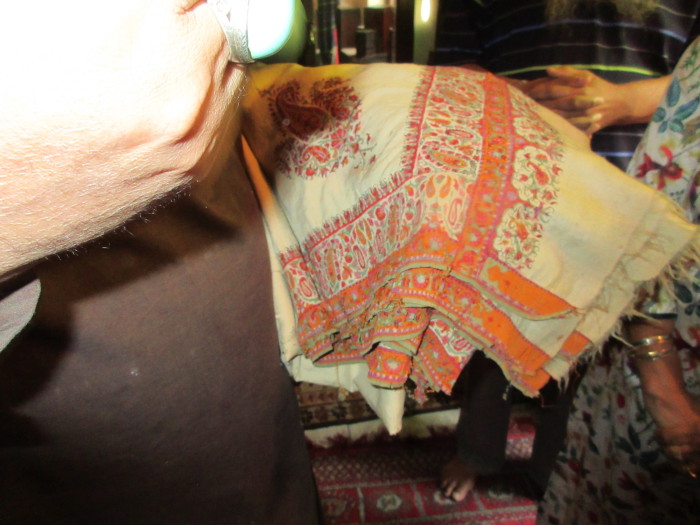 As we have seen above and in several earlier articles that city of Lahore holds a special significance as a historical place for Sikhs. There are many spots which have received touch of our revered Gurus and prominent Sikhs whom we remember in our daily prayer. A visit to this place will transform us, inspire us. It will make our daily prayer closer to our heart as a witnessed history instead of some account of distant event.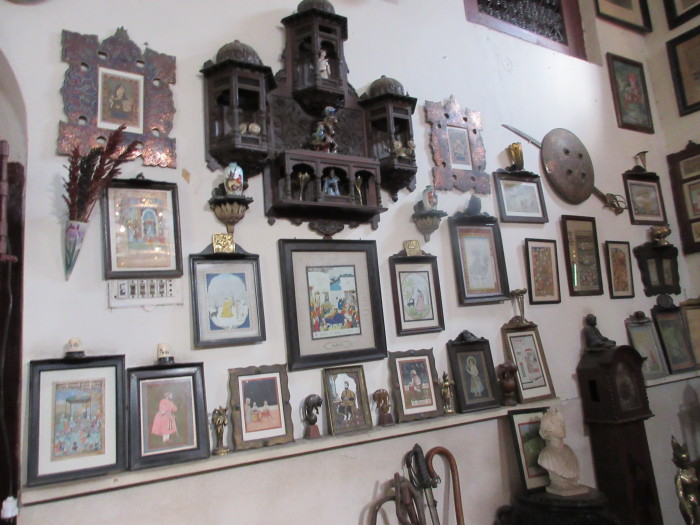 Related articles:
Quest for Khuley Darshan - Part 1: Kartarpur
Quest for Khuley Darshan - Part 2: Janam Asthaan
Quest for Khuley Darshan - Part 3: Sacha Sauda
Quest for Khuley Darshan - Part 4: Birthplace of Langar
Quest for Khuley Darshan - Part 5: Bed of Stones
Quest for Khuley Darshan - Part 6: Birth of Martyrdom
Quest for Khuley Darshan - Part 7: Mother's Birthplace
Quest for Khuley Darshan - Part 8: Panja Sahib
Quest for Khuley Darshan - Part 9: Baba's Tree
Quest for Khuley Darshan - Part 10: Nanaki's Birthplace
Quest for Khuley Darshan - Part 11: 4th Guru Birthplace
Quest for Khuley Darshan - Part 12: HotBed of History