Panja Sahib - Lasting Legacy of Humility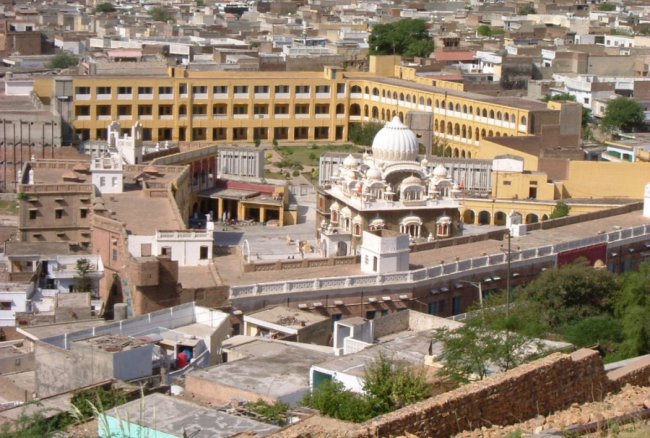 We departed from Nanakana Sahib and stopped at Katas Raj in the Potohar Plateau. The first sight of the hilly terrain really impressed us with its sheer natural beauty. According to the legend, the five Pandvas of Mahabharata spent a significant time of their exile here.
The Shiva temple there is very old and the place derives its name from the tears shed by Shiva at the death of his wife Sati. It was touching to see a Muslim caretaker employed by ETPB to maintain the temple, although there are hardly any Hindu devotees visiting this place, and the temple is normally closed. He opened the door of the temple and showed us the temple. He also had a supply of red Tilak in a small box, which he would gladly apply on the forehead of visitors and say "Jai Bholae Nath". There are six other old Hindu temples and the Buddhist Stupas which were erected during Emperor Ashoka's reign. Fast forward to Guru Nanak Dev Ji's times, we were told that Guru Ji visited this place and had a discourse with ascetics (Sadhus) living there. As no details of dates are available I would guess that Guru Ji visited this place on return from Hasan Abdal in 1521. There is a twelve room Haveli of Hari Singh Nalwa; which besides being his residential quarters also served as his offices. The terrace provides a spectacular view of the entire area, thus adding to its strategic significance as it was on the route taken by the invaders. It can be assumed that when he was stationed here and he supervised the construction of Panja Sahib from here. The name of Panja Sahib to the shrine was accorded by Hari Singh Nalwa.
From Katas Raj, we drove to Hasan Abdal. The narrow alleys, old housing style leading to shrine created an impression that we were going to a place of medieval times. Even the huge gates at the entrance helped to reinforce that impression. But once we crossed the heavily guarded gates, the sprawling complex suddenly unfolded its impressiveness and its enormity, the jaws dropped in amazement.
The only words to come out of the mouth were; "Wow! Awesome! Beautiful!" The sprawling yet spartan complex has the water from the famous stream circulating along the majestic building and flowing into the adjoining fields irrigating them. It is impressive that there is no dampness, mold, etc. from the spring waters flowing non-stop on to the main structure of the shrine. The clear skies and openness of the building overlooking the hillock from where the rock was rolled down by Baba Wali Kandhari on Guru Ji adds to the splendor. A modern communication tower sprouts from the place there now. The hilltop has also become a shrine named after Baba Kandhari and attracts many devotees from the surrounding area. We had planned to climb up the hilltop and visit the shrine of Wali Kandhari. But unfortunately on that day it was raining very heavily making the climb challenging and risky, so we canceled the climb. After we dropped our plans we found out there that Guru Nanak Dev Ji is said to have given the word to Wali, that whoever comes here to visit, will also visit your place up on the hillock. But that was not going to be the case for us.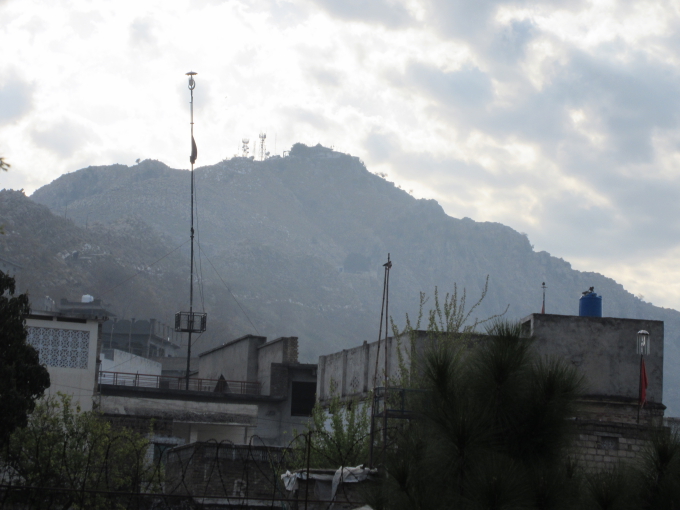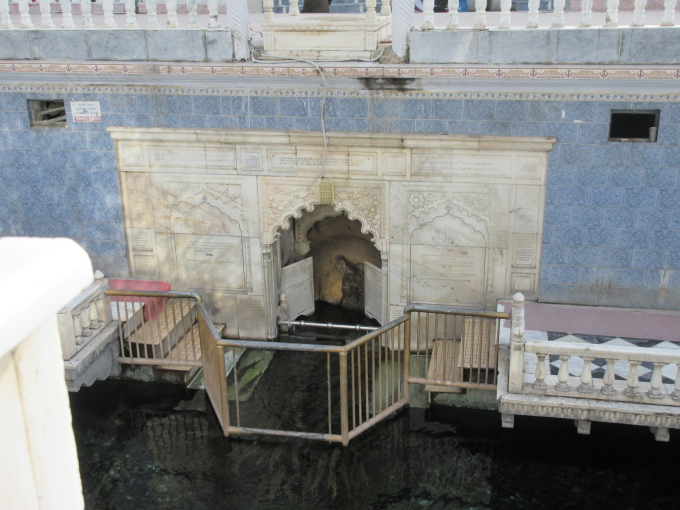 Across from the foyer leading to the entrance of the main hall, there are statues of two Sikhs mounted on the top of the gate symbolically guarding it. The inside of main hall building with its sanctum sanctorum is made with elegantly cut mirrors. There are two rooms next to sanctum sanctorum separated by a corridor where non-stop recital from Guru Granth Sahib takes place. There are three rooms on the upper floor, where again recital from Guru Granth Sahib takes place. In addition there is Sukhasan Room on the upper floor. The children's participation in the daily activities including singing of Aasa Ki Vaar is worth admiring and emulating, as I have never seen children doing it. It is all the more impressive as these children and their parent's mother tongue is Pashto and yet they are all well versed in Panjabi script (lipi). The commitment of the Sikhs there to the Sikh principles and precepts, like unshorn hair is also legendary.
You cannot find a Sikh who does not keep hair on their heads or facial hair in case of men. They do not imbibe any alcohol and all are hardworking productive members of the society. For all Sikhs visiting this place and being with these people is truly inspiring and their commitment is worth learning from. A large double storied dormitory style rooms for the pilgrims surround the courtyard providing the convenience to attend the morning programs at 4:00 AM.
Let us now visit the story associated with Guru Ji's visit to this place. Guru Nanak Dev Ji along with Bhai Mardana Ji while returning from Kabul via Peshawar reached Hasan Abdal in Attock District in the month of April, 1521. Under a shady cool tree, Guru Nanak and Bhai Mardana started reciting Kirtan and soon devotees gathered around them. This annoyed a local saint, Hazrat Shah Wali Qandhari, who meditated atop a nearby hill but he was helpless.
Bhai Mardana was very thirsty and asked Guru Ji's permission to go up the hill and drink water from the spring. Bhai Mardana climbed up asked Wali Kandhari for water which was refused. Then he returned back and Guru Ji asked him to go back and request him humbly again as there was no other source of water. Guru Ji sent him third time to Shah Wali Qandhari instructing Mardana, to tell him that the men of God should not be selfish, but always share with others. Wali Qandhari not only refused his request but was also rude to him. In spite of all this, Mardana still very politely stuck to his demand. The Wali ironically remarked: "Why don't you ask your Master whom you serve?"
Mardana came back to the Guru Ji in a miserable state and said "Oh lord! I prefer death to thirst but will not approach Wali the egoist." Guru Ji replied "Oh Bhai Mardana! Repeat the Name of God, the Almighty; and drink the water to your heart's content."
Then Guru Ji put aside a big rock lying nearby and a pure fountain of water sprang up and began to flow endlessly. Bhai Mardana quenched his thirst and felt grateful to the Guru. On the other hand, the spring of Shah Wali Qandhari dried up. On witnessing this, the Wali in his rage threw a rock towards Guru Ji from the top of the hillock. Guru Ji stopped the rolling rock with his hand leaving his hand print on the rock.
Bhai Mardana expressed to Guru Ji that it was quite an excruciating test for him going to Wali three times and face him. Guru Ji replied, "This was Pir's test. The anger and pride in saints is despicable." Wali Kandahri was still in a shock witnessing the draining of his spring. When he saw that he could not inflict any bodily damage, he felt powerless. Impressed by Guru Ji, he decided to come down and seek forgiveness from him. Guru Ji advised him, "One should not be proud of God's gift. He can take them away at his will as he has taken away the spring of water from you." Guru Ji's advice was - shun pride and serve people.
In April 2021 a big celebration awaits the 500th anniversary of the visit by Guru Ji to Hasan Abdal. Let us all try to be part of this big celebration by visiting the place and spread Guru Ji's message of humility to the world.
Related articles:
Quest for Khuley Darshan - Part 1: Kartarpur
Quest for Khuley Darshan - Part 2: Janam Asthaan
Quest for Khuley Darshan - Part 3: Sacha Sauda
Quest for Khuley Darshan - Part 4: Birthplace of Langar
Quest for Khuley Darshan - Part 5: Bed of Stones
Quest for Khuley Darshan - Part 6: Birth of Martyrdom
Quest for Khuley Darshan - Part 7: Mother's Birthplace
Quest for Khuley Darshan - Part 8: Panja Sahib
Quest for Khuley Darshan - Part 9: Baba's Tree
Quest for Khuley Darshan - Part 10: Nanaki's Birthplace
Quest for Khuley Darshan - Part 11: 4th Guru Birthplace
Quest for Khuley Darshan - Part 12: HotBed of History