Many history books and biographies of Guru Nanak Dev Ji mention that when Guru Nanak Dev Ji embarked upon his long journeys in 1500 AD his first stop was Saidpur, now called Eminabad. There, they mention that Guru Ji went to the house of a carpenter, named Lalo. Next, the books mention the incident of Guru Ji holding bread loafs in both hands, one from Bhai Lalo's kitchen and other from Malik Bhago's feast. When Guru Ji squeezed them simultaneously, milk was coming out from one and blood was coming from the other. This is where Guru Ji gave the message of significance of honest living to Malik Bhago. There is water well, known Bhai Lalo's Khuhi (well) which still exists today outside where Bhai Lalo's house was, which was later converted into a place of congregation. The well is located at some distance from Rori Sahib and approach is through a very, very narrow lane and not approachable by car. We were not fortunate to reach that spot during our visit.
But before arriving in Eminabad, Guru Ji stopped on the outskirts and spent forty (40) days there. The place where Guru Ji along with Bhai Mardana spent this time in quiet meditation, stands a beautiful majestic red brick tiles Gurudwara building called Gurudwara Rori Sahib. The word Rori in Punjabi means pebbles or rocks. This beautiful and awe inspiring building has the domes and columns made from brick tiles cut to size. Even the lettering of words from Bhai Gurdas Ji's Vaar is fashioned out of cut brick.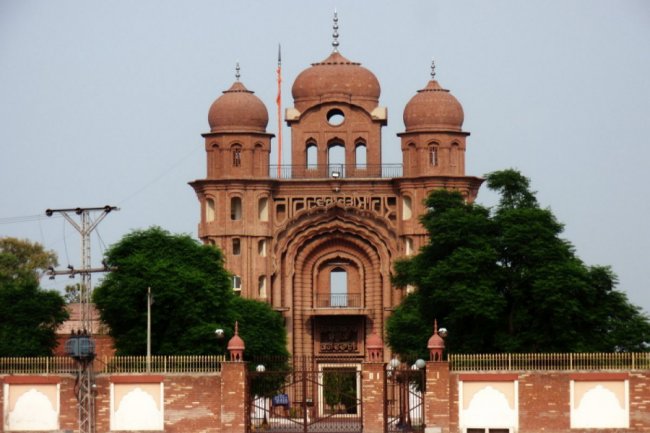 It is amazing that the quality of brick is so good to last close to two hundred years and craftsmanship is equally impressive. The memorial was erected by Maharaja Ranjit Singh during his reign, and it is still an impressive building by today's standards. The spot where Guru Ji used to sit in meditation is where Guru Granth Sahib's parkash is done daily. The spot where Bhai Mardana used to sit in meditation is where Guru Granth Sahib's resting place at night, called Sukhasan Room. It appears that just as before a major athletic tournament, the players attend a conditioning camp to prepare for the tournament, same way Guru Ji used this place for body conditioning before start of long journeys. These journeys lasted 28 years and it took Guru Ji to snowy mountain peaks, barren deserts, and thick forests etc. There is a water tank or sarovar which was used by sangat in the past, but it is dry now. There are efforts underway to repair it and fill it with water again.
As mentioned above there is not much reference about this place in the books but Bhai Gurdas Ji has written about this stay of Guru Ji in these words:
"ਰੇਤੁ ਅੱਕੁ ਆਹਾਰੁ ਕਰਿ ਰੋੜਾ ਕੀ ਗੁਰ ਕੀਅ ਵਿਛਾਈ।ਭਾਰੀ ਕਰੀ ਤਪਸਿਆ ਵਡੇ ਭਾਗਿ ਹਰਿ ਸਿਉ ਬਣਿ ਆਈ।"
"Ret a'k aahaar kar roRaa kee gur keea vichhaiee. Bhaaree karee tapasiaa vadde bhaag har siau ban aaiee."
(Bhai Gurdass, Vaar 1.24)
Translation: He fed himself with sand and wild plants (cactus like) and made pebbles and stones his bedding i.e. he enjoyed poverty too. He practiced extreme meditation and then he was fortunate to have proximity with God.
In the next line Bhai Sahib shares the blessing that Guru Sahib received from God as:
"ਬਾਬਾ ਪੈਧਾ ਸਚਿ ਖੰਡਿ ਨਉ ਨਿਧਿ ਨਾਮੁ ਗਰੀਬੀ ਪਾਈ।ਬਾਬਾ ਦੇਖੈ ਧਿਆਨੁ ਧਰਿ ਜਲਤੀ ਸਭਿ ਪ੍ਰਿਥਵੀ ਦਿਸਿ ਆਈ ।"
"Baabaa paidhaa sach kha(n)dd nau nidh naam gareebee payee. Baabaa dhekhai dhiaan dhar jalatee sabh pirathavee dhis aaiee." (Bhai Gurdass, Vaar 1.24)
Translation: Baba reached the region of truth, wherefrom he received a sash of honor Naam, the storehouse of nine treasures and humility. In his meditation, Baba found the whole earth burning (with the fire of lust and anger).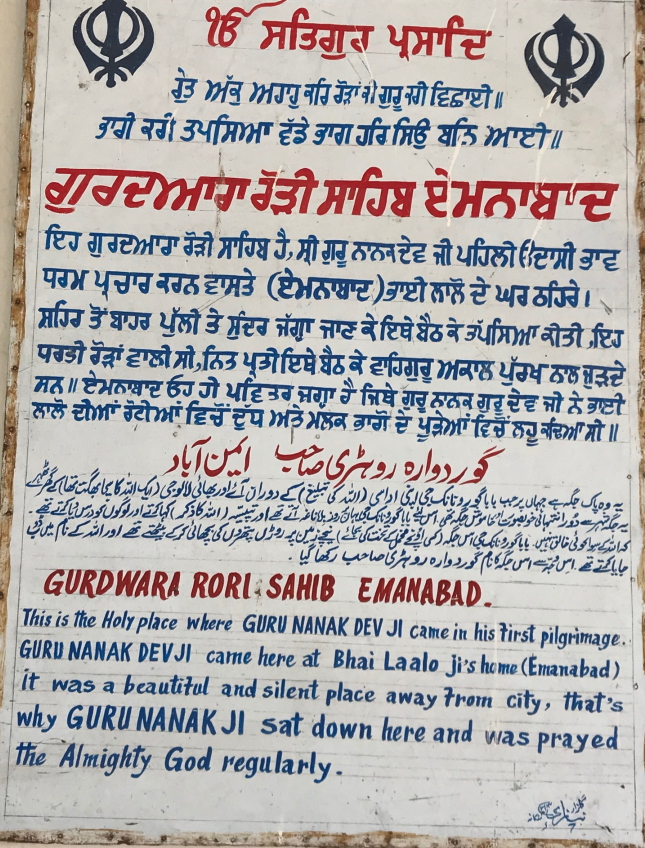 It was to provide solace to the entire mankind that Guru Ji embarked on the long journeys. Guru Ji visited this township quite a few times. Guru Ji had earlier shared with Bhai Lalo, well in advance of twelve years that the great misery people will suffer at the hands of invading armies of Babur. However, Guru Ji was here again in 1521, when Babur invaded India. At that time of invasion, the entire township was plundered, looted and razed down by the invading forces. Guru Nanak stayed with Bhai Lalo after the destruction of the Saidpur by Babur. The piles of rubbish and debris in Punjabi are known as Rori.
So, this place also derives its name from the word Rori, which is associated with two different visit of Guru Ji and association of the word Rori with those two visits. The reign of rape, rapine and taking prisoners for sale followed. Even Guru Ji and Mardana were also taken prisoners. Guru Ji has written a shabad known as Babur bani, in which Guru Ji has painted the grim picture. Guru Ji was given the hard task of manually grinding the grains in the millstone (Chakki). When the officials of Babur saw the millstone turning on its own, they reported the incident to the General. When Mir Khan, Babur's General heard the melodious singing by Guru Ji and its magical impact on the prisoners he informed Babur. Babur came to the prison and had a meeting with Guru Sahib. After the meeting and listening to sage advice from Guru Ji regarding the harsh treatment to innocent residents, Babur released all the prisoners. That Chakki is still preserved at Gurudwara Chakki Sahib. These stones and pebbles have been exalted to gain the sacred status, thanks to touch by Guru Ji. Even today, the visitors feel blessed by touching their forehead on this sacred ground.
After the partition of the sub-continent, this historic place became a desolate victim of the mass migration of Sikhs to India. However as a result of conservation efforts by ETPB in 1997 this place was reopened to visitors in 1999. Now, there is full time Bhai Sahib who is taking care of the place and doing Parkash and Sukhasan daily. Some improvements have been made to place lately, and block of modern restrooms and toilets for men and women have been added. A new building for stay of visitors is also under construction. It is expected to be ready by November 2019.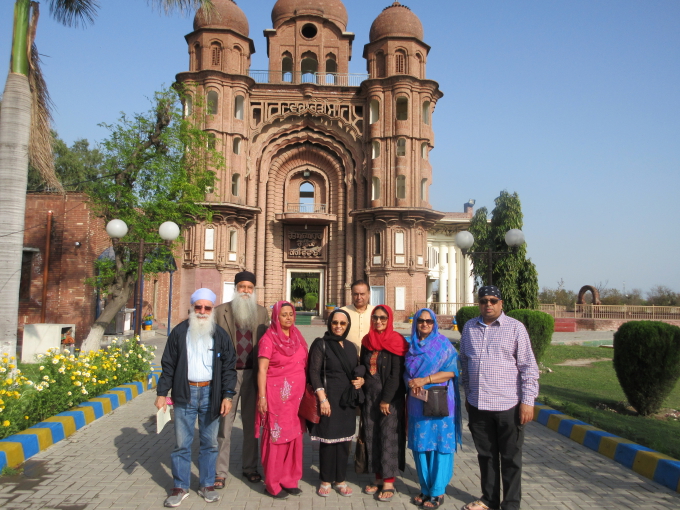 Related articles:
Quest for Khuley Darshan - Part 1: Kartarpur
Quest for Khuley Darshan - Part 2: Janam Asthaan
Quest for Khuley Darshan - Part 3: Sacha Sauda
Quest for Khuley Darshan - Part 4: Birthplace of Langar
Quest for Khuley Darshan - Part 5: Bed of Stones
Quest for Khuley Darshan - Part 6: Birth of Martyrdom
Quest for Khuley Darshan - Part 7: Mother's Birthplace
Quest for Khuley Darshan - Part 8: Panja Sahib
Quest for Khuley Darshan - Part 9: Baba's Tree
Quest for Khuley Darshan - Part 10: Nanaki's Birthplace
Quest for Khuley Darshan - Part 11: 4th Guru Birthplace
Quest for Khuley Darshan - Part 12: HotBed of History