Guru Nanak's Universal Message in 60 seconds!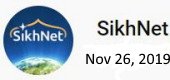 Watch this Inspiring story by Jagjit Singh from the organization "Zero Hunger With Langar" about his meeting with a Muslim Imam in a village in Africa.
Sharing Guru Nanak Dev Ji's simple message of One God and Many paths, and respecting ALL.
Be the best you Sikh, Muslim, Christian, Hindu, Jew you can be!
Check out the amazing work that his organization is doing at
https://www.zerohungerwithlangar.org