In Guru ji's Hukm, we have not toured USA for over fifteen years, except for one-off programs. We received this opportunity at the behests of the 'mixed' Sangat for the opening of Guru Nanak Dwara in Phoenix, and those I refer to, in typical Aussie slang as the Western Dharma mob. These are the 3HO and SikhNet.com 'white' (there are some African Americans too) Sikh folk in Espanola, USA who live in communities established by Sri Singh Sahib Yogi Harbhajan Singh Khalsa Ji. We were able to add two programs in Florida and three in LA area to make it a two-weekend 'Gurbani yatra'.
The interesting 'mainstream' program, halfway through our tour, was at the Chapman University organised by the Southern California (Sikhlens Film Festival) Society. It was called "An Interfaith Vesakhi Evening." We fitted in very well after performances by two lovely young ladies. First a young local lady of verse and the spoken word - Aman, who entertained with some personal experiences in Sikhi and Westernism as a youth brought up in USA. Next was Amrit from UK who exquisitely accompanied her renditions from the poetry of Amrita Pritam in Punjabi, with some deft classical arrangements on sarangi. We brought in the close with a 'multi-chant' - chants from various faiths and religions like Jewish, Gregorian, Buddhist, the Gayatri Mantra, the call of the Muezzin to prayer, and the Mool Mantr. Then, a vigorous 'bir-ras' (warrior) rendition from the bani of Tenth Master, Guru Gobind Singh Ji, and a meditational piece of 'Tuhi-Tuhi' (You, You) for all to sing.
Except for the long slow security queues on entry at LAX Airport, entry into USA (customs, immigration etc.) was fairly painless. Homeland Security is very visible but cordial. It appears that our organisations like Sikh Coalition and United Sikhs are doing commendable work in raising the positive Sikh profile here! I was referred to as 'Mr. Singh' by the Immigration officer even before he opened my passport!
With previous experiences, good and bad, I do have misgivings about doing kirtan at certain kinds of Gurdwaras - hence my use of the word 'mixed' in my second to opening sentences above.
Read on… all shall be revealed about 'mixed' and 'essence' and 'opium for the masses' further down.
We started with two programs in Florida, the Gurdwaras in Fort Lauderdale/Miami and Orlando. In both, a very appreciative Sangat showered us with love and affection. We were grateful especially for the turnout of the younger generation. Our stock for our latest book - 'Sikhing Success & Happiness' and the CDs we brought almost sold out! Folks remembered us fondly from the past. Young mothers who claimed to have grown up listening to our cd's told us that their babies were also listening to our Mool Mantr, Nitnem, the Painti and our Sikhi Lullaby, regularly.
Such was the enthusiasm that the Sikh Society of Daytona purchased all remaining stock of books and CDs for the East Coast for others who had not come to the program at Orlando!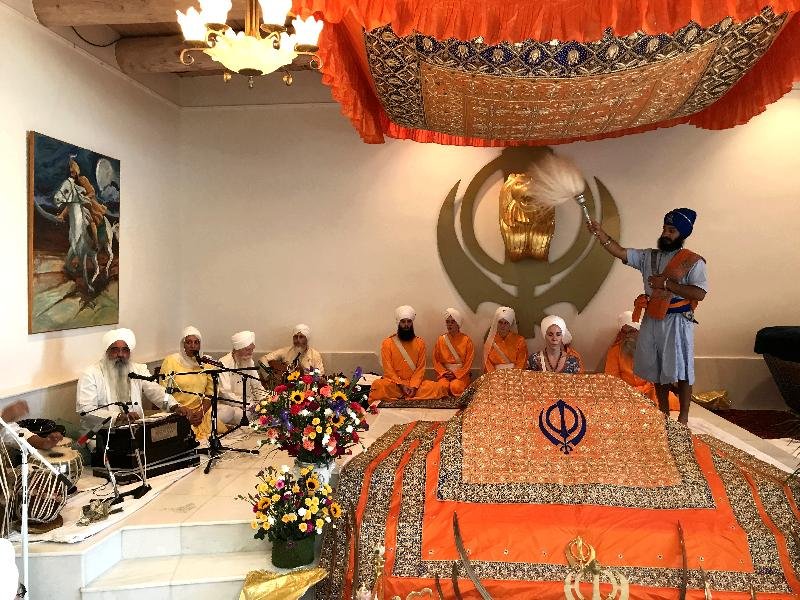 Kirtan in Gurdwara Singhasan e Khalsa in Espanola, New Mexico

Our next leg, and a very spiritually uplifting one, was a kind of 'return home' to Yogi Harbhajan Singh Ji's 'Western Dharma' centre in Española, New Mexico, also home to SikhNet and 3HO - base of our 'American Sikh' brothers and sisters. Dheeraj, my tabla colleague, and I did come for two week periods for a few years just at the end of the last millennium and the beginning of this one to teach kirtan at the behest of Yogi Ji. He was then still in his mortal coil.
I had heard of an upheaval in 3HO on his demise, but had kept in touch with my two dear friends at SikhNet, namely young Gurmustuk Singh and the ever dependable Guruka Singh. I wondered what would be different without Yogi Ji at the helm. In his wisdom, he did not leave a 'successor', but a board of trustees of sorts.
Guruka Singh Ji had told me that, "Sri Singh Sahib had forewarned that a natural 'pruning' and regrowth shall take place as should happen to all vibrant organisations and communities!"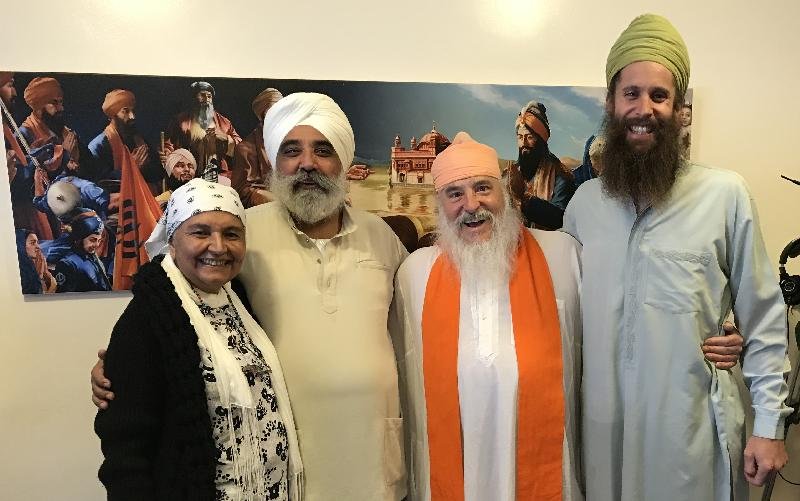 At the SikhNet office with Jessiee Kaur, Gurumustuk and Guruka Singh

In my 'Gurbani sangeet yatra' travels globally over about 20 years, which are by no means extensive, I have only truly experienced a true 'Sadh Sangat', at Gurdwara Sahib Espanola. The Sangat here comes for only one purpose - Gurbani spiritual upliftment. No other Gurdwara anywhere, that I have visited, and that includes Darbar Sahib in Amritsar, produced that kind of collective spiritual aura. Would things have changed after all these years and in Yogi Ji's absence?
It was Karl Marx who called religion the 'opium of the masses'. He is right. If 'religion' is steeped in fables, fairy tales and stories about God, prophets and dogma; hidden mysterious messages in the scriptures; about priests and saints being able to give you a better lot, and the promise of a better after-life, then Marx was right.
And, Sikhism does certainly provide that opium too - if you slowly draw it back into meaningless but magical sounding rituals, 'maryadha', 'brahmgiani' and 'sant' pooja with medieval looking outward form with medieval weaponry. Some sections of Sikhism are that, or are heading that way.
Sikhi can also cater to the Sunday crowd which comes for langar, some kirtan entertainment and some social interaction - which most Gurdwaras do happily provide, and we all take advantage of that - I include myself in that category as well.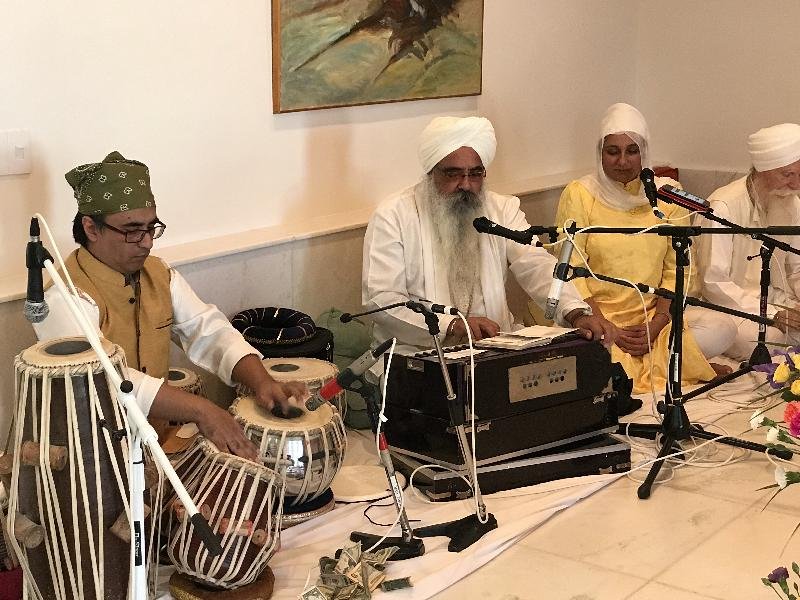 Dheeraj, myself, Jamel Kaur and Pritpal Singh doing kirtan in New Mexico

From my personal, humble perspective, what I deeply desire is the 'essence' of Sikhi.
Our family - my venerable father's family, as we (my brothers and I) with Guru Ji's grace, still maintain, is that ''we are not 'religious' but we live by Sikhi principles.''
As Harinder Singh Ji, (associated with SikhRI) once remarked, ''we are 'company' folk", meaning we are Akal Takhat Rehat Maryadha' types, generally. Not overly fundamentalist, not 'sant-type' but basic 'company' types! We keep on searching for the 'Truth', or the essence of Sikhi, along the guidance of our Guru Ji as we perceive it.
I found that essence, alive and well, in Española, New Mexico and their Gurdwara close to Hollywood in Los Angeles, California. They are still struggling ideologically whether to call their worship/prayer centres as Guru Ram Das Ashrams or just 'Gurdwaras.' (Sri Singh Sahib had a penchant for Guru Ram Das.)

High energy kirtan evening in New Mexico at the home of Kirpal Singh and Kirpal Kaur

It is no more the cultish 'white only' bana-dastaar with white socks which gave the American-Sikhs an 'exclusivity', even a seeming haughtiness and aloofness, during Yogi Ji's days, but today it is a resplendent Sadh Sangat. The all white attire still prevails and it does look good on them, but now, it is mainly lighter, white and off-white colors but also including brilliant shades of blue, yellow, kesri hues with majestic mala-type necklaces, exquisite kirpans and ... others. In short, resplendently attired!
There was one beautiful lady, of Italian descent I think, in a turquoise-blue bana and matching dastar with light-blue, yellow and red strings of semi-precious stones decorating her outfit, including her resplendent dastar.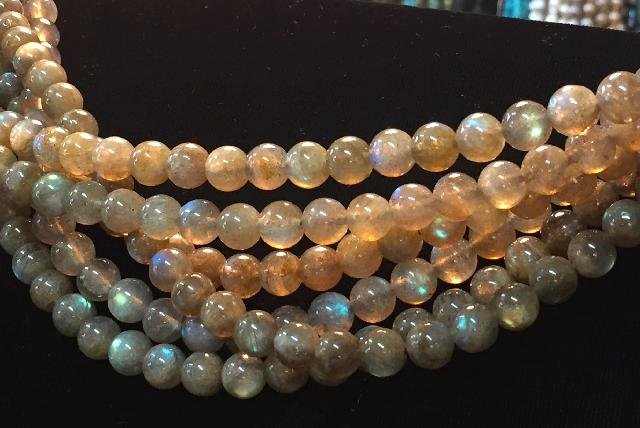 In Española, I was gifted a 108 bead 'mala' necklace of labradorite gemstone. The stones sparkle like the aurora borealis when light falls on them. It was hand made by Satya Kaur Khalsa and presented to me by Sardar and Bibi Guruka Singh. My birthday happens to fall on Vesakhi/Khalsa Day. I am not one used to any ornamentation except for a steel Kara, but I wore it proudly and unashamedly during my stay in Española, and especially during our kirtan 'hajris.'
Everyone, to a person, comes to Gurdwara with just one aim - a period of focused devotion towards kirtan listening and singing, soulful prayer and simran/sadhna. All Gurdwara seva is done by the Sangat. There are no hired granthis or kirtanis.
During the aardas, three long AKAAAL's reverberated like the rumble of distant thunder as if the gods were responding, for someone who had passed on. The whole Gurdwara reverberated with the WAHEGURU from the Sangat after every sub-section of the Ardaas. This is a vibrant Sadh Sangat devoted to searching for the truth.
In the Los Angeles Gurdwara, which is called 'Guru Ram Das Ashram,' I was blown away when the entire Sangat sang the  five paudis of Anand Sahib on guitars and other instruments in the appropriate Raag Ramkali. The Sangat had taken pains to learn singing Anand Sahib in the appropriate raag!
Truly, if you are in search of the true essence of Sikhi, the chances are very good that you will find that in the company of these wonderful souls in Española, New Mexico and Los Angeles.
This yatra ended in Phoenix, Arizona where Gurukirn Kaur Khalsa and Jodha Singh Khalsa had invited us for the opening of Guru Nanak Dwara. The construction of this new building was started by Yogi Ji and, for various reasons, took almost 20 years to complete. Our assignment was to do one evening Gurdwara program based around Khalsa Day; a morning of workshops for youth followed by a Sunday program for the Opening ceremony. This is a 'mixed' Sangat. Sangat directly from India with children and teenagers born in USA along with White American Sikhs in their first, second and even third generations. The high enthusiasm of the 'white' Sangat is softened by the less participational 'Indian' Sangat. If only the 'Indian' Sangat could raise their enthusiasm to the level of the 'white' Sangat!
Nevertheless, there is a dynamic mix, and in fact the 'white' Sangat provides the role modeling for the younger American-born Indian Sikh youth.
Childrens' Workshop in Phoenix Arizona

During our yatra we heard of and saw a video clip of the violence within the Richmond Hill, New York Gurdwara - punches being thrown, turbans being removed and general mayhem right in front of the Guru Granth Sahib - all about Gurdwara politics and control of Gurdwara funds. Then the police stormed in fully booted and without head covers to arrest the culprits. On the one side, Sikh youth were tying dastars for non-Sikhs in Times Square, New York, and here there was a violent disruption within the Gurdwara. This is the 'Indian' Sangat. In the Española and the Hollywood Gurdwaras was the mainly 'American Sikh'  Sangat and in Phoenix is what I refer to as the 'mixed' Sangat.
In 'Indian' Gurdwaras, especially those associated with 'Sant-deras,' ritualism is growing, lending credence to the view of Karl Marx regarding 'opium for the masses'. In the 'Indian' Singh Sabha type Gurdwaras it is all-out Gurdwara politics along with occasional violence. In the Western Dharma pockets of devotees, they appear to be pursuing the 'essence', the truth, of Sikhi life and philosophy. I shall leave it at that, without making any conclusions, but as points for you, dear reader, to reflect upon.
I shall remember this trip for some refreshed relationships like Raj and Juskavita in Miami, Navtej and Rani in Orlando, the lovely members of the Sikh Society of Daytona, Bicky of Orange County, Dr. Ongkar Singh Ji and Dr. Sachdev Ji, of Phoenix.
As for the Western Dharma American Sikhs as they are fondly called, may Waheguru bless the Gurukas, the Gurmustuks, the Kirpals, the Pritpals, the Gurshabads, the Kirtans, the Hargobindharis, the Satya's, the Gurkirns, Nirinjans, the SatKartars, the SriKartars, the Simran's, the Guruprems, the Jodhas, and many, many others — products of Waheguru through Sri Singh Sahib, Yogi Harbhajan Singh Ji. They truly keep searching for the truth, the essence of Sikhi. They play a very important part in the responsible evolution and future of the essence of Sikhi, not the 'opium.'
In the literature of the Southern California Sikh Society which also runs the highly successful annual Sikhlens Film Festival, they call themselves "Sikh, Indian-Americans." I questioned them in my program as to why they do not just call themselves Sikh Americans or American Sikhs? After my renewed experiences with the Western Dharma 'American Sikhs,' and what sometimes happens in 'Indian Gurdwaras' here and the growing ritualism in them, I can see why. They have some way to go before they can genuinely call themselves American Sikhs. They still seem to need the word 'Indian' in their global identity.
I find great joy and spiritual upliftment when I have the honour of kirtan 'hajri' amongst American 'white' Sikhs or 'mixed' Sangats. Unfortunately, in 'Indian' Gurdwaras, it seems just like carrying out a ritual.
One day all Sikhs might be pursuing the true essence of Sikhi, without violence and unnecessary ritualism, and might stop using the term 'Indian' in the mix. We are simply our Guru's Sikhs, not 'Indian Sikhs,' 'American Sikhs,' or 'Australian Sikhs.' The Sikh 'quom' was meant to be a nation without any borders. We are true Global Citizens, a Sovereign Spiritual Nation. Our loyalty lies towards the country we call Home and that Home is not bound by any geography.