Sikhs of New Jersey: The Pioneers from Punjab travels through more than a century of time. It escorts the reader back to the struggles of pioneer Sikhs who suffered torture and racial discrimination at the hands of Canadian and West Coast Americans while trying to establish themselves as a Sikh American immigrant community. Indian Sikh migration to the East Coast of America was more favorable because of the relaxed immigration laws, and the migrants to that area quickly became assimilated, thus allowing them to pursue higher education and better career opportunities.
This book clearly describes how a handful of New Jersey Sikh families established a vibrant community and a place of worship through their farsightedness, determination and valor in the early 1970s.  The internal conflicts of the Sikh Gurdwara management, the writer points out, are in no way unique to the Sikhs; they inflict all religious places. Even though the author rarely suggests solutions, she is hoping that the younger, educated generation will take a proactive lead in the management of their Gurdwaras and find answers to the challenges which they will face in the future. It is no coincidence that the publication of this book is occurring in the year 2019, the year of the 550th birth celebration of Guru Nanak. It is intended to bring home the universal message of Baba Nanak to all humanity that Ik On Kaar—the same light—spirit prevails in each of us and LOVE is the way to reach within!
Surinder Kaur Puar is also the author of Light of Santpura, Mother's Day Blissand Punjabi Language Simplified. She hopes to inspire all other Sikh Gurdwara Sangat and Interfaith Communities to write their own stories to preserve their past for future generations.
About the Author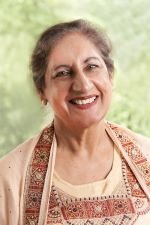 A graduate of Panjab University, Surinder migrated to the United States in 1966 in order to join her husband, Dr. Mohindar Singh Puar. She is one of the founding families of the Garden State Sikh Association, the first Sikh Gurdwara in Bridgewater, New Jersey. She cofounded the Khalsa School at the Gurdwara Sahib in 1974. Her passion for language learning and teaching connected her with the non-profit educational organization Literacy Volunteers of America, and eventually at Sant Baba Bhag Singh University at Jallandhar, Punjab, India where she spends a couple of months each year training teachers and inspiring students.
She spent most of her career years working for the Resource Center for Women and Their Families, an organization dedicated to educating and preventing domestic violence amongst families. The last decade of her life has been spent writing in order to preserve the past for posterity, among many of her other pursuits. Surinder may be contacted at 908-416-7393 or [email protected]