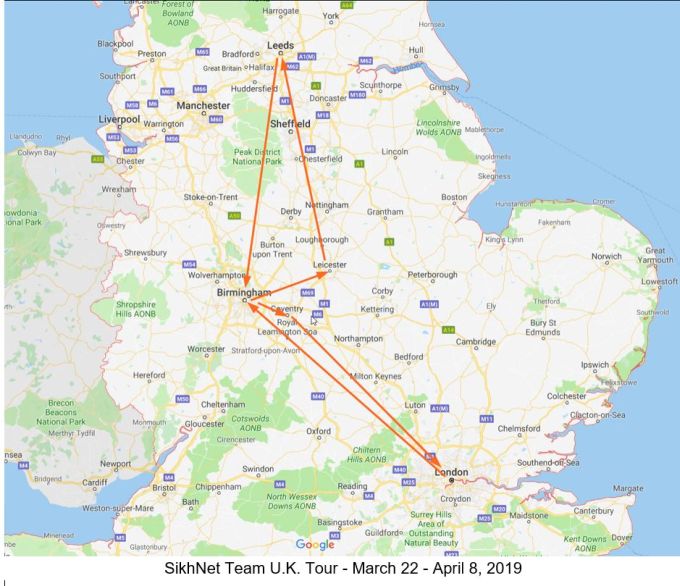 In March and April of 2019 the SikhNet team (Gurujot Singh, Gurumustuk Singh and Guruka Singh) were blessed to visit England together. Here's a photo essay of our tour. Everywhere we went, from the halls of Parliament to Gurdwaras to the cozy living rooms of Sangat members, we were blessed with sweet Sangat.
Our tour started in London with lunch with Minreet Kaur (BBC and freelance Journalist) and Arvinder Singh at his home. Arvinder is a forensic cyber-security specialist who works for many law enforcement agencies throughout the world. Minreet Kaur is one of our SikhNet authors.
That evening we conducted a workshop for parents at Shepherd's Bush Gurdwara in Southall. The workshop was called "Parenting According to Guru's Teaching." About 30 parents and children of all ages participated wholeheartedly in the workshop with honesty, openness and a willingness to share their own stories and lessons. It was a cozy evening and all who attended were elevated by it.
The following day, Sunday, a special blessing was in store for us. We crossed London from Southall on the West end through Central London to Gravesend in East London where we got to spend the day at Guru Nanak Darbar Gurdwara. Guru Nanak Darbar is one of the largest Gurdwaras in the UK and the Gurdwara complex is one of the largest outside India. The complex has three large darbars (prayer rooms) and two Langar halls (dining halls.) There is a building used for Punjabi lessons nearby, called Punjabi School, which is also used as a day centre for the elderly community. There is also a sports hall hosting activities including boxing, kabaddi, basketball and karate. The main building is ornate and very beautiful in the Indian style, with extensive stone carvings, pietra dura inlay and intricate mosaic.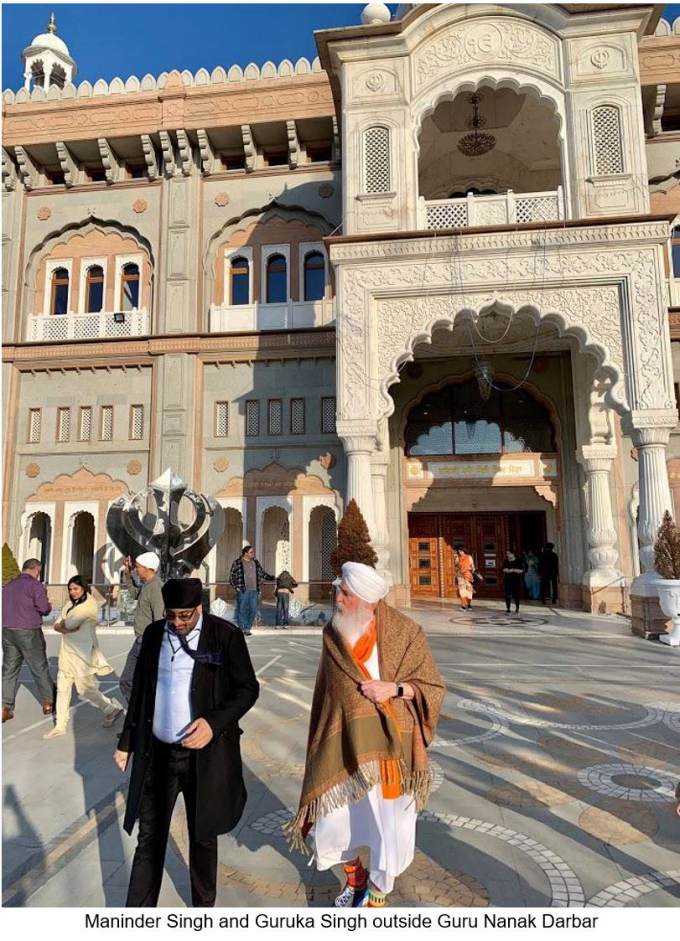 It was here, at Guru Nanak Darbar, that we met Sat Singh Rayat who is the Director of Alcohol-Free Sikhs, a new initiative based in Gravesend devoted to helping our next generation become 100% Alcohol-Free. Alcohol has a negative effect on health, relationships, marriage, career & financial status. Even though Alcohol is legal to purchase, it is regarded as the world's most addictive and harmful drug.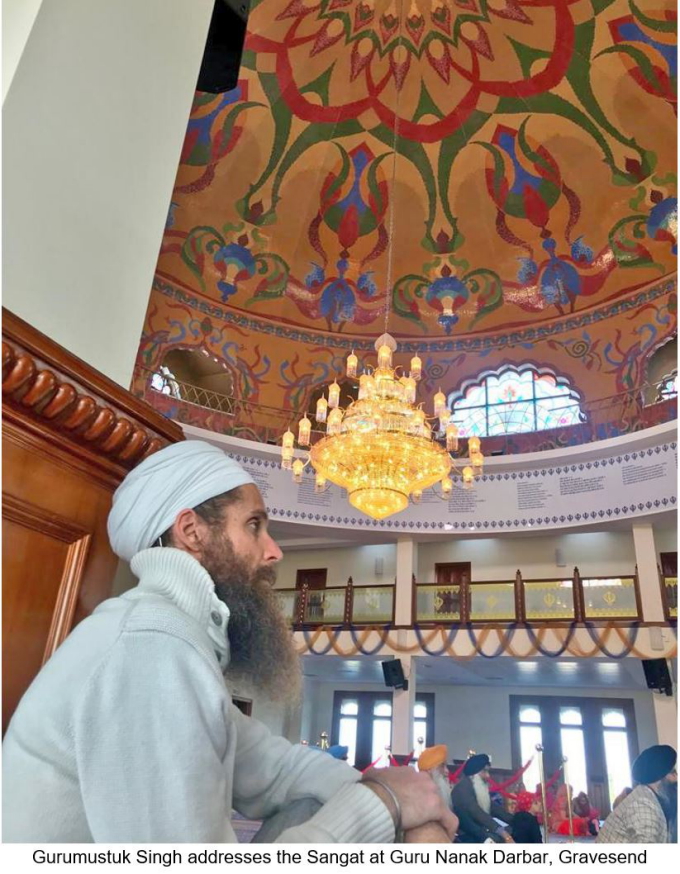 We set up our SikhNet table in the lobby and got to meet and talk with many members of the Gravesend Sangat including lots of children who joyfully expressed their love of what Sikh as we hunkered down to talk with them and play with them..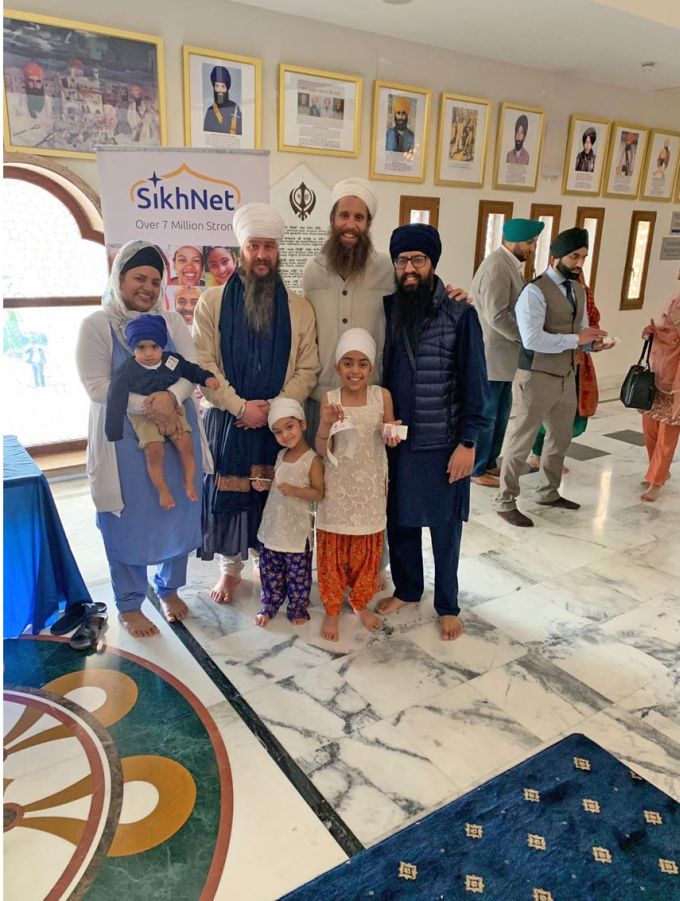 After the main Darbar gathering, which was in honor of Bhagat Singh, we held a workshop in one of the beautiful Gurdwara halls which looked like a cinema. Guruka Singh led the class and discussion which was titled: "Living a Spiritual Life in a Social Media World." The workshop was deeply engaging and participants of all ages asked excellent questions.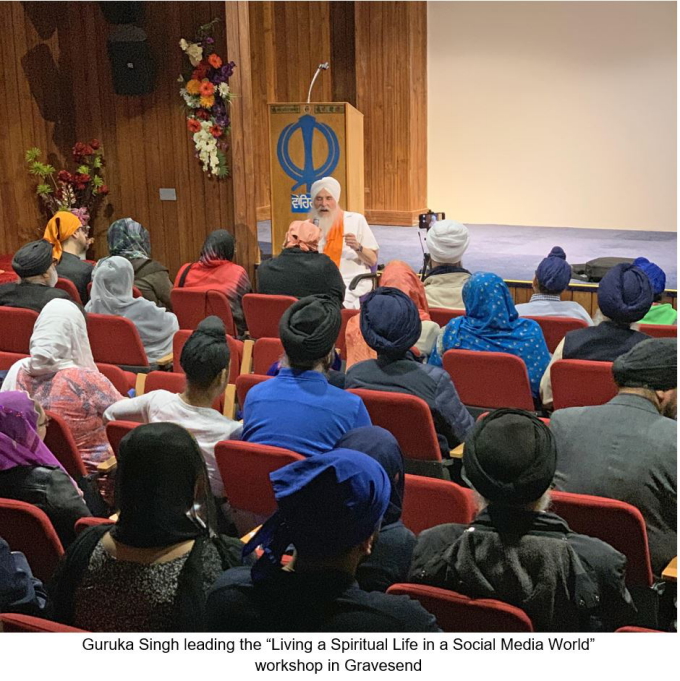 Back across London to Shepherd's Bush Gurdwara that evening for a cozy evening of kirtan and katha with Ravinderpal Singh and Guruka Singh and a SikhNet presentation by Gurumustuk Singh. At the Langar, I received a small gift from my lovely soul sister, Sukhmani Kaur which I took back to the flat and placed on my altar. It was Gurumustuk Singh's 44th birthday and Navleen Kaur surprised him in the Langar with a Lovely birthday cake, and the gathered Sangat all sang 'Happy Birthday' to him amidst tears and laughter.
The following day, Monday, Guruka Singh taught an evening Master Class at the beautiful and immaculate Joy Yoga Center in Central London. The event was hosted by Sat Shakti Kaur and was on the subject, "Living the Lotus Life" The life the Gurus, saints and sages taught is living fully in the world, without being of the world. The ability to participate fully, yet not be seduced by our senses or caught up in the daily games we play is priceless. The class was packed, standing room only. You can listen to an excerpt from the class here.
On Tuesday morning, March 26th, the SikhNet Team met with the Basics of Sikhi Team at their offices in Hounslow. We learned about their operations and projects and they learned about ours as we came up with new ways to collaborate together.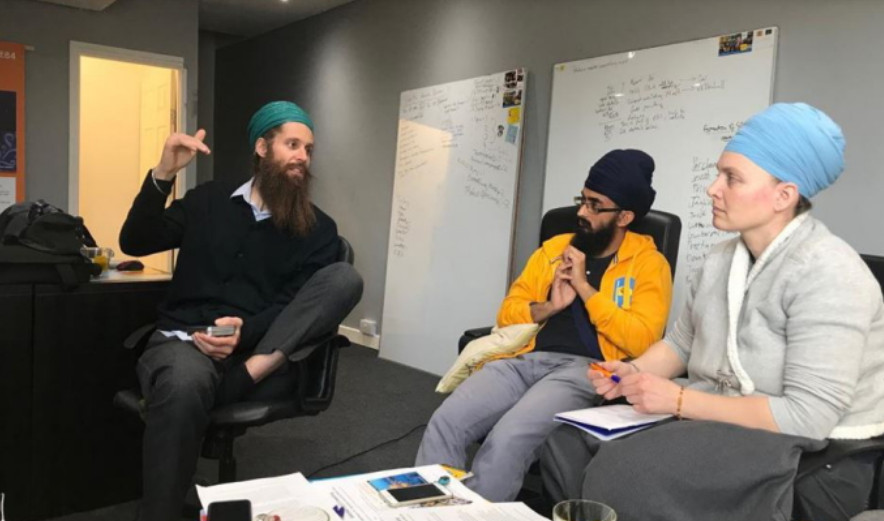 On Tuesday evening March 26th we were blessed with an invitation from MP Tan Dhesi and City Sikhs to speak at Parliament. That morning, I opened the little present Sukhmani Kaur had given me the night before and it turned out to be a lovely pair of socks with the Union Jack (British Flag) on them. I guess she knew I love wearing fun socks and these seemed to be quite perfect for our visit to Parliament that evening. They turned out to be a big hit with the media photographers who were there in force covering the ongoing Brexit debates. Thank you Sukhmani Kaur Ji.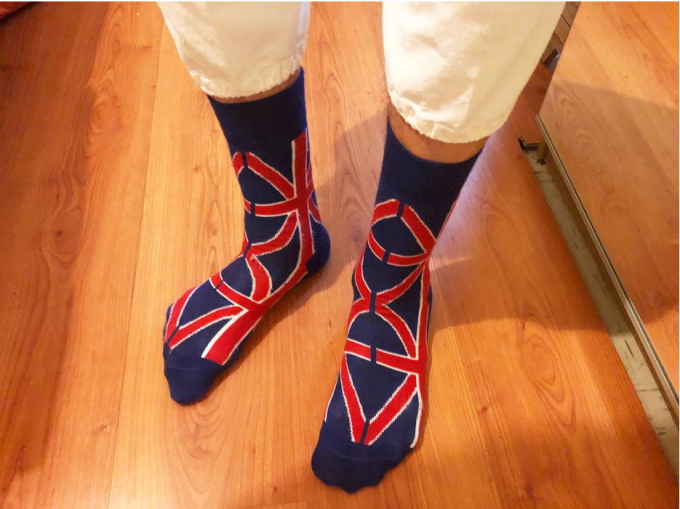 None of us had been to the British Parliament before and it turned out to be an amazing evening. Over 300 people registered online for the event and around 100 were allowed into the committee chamber by Health & Safety. The event was standing room only and was attended by a quite a cross-section of Brits from all around the U.K., Sikhs and non-Sikhs, men, women, young, old, turbans, no turbans, short hair, long hair, political, apolitical, friendly and combative; everyone was represented that evening. Gurumustuk Singh and I discussed the founding of SikhNet, and its history, along with the work we are doing and we took questions from the assembled participants. Discussions continued in the hall and even out onto the street after the event was officially over.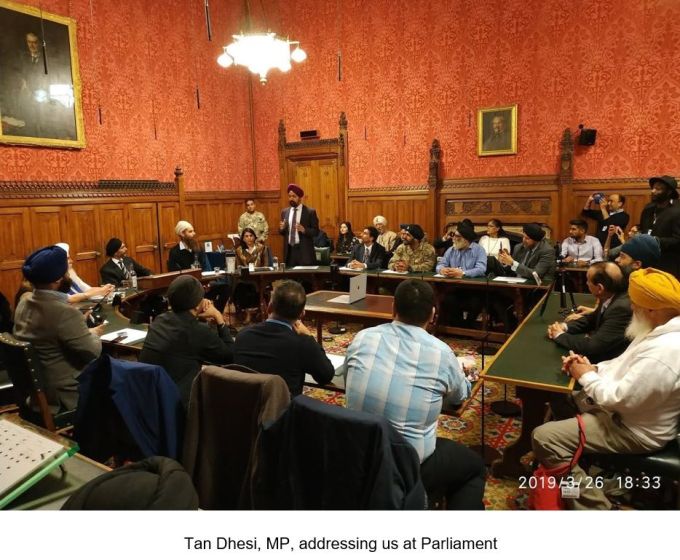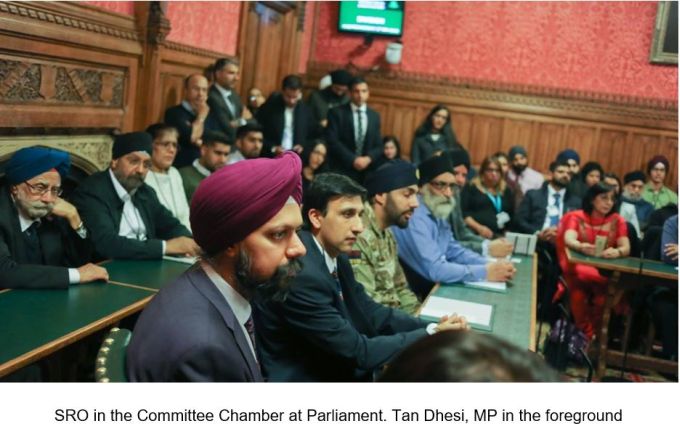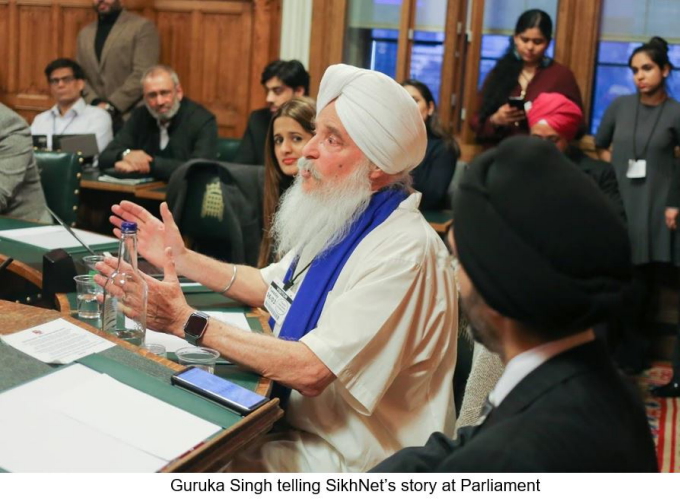 After the SikhNet session, we were blessed to receive a special, behind-the-scenes tour of Parliament and even got to sit in the House of Lords in session whilst the Brexit issue of trade across the Northern Ireland border was under debate.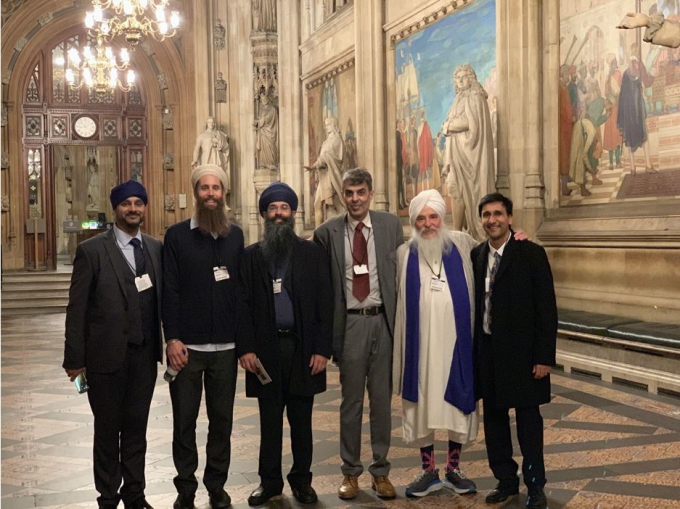 On Wednesday evening back at the flat where we were staying, we spent our evening wonderfully with with Sat Pal Singh from Nanak Nam. Our discussion touched on Sat Pal Singh and Harmeet Kaur's own spiritual journey and how Nank Nam came to be and has evolved. We also discussed publishing Nanak Nam's content on SikhNet and other ways of working together.
Thursday evening we joined in a home simran, langar and kirtan program at the home of Harjit Singh. After the langar, an impromptu simran/kirtan circle formed with everyone singing and taking turns leading the Sangat. We also got to meet some of the Motherhood film team and find out about the film production. The entire evening was filled with so much sweetness and piyar.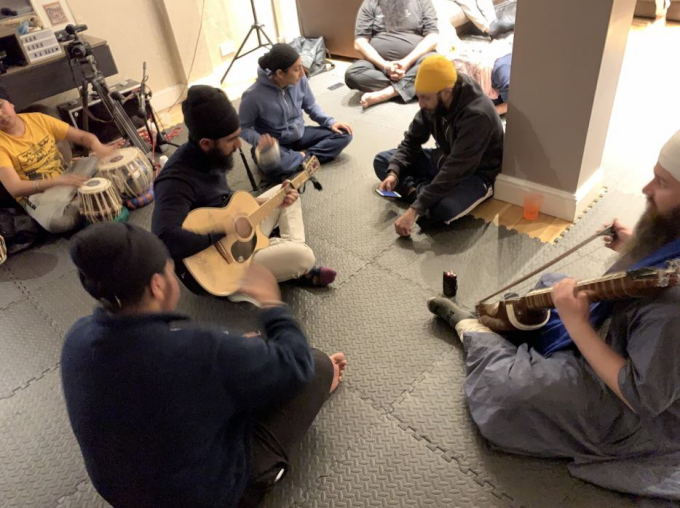 Friday morning we headed North from London to continue our tour in the Midlands and Saturday saw us at Sri Guru Tegh Bahadur Sahib Gurdwara in Leicester.
That evening back in Erdington, Parminder Singh Garcha and the other lovely sevadars at Mata Tripta Darbar were preparing for our Saturday evening event at the Northside Welcome Centre. Arriving to a packed room of students assembled for the evening's workshop on the topic, "Honoring Our Incarnation," we were delighted to find a full Middle Eastern dinner of many delicious homemade dishes by Sangat members laid out for us.
The workshop was enjoyed by everyone and at the end of the Q&A session, the sevadars brought out a 50th Birthday cake in honor of the 50th anniversary of 3HO.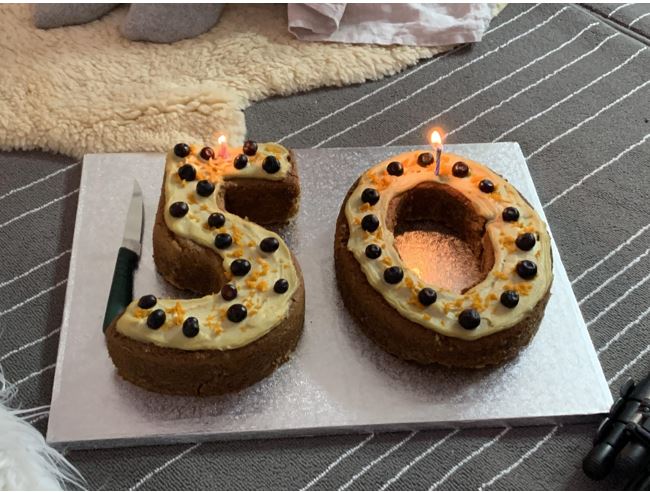 Sunday we were at Smethwick Gurdwara and then at West Bromwich Gurdwara where Gurujot Singh did kirtan, Guruka Singh did katha and Gurumustuk Singh did a slide presentation and told the story of his upbringing and the evolution of SikhNet.
From there we headed north for a cozy evening simran and meditation workshop at Ramgarhia Gurdwara in Leeds.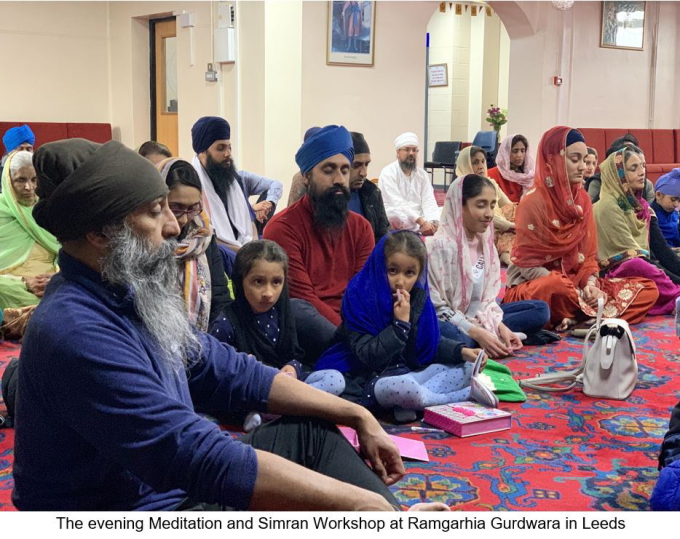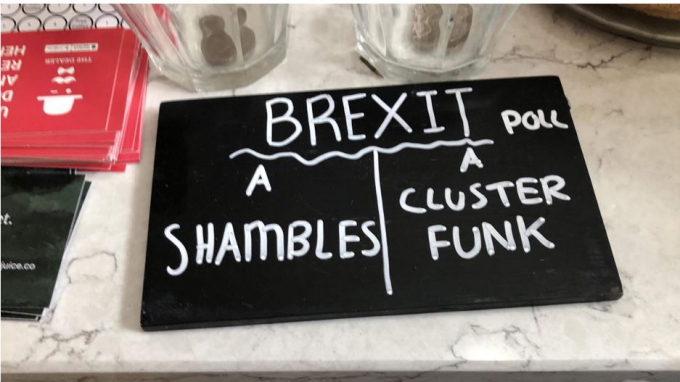 We overnighted in Leeds and in the morning, after a delicious vegan breakfast at a local cafe where we participated in "the Brexit Poll," master storyteller Roop Singh invited us over to his home for tea where we had a rollicking good time telling stories to each other.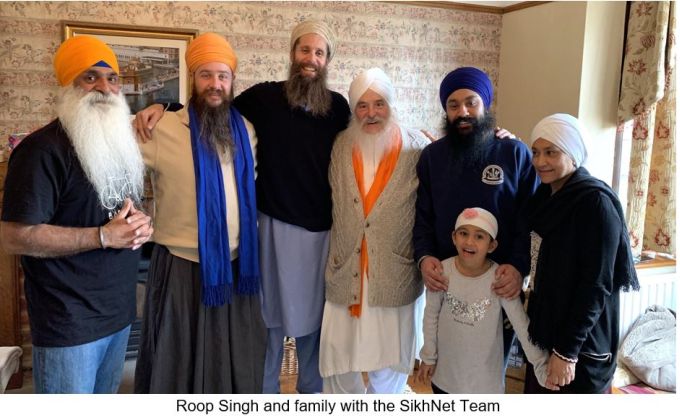 Entering our final week in the U.K. we headed back to Birmingham where we enjoyed lunch at the Warehouse Cafe with Kamaldeep Singh and learned about the Zero Hunger With Langar Project in Malawi. What a wonderful work Guruji has wrought with this project!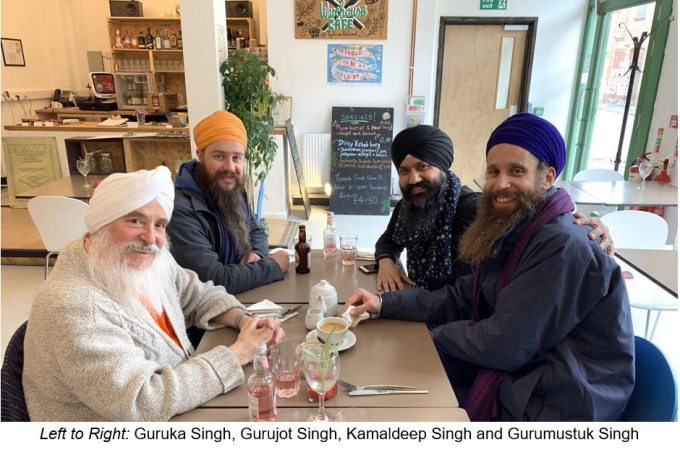 That evening we held a workshop entitled "Why Are We Sikhs?" at the beautiful Nishkam Centre in Birmingham followed by a tour of the Guru Nanak Nishkam Sewak Jatha Gurdwara with its awe-inspiring mirrored dome and spectacular view of Birmingham from the roof.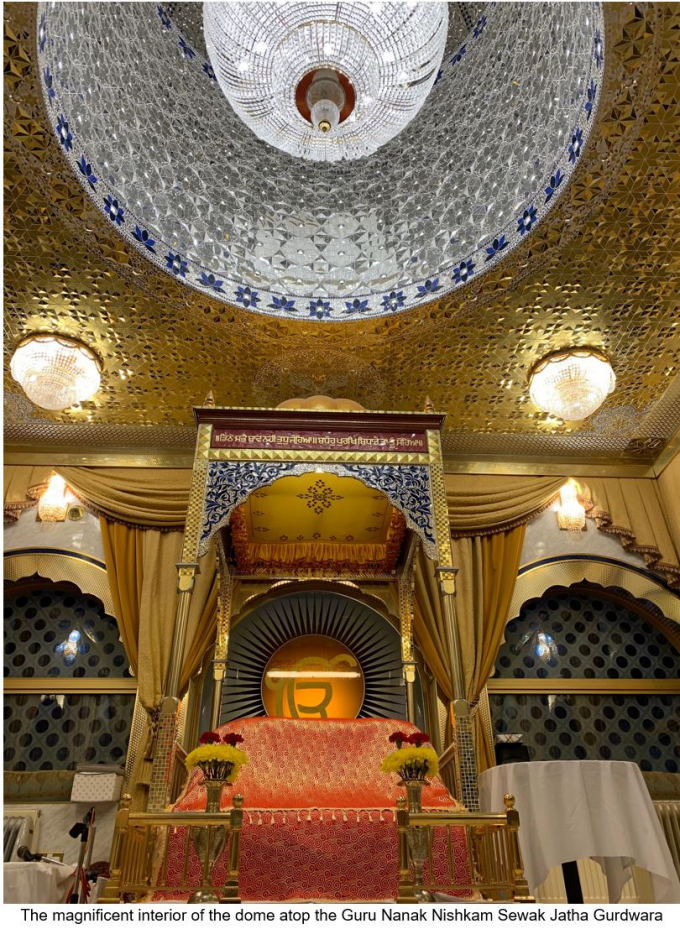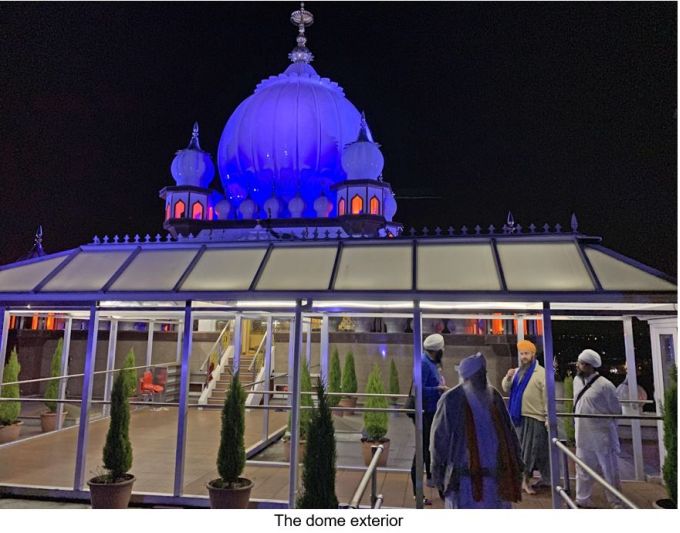 Wednesday turned out to be our 'Media Day' and we headed out early for a round of radio and TV interviews starting with the live 'Breakfast Show' on Sikh Channel TV.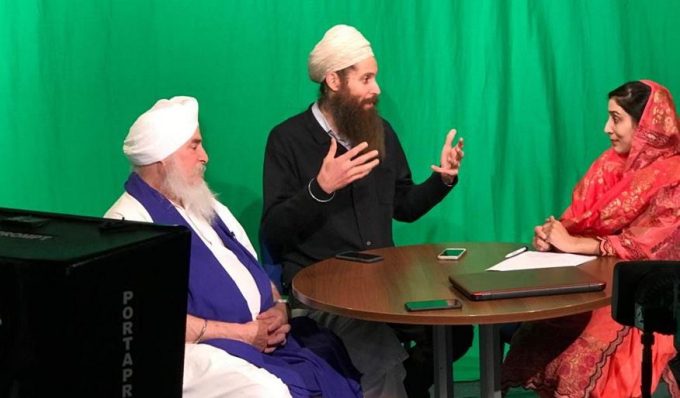 Thence on to the BBC offices in downtown Birmingham for another live interview on the live BBC Asia morning radio show The Great Debate."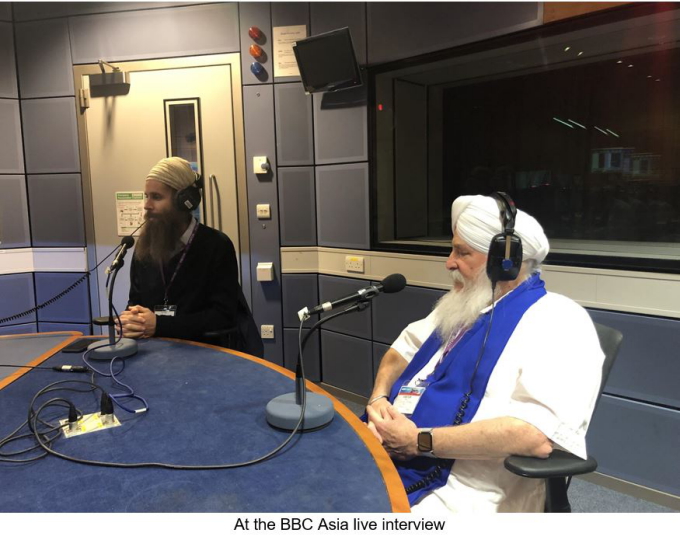 Our stay at the BBC studios became even more fun after the live broadcast when we were kindly offered a 'behind the scenes' tour of the BBC offices and studios by our hosts, Raj and Mucken.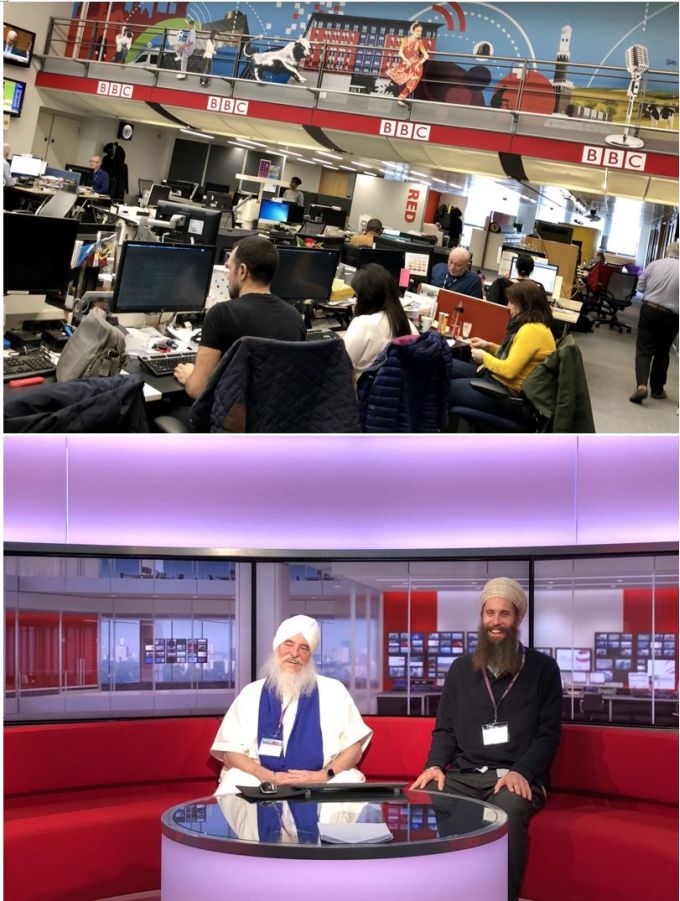 After our splendid visit to the BBC, we moved on to the Akaal Channel to help promote the new Motherhood movie.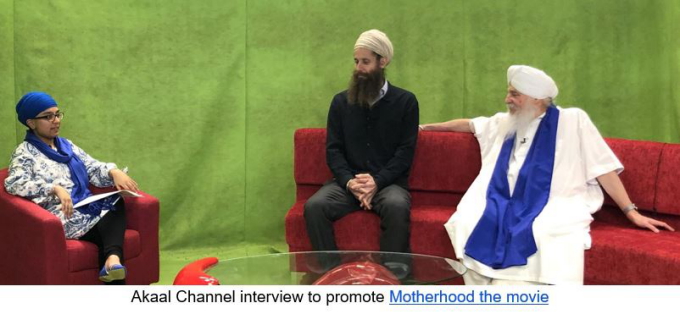 From the Akaal Channel we moved on to the studios of Sangat TV for a relaxed, in depth interview with Phaldip Singh.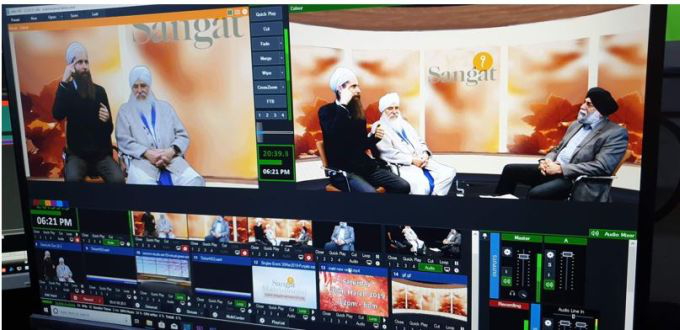 After our whirlwind media day, the following day was a rest day for us. Gurujot Singh and I traveled back 300 years in a time machine called the the Black Country Living History Museum. Spending the afternoon with Gurujot Singh, sitting outside in an afternoon hailstorm eating hot, delicious thick-cut chips, shopping for sweets at the Victorian tea shop, taking afternoon tea with gingerbread and scones with strawberry jam and clotted cream at the 19th century pub, meeting and talking with the volunteers and the historic characters they inhabit in the company of our delightful host, Kesh Singh, made for an extremely fun day!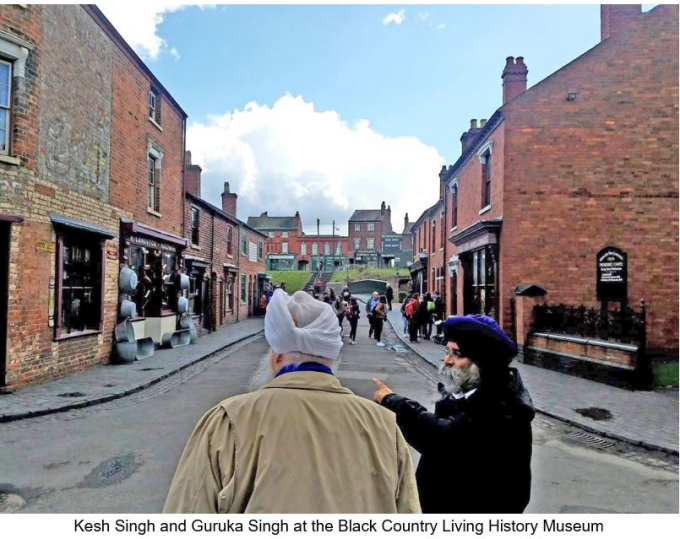 That evening we all enjoyed dinner at Kesh Singh and Siri Sadhana Kaur's home with their family and Bibi Kulwant Kaur.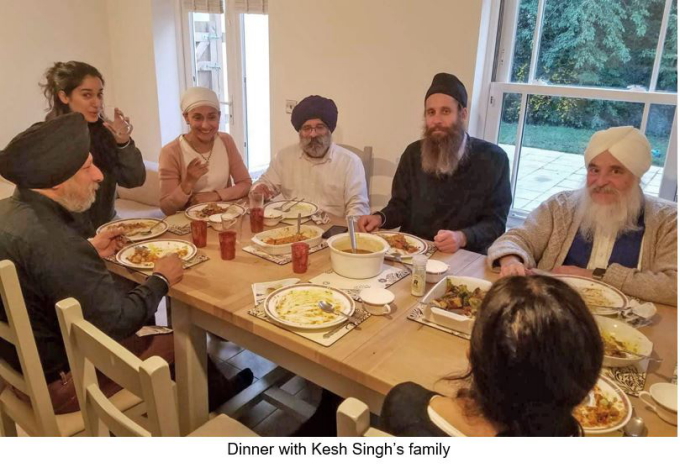 Friday morning, we headed back to London with Kuldip Singh and on the way got to visit for a delicious home-cooked lunch with him and his family at their home in bucolic Royal Leamington Spa.
Friday evening took us back to Central London for a workshop with college students at King's College arranged by Nishaan UK Sikh Student Network.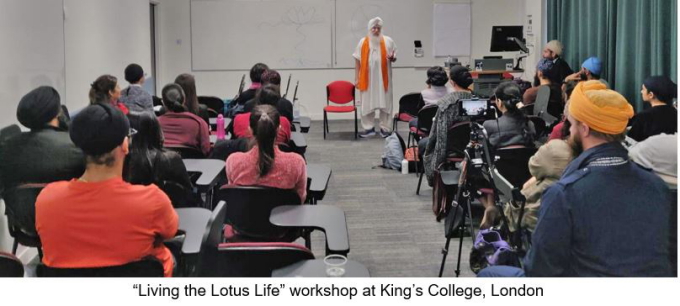 Our final weekend in London saw us participating in a panel discussion with representatives from Basics of Sikhi and the National Sikh Youth Federation at a packed Norwood Hall in Southall on the topic "Imagining a Sikh Future," and then our host, Shamsher Singh, took us to Guru Manio Granth Gurdwara, Slough.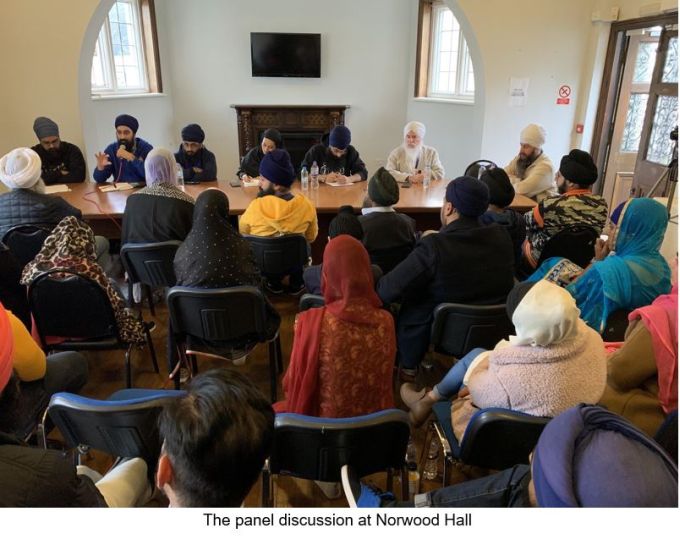 Guru Maneyo Granth Gurdwara (GMGG) in Slough has a unique energy. It is clearly 'seva central' in Slough. After mata tek and meeting Gyaniji and the sevadar team we partook of the organic langar which included maki da roti (corn roti) and saag paneer. Yum! The Gurdwara itself is very modern and very large. It used to be the offices of Citroen and the main darbar hall is huge as it used to be a car showroom. We went upstairs to the Simran Hall to join hundreds of Sangat vigorously doing Simran. We then received a tour of the Gurdwara and learned about the trades program GMGG has instituted to support the community with training in trades such as bricklaying and plumbing so members of the Sangat can be trained and certified in their chosen trade and support themselves and their families. We also had a tour of the amazing Sikh Art Gallery, the 'Without Shape Without Form' exhibition. This modern 7,000 sq ft gallery took design inspiration from London's renowned contemporary art gallery scene and is the permanent home of 35 dramatic and deeply inspiring Sikh paintings by artist Kanwar Singh presented on an unprecedented scale. This already extensive collection of artwork is set to be expanded annually and will be the artist's UK home base and exclusive site for launching new art as it is created. The gallery's ongoing focus is two-fold, spreading knowledge of Sikh history with a focus on Gurbani and inspiring future generations to express their love of Sikhi through the arts. Here is a video of the November 2017 opening of the gallery.
The above video cannot convey the grandeur of the exhibition. I have no words to express the depth of feeling I experienced in the exhibit. Standing before each painting in the size displayed and being overwhelmed by the depth and power of the experience is so far beyond looking at small digital images. I was able to experience the flow of energy and light within each paining as I was enveloped by the celestial music playing in the gallery and reading the perfectly chosen words that accompany each panel. The overall experience including the line of sight back from the final panel to the first one was amazing. I wholeheartedly invite you to visit GMGG when you are in the U.K. and have this experience in it's full immensity.
In Southall, there is a small, unassuming Gurdwara on Clifton Road called Gurdwara Guru Amardass Ji. The deep feeling of sukh that permeates this gurdwara comes from the seva of the local Sangat, the daily Amrit Vela simran and the continuous Sukhmani Sahib da Paath that has been devotedly sustained by Sangat members over more than 20 years. In the mornings we joined the Amrit Vela simran there. Gurujot Singh sang and played harmonium and dilruba and all were filled with delight.
Saturday evening we had a reunion of sorts at Ravinderpal Singh's home in Southall. Ravinderpal, who is affectionately known as 'Rumta,' had his birthday coming up the following day and a score of Sikh Student Camp alumni and guests got together for kirtan and a cozy meal. Ravinder Pal Singh does the sweetest kirtan and he, Sukhmani Kaur and Gurujot Singh all sang that evening as the Sangat joined in with whole hearts. After the sweetness of the kirtan a meal was served with shai paneer, curry, salad and pizzas that had been brought in for the occasion.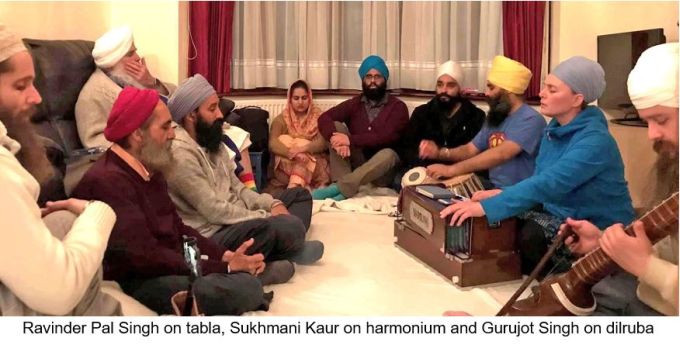 When the meal was served, I sat on the couch with an older Sikh man wearing a red Afghan style turban (he's in the picture above second from the left.) As we sat together, he began to tell me his story. He is completely blind, but he had not always been this way. His opening comment to me was, "Why don't people chant 'Har? Everyone chants 'Waheguru, Waheguru' but nobody chants 'Har.' 'Har' appears over 8,000 times in Guru Granth Sahib. Why don't people chant 'Har?' I replied, "Why not chant both?" to which he replied, "You don't understand. When I learned I was going blind I began searching for something. I found a video on YouTube and I learned how to chant 'Har, Har, Har' from that video. As I went blind I began chanting it all the time in that clear rhythm I learned in the video. Now 'Har' is inside of me. Every time I tap my cane on the street I chant 'Har, Har' with each tap. When I cross the street someone always comes to help me and as we cross, with the sound of each step I chant 'Har, Har.' 'Har, Har' is always in my mind. I feel so blessed. Everything is taken care of for me. Everything just comes to me at the time that I need it." "Wow" I replied, "That's beautiful. Now I understand." He raised his face to mine and sightlessly he asked me, "Do you happen to know the gentleman who made that video?" I simply replied, "It was I who made that video many years ago. Guru kirpaa." He started crying and put his arms around me. We hugged wordlessly, simply feeling the depth of each other's presence as he cried softly and said, "I knew Guru Ji brought me here this evening for a special reason."
Although I've described just one, this tour was filled with many special, divine moments like that one.
In every Sangat, wherever we went, souls connected by Guru Ji's grace and we felt the sacredness and blessing of all the deep connections we have all around the U.K.
Sunday was our final day in London, as we were scheduled to depart the U.K. on Monday morning. I headed to the Ealing Gurdwara to deliver katha and meet the Sangat there. The kirtan and katha was beautiful and many Sangat members gathered around afterwards and we got to talk more intimately before Langar. The Langar was festive and many Sangat members came around to talk with me.
Baisakhi celebrations had begun all around Southall and we were scheduled to join Basics of Sikhi at their booth along the Nagar Kirtan route. Over 30,000 people joined the Nagar Kirtan. We were near the end of the route as Guru Sahib arrived to the sound of the booming Nagara and the cosmic sound of conch shells being blown in celebration.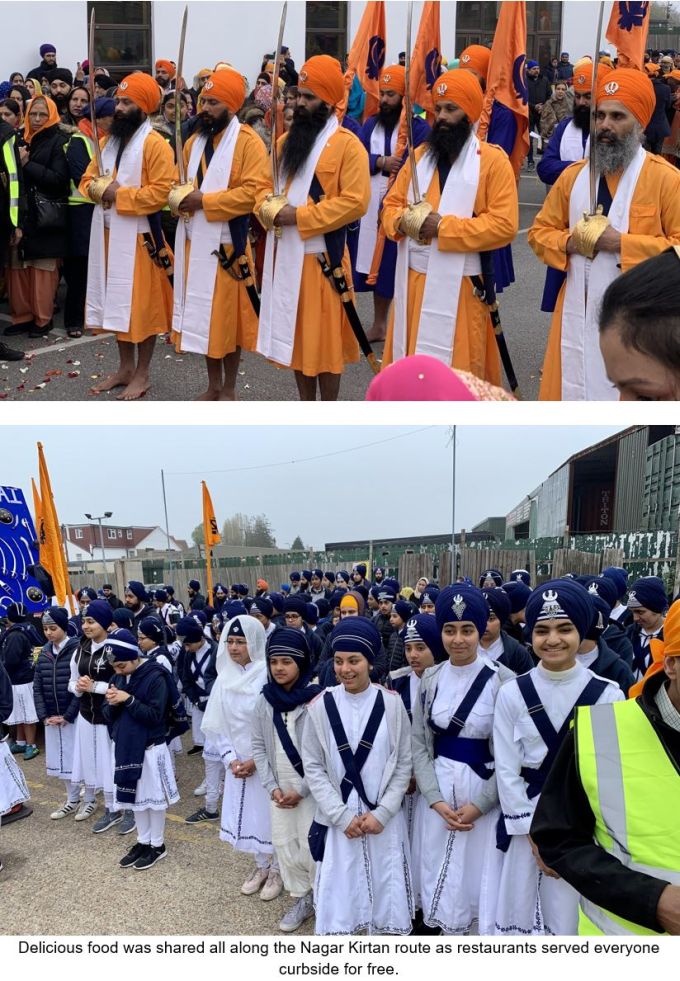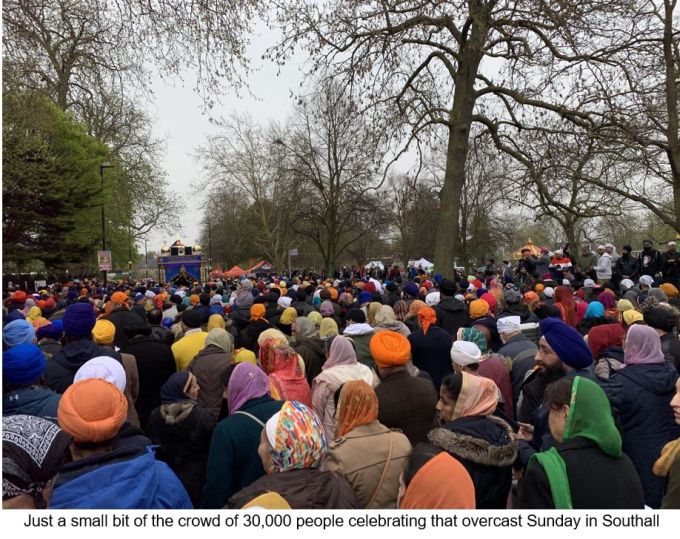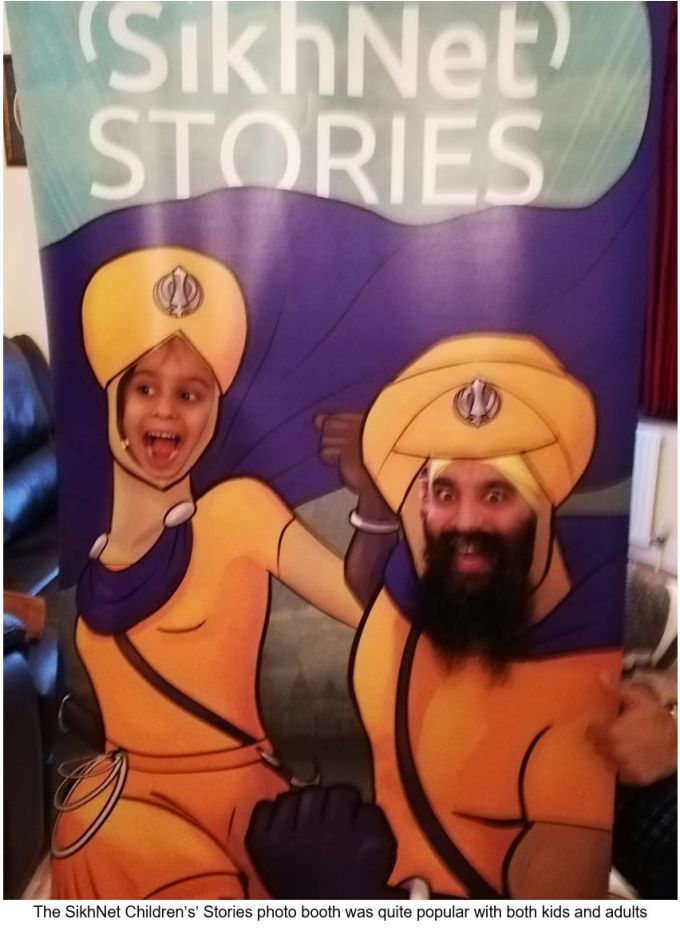 As we headed for Heathrow on Monday morning, I remembered that Min Kaur had told me that her mum works at the Harrod's Store in International Terminal Two and, with just a few minutes to spare, I headed over there for a final goodbye. After a joyful Fateh upon seeing her there, and telling her I stopped to say goodbye, she gifted a lovely enameled bone china English teacup and saucer set for my wife at home.
Our trip home was smooth and we all arrived back in New Mexico carrying something we didn't pack when we left: our reawaked love for England and the people of the U.K. England is always right here in my heart. Not just the rolling green hills of Yorkshire and London's storied history, but the love, smiles, seva and delightful presence of our beloved Sangat there.This tour reawakened that presence and it shall live inside us forever.
Note: If you were with us during our tour, please be so kind as to forgive any omissions in this essay. There are countless unsung sevadars and beautiful souls who remain unmentioned in this narrative but I can close my eyes and see each of your faces before me, and I smile and feel the depth of my love and appreciation for you. Thank you.