Moving on the footsteps of Guru Nanak, after having visiting UP, Uttrakhand, Punjab and Himachal we reached Ladakh. It was a coincidence that Ladakh, a part of the state of Jammu and Kashmir during our visit, was made a Union Territory at the end of our visit to Jammu and Kashmir, by amending the Constitution.
Geography
At the time of the visit, Ladakh was part of the greater Kashmir region; the region being the subject of dispute between India, Pakistan and China since 1947. (1, 2) Ladakh is bounded from the east by the Tibet Autonomous Region, from the south by the Indian state of Himachal Pradesh and the Indian-administered Union Territory of Jammu and Kashmir, and from the west and southwest by the Gilgit-Baltistan of Pakistan. Across the Karakoram Pass in the far north is the Chinese province of Xinjiang. In the north-western part of the Himalayas are the Siachen Glacier and the Karakoram Pass. (3,4) The eastern end extends to the Aksai Chin plain, which was annexed by China in 1962 and is in the midst of negotiations with India for its return (5, 6).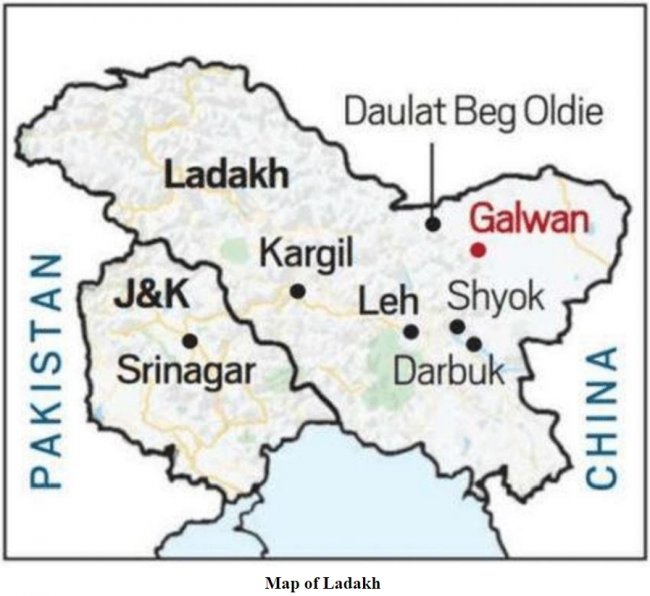 Ladakh is a land of mountains, rivers, streams, lakes and valleys.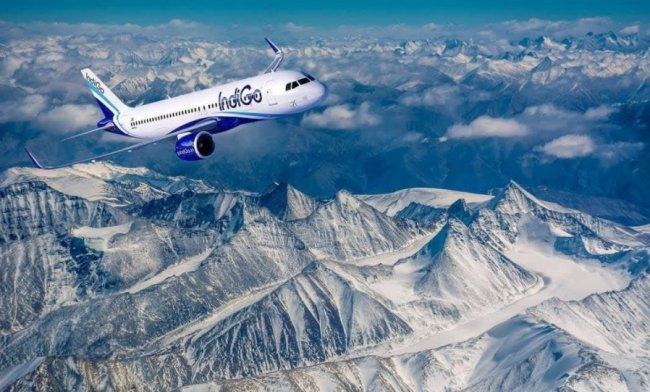 Northern  Mountains Ranges
Colourful Mountains in Eastern Ladakh Bordering Tibet
The rivers: Sind, Zanskar, Suru
Confluence of two main rivers of Ladakh Indus and Zanskar Lakes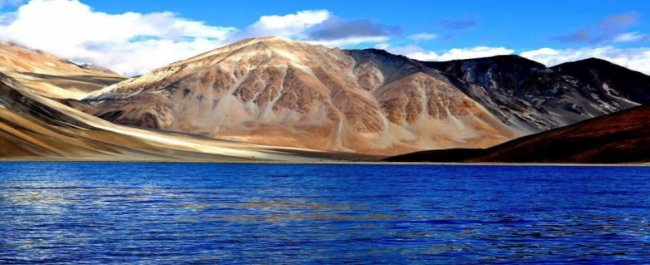 Pegong Lake Valleys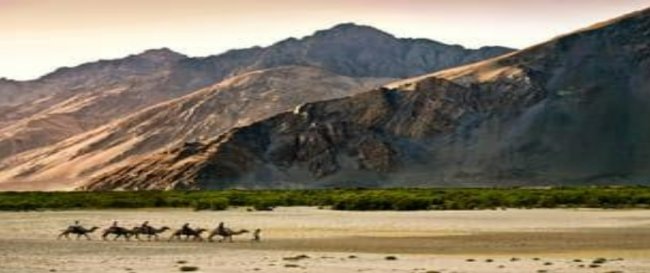 Nubra Valley
Leh Valley 
People are of Tibetan breed and very colourful, hardworking, strong and healthy.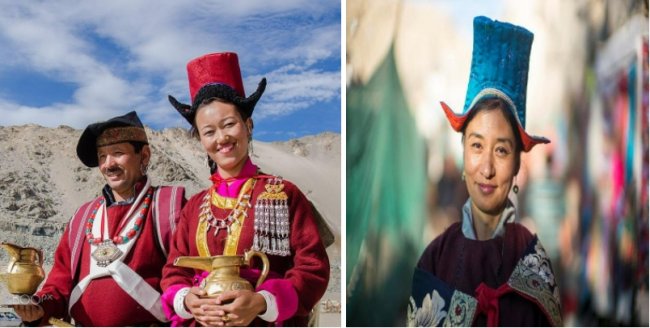 The main occupation is animal husbandry in which goats, yaks and mountain camels are important.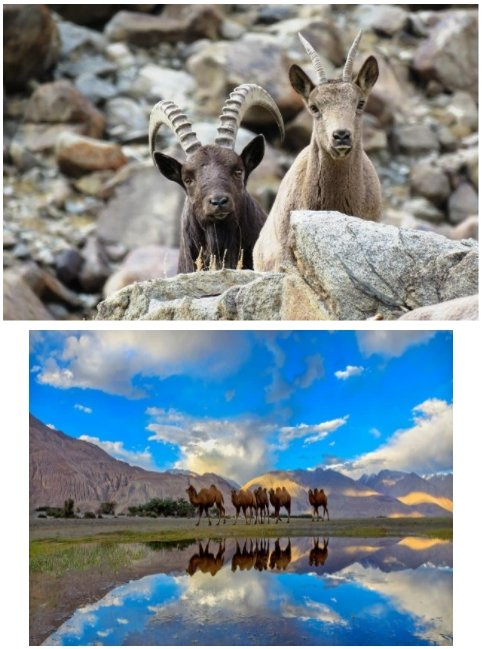 Mountain Goats and mountain camels
The main religion of Ladakh is Buddhism. Muslims, Hindus and Sikhs are also minorities.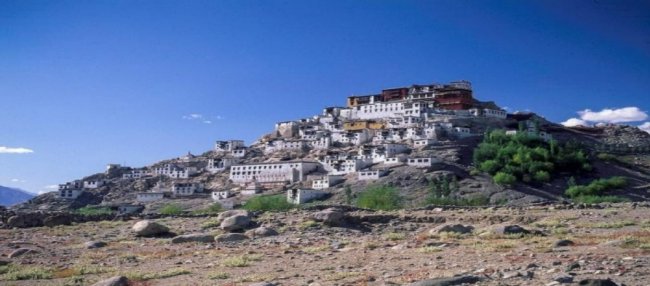 Apart from the Buddhist Mutt, the main symbols of Buddhism are: Buddhist lamas and Buddhist students in red, flags waving in the air, stupas, revolving Buddhist chakras, and Buddhist dances.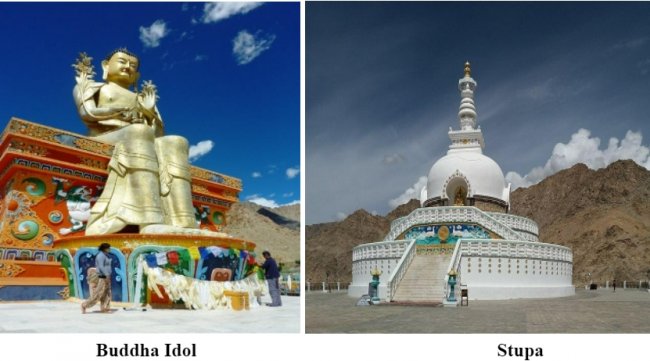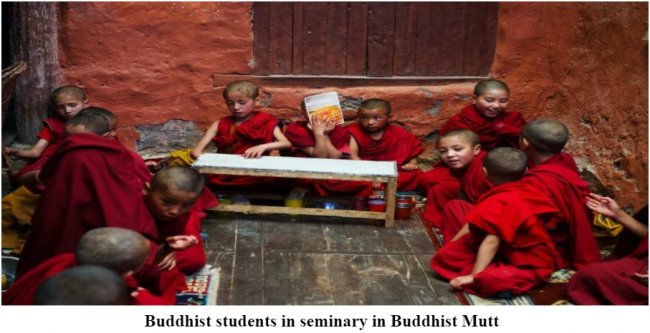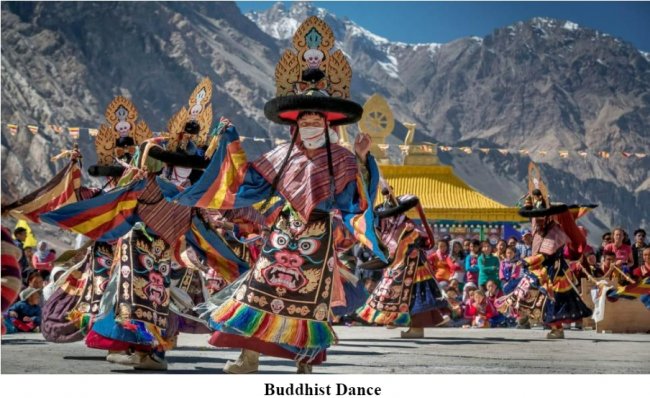 Sikh History
Ladakh, formerly part of Tibet, became part of Maharaja Ranjit Singh's Sikh kingdom after General Zoravar Singh of Maharaja Ranjit Singh's army fought with the Tibetan Army from May 1841 to August 1842.  Zorawar Singh with 4000 to 6000 soldiers tried to push the boundaries of Sikh Kingdom deep into Tibet. (4) Armed with guns and cannons, they attacked the Tibetans. The Tibetan army was mostly armed with bows, swords and spears. (7) Zoravar Singh divided his forces into three columns, one through the Rupshu valley Hanley, second along the Indus valley towards Tashigang and the third towards Rudok along Pangong Lake. The first two detachments captured the Buddhist monasteries of Hanley and Tashigang. (7, 8) As a result, the Tibetan Army soon gave up. 
Tibetan border officials reported the matter to Lhasa (8), after which the Tibetan government sent a force under the command of Cabinet Minister Pelham. (9) By that time, nearby Taklakot was also captured. The Tibetan general was unable to secure Taklakot and returned to Mayum La, on the western border of Tibet. (10)

300 paisa General Zorawar Singh postal stamp released by Government of India on December 31, 2000. (b) Zorawar fort in Ladakh. 
Zoravar Singh demanded the historical claims of Mayum Pass in western Tibet of Ladakh, (11) which was used before the Treaty of Tingmosgang of 1648. All the occupied forts were besieged, while the chief army encamped at Tirathpuri, west of Mansarovar Lake. (12) An administration was established at Tirathpuri to rule over the occupied territories. (13) Minsar (or Misr, now called Menshixiang), was used to store supplies. (14)
After Zorawar Singh having been killed in the Mansarovar area, (5) the Tibetan army started advancing towards Ladakh. A battle was fought near Leh in 1842 under the command of Jawahar Singh, in which the Tibetan armies were defeated and the Treaty of Chushul was signed in 1842. After this, Ladakh was annexed to the Sikh State. (6) 
At this time, neither side wanted to continue the struggle, as the Sikhs were embroiled in tensions with the British which led to the First Anglo-Sikh War, while the King of China was embroiled in the First Opium War with East India. The emperor and the Sikh Empire signed a treaty in September 1842, promising not to trespass or interfere in another country's borders. (15) Thus Ladakh became part of the Sikh state. The first ruler, Namgyal, was given a small jagir, now known as the Stoke Palace outside Leh.
After the 1947 partition
After the Indo-Pak partition, Pakistan asserted its sovereignty over the entire kingdom of Maharaja Ranjit Singh. So he launched a tribal attack on Ladakh in 1947-1948 in which Baltistan was separated from Ladakh. In 1962 Sino-Indian War Aksai Chin of Ladakh was taken over by China. In 1999 Pakistan tried to separate Ladakh from Kashmir by occupying the hills along the Srinagar-Leh highway but was defeated. In April 2020, the Chinese occupied all the no-man's-land between Ladakh and Tibet. This issue has not yet been  resolved. So Ladakh has always been of strategic importance to India. At first it was part of Jammu and Kashmir, but during our visit it had been separated from Kashmir and made a Union Territory. Sikh soldiers have made invaluable contributions in all these wars.
Trade routes
In the 19th century, Ladakh was the centre of trade routes that stretched across Turkey and Tibet. Its trade with Tibet was governed by the Tingmosgang Treaty of 1684, which gave Ladakh the exclusive right to receive pashmina wool produced in Tibet in exchange for bricks and tea. (7, 8) The world renowned Kashmir Shawl Industry received a supply of wool from Ladakh. (9)
In the past, Ladakh gained prominence from its strategic position being the centre point of important trade routes, (16). But when Chinese authorities closed the border between the Tibet Autonomous Region and Ladakh in the 1960s, international trade declined. To compensate for this,  since 1974, the Government of India has successfully promoted tourism in Ladakh. Due to the strategic importance of Ladakh and India's strained relations with China and Pakistan, the deployment of Indian troops in the region is large.
The largest city in Ladakh is Leh, followed by Kargil; both of these are district headquarters. (17) Leh district includes the valleys of Indus, Shyok and Nubra rivers. Kargil district includes the valleys of Suru, Dras and Zanskar rivers. The main populated areas are river valleys, but nomads roam in the mountain slopes and pastures with their livestock.
Ladakh is the largest and second least populous Union Territory of India. The major religious groups in the region are Muslims (predominantly Shia) (46%), Tibetan Buddhists (40%), Hindus (12%) and others (2%). (9,10) Its culture and history are closely linked with the history of Tibet. (18)
Guru Nanak Dev Ji in Ladakh
During his third travel, Guru Nanak visited Ladakh, the land of sages  and Sufi saints. According to Giani Gian Singh, Guru Nanak entered Ladakh after visiting Mount Kailash and Mansarovar. According to Dr. Surinder Singh Kohli, Guru Nanak returned to India from Nanking, China and came to India in the summer months through Shahidullah outpost in Xinjiang province. (19) (Kohli: Travels of Guru Nanak: 128) In the Ladakh part of Jammu and Kashmir, they crossed the Karakuram Pass via Kashgar and Yarkand. The footprints, however, tell different story which Dr. Kirpal Singh outlines: "Guru Sahib passed through Gortok, formerly known as Garu, and passed through Rudok and Pansing lakes to reach the present Chushul route to Ladakh. (20) (Kirpal Singh No. Janamsakhi Tradition Page 107)
Guru Nanak Sahib reached Karu Nagar from Chushul via the town of Upashi Naam. About twenty miles southeast of Karu, there are two villages whose inhabitants are named after Guru Nanak Dev Ji and except Guru Nanak Dev Ji they do not believe in any other deity. (Statement by Col. JS Guleria, New Delhi) (21) However, no Gurdwara is built there.
To the east of Karu Nagar is the oldest Hems cave in Ladakh. According to a tradition, a stone is mentioned here on which Guru Nanak Sahib sat and talked. Many people in Hems believe that the foundation stone of this cave was laid by Guru Nanak. (Statement by Col. JS Guleria) (22)
Signs of the Guru's arrival in Ladakh from Tibet can be found in many Buddhist monasteries in which the joy of the Guru ji's arrival is celebrated with a dance of masks. Historically, Tibet and Ladakh were connected by a trade route from the Demchok region. There are two gurdwaras (Gurdwara Pathar Sahib and Gurdwara Datan Sahib) in Leh commemorating Guru.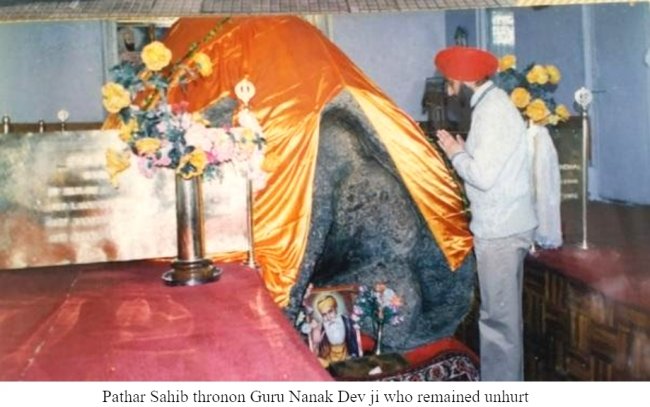 After speaking to the people in Ladakh, Guru Nanak also visited Skardu and Gilgit. There was a historical shrine in Skardu which has been revered as Gurdwara Nanak Peer. Here Kalander Gauns Bukhari had imprisoned the local physician and abused the people. After conversing with Guru Nanak, both Gauns Bukhari and Hakim became followers of Guru Ji. The historic shrine at Kargil is Charan Kanwal Sahib. From here Guru Ji reached Balatal of Kashmir through Dras and Zoji La Pass.
The second major imprint of the Sikhs after Guru Nanak's footprints is of the reign of Maharaja Ranjit Singh in this area, which has been explained above in the battles of Zoravar Singh, the general of the Sikh state.
The third major imprint is that of Air Commodore Mehar Singh who landed the first aircraft at Leh Airport in 1948.  He performed many heroic deeds in World War II and the Indo-Pakistani war of Jammu and Kashmir and especially in Ladakh in 1947-1948. 
During the Second World War, in March 1944, as a Squadron Leader Mehar Singh was awarded the Distinguished Service Order (DSO). He was the only Indian Air Force officer to win the award. (23) His commemoration card read: "This officer has done a great deal of work, and has shown a lot of skill, courage and determination.  He is one of the most inspiring leaders, whose example is reflected in the squadron's good fighting spirit. This officer has done the most valuable service. "
After the annexation of Jammu and Kashmir on 26 October 1947, the 1st Battalion Sikh Regiment (1 Sikh) led by Lieutenant Colonel Diwan Ranjit Rai was sent to Srinagar. As an Air Officer Commanding Operational Group, Meher Singh was the first pilot to land in Srinagar and landed troops in Kashmir in just five days. This way soldiers were deployed in least time (24).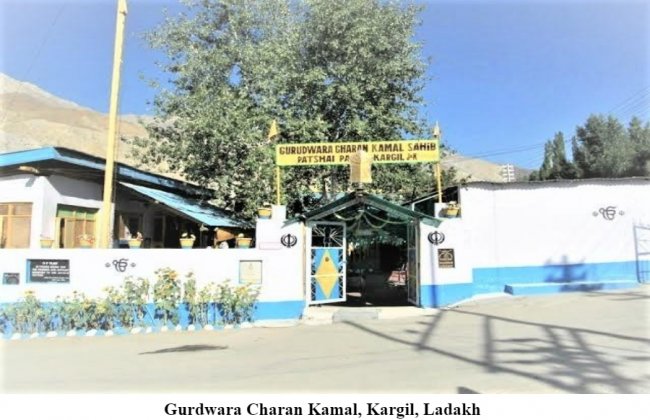 Air Commodore Mehar Singh then set up an air bridge for Poonch. He piloted the first plane and landed at Poonch airport. The runway was surrounded on three sides by flowing rivers and its access was very steep. In the face of great difficulty, he landed a Douglas aircraft with a load of three tons instead of one ton. So he had no equipment to assist in landing, but he did so without landing assistance and with the help of oil rigs. Illuminated (25)
Air Commodore Mehar Singh was also the first pilot to land in Leh, Ladakh. (26) Major General KS Thimaiah accompanied him as a passenger. Led by a flight of six Dakotis of the 12th Air Force Squadron across the high Himalayas, he reached an altitude of 24,000 feet via Joji La and Fotu La and on an improved sandy airstrip at an altitude of 11,540 feet near the Indus River. He landed the plane without any route maps, instruments or sadhana. (27)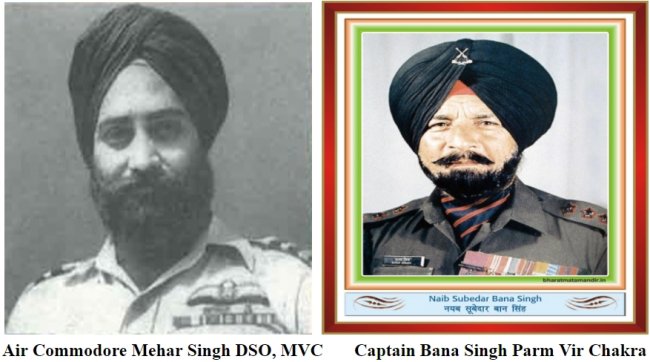 On January 26, 1950, when the Indian Armed Forces Awards and Decorations were established, Air Commodore Mehr Singh was awarded the second highest wartime military decoration, the Mahavir Chakra (MVC). 28) (29)
During his tenure as AOC No. 1 Squadron in Jammu and Kashmir, Air Commodore Meher Singh showed great devotion to personal risks and duty and set an example for his subordinates. He was the first pilot to land at the emergency landing ground at Poonch and Leh. These tasks were not part of his duty, but given the fact that they were dangerous, he did them first to convince his junior pilots. "
Air Commodore Mehr Singh was considered a great pilot and flight attendant. (30) He was the first pilot to land in Srinagar, Poonch, Leh and Daulat Beg Oldi. In a relatively short career of 12 years, he rose to the rank of Air Commodore and was awarded two wartime gallantry awards.
In 2018, the Indian Air Force established the Mehr Baba Award in honor of Air Commodore Mehar Singh for drone development. (31) Air Commodore Mehr Singh won the admiration of his subordinates and men during his association with the Royal Indian Air Force (RIAF). "Squadron Leader Meher Singh alone instilled confidence in us with his courage and unparalleled ability," he once said. (32)
The third major impression is of the bravery shown by the Sikhs against the Chinese in 1962. The fourth major imprint is the bravery shown by the Sikhs in the Kargil War which is described in the Kargil War Memorial article. The fifth largest print is from 1987:
In 1987, Pakistani forces infiltrated the strategically important Siachen region. The Pakistanis captured an important icy mountain peak which they called "Qaeda Chowki". The outpost was located on the highest peak of the Siachen Glacier region (at an altitude of 6500 m). From this outpost, Pakistan could see the positions of the Indian army as this altitude gave a clear view of the entire Saltoro Range and the Siachen Glacier. The enemy outpost was actually a glacier fort, with 457 meters high ice walls on either side. (33)
On April 18, 1987, Pakistanis at the Qaeda Post opened fire on Indian troops at Point Sonam (6,400 meters), killing two soldiers. The Indian Army then decided to drive the Pakistanis out of the outpost. On May 29, a patrol of the same regiment, led by Second Lieutenant Rajiv Pandey, tried unsuccessfully to capture the post, but 10 Indian soldiers were killed as a result. After a month of preparation, the Indian Army launched a new operation to capture the outpost. This operation named "Operation Rajiv" in honor of Lieutenant Rajiv Pandey was led by Major Virender Singh. (34) (35)
Since June 23, 1987, Major Virinder Singh's task force has carried out several raids to seize the post. After initial setbacks, on April 20, 1987, Naib Subedar Bana Singh, who was stationed in Siachen as part of the 8th Jammu and Kashmir Light Infantry Regiment, was ordered to take over the Qaede post. A five member team led by Naib Subedar Bana Singh successfully captured the Qaeda outpost on 26 June 1987. The team reached the Qaeda post from a sudden direction, using a longer and more difficult approach than the other teams. Bana Singh and his fellow soldiers climbed the 457 meter high wall of ice. Due to the blizzard, the Indian troops reached the top. After reaching the top, Bana Singh saw a Pakistani bunker here. He threw a grenade into the bunker and closed the door, killing the Pakistani soldiers inside. Hand-to-hand fighting broke out between the two sides, in which Indian troops killed some Pakistani soldiers outside the bunker. Some Pakistani soldiers jumped from the top. Later, Indians found six bodies of Pakistani soldiers. (34) (36)
On January 26, 1988, Bana Singh was awarded the Param Vir Chakra, Bravery Medal during India's highest war for his bravery during Operation Rajiv. (37) The statement of his bravery was written respectfully: n June 1987, Naib Subedar Bana Singh voluntarily became a member of a task force to repel an incursion by an enemy at an altitude of 21,000 feet in the Siachen Glacier region of Ladakh. There were walls of snow so high that it was almost impossible to reach it. The enemy was deployed for any oncoming attack from all sides.
Naib Subedar Bana Singh The most difficult to reach here
And chose a dangerous path on which the enemy did not expect any attack and led his men. With his amazing courage and leadership he inspired his subordinate soldiers. Brave Naib Subedar and his comrades crawled and attacked the enemy indiscriminately and moving from trench to trench, throwing hand grenades and charging the outgoing Pakis with bayonets, they eliminated all Paki invaders from the post.
Thus Naib Subedar Bana Singh carried out a great campaign by showing the best bravery and leadership in the worst of circumstances. (38) The peak he reached was named Bana Top in his honor. During the Kargil War, he was the only Param Vir Chakra Awardee still serving in the Army.
The sixth major imprint is the year 2020, when Sikh soldiers performed a marvelous feat against the Chinese in the Galvan Valley. The details are given below.
Following the Chinese incursion into the Galvan Valley area of ​​Ladakh, due to Sino-Indian clashes and the martyrdom of 20 soldiers, it has been talked about all over the world, especially the two units of the Sikhs, the 3rd Punjab Regiment and the 3rd Medium Regiment. The most famous of the twenty military martyrs here is Shaheed Gurtej Singh. In his picture, he looks like a beautiful young man, an innocent soul and a statue of beauty.
It is the 14th Indian military outpost on the confluence of the Galwan-Shiuk rivers in the Galwan valley of Ladakh, which was occupied by the Chinese and was to be evacuated under an agreement. The Chinese first evacuated the outpost but then came under a conspiracy and recaptured it with a tent.
When Colonel Santosh Babu, the commanding officer of 16 Bihar, arrived with about 20 men to inspect the evacuation of the outpost, he asked the Chinese to carry the tent as per the agreement. But the Chinese had something else in mind. They first pushed the colonel down and then hit him on the head with a stone. Seeing his CO (commanding officer) wounded, the accompanying men became excited and launched a full-scale attack on the Chinese. According to their plan, the Chinese called in about a thousand of their comrades who fell on a handful of Indian soldiers with wire-wrapped stones, fortified reeds, etc.
On the other hand, when two units of the Sikhs, the 3rd Punjab Regiment and the 3rd Medium Regiment, came to know of this major attack, as many young men as were nearby reached it. Among them was Gurtej Singh of 3 Punjab Regiment who was a resident of Birewal Dogar, Mansa district of Punjab. His entire family including mother Parkash Kaur and father Virsa Singh were Amritdhari Sikhs. Being an Amrit himself, he had the Guru's blessing Siri Sahib which he used openly on the Chinese.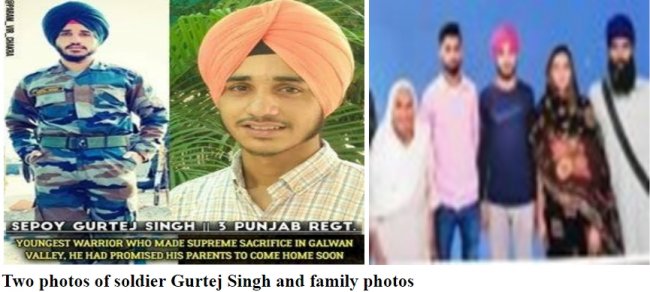 According to his colleagues, journalist Sudhir Bhowmik and several TV channels, he first shocked the four Chinese who surrounded him. He was then surrounded by four other Chinese. He got stuck in a rock while fighting but then he managed to cross the four of them. According to reports, the rest of the Chinese focused on controlling him. When three more Chinese surrounded him, he killed them too. Anne was later hit on the head by a Chinese man, causing serious injuries and bleeding profusely. But even in this situation, he did not lose consciousness and killed the twelfth Chinese. He then escorted the 12 Chinese soldiers to the next house.
He fainted due to excessive bleeding and when the fighting ended four or five hours later, he was brought on a stretcher and treated for poisoning. Due to the temperature below 35 degrees, delay in the third treatment, and excessive bleeding in the fourth, Gurtej Singh was finally martyred. A supreme warrior thus attained Veergati at the age of 23 by displaying unique bravery. Only such heroes deserve honors like Param Vir Chakra.
Similarly, Tejinder Singh, Havildar of 3 Medium Regiment (Sikh) and Naik Deepak Singh were also awarded Veer Chakra for bravery.
Ladakh thus has Sikh Gurdwaras, monuments and places connected with Guru Nanak's visit to the area and brave Sikhs who have created history.
References
1. Sarees and Wyman, Resort to War (2010), page 504.
2. AB Fisher, Rose and Huttonback, Himalayan Battleground (1963), pp. 49-59.
3. Guo, Rongjing (2015), China's Regional Development and the Tibetan Springer, page 5, ISBN 978-981-287-958-5.
4. AB Fisher, Rose and Huttonback, Himalayan Battleground (1963), p.
5. Huttonback, Gulab Singh (1961), p. 485.
6. Huttonback, Gulab Singh (1961), page 487.
7. AB Shakbapa, One Hundred Thousand Moons (2010), page 583.
8. AB Fisher, Rose and Huttonback, Himalayan Battleground (1963), pp. 49-50.
9. Shakpa, One Hundred Thousand Moons (2010), pp. 583-584.
10. Fisher, Rose and Huttonback, Himalayan Battleground (1963), page 50.
11. Fisher, Rose and Huttonback, Himalayan Battleground (1963), p. , Of the ruler of Ladakh. "
12. Fisher, Rose and Huttonback, Himalayan Battlegrounds (1963), p. 50-53.
13. Mackay, History of Tibet, Part 2 (2003), page 28.
14, Fisher, Rose and Huttonback, Himalayan Battleground (1963), p. 190.
15. Rubin, Alfred p. (1960), "The Sino-Indian Border Disputes", International and Comparative Law Quarterly, 9 (1): pp. 96–124.
16. Wariku, India's Gateway to Central Asia (2009), p. They had a monopoly, and the Tibetans had a special right to trade bricks and tea with Ladakh. "
17. Mehra, An "Agreed" Border (1992), page 71: "Pashmina goat is indigenous to Ladakh, western Tibet and parts of the Tianshan Mountains where a harsh but snow-free winter and the availability of grass for fodder throughout the year Produces."
18. Huttonback, Gulab Singh (1961), p. 480.
19. Surinder Singh Kohli, Dr. (1969), Travels of Guru Nanak, Panjab University, Chandigarh, page 128.
20. Kirpal Singh Dr. (1969), Janam Sakhi Tradition, Punjabi University, Patiala, page 107.
21. Ibid
22 Ibid
23. "London Gazette". thegazette.co.uk.
24. Service, Tribune News. "A big leap that saved Srinagar in 1947", Tribune India News Service.
25. "Operation 1948, Indian Air Force, Government of India". indianairforce.nic.in.
26. "Press Information Bureau (Defence Wing)" (PDF). pibarchive.nic.in.
27. "1948, Operation, Indian Air Force, Government of India". indianairforce.nic.in.
28. Huttonback, Gulab Singh (1961), p. 484.
29. A. Fisher, Rose and Huttonback, Himalayan Battleground (1963), p. 51.
30. Charak, General Zorawar Singh (2003), p. 758.
31. Charak, General Zorawar Singh (2003), p. 761 and note 33 (p. 766).
32. Charak, General Zorawar Singh (2003), p. 759.
33. Kapadia, Harish (1999). Across the peaks and passes of Ladakh, Zanskar and East Karakoram. Indus Publishing. P. 230. ISBN 978-81-7387-100-9.
34. Shakpa, One Hundred Thousand Moons (2010), pp. 576-577, 583-584.
35. Sino-Dogra War, Histomil.com, 6 February 2012
36. Sandhya Jain (May 21, 2013). "Defensive on many occasions." Pioneer.
37. Rubin, Alfred p. (1960), "The Sino-Indian Border Disputes", International and Comparative Law Quarterly, 9 (1): 96–124, doi: 10.1093 / iclqaj / 9.1.96, JSTOR 75625