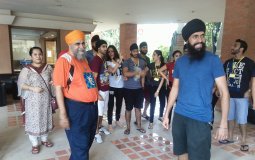 I feel such camps are necessary in which today's youth can really resonate learning in the relaxed but casually disciplined environment and using linear method they can jump start on their way to faith with their self reflection, motivation, clear understanding and coaching, youth need to be provided exposure.
What would Muhammad say about the Islamic State group? Is Islam compatible with democracy? Are Muslim women allowed to use contraceptives? A panel of 10 Muslim women tackled these and other audience questions Sunday afternoon during a Muslim Women Speak program at the University of New Mexico.
Community unites in Historic election and elects Sikh Youth Slate at Surrey's Guru Nanak Sikh Temple.
Pages