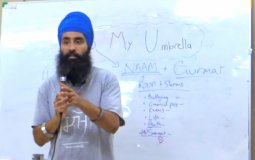 Jagraj Singh explains how we can use Gurbani (Guru's words) to protect us in this world. When we are armed with Gurbani, we have nothing to fear - Arm yourself with knowledge!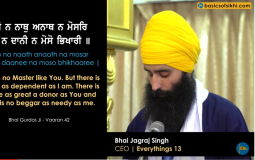 Bhai Baljit Singh (5 mins) & Bhai Jagraj Singh (16 mins) addressing the Sangat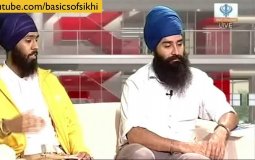 Jagraj Singh explores the thesis that Sikhi is more advanced than the modern world.
[VIDEO] The 6 month Parcharik Training Course is for Amritdhari Sikhs who want to become a Parcharik (Sikhi educator). We have a full time teacher at an intermediate level in a comfortable learning environment for both men and women.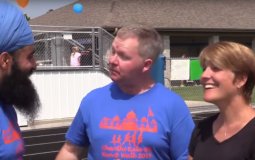 An interview with Lt. Murphy and his wife Ann from Basics of Sikhi's Bhai Jagraj Singh. "You gotta a whole bigger family now!" Both the Murphy's exclaimed with happiness, "Yes, absolutely!"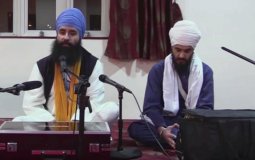 Beginning the Basics of Sikhi Web Series on SikhNet. Over 12 weeks we go through each of the 11 Gurus and then the Khalsa. This week, episode 1: Why Did Guru Nanak Come To This Earth? We find out that Guru Nanak Dev Ji answers this question directly, and not only that, the answer has also been given in Bani.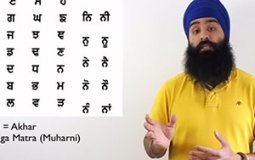 [VIDEO] Thank you to the Basics of Sikhi team for creating this free 28 part online video tutorial series. The final videos in the series is a repeatable and slow recitation of Jap ji Sahib. Very valuable videos to watch for anyone interested in Gurbani.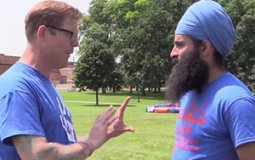 [VIDEO] "I was a founding member of the same group Wade Page belonged to... In many ways I used to be the man that he was, literally." Now he helps encourage diversity with the inspiration of the Sikh slogan: "Chardi Kala"!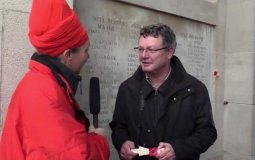 Its been a while in coming: Street Parchar in French. Using our very popular "3 Facts Leaflet", we translated it into French, German and Spanish (more on way) and used the leaflet to make our first video purely in French.