For the last several days, I have lived in the world of social media, caught between two incredibly different stories.
The Parliament of the World's Religions is taken place at Salt Lake City, Utah, USA these last few days. The Parliament is an amazing gathering that happens once every four years. Over 10,000 people representing at least 80 different faiths, come together to learn about each other and dialogue about the many critical issues facing the world today.
Yet during this same period of time, Gurjit Singh and Kala Singh from Kotkapura in India were killed when police opened fire on a group of Sikhs conducting a peaceful and non-violent protest. Their issue? The lack of action towards finding the culprits who desecrated Siri Guru Granth Sahib Ji.
Siri Guru Granth Sahib Ji - the first truly interfaith sacred work, and the Sikhs holy scriptures, honoring the voices of Hindu and and Muslim saints alongside the Sikh Gurus.
On one side of the world, Sikhs have come together at an Interfaith Parliament to educate thousands about this beautiful religion.
On the other side of the world, Sikhs are putting their lives on the line to defend the sacredness of their religion.
One might be tempted to think these are two different stories. But they share a very potent common heartpoint.
To build peace in the world, people must must must learn to respect each other's faiths.
Here in Salt Lake City, education and dialogue are taking place. The Sikh community has done a phenomenal job helping people learn about the Sikh faith, traditions and the issues facing the Sikh community.
There is so much that can be said. But let me share some simple highlights from the Sikh presence here during the first two days of the Parliament.
Langar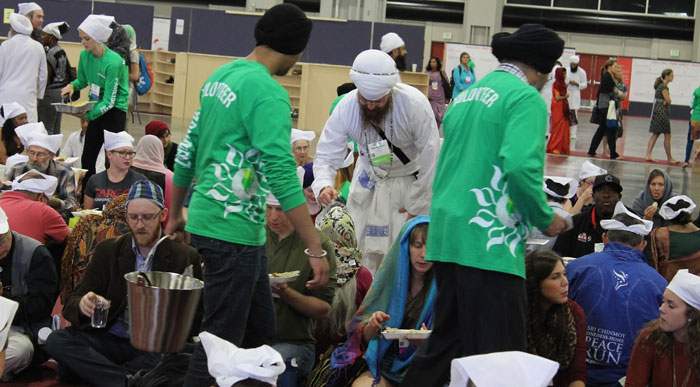 Every day from 11:30 am to 3:30 pm, we Sikhs organized langar for the Parliament. The Guru Nanak Nishkam Sewak Jatha from Birmingham, UK, under the leadership of Bhai Sahib Bhai Mohinder Singh Ji, has led the effort, working with the local Sikhs of Salt Lake City, and other Sikh organizations. Over 80 volunteers from the UK, Canada and the United States form the backbone of this project. Yet hundreds of people from all faith communities also help serve langar every day.
Thousands of people are being fed( last count 7500) . A small replica of the Harimandir Sahib and the Akal Takhat stand in the hall where the Sikhs serve langar. Wall size displays educate people about Sikh history and Sikh values. But most important, the delegates experience the beauty of langar. Its simplicity and humanity.
One attendee came to me in tears, expressing amazement at how the Sikhs just gave and gave and gave. And what a heart opening experience that was for her and others.
American Sikh Council Turban Tying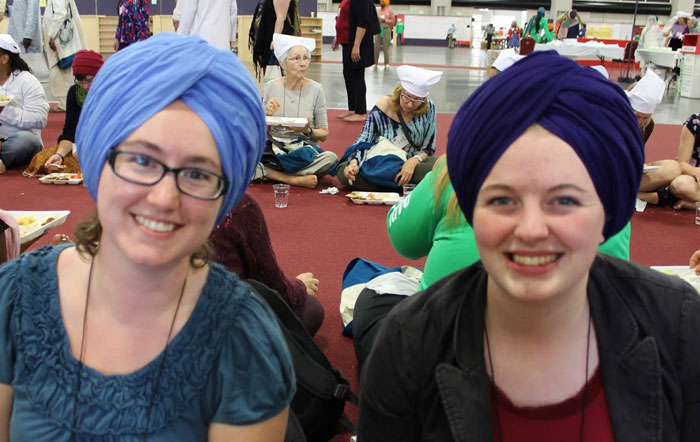 All over the Salt Palace Convention Center, where the Parliament is being held, many people sport their own Sikh turban. Orange, blue, red and yellow - many different colors. The American Sikh Council has brought in volunteers to help tie turbans on people's head. This turban tying exercise builds visibility of the Sikh faith both among those who decide to wear a turban for a day, and all who see them.
One Lutheran minister from Chicago explained to me that she really appreciated the Sikh value of keeping the hair as it is, uncut. About how that value represented to her total acceptance of the body as it is - whatever the color, whatever the size and shape. That is why she decided to wear a turban for a day.
Sikhs Representing and Presenting

Sikh leaders took part in the Opening Ceremony for the Parliament of the World's Religions, including Sukhbir Singh from the Guru Nanak Nishkam Sewak Jetha; Siri Sikdar Sahiba Sardarni Guru Amrit Kaur Khalsa from Sikh Dharma International and the Chardi kala jatha.
Lord Inderjit Singh addressed the Parliament during the opening ceremony.
Sikhs have also given presentations and been highlighted as major speakers here. The presentations represent a wide range of perspectives and ideas. Just to highlight a few:
Valarie Kaur, is an acclaimed American Interfaith leader and a Sikh activist spoke during one of the main sessions at the Parliament focusing on women.
For me one of the most powerful statements she made during her speech was, "Forgiveness is not forgetting. Forgiveness is freedom from hate." Valarie Kaur also led a workshop at the Parliament titled, "Revolutionary Love: Seva and Sword, Story and Social Movement."
"We are not defined by the actions committed against us. We are defined by our response to those actions." - Pardeep Kaleka who was presented the "Faith Against Hate Award" as part of their work with the organization "Serve 2 Unite".
Bhai Baldeep Singh Chairman of the Anad Foundation in India has a profound passion for preserving Sikh musical heritage. Bhai Baldeep Singh spoke on "Kirtan Parampara, Musical Memory and the Oral Tradition." His talk shared a spiritual and historical context for how Kirtan was traditionally learnt and practiced, and he demonstrated the fluidity and diversity of Raag. A few of my favorite quotes from this talk were: "In the raga system, no raga shares its notes with another raga. Raga is not a set of notes, it is a state of being." And "Kirtan is being you. It is a mirror where you see yourself. A reflection." Bhai Baldeep Singh will give another talk titled: "Sikh Devotional Music: Locating Gender Equality."
50th performance of Kultar's Mime.
Kultar's Mime is a beautiful theatrical expression of a poem written by Sarbpreet Singh about the forgotten children survivors of 1984. Through poetry, mime and small ensemble acting, the story of the genocide against the Sikhs in Delhi in 1984 comes to life. In the individual stories of the children who survived, the horrors of the entire genocide gets revealed. Kultar's Mime was adapted into a play by Sarbpreet Singh's daughter Mehr Kaur. Sponsored by Sikh Research Institute, Kultar's Mime has been performed all over the United States, UK, Canada and even in India where it was met with positive critical reception. Kultar's Mime staged its 50th performance at the Parliament of the World's Religions.
Morning "Sadhana" led by Shiva Singh Khalsa and Chardi Kalaa Jatha.
Sikhi has spread to other countries and cultures through the doorway of Kundalini Yoga as taught by Siri Singh Sahib Bhai Sahib Harbhajan Singh Khalsa Yogiji. A shorter version of the Aquarian Sadhana was presented at the Parliament with Chardi Kalaa Jatha leading Japji Sahib and some simple chanting, and Shiva Singh Khalsa leading a brief set of Kundalini Yoga exercises.
Economic Suicides and Improving Economic Status of Punjabi Villagers.
For many years, suicide among debt riddled Sikh farmers in Punjab has been an invisible epidemic. This deeply impactful presentation combined a few different perspectives. United Sikhs has begun a program where people can sponsor the widows and children of those left behind after the husbands have committed suicide. Mejinderpal Kaur and Tanbir Kaur presented on this program. Manmeet Singh and Harpreet Kaur of Sach Productions created a film "A Little Revolution". The film focuses on the children of these farmers who have committed suicide and strategies to empower them. Manmeet Singh shared his perspectives of what is happening in Punjab today and shared a clip from the film. Suneet Singh with DataWind talked about how his company employed a business model to help solve a social problem. Identifying an underserved technology market in India, rural families, DataWind set out to create a tablet that rural incomes could afford. Their "good enough" business model resulted in very inexpensive tablets that sold close to 5 million units in 2014, bringing technology to those who need it most.
Empowering Women
Jessie Kaur, Dr. Charan Kawal Kaur and Jagjot Singh talked about how Guru Nanak taught an empowering and revolutionary message about women. The incredible way the Sikh Gurus honored women has profound implications for many social justice issues today. Jessie Kaur shared the message of Guru Nanak about women and the application of that message today. Dr. Charan Kawal Kaur sang the Bhand Jameaay shabad and Jagjot Singh spoke for a few minutes about the male perspective for empowering women. The mostly non-Sikh audience in the room had never heard of a religion advocating for women, and left very inspired.
The Odd Couple: A Story of Two Triathletes.
This delightful, inspirational short documentary tells the story of a young Sikh man, Parvin, and Jeff, who has one leg amputated below the knee. Parvin finds the strength to maintain his Sikh identity and compete in an Iron Man Triathlon event through his friendship with Jeff, who regularly competes despite his physical disability. Harleen (Kaur) Singh and husband Amanjyot Singh Johar created and shared their movie at the Parliament.
This is just a sample of the programs that the Sikhs presented at the Parliament of the World's Religions and only from the first couple of days. I personally could not attend every single presentation, and would welcome any of the presenters to send write ups and photos about their sessions to us at [email protected].

So what does this Parliament have to do with events unfolding in Punjab?
But even more importantly, Sikhs are experiencing what a harmonious Interfaith event looks like. And now it is a question of applying this theory into practice. Guru Nanak was the first truly interfaith voice in the world. And that spirit needs to get reignited in India. And the world at large. We need an India where every faith has a place, has respect, and all can live together harmoniously.
How the global Sikh community helps the Sikhs in India create a spirit of interfaith understanding and tolerance may be one of the most important questions to come from this Parliament.

Absolutely everything. The Parliament of the World's Religions is a global interfaith event to build tolerance, dialogue and understanding. Through these programs and presentations, people from other faiths who never even knew what a Sikh was are getting an experience of the Sikh world. From music to faith to the issues Sikhs face in Punjab, education provides the first step to engaging support and understanding from others.
[Photo credit: GuruKirin Kaur Khalsa]