Sikh Youth Australia - Youth and Family Summer Camp 2013
9-13 January 2013
A personal perspective by Dya Singh


'Nanak Satgur bhetiyai puri hovai jugt.
Hesendheyan, khelendheyan, painendheyan khevendeyan vichai hovai mukt'
(O Nanak meeting the True Guru one comes to know the Perfect Way.
While laughing, playing, dressing and eating, he is liberated.) (SGGSp.522)
The Sikh Youth Australia (SYA) Summer Camp is now in its 15th year. (I mean Australian summer of course.) It has now evolved into a distinct 'youth and family' camp so that parents and grandparents know exactly what their younger generations are gaining in Sikhi and also perhaps what they themselves have missed, and that it is never too late!
Though the main 'curriculum' is aimed at youth - mums, dads, grandparents and adults in general are also catered for in special gurmatt and gurbani interactive classes by competent bilingual 'facilitators'. It is a strong belief of this camp organisers that Sikhi can only flourish if a strong 'family values' culture is nurtured.
Established by a strong management and administrative team, the success of those who started this 'camp', (Satwant Singh Calais, Ajmer Singh Gill, Sukhvinder Singh, Jaswinder Singh Sidhu, Gurpreet Singh and their families) is reflected in the fact that their offsprings are now all successful leaders in their own chosen fields of vocation, proudly 'saabat-surat' Sikhs and now part of the management/administrative team of the camp. Those who were just about knee-high and listened to what we had to teach them, now tell us what to do! Some are competent facilitators in their own right.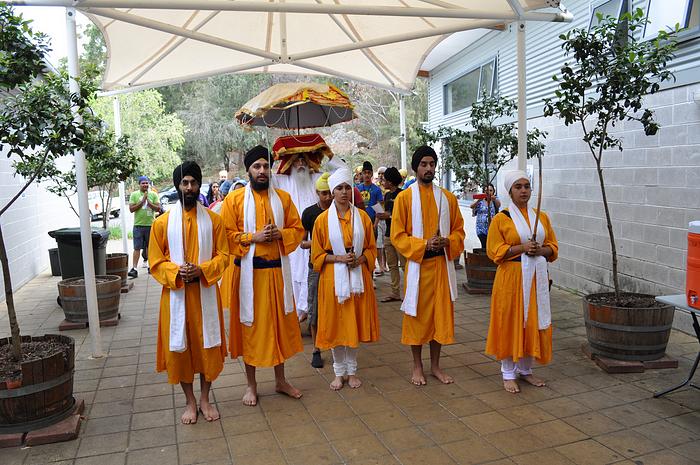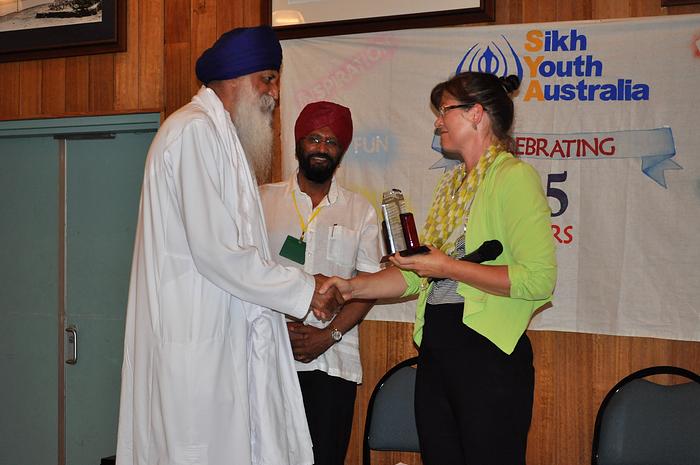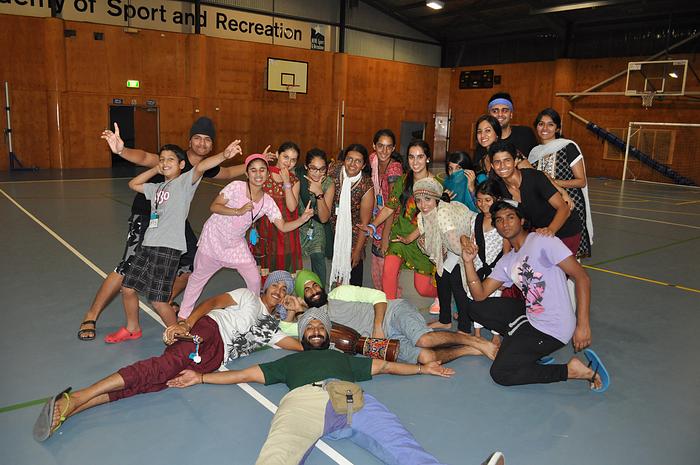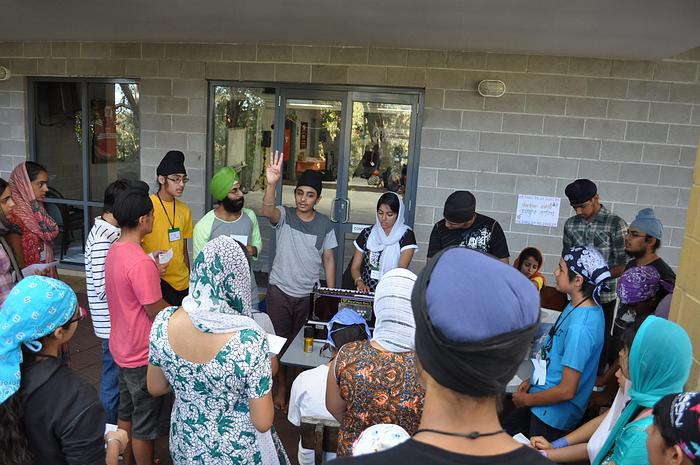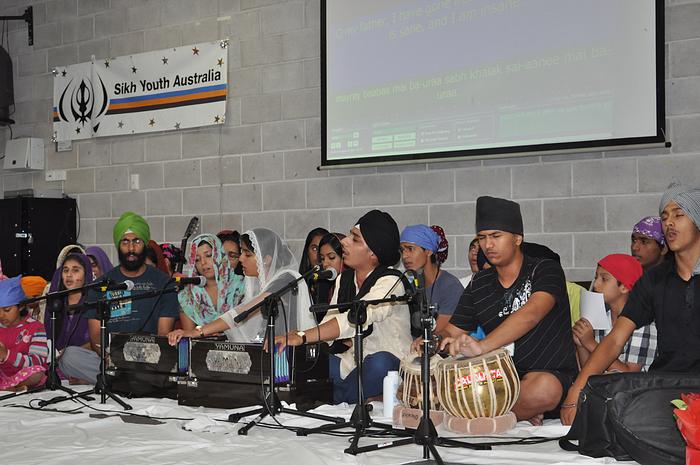 SYA Camp activities
This is not just a 'gurmatt' camp per se. The focal point is the 'darbar' and Guru Sahib, but the curriculum is fairly broad with regular nitnem for all participants, of Jap Ji Sahib, Rehras Sahib and Sohila with participation in kirtan by all the young participants in the mode of a 'gursangeet' competition in which all the youths including the 'littlies', the aptly named Mighty Khalsa and Bachay Bahadur take part.
There is scope for leadership training and sewa because selected older youths are responsible for looking after and leading one of four jathas made up of younger participants in activities and competitions, over the week (including kirtan, sewa, sports, aerobics and drama).
Besides that there are 'Inspirational Sessions' and 'shabad vichaar' by competent bilingual 'kirtenias' and age-specific workshops by knowledgeable parcharaks - all part of the hand-picked team of facilitators.
The day starts with 'parkash' at 3am by Giani Sukdaiv Singh Ji of the Gurpuri Orphanage in Malaysia. He is the one 'facilitator' who has attended all 15 SYA Summer Camps from their inception. He likes to do all five Nitnem 'banian' including Naam Simran till 4.30am. when there is Asa Ki Var. There are always some who are present by 3am. to take advantage of amrit vela and sangat of 'nitnemis' in the early ambrosial hours of dawn.
For the participants, it is mandatory to attend by 6am. with about twenty minutes of Naam Simran followed by JapJi Sahib which is narrated by one of the four jathas into which all youth participants are divided.
Daily, it is interesting and heart-warming to see more and more participants turning up to join in and participate and enjoy the Naam-nectar of being a part of Asa Ki Var.
The Jap Ji Sahib is followed by breakfast at 7am. 'Khaan peen dha is kemp vich koyi qata neheen' (There is no shortage of food and drink in this camp) according to one grandparent!
There is a 'Selaami' (salute) of the Nishaan Sahib and also the Australian flag with singing of 'Deh Shiva' and the Australian national anthem all handled by participants, jatha leaders and mentors. (There is debate now as to whether we should, into the future,perhaps, change our anthem to 'Jo thao prem khelan ka chao...').
The 'Selaami' is followed by an Inspirational Session/shabad vichaar in darbar sahib. All jathas then have their daily meetings and planning for their various competitions which include a daily gursangeet competition; their conduct at langgar seva; reading of JapJi and Rehras and in general - punctuality, behavior and random acts of kindness.,. all of which go towards which jatha becomes champion.
Two fifty minute Workshops are then conducted between 10am and Noon for different age groups by different 'facilitators'. This includes classes for the very young and also two adult classes. Class premises are all equipped with overhead projectors, white boards, markers and butchers paper for group presentations within classes. Facilitators are urged to make all class sessions interactive and are observed by members of the management/administrative team for content, guideline adherence especially within the Rehat Maryadha of Akal Takhat, relevance and fun.
This year the special adult sessions were conducted by S. Hari Singh Ji of Auckland, discussing salient philosophical aspects of Asa Ki Var, debunking brahminical practices which are creeping back into Sikh lore. Some of these sessions became quite lively and educational.
Lunch is followed by a fair amount of free time for 'jathas' to organise themselves and practice for their various competitions plus supervised extra-curriculur activities including rock-climbing, archery, canoeing and high-ropes courses.
Participants have other optional activities to choose from in the afternoon, ranging from youth 'gurbani santhiya' classes, turban-swag (turban tying) classes, and youth discussion circles run by other youth on more contemporary topics. Adults have the option of attending yoga classes, including tips on healthy diet. The aspirations are to bring up well rounded Sikh youth into responsible adulthood.
Rehras Sahib begins at 6pm. followed by a 45 minute Inspirational session in Darbar Sahib followed by dinner at 7pm. The 'gursangeet' competition starts at 8pm. nightly. Each Jatha presents one shabad per night, of their own selection. Kirtan facilitators are always on hand to guide each jatha and help them with their shabad and tips on how to gain extra points! The kirtan is judged by two of the kirtan facilitators. At the end of the evening the judges provide feedback on the strengths and weaknesses of each presentation based on specific criteria.
On the first three nights, after 'gursangeet competition' and samapti, the participants have an indoor sports competition, Bhangra aerobics or youth discussion circles after 9pm. whereas the adults have a Gurbani santhiya class with Giani Sukdaiv Singh Ji. The fourth and final night is 'drama' night with each group coming up with a Sikh-centric skit incorporating the theme of the camp, normally to high hilarity. Lights out at 11pm.
The final day goes on as regular until 4pm. when the concluding 'darbar service' is followed by 'samapti' and Guru Ji is farewelled with great pomp and ceremony. An emptiness is felt by all as Baba Ji leaves after everyone having Guru Ji's constant company for five days.
I have had the privilege of attending Sikh youth 'camps' and 'naujawan samelans' worldwide. This one is unique because even more than the youngsters, the older folks - parents and grandparents especially, look forward to attend. This 'camp' is certainly not convenient baby-sitting for parents as some other camps I have observed, are! Furthermore, the stress is not on rigidity of prayer, simran and paath, but rather a more holistic (or 'wholistic' if you like) approach - utilising Sikhi way of life as a tool for self-improvement and responsible adulthood. The benefit on families attending, means that there is a greater chance of the discipline continuing within each household, after the camp is over and there is growing proof of that.
Personally, I take great pride in the 'gursangeet' competition which is one of the phenomenal successes of this camp. It has provided all youth participants with not only the opportunity of being involved in the rudimentaries of 'sur-taal', 'raags' familiarity, 'sangeet creation', and 'shabad-presentation' which one hopes will lead to 'kirtan nirmolak heera' through a state of naam simran, but also a growing enthusiasm to learn kirtan. Many of the participants have had no formal lessons kirtan, but yet can confidently take part in doing kirtan! Participants are not spared constructive criticism and methods to improve in the first few days leading to a remarkable transformation in kirtan presentation on the final day - truly an amazing phenomena!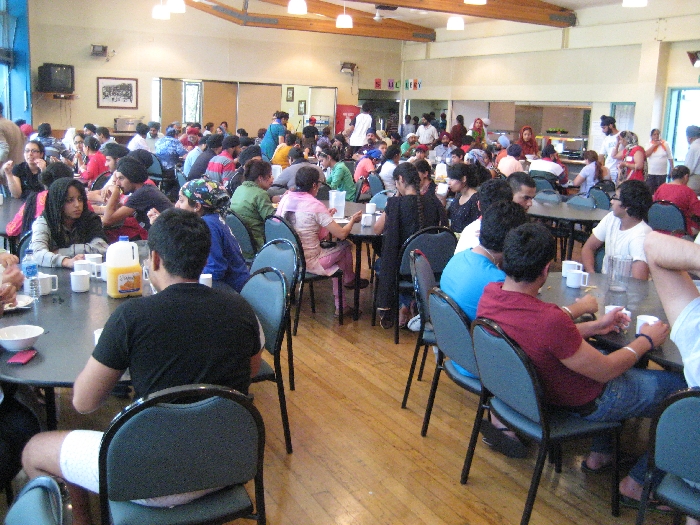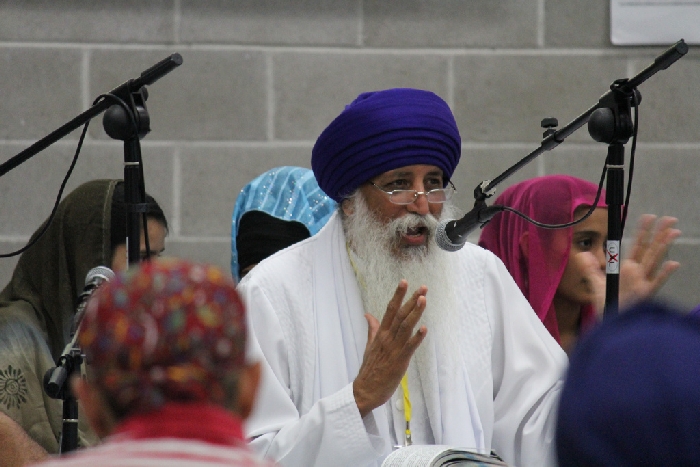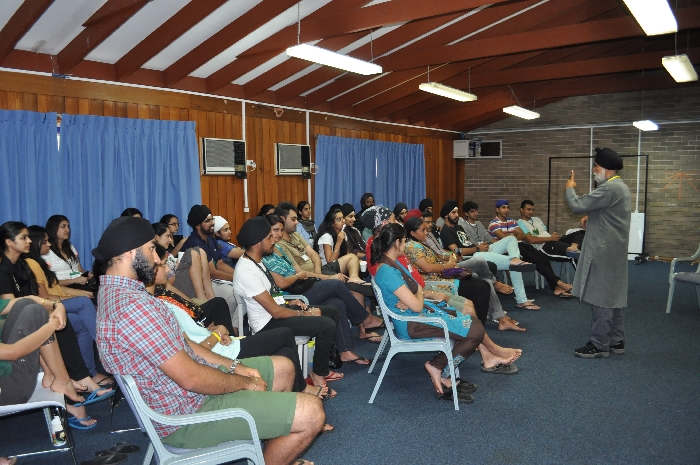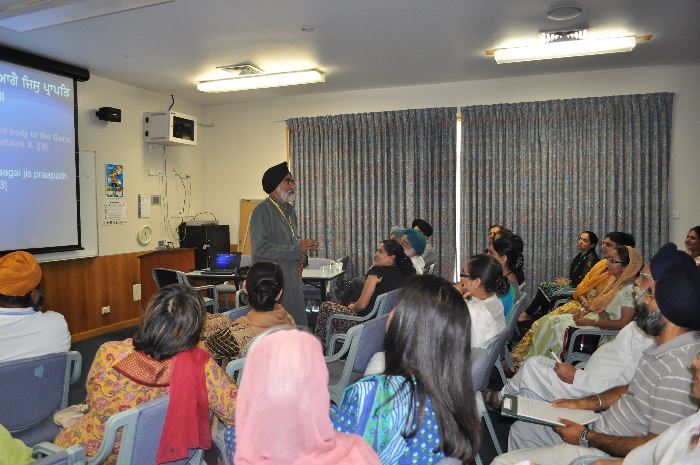 This year besides Giani Sukdaiv Singh Ji, S. Hari Singh Ji, and I, we had Yadvinder Singh from Auckland especially for his very sweet kirtan; Jaspal Singh for his self-improvement and modern approach Sikhi discourses for the juniors; Bibi Amarjit Kaur Doowa from Bangkok and Sankar Ji for yoga; Charanpal Singh to handle the Mighty Khalsa and Bahadur Bachay with numerous other assistants. The back-up support group for administration; transport; medical; accommodation for outstationers outside of camp period etc. is quite large and a credit to the depth and strength of SYA.
Set in the idyllic hilly region of Narrabeen just north of Sydney, at the Sydney Academy of Sport and Recreation, beside a fresh-water lake, this 'camp' leaves a memorable imprint, besides the Sikhi elevation and good vibrant sangat, on one's mind that one can carry for the rest of the year at least. I love the site because I can take off in almost any direction for a good, long, invigorating bush walk whenever free. The accommodation is comfortable including cabins by the lake for families.
This camp has now earned a reputation of treating everyone who attends without any form of judgementalism or disapproval. I have seen families ranging from those who bear Sikh names and some westernised (like Herman Dillon or Sharon Gill) and who, besides being born in Sikh families, know nothing more about the faith except that they attend gurdwara when invited or when needing a free meal - to families who are fully turbanned, amritdharies, vegetarians, donning all 5K's and reading five banis in the morning. There are also non-Sikhs who wish to experience a Sikh way of life for five days. This camp is about being inclusive and promoting a moderate yet ideal Sikh way of life. I have to report that by the fifth day I personally had confidential queries from five families who were considering partaking of amrit.
On the last day, general sewa, like sweeping, cleaning after langgar, darbar sahib 'veshayi' was due to be done by the elders and it was heartwarming to see many youngsters refusing to let the older folks do sewa out of sheer respect!
We all need a boost of 'sadh sangat' - sangatmeyi nitnem, sangatmeyi kirtan, sangatmeyi vichar and just being with like-minded fellow Sikhs, young and old, an experience which a great many of us do not have on a regular basis. This camp provides it right in the beginning of the year to charge up the batteries for the year ahead. To me, this camp is the catalyst that I need to start the year off on the right foot.
The facilitators are all bilingual, handpicked and range from saintly ones like Giani Sukdaiv Singh Ji who lends an intense aura of piety, humility and deep reverence at all 'darbar sahib' activities to history (gur-itihas) experts; sparkling but responsible kirtenias who draw the youth towards kirtan; to Sikh scholars with deep philosophical, historical and gurbani knowledge; to yoga, physical fitness, diet, gatka and even bhangra instructors who engage the youth in physical pursuits and well-being - all part of the Miri-Piri and Sant-Sipahi idealogy.
This year's annual camp was also graced by three high ranking Australian politicians including the Federal Minister of Multicultural Affairs. SYA is helping to raise the profile of Sikhs in Australia and promoting the Sikh way of life with strong emphasis on family values, discipline and respect for elders - ingredients which compliment the Australian traits of mateship (she'll be right mate), 'fair go' and a certain irreverence towards officialdom!
SYA is helping to raise Sikh adults who will be a credit to their parents, to the 'panth' and to their country of residence. It is a pity that gurdwaras with large incomes do not normally support such ventures to the degree they should. Nevertheless, with the support of responsible philanthropic Sikhs and government assistance and fees collected, SYA has lasted this long and with Waheguru's Grace shall go on with this sterling sewa.
Experience in running this camp prompted the organisers to also start a Sikh Leadership Development Weekend in mid-year for the last eight years to great success. Leading Sikh entrepreneurs and youth leaders worldwide are invited to conduct self-improvement, management, marketing and profession-orientated courses the Sikhi way for those youth 18 years and above. Through this leadership program, SYA is now gaining recognition with Australian business, corporate and political arenas and able to issue legitimate and recognised testimonials to its participants. The next Leadership Development Weekend will be held from the 5-7 July 2013.
Attendees have now started coming to participate not only from all states of Australia but also from New Zealand, Malaysia, Singapore, Thailand, Phillipines, Kenya, India, UK and USA. So, if you have ever considered visiting us 'down-under', come in January and be part of this uplifting camp! You will be well looked after.
Next year's camp shall take place within the first two weeks of January. The exact dates have not yet been fixed.
SYA can be contacted through:
their website www.sikhyouthaustralia.com
or [email protected]
--
Dya Singh
5 James Street
Noble Park, Victoria 3174
Australia Tel: +613 95478958
Exploring the Spirit Thru Music
www.dyasingh.com