On the Invitation of Raja Bhim Chand Bilaspuria and Other Hindu hill chiefs, tenth Guru, Guru Gobind Singh ji presided over a conference of the hilly Hindu principalities on 28 March 1692 CE Rewalsar Tirath. Rewalsar is a small village nearly 16 Kms. from Mandi (now in Himachal Pradesh). A Gurdwara namely Damdama Sahib was established later on the hill top to commemorate the Guru's visit. The town is also revered by the Buddhist people too. Near the Gurdwara, a big tank of water having medicinal value is well known to all. In this conference twenty two Hindu Chiefs participated, which were heading twenty two principalities.
 After staying at Rewalsar for some days, a friend and well wisher of Guru Gobind Singh, Rajput Raja Gaja Singh and his younger brother jaswant Singh invited Guru Sahib to Jammu for some days. Guru ji accepted the invitation and Proceeded to Purmandal. The purmandal is a good place of pilgrimage for Hindus, who according to tradition obtain a moral cleansing by bathing in its water. The Purmandal Havelis having numerous Pahari miniatures are preserved in the form of wall Paintings. These paintings draw vivid pictures of olden times. After purmandal Guru Sahib along with prominent Sikhs like Chupat Rai, Chiefs of Rajouri, Bhadarwah, Kishtwar, Channani etc. marched towards Jammu. They reached Jammu on 20th April 1692 C.E. The Jammu city is hardly 15 Km from Purmandal. According to the historic point of view. Raja Maldev conquered Jammu city in 1357 C.E. Raja had Two sons Bahu Lochan and Jambu Lochan. Elder son Bahu Lochan built the famous Bhaufort after his name and a palace cum city named Jambu by the younger son Jambu Lochan. With the passage of time Jambu became present day Jammu. 
 The visit of Guru Gobind Singh to Jammu was mentioned in Bhatt Vahis, which are a new source of information, discovered by Giani Garja Singh (1904-1977), a dogged Searcher for materials on Sikh history. In Sakhi No. 50 Under the heading "Sakhi, Rewalsar, Jammu ate jungle Das janie Ki Chalee,' In this Sakhi Guru Ji's visit to Rewalsar, Purmandal, Jammu and Trikuta hills are clearly mentioned. The actual Sakhi reads as:
" ਸਮਾਂ ਪਾਈ ਚਾਲੂ ਸਾਲ ਕੇ ਅੰਤ ਰਾਜਾ ਭੀਮ ਚੰਦ ਦੇ ਸਦੇ ਤੇ ਸਾਲ ਸਤਰਾਂ ਸੈਂ ਉਨਿੰਜਾ ਕੀ ਵੈਸਾਖੀ ਤੇ ਰਵਾਲਸਰ ਤੀਰਥ ਤੇ ਜਾਈ ਪਹੁੰਚੇ। ਰਾਜਿਆਂ ਨੇ ਗੁਰੂ ਜੀ ਕੋ ਆਨੇ ਦਾ ਬੜਾ ਆਉ ਭਗਤਾ ਕੀਤਾ। ਇਸ ਤੀਰਥ ਤੋਂ ਰਾਜਾ ਗਜੈ ਸਿੰਘ ਕੀ ਬੇਨਤੀ ਮਾਨ ਕੋ ਉਸ ਕੇ ਗੈਲ ਆਏ। ਬੈਸਾਖ ਸੁਦੀ ਪੂਰਨਮਾ ਕੇ ਦਿਵਸ ਪੁਰ ਮੰਡਲ ਤੀਰਥ ਜਾਇ ਪਹੁੰਚੇ। ਗੁਰੂ ਜੀ ਕਾ ਆਨਾ ਸੁਨ ਸਿੱਖ ਸੰਗਤਾਂ ਦਰਸ਼ਨ ਪਾਨੈ ਹੁਮ ਹੁਮਾਇ ਕੈ ਆਈਆਂ। ਕਈ ਵਾਰ ਪਾਰ ਨਾ ਰਹਾਂ। ਸਤਿਗੁਰੂ ਜੀ ਏਕ ਦਿਵਸ ਪੁਰ ਮੰਡਲ ਤੀਰਥ ਤੇ ਰਹਿ ਕੇ ਅਗਲੇ ਦਿਹੁੰ ਪਹਾੜਾਂ ਕੀ ਸੈਰ ਕਰਤੇ ਹੂਏ ਜੰਮੂ ਨਗਰੀ ਮੈਂ ਆਇ ਬਿਰਾਜੇ। ਅਗਲੇ ਦਿਵਸ ਰਾਜਾ ਜੀ ਕੇ ਗੈਲ ਤਿਰਕੁਟਾ ਦੇਵੀ ਕਾ ਅਸਥਾਨ ਦੇਖਾ ਉਪਰੰਤ ਭਾਈ ਚਉਪਤ ਰਾਇ ਮੁਖੀ ਸਿੱਖਾਂ ਕੇ ਹਮਰਾਹ ਆਪਨੇ ਨਿਵਾਸ ਤੇ ਆਇ ਗਾਏ। ਯਹਾਂ ਸੇ ਰਾਜਾ ਜੀ ਸੇ ਵਿਦਾਇਗੀ ਲੈ ਕੇ ਚੱਕ ਕਾਨ੍ਹਾ, ਰਾਮਗੜ੍ਹ, ਖਿਰੜੀ, ਸਾਂਬਾ, ਪਠਾਨਕੋਟ, ਹੁਸ਼ਿਆਰਪੁਰ ਆਦਿ ਨਗਰਾਂ ਥੀਂ ਹੋਤੇ ਹੂਏ ਅਪਨੇ ਨਿਵਾਸ ਅਸਥਾਨ ਸ੍ਰੀ ਅਨੰਦਪੁਰ ਮੇਂ ਆਇ ਬਿਸਰਾਮ ਪਾਇਆ"।
  According to history Raja Bhupat (Bhupat Dev) had two sons Hari Dev and Sarang Dev. On the demise of Hari Dev, his brother Sarang Dev was set aside, Hari Dev's elder son Gaja Singh was proclaimed as the ruler of Jammu by the Emperor Aurangzeb. Raja Gaja Singh was the mughal Mansabdar and ruled Jammu from 1692 to 1707 C.E. The visit of Guru Gobind Singh is well mentioned in the principal Chronicle of Jammu 'RAJ DARSHANI'' Persian manuscript,written by GaneshDas Badehra.This chronicle later translated into English in 1991.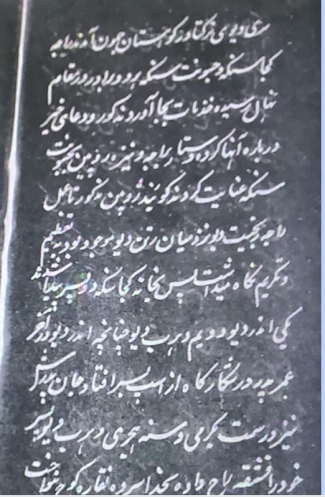 Manuscript Page of the Persian RAJDARSHANI
The Fact is reproduced by one historian,who translated the above mentioned manuscript into English , "Gaja Singh's region was uneventful, except that Guru Gobind Singh came on pilgrimage to purmandal. The Guru came to Jammu also on invitation of the Raja, who accompanied by his brother Jaswant Singh went out to receive the Guru at Nihal . In the second week of April, 1692 C.E Jaswant Singh Challenged the Supremacy of his elder brother Gaja Singh. Jaswant Singh even tried to establish his Separate court at Purani mandi. Due to the noble advice and reconciliation by Guru Ji, he agreed to mark Raj-Tilak, with his own finger on the forehead of his elder brother Gaja Singh. Guru ji blessed both brothers Raja Gaja Singh and Jaswant Singh and presented one steel lance as a token of love to Jaswant Singh and a turban to Raja Gaja singh. On his way back, Steel lance was known to be with his descendant Mian Rattan Dev, during the reign of Ranjit Dev.
       Guru Sahib visited Bahu fort, Purani Mandi, Mandi Mubarak, Trikuta hills, chanani, Kana Chak etc. The forts of Jammu occupy a Conspicuous place among all the forts. Guru Sahib viewed them closely as construction is concerned. According to 'Mahan Kosh' Guru Sahib also visited Basohli. Basohli is on the hill top, on the right bank of Ravi river. There were old forts like Thain fort and Evi Kala forts. In Purmandal and Jammu, Sikh Sangat under Bhai Kana Masand Came in large numbers to take blessings from the Guru. After Staying for a few days, Guru Sahib Proceeded back to Anandpur Sahib via Kanachak, Ramgarh, Kherreri, Samba, Pathankot, Hoshiarpur etc.