I have never been one to watch ongoing serials, let alone long-drawn-out documentaries, even in retirement, and with all the time in the world. I can watch a few episodes and then I find most rather tiresome and draggy.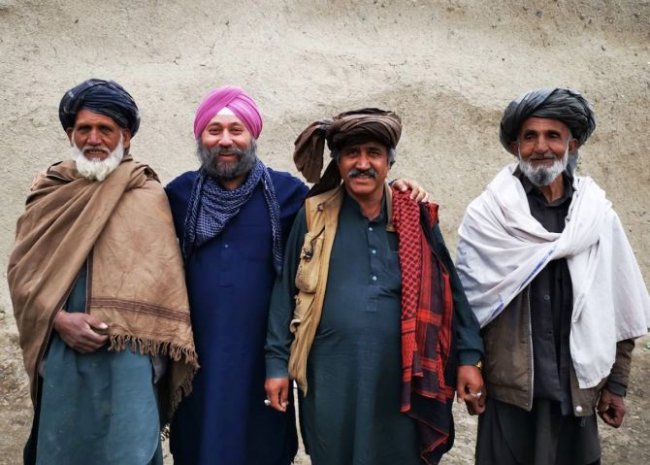 These 'travels of Nanak' series proved different right from the outset. Perhaps that was due to the validations and in many instances corrections and additions, of what I already knew of Guru Ji's life. In other words, there were many 'WAH' moments, which with me, then convert to 'WAH-GURU' moments.  
Amardeep also added a few further dimensions which lent a considerable philosophical and spiritual tangent. He was able to connect certain 'bani' of Guru Ji with the locations and anecdotes, as we followed the journey. He added his own personal perspective which one could accept or discard.
This 'work' is well-researched with references with the research of numerous scholars and the 'janam-sakhi' tradition and balanced between fact and fable.
This especially proves interesting as he gives his own humble opinion on some of the 'miracles' which we associate with Nanak. There will be those who might disagree with him. I found that aspect quite refreshing. I have a certain scepticism to 'miracles' yet they exist all around, even around us in our lives. Life itself as we know it is one big miracle! Miracles surrounding the Guru Sahibs are nevertheless, also important, to increase the 'faith' (shardha) element of the masses and stories for our kids. My grandchildren, for example, love the stories of miracles associated with our Guru Sahibs, when I narrate them as they fall asleep at night. Some I make up as I go along to make certain points to them or fire their imagination.
His detours to places where certain bhagats and Sufi pirs were from, ancient mandhirs, temples, samadhs, dargahs, and shrines added to the 'travelogue' aspect. They also complimented the bigger picture surrounding Nanak as he travelled, and his interactions with such sages or their lineage, and some of these sites.
I also commend Amardeep on his choice of period music and renditions including location music and song and attempts at the appropriate raags for the bani being presented. The local 'qawalis' and renditions for example of the Bauls of Bengal were very spiritually uplifting. Amardeep's own voice as narrator is soothing, clear and relatively free of slang.
Some of the scenery that Amardeep's cinematography team has captured is breathtaking, and the music to go with that is well selected enhancing the cinematic experience. (Watch on your TV screen.)
Some of these countries that Baba Nanak travelled through are now virtually out of bounds for the ordinary traveller and if allowed, one probably will need an armed escort to go there. I am certain Amardeep put his own, and the lives of his team in danger when filming at some of these locations. He has taken us to places which we can never visit – at least not in my lifetime.
It is heart-breaking when we see the gurdwaras and dharamsalas which are now in ruins or reverting back to being 'Udasin' places of worship, but then that is the transient nature of life itself. For each gurdwara or dharamsala which has fallen into ruins I would suggest at least a hundred gurdwaras have been built in other parts of the globe! At least we get the chance to see these ruins and gauge the extent of Baba Nanak's influence and philosophy still existent in those parts and which is ongoing in other parts of humanity.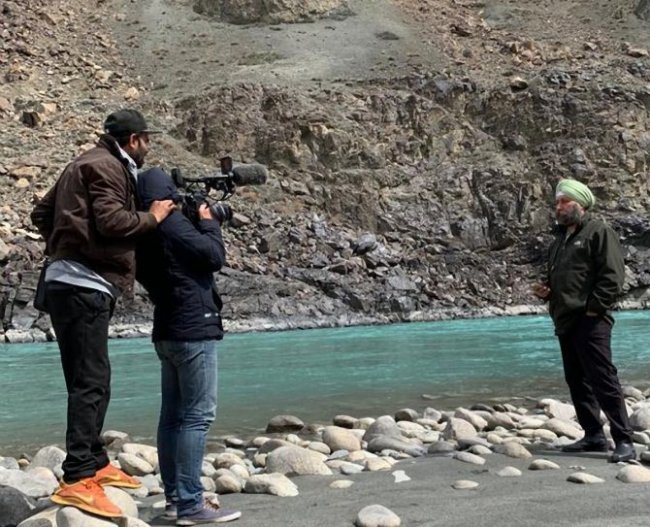 I saw the series as Amardeep released it – weekly, and also 'binge-watched' the last 22 episodes before seeing the final two.
I found the series very informative, but more so, very meditative and soul-therapeutic. A very highly spiritual experience, just watching and ingesting each episode.
I have always been a great believer that to fully appreciate the life philosophy laid down by Nanak and expanded upon by remaining 'patshahis' culminating in the Guru Granth Sahib, we need to delve into the lives of each Guru – simply because they 'lived' the philosophy. Not just accepting the 'stories' and fables surrounding each Guru Sahib, but reflecting upon the stories and striving to separate the 'fables' (accepting some as great appropriate anecdotes) from the facts.
Amardeep has done credit to Nanak. Others are attempting to separate the chaff from the grain of the lives of other Guru Sahibs and other aspects of Sikhi Itihas (History). I believe this is healthy and inevitable. It allows the reader and watcher to be more discerning – helping one to find one's own direction in life the Sikhi way. While others vehemently oppose such research with the fear that it dilutes the intensity and direction of Sikhi as they believe it.
Absorbing the last episode was like coming to the end of one's own life – a surreal experience, to die and be born again, with a new perspective on life.
Thank you Amardeep. I don't think even you realise the amazing effort this is on your part. And the personal sacrifices you have made. Surely the hand of the Guru guided you through it all. This series should be properly archived for posterity. Shabash.
I know Amardeep has further aspirations to dub this further in Panjabi and also Hindi. I wish him well and I urge those with means to help Amardeep achieve his aspirations. But my cup runneth over. 
Dhan Guru Nanak!  
This final episode has recently been released. You can watch them all for free here: TheGuruNanak.com