The first I really heard of Jagraj was when I came across a video of his online. He was talking about an individual who had the courage to put their life on the line for their convictions and the beauty of that courage. What he was saying was inspiring but the moment that particularly hit me was when Jagraj's eyes started tearing up when he said how much of an honor it would be if that courageous soul might incarnate into his own family. 
Wow. You don't normally hear people talk like that. This wasn't just philosphy, it was very, very real for him. I would never forget his profound and hearfelt sincerity. 
I watched more of his videos especially when he launched his innovative idea of 'street parchar' where he wouldn't try to convert people but educate them on Sikh beliefs and teachings. It was amazing to watch a humble man talking to a camera in his house in a few short years becoming a beloved international leader and visionary who inspired scores of youth.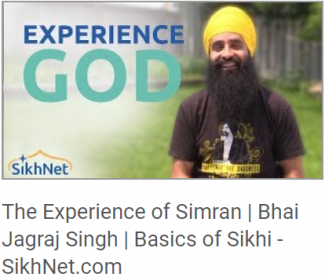 I once had the great pleasure of interviewing him. I asked him how he got inspired into Sikhi. He told me about how he started attending an early morning simran program and how they would just chant Wahiguru. He got so much out of it. One time he went into a state of bliss and experienced The Divine. He explained that previously his mood would fluctuate between being depressed to feeling pretty good. But after that experience he no longer gets depressed, he fluctuates between feeling good and touching on bliss. His scale had changed. I was in the presence of a true Sikh. A true beleoved of the SatGuru. 
This is why it took me by surprise when I saw a headline today: "Young, Sikh and Proud, BBC1, review: Sunny Hundal's investigation of a new wave of Sikh radicalism"
RADICALISM!??? What!!!! How could Jagraj be remembered by anything besides his humility, his determination, his heart and his smile? He wasn't a radical, he had a unique mental clarity and was immenently reasonable. 
You see yesterday a documentary was aired on BBC about Jagraj Singh and his legacy. It was created by Jagraj's non-religious brother Sunny Hundal. Though I was not able to watch it, I was disappointed from what I heard from people who were close to Bhai Jagraj. Apparently the documentary focuses on the controversial subject of interfaith marriages and conflicts among Sikh opinion.
I am not meaning to discourage anyone from watching it and may watch it when it becomes available to me. Without having seen the documentary I am not qualified to make comments on it but so far a flurry of questions have come to my mind: "Apperently inter-Sikh controversy seemed more important than the amazing fact that in a few short years Bhai Jagraj was able to create the largest youtube channel for Sikhi?  What about his videos being viewed in Latin America and inspiring people to become Sikhs who neither speak English or Punjabi? What about the Basics of Sikhi camps that happen all around the world today? What about starting a modern vidiala to train Sikh parcharaks to forward the mission of education and inspiration in common language? What about his movement to reform gurdwaras by replacing an unpopular and ineffective system of governance to be more Guru-centric?  What about letting his legacy speak for itself by showing him speak for himself in his own words? What talk about any teachings of the Guru which were his true passion?"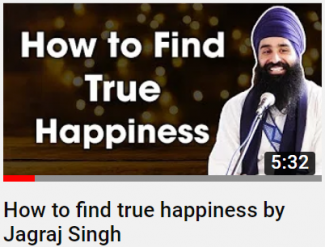 For example Jagraj had a very profound understanding of Gurbani and would quote it all the time. Like in this video where he talks about the real meaning of happiness, that thing every person is looking to achieve. Jagraj says, "I'm only speaking what is already in Gurbani. If you read it you will get the same message: that the world is false and Gurbani is Truth."  
I came across a video from Sukhmani Kaur, the widow of Jagraj, who expressed her view of the documentary which speaks for itself,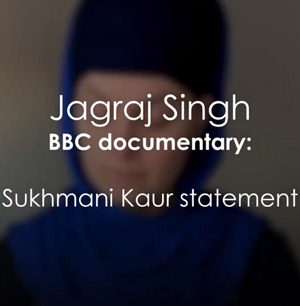 "After the preview of the documentary, I believe when it comes to the legacy of Jagraj Singh, the focus should have been on the work of 'Basics of Sikhi' and 'Everything's 13' a Sikh educational charity that Jagraj Singh established in 2012, and huge growth in the recent years of Sikh philanthropy as a whole, rather than a handful of controversies unrelated to the organization or the legacy of Jagraj Singh... the very title of the documenatary goes opposite to what Jagraj Singh's legacy was. His motto, his mantra was 'Standing out in a crowd, grateful not proud'." 
This is not the first time I've seen people try to offer the worst of a Sikh leader and ignore the actual message of said leader. It's easy, especially in the age of the internet to take out a small bit of bad (or percieved bad) of someone, ignore their virtues, and act like that's all there is to the story. It's not. It's a dehumanizing aspect of modern life and it doesn't serve anyone. 
I have never met Sunny Hundal and this was not meant to be any criticism of him. I honor his process in mourning his brother. I would offer to him that Jagraj Singh has many more brothers who are related by heart and soul. It is through the library of videos of Jagraj that we can all get to know him better. 
I would also like to offer everyone to watch these tributes to Jagraj. This one is him inspiring and speaking to youth and Sikhs in general to make a difference and take on the responsibility of leadership, "We are Guru Gobind Singh's own fingers and hands and toes. We've come to do his job.": 
This one is a biography of Jagraj Singh. It goes through his life before becoming inspired and his process of recieving Amrit, living in the "normal world" as a Sikh, his marriage to Sukhmani Kaur, leaving his career and starting to do videos full time, the various organizations he inspired, and inspiring talk from Jagraj and his final words, "Now my little one is here it's even more imperative for me to build something which is long term and long lasting, beyond me. And I want everybody to think about their life and their legacy..." 
This one is very short and very touching, featuring Jagraj towards the end of his life. He shows no signs of displeasure of his immenent departure from this world, instead he is just grateful for the opportunity he had been given. 
Finally I would like to say something personal. The documentary and reaction to it have been a minor controversy online. But I am grateful for it because it got my attention. Because of it I have been reminded of Jagraj ji, personal moments with him, his heart hitting words, and I am feeling touched. My heart swells now that I am thinking about how blessed we are to even know about these teachings and blessings. I leave from this inspired... and grateful.