Wedding season is just around the corner and many Kaurs are creating their "wish-list". Flowers, outfits, food…the things that need planning are endless! In this process, many Sikh women are looking for ways to showcase their relationship with the Guru and make Sikhi an integral part of the anand karaj. For some, one of those ways is by holding a kirpan.
HISTORY OF KIRPANS AT WEDDINGS
In pre-Sikh Indian society, swords were a common feature in weddings as a protective weapon. Traditionally, the wedding would take place at the bride's village. Afterwards, the bride, accompanied by the groom's family, would travel to the groom's village in a doli (carriage). Until recently, it was common practice for bands of criminals to attack wedding parties knowing there would be a valuables in the doli. Some would even kidnap the bride. In response, the groom's family would be armed with swords to protect the bride, her jewels, and her money. This practice continued until safe passage was established.
In Sikh weddings, both amritdhari Kaurs and Singhs would all be armed with kirpans, as they typically are. The norm was to wear the kirpan in a gathra (sword belt/baldric) at the hip.
Lakhpreet Kaur, founder of Kaur Life, shared a story about her dadi ji's wedding and the danger her doli faced. "My dadi ji, Rattan Kaur, got married in the late 1930 in rural Punjab. She was amrtidhari and always had her kirpan on her. After her anand karaj, the wedding party traveled about 7 miles from her village of Laroya (Shaheed Bhagat Singh Nagar district) to her husband's village of Sutlanpur (Phillaur tehsil of Jalandhar District). Though it was a short distance, the narrow trail was rugged, overgrown, and 'wild'. The trail had developed a reputation of being dangerous and stories of people being attacked during their journeys had spread to surrounding villages.
My dadi ji's doli and the groom's family had been walking for a while when one of the doli carriers said he wanted to stop for a break. Knowing that stopping would leave the group vulnerable to attack, my dadi expressed her concern. The disagreement between her and the doli carrier escalated to my dadi drawing her kirpan and declaring, 'If you stop, I will slay you right here, right now.' The doli carrier acquiesced and they continued their journey. The party reached Sultnapur safely.
In retrospect, my dadi said she was happy they didn't stop because a few weeks later her brother, Sohan Singh, was attacked by a band of criminals in the same location the doli carrier had wanted to stop. As the men tried to mug Sohan Singh, he drew his kirpan and a sword fight ensued. He was able to defend himself and escape, but suffered a large gash on his shoulder. "
KIRPANS TODAY
Today, the practice of having or wearing a kirapn has evolved (for some) into holding the kirpan. Today, there isn't the same danger of being ambushed as there was in the past yet, many Singhs choose to hold a kirpan at their wedding. We suspect that Singhs who are not amrtidhari and choose to hold one may be doing so as a tribute to the Sikh military tradition or to "look" good.
Today, all amrtidhari Sikhs wear their kirpan at all times. Some opt to hold an additional, larger one ceremoniously during their wedding. We have seen this most often with Singhs, but we have found a few Kaurs, both amrtidhari and sehaj-dhari, who have chosen to do the same.
Here are the stories of 7 different Kaurs who chose to hold the kirpan as a way to connect with the Divine during their wedding.
DALJIT KAUR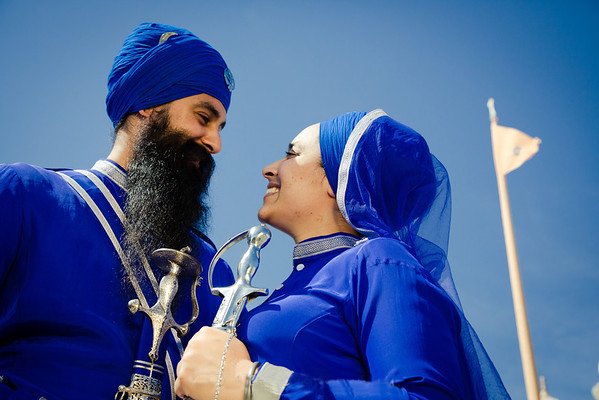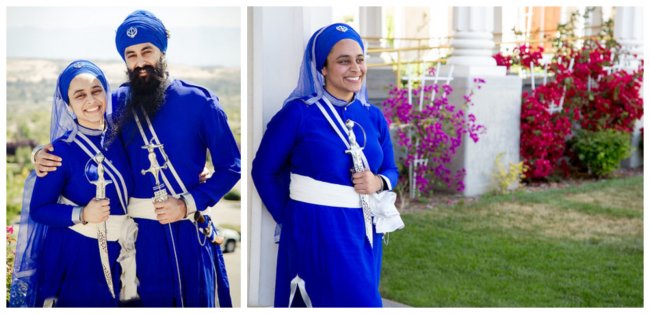 I wanted to hold a kirpan on my wedding day ever since I accepted Amrit. I daydreamed about being a sea of blue and white and decorated in armor. I could feel my Guru's presence vibrating through all the hair on my body. I felt like the warrior princess and I got to live freely on this day.
Photography by Wedding Documentary.
DIVPREET KAUR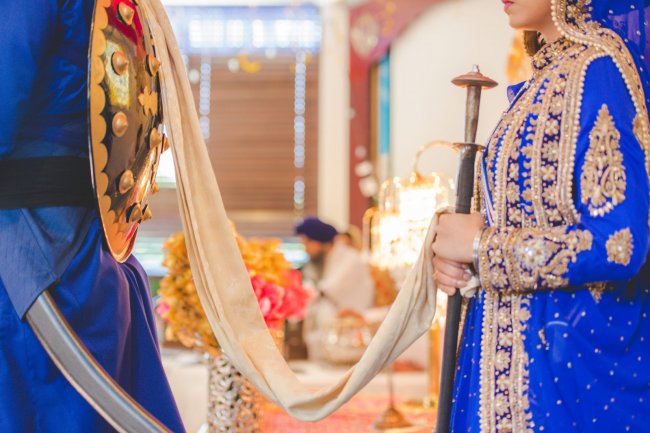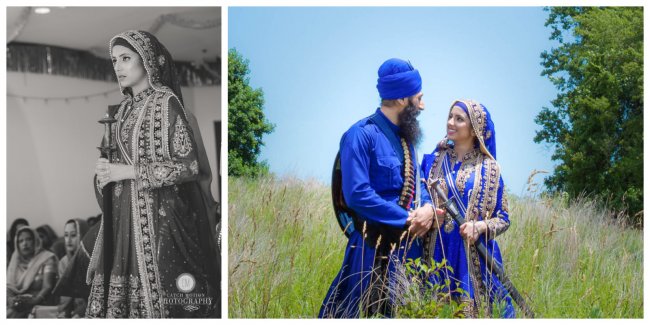 it is a promise
it is a surrender
it is a call that i continue to answer
shastar is a gift
a kirpa im still learning to handle
that day i carried it as a reminder
to become one in Love and Revolution
i carry it still, as a love letter to the Creator
I, no longer it is Us
at the feet of Guru Granth Guru Panth
Photography by Catch Motion photography.
GUR SIMRAN KAUR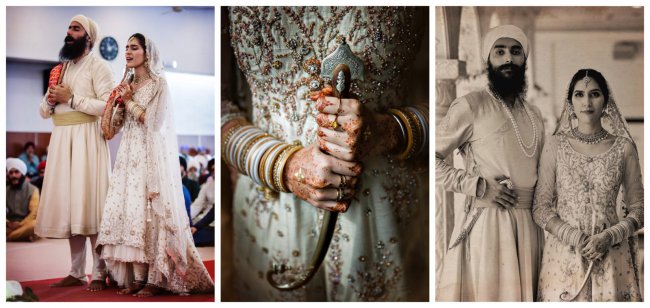 It was one of the most intuitive wedding decisions made, to carry a kirpan. I could not see myself carrying a bouquet. Something about borrowing a western tradition of walking down the aisle with flowers in hand (even though I did opt for them in my hair!) made me uncomfortable because it was not a representation of myself. 
Woman of the Khalsa – delicate yet strong, feminine yet masculine, graceful yet full of grit. This juxtaposition of flowers in my hair and a kirpan in hand was the expression of a concept, a belief and way of life I chose to walk down the aisle to my Guru. 
I had my initial short-lived insecurities about the responsibilities of carrying a kirpan. I did not want to show it disrespect by carrying it without knowing what it means to me, how to use it, and at worse, as merely a piece of jewelry. I carried it as a pledge that I have chosen to carry this kirpan and now I must live up to it. A representation of who I want to be, with Guru's Grace. 
The wives of Akali-Nihang Sikh warriors of the past would be armed like the men. Which brought me to wonder for ages why do only the grooms carry a sword or weapon of some kind (perhaps in an alternate universe they wonder why do only the women carry flowers and why can't they too? Haha!). My partner, Hargobind, chose to carry not a tegha (long sword) but the first kirpan he purchased on his own which, has stayed dear to his heart since. My kirpan was one of three kirpans from Morocco that my mother gifted to each of my siblings and I nearly a decade ago. Who would've thought it'd come in handy like this! As it coincidentally matched with the outfit, the rest is history (or err herstory, or both really)! 
This is my story, part of our story, part of a larger story and part of our history.
GURBANS KAUR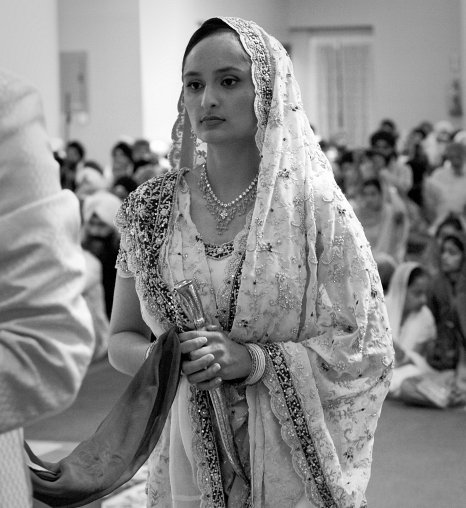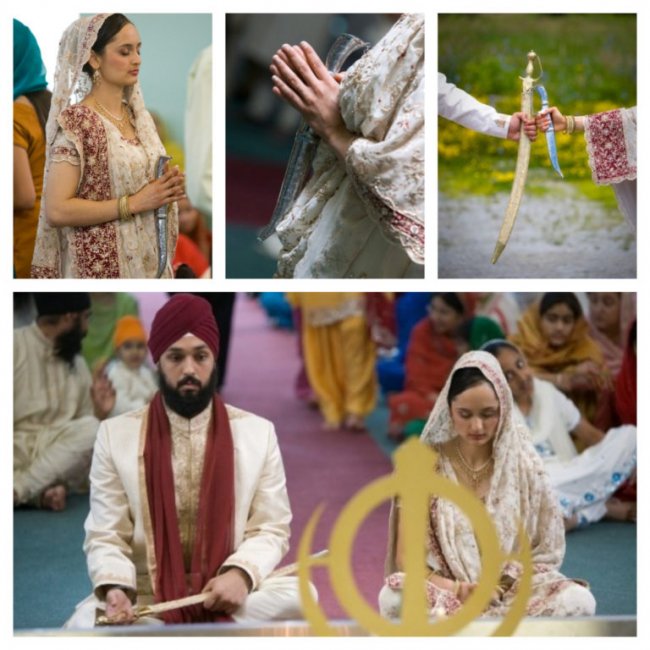 I never really considered not carrying a kirpan. Thinking back, I think my inspiration was really a lifetime of experiences that shaped my sense of self as a sovereign Sikh woman. For me it has always been about taking micro-actions to assert my equality as a Sikh woman. My parents always supported me in taking action to demonstrate that woman are capable in our community – from playing tabla to taking leadership roles in the Gurdwara to speaking up when I saw unequal treatment in action.
Growing up as one of 4 girls in my family there were so many personal experiences that demonstrated that our culture does not value females but many of the cultural traditions of Sikh weddings were particularly bothersome to me. Expectations of gifts and special treatment from the groom's side, the flawed interpretation of the palla ceremony (inferring the transfer of the bride from her father to her husband), the sad diminutive bride being escorted by her male relatives during the lavaan, the tearful doli – this all seemed antithetical to our Gurus teachings. These traditions all felt so demoralizing. So when it came to my wedding it was important to me that this ceremony be a reflection of what it meant to me – a celebration of two equally capable individuals joining in partnership to help each other grow closer to the Guru. 
After careful consideration of what we wanted our anand karaj to look like we asked many of our female role models to help us conduct the ceremony. We had women read the laavan, do ardas, give the sikhia, and participate in singing the lavaan. Personally, it felt right to display happiness and confidence during my laavan. We chose not to have a doli ceremony but instead we did ardas and left the Gurdwara to the proclamations of jakaras. And so why did a carry a kirpan during my anand karaj? Because if the Guru has bestowed this gift upon me, who am I not to carry a kirpan?
HARROOP KAUR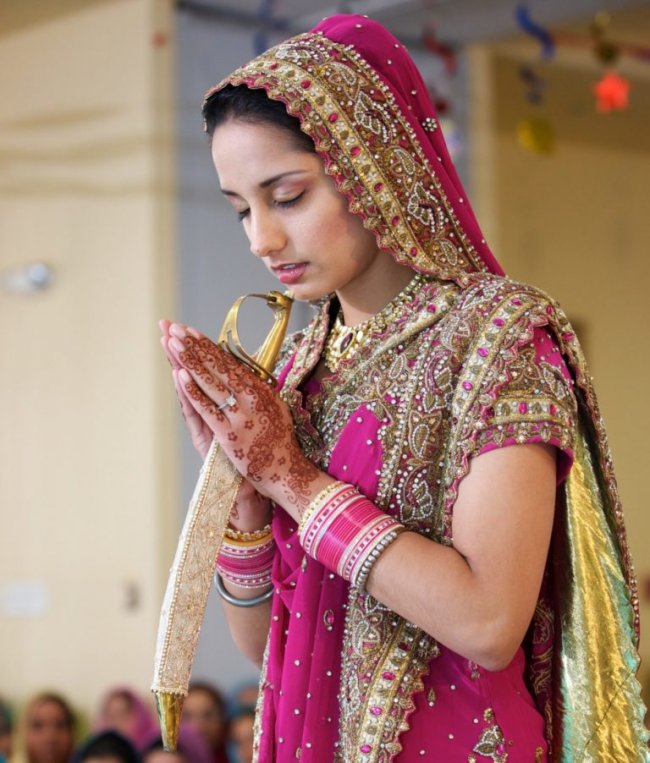 Why do men carry kirpans during their anand karaj? Nowadays many men don't question it and just hold it because they are told to by their parents or elder relative, but traditionally it represents how the man is the protector and caretaker.
For me, as a woman who has accepted Amrit, not only did I feel that I wanted to also be a protector and a strength in this relationship of which I am an equal party to, I also felt like it was something natural. Why shouldn't I hold a kirpan? The Gurus teach us that we're equal to our male counterparts but we often don't feel comfortable doing that for ourselves. For me, this seemed like a pretty common sense thing to do. Plus, it looked beautiful!
LAKHPREET KAUR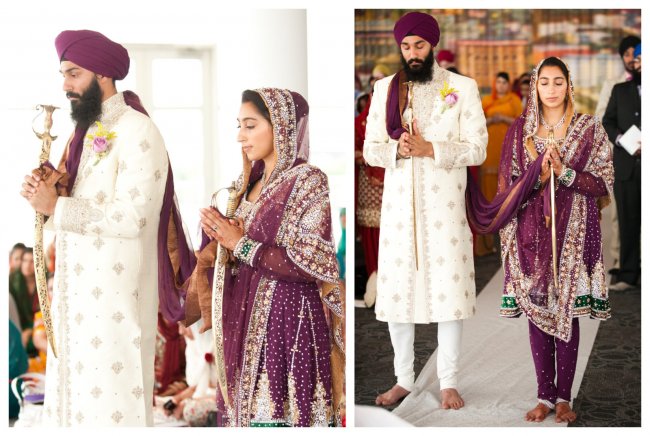 Growing up, I found many aspects of Punjabi weddings that bothered me; the process looked so painful and sad. The sad wedding songs, a demure bride, crying parents – none of it seemed appealing. I felt like it wasn't fair that the groom's side got to have all the fun. But, I also felt bad for the groom too – he must have felt awful that he was some how complicit in bringing about such sadness. 
In addition, all the aspects of gender inequality within a wedding didn't sit well with me either. As a kid, I had only seen Singhs do kirtan, Singhs read the lava, and Singhs give sikkah. I only saw grooms holding kirpans. And I saw that brides were expected to perform femininity (be really girly girl) to an extreme which, was not really my style.
As an adult I realized that the sadness and unequal aspects were not Sikhi, but rather Indian or Punjabi. I realized that with my family, my husband, and his family, we could craft a wedding that was Sikh in nature, with elements of Punjabi culture that we liked or that we felt were in-line with Sikhi.
I was really lucky that my now sister and brother-in-laws blazed the trail for me in. Through their Guru-focused weddings, they showed me what could be possible. It was awesome to see. What really inspired me was seeing my sister-in-law, Gurbans Kaur, holding a kirpan during her anand karaj. (You can read her story above). She was the first woman I had ever seen holding one. I knew many amritdhari women wore small kirpans under their suits during their wedding, and I had seen many Singhs holding a kirpan, but I had never seen a Kaur holding a kirpan so prominently. I saw that, got excited, and said, "I want to do that."
It fit in perfectly with the egalitarian nature of Sikhi and in addition to living it, I felt we should showcase it too. The fact that both my husband and I held kirpans made me feel we were embarking on Guru's path as two equal partners. I also loved the royal imagery it evoked – asserting how all of us are sovereigns.
My husband and I had both accepted Amrit a few years before our wedding. We both wore our small kirpans under our outfits, and we also held larger kirpans during the anad karaj.
TANVEER KAUR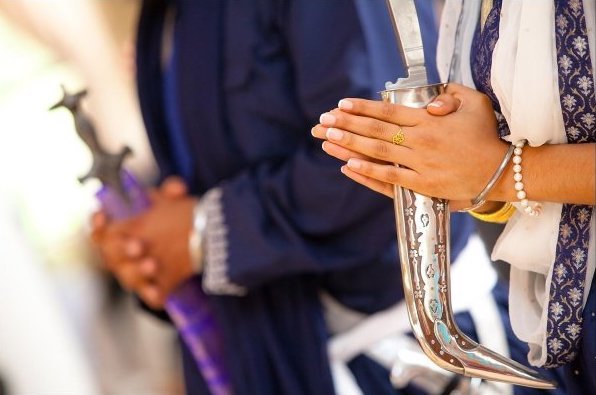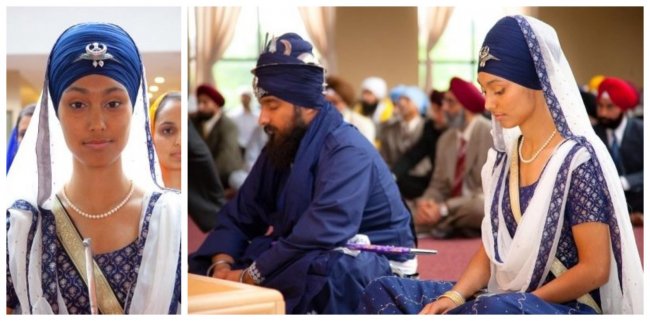 To me the kirpan is a personal connection to my Guru. It is a gift given to me out of love and compassion. The Guru could have chosen to bestow a different set of gifts to his Singhs and Kaurs. But I get to carry this kirpan, I have every right to have it, to carry it, and to embrace it.
The kirpan brings me strength, confidence and a feeling of sovereignty. I think it's the most powerful and uplifting item I could have hand in my hands during my wedding.
It felt like a natural choice for me. The lavan, being the stages of progress toward our Guru, and this ceremony, being the beginning of our life together, I0 years later I now can make the connection of why it made so much sense to me to carry the kirpan. It served as a reflection of our journey together and what we were about to embark. Our life together toward the Guru will not always be easy. As revealed to Guru Amar Das Sahib on Ang 917,
ਖੰਨਿਅਹੁ ਤਿਖੀ ਵਾਲਹੁ ਨਿਕੀ ਏਤੁ ਮਾਰਗਿ ਜਾਣਾ ॥
kha(n)niahu tikhee vaalahu nikee et maarag jaanaa ||
"As sharp as the edge of a sword and finer than a strand of hair, that is the path a Sikh of the Guru is to walk."
My husband and I were willing to walk that path, knowing we had each other's support through all our ups and downs to come.