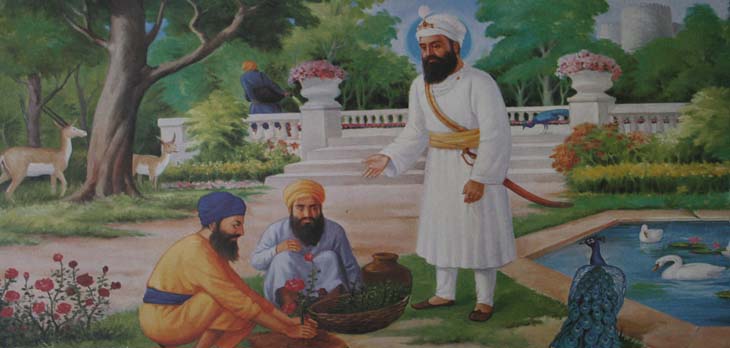 Image from Sri Guru Hargobind Singh Library, Jawaddi Taksal, Ludhiana.
Guru Har Rai ji had the original green thumb. He grew herbs, preserving rare species of plants, and established a research center for their use. He created a zoo so the Sikhs could have an up-close understanding of the animals with whom they shared the earth. Guruji had a very deep connection with the life of the planet, and nurtured it as much as he nurtured the Sikhs.
Friday, March 14th, we remember the day that Guru Har Rai became the 7th manifestation of Naanak's light. In this day and age, care for the environment has become necessary for our future survival. EcoSikh  has worked to have Guru Har Rai's Guru Gaddi Day recognized as Sikh Environment Day.
If you or your community are planning to do anything special to serve the environment, or raise awareness about environmental issues, SikhNet would love to know. Please send us pictures and your own written article about what your community has done for Sikh Environment Day. Depending on the number of submission we receive, we will feature your article in the daily SikhNet News.
Please send your pictures and articles to: [email protected].
We hope the global Sikh community has a successful Sikh Environment Day, in honor of Siri Guru Har Rai Sahib ji.