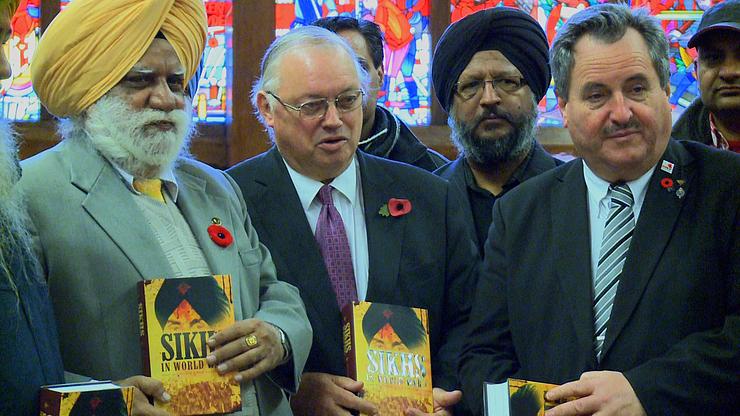 Book, "Sikhs in World War I" authored by Sardar Bhupinder Singh Holland and published by Sardar Ranjodh Singh of Ludhiana was launched by Deputy Mayor of Leper Mr. Joseph Verschoore on behalf of the Mayor Mr. Jan Durnez on the historical day of Armistice Day 11-11-2013 in the town Hall of Ieper. Former Governor of West Flanders, where Sikhs fought twice in October 1914 and April 1915, Mr. Paul Breyne, now Commissioner General WW I in Brussels, performed the opening Ceremony. Books were presented to former Secretary of Ieper Mr. Jan Breyne, Mr. Dominek Dendooven who opened the welcome doors to the Sikhs in Ieper and to the National Press of Belgium. Sikh leaders from Europe and many representatives of Gurdwaras were present.
Next year 2014, It will be 100 years of the arrival of the Sikh soldiers in Europe. That event will be celebrated at Ieper where Sikhs from all over the world are expected to attend and 6th of April 2014 has been fixed and announced to the press and Sikh Sangat during the ceremony in the Town Hall of Leper on 11-11-2013.
Sikh Channel UK will relay the program of Ieper on 14-11-2013, Thursday at 18 PM UK Time and 19 PM European Time and 23:30 PM Indian Time.
Related stories:
Sikhs in World War I ~ Book Review