As Russian military bombards civilians in efforts to overtake and occupy Ukraine, millions of people flee their homeland seeking safety. Sikhs have emerged in the ensuing chaos offering langar, and emergency relief to those in need.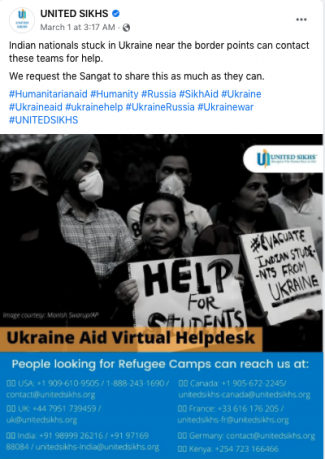 Individuals, gurdwaras, and established relief societies such as Khalsa Aid and United Sikhs have banded together to provide a safety net for evacuees, and refugees. Stations have been set up along borders of neighboring countries. In the spirit of global humanitarian relief, Sikh aid is available where offered regardless of political, or religious affiliation. 
Divine Light Shines from Every Soul
The mission to provide for those in need is a time-honored tradition of the Sikh Faith. During the reign of 10th Guru Gobind Singh, a Sikh by name of Kanhaiya (Ghanaya or Ghanaia) visited Anandpur in 1705. The Mughal army occupying the area continually warred with imperial troupes, chiefs and militia of neighboring hill clans, as well as the Sikh warriors of the Guru. Kanhaiya ventured out to the skirmishes and tended the wounded, whether friend or foe, he gave those who thirsted water. Some Sikhs complained to the Guru that Kanhaiya had been giving aid to the enemy. When questioned about his actions by the Guru, Kanhaiya explained that when he looked into the eyes of those fallen, he could not distinguish between ally and enemy, he saw only the divine light of one creator shining forth from within every soul. Guru Gobind Singh ordered that Kanhaiya be provided with not only water, but also medical supplies to treat the wounded, and bestowed upon him the honorary title of "Bhai", meaning the Guru's own brother.
Sikh Aid Resources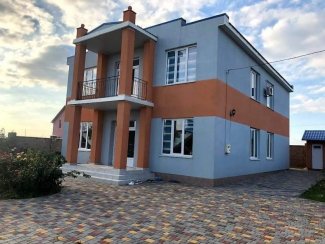 Resources offering aid for those caught up in the Ukraine conflict include gurdwaras in various neighboring countries where langar, or free meals are available, and Non Profit Humanitarian Sikh Aid societies offering langar, emergency assistance such as medical treatment, transportation for evacuees, and refugee camps. Contact information is given for evacuees, volunteers, donations, and contributions (see below).
A Call for Peace
At this crucial time when military personnel are risking lives, civilian families with innocent children are suffering, and foreign students far from home, including 20,000 of Indian origin, are waiting to be evacuated, let us come together in a call for peace. We urge you to read, recite, or listen to Sukhmani Sahib, a hymn known as "Peace Lagoon", with intent to bring about spiritual guidance for leaders, with a swift and peaceful resolution for all involved. Sukhmani Sahib is found on Ang (page) 262 through 296 of Guru Granth Sahib. Sikhnet Gurbani Media Center offers several Sukhmani kirtan selections by various artists. 
Resource Contact List
Gurudwaras  
Ukraine
Guru Nanak Darbar Odessa
Odessa Oblast Post Code 67921 Phone +38063140220
Poland
Gurudwara Singh Sabha Warszawa
Post Code 02-197 Warsaw, Poland  +(48) 22 868 4541
Siri Guru Singh Sabha Warsaw Poland
Accommodation food and all support +48602666666
Romania
Gurdwara Guru Tegh Bahadur Sikh Sabha Kandhkot Nanak Wara Muhala
Bulevardul Uniril, Buzau, Romania
Russia
Gurudwara Pehli Patshahi (Azerbaijan)
Malaya Filovskaya
Building 30-1-61, Moscow, Russia, Post Code 121433
Contact: Gurdeep Singh Jolly, Chairman  
E-Mail:

[email protected]

  Telephone: (095) 146 27 12
Mobile: (095) 765 91 45
Gurudwara Guru Nanak Darbar Moscow 
Varshavskoye Hwy (2nd floor), 34, Moscow, Russia, Post Code 115230
7 am to 10pm, Sundays 1pm
Telephone: +74996115067
Gurudwara Moscow
Oranzhereynaya Ulitsa, 7, Moscow, Russia, Post Code 111622
Gurudwara Petersburg
Umanskiy Pereulok, 71 к, St Petersburg, Russia, Post Code 195248
0pen 24 hours
Gurudwara Saratov Oblast
Prospekt 50 Let Oktyabrya, 93, Saratov, Saratov Oblast, Russia, Post Code 410000
Sikh Aid Societies (Non-Profit)
Khalsa Aid
Donate: https://www.khalsaaid.org/donate
Contact Twitter: ravinder singh @RaviSinghKA
Khalsa Aid @Khalsa_Aid
Offering Team at Medyka border
Arrange transport for evacuees from border to location in Poland
Basic medical aid for evacuees traveling on foot
Teams of volunteers on the ground in Poland, Moldova, Romania, Slovakia and Hungary
United Sikhs
Donate: https://donate-usa.keela.co/ukraine-aid

Contacts for Ukraine Conflict refugee camps:
USA: +1 909-610-9505 / 1-888-243-1690- [email protected]
UK: +44 7951 739459 / [email protected]
India: +91 98999 26216 / +91 97169 88084 / united [email protected]
Canada: +1 905-672-2245 [email protected]
France: +33 616 176 205 / [email protected]
Germany: [email protected]
Kenya: +254 723 166466

Contact United Sikhs for help at border camps:

Hungary
Zahony Border post opposite Uzhhorod in Zakarpattia Oblast Ukraine

Mr S Ramji Mobile: +36305199944 Whatsapp: +917295983990
Mr Ankur Mobile & Whatsapp: +36308644597
Mr. Mohit Nagpal Mobile: +36302286566  Whatsapp: +918950493059

Slovak Republic
Vysne Nemecke land border with Ukraine

Mr Manjol Kumar Mobile: + 421908025212
Ms Ivan Kozinka Mobile: +421908458724

Poland
Krakowlec land border with Ukraine

Mr Pankaj Garg Mobile: +48660460814 / +484606700105

Romania 
Suceava land border with Ukraine

Mr Gaushul Ansari Mobile: +40731347728
Mr Uddeshya Priyadarshi Mobile  +40724382287
Ms Andra Harionov Mobile: +40763528454
Mr Marius Sima Mobile: +40722220823
More about United Sikhs efforts at: https://www.facebook.com/UNITEDSIKHS.org