Members of the Phoenix Sikh community donated 550 trees, worth more than $60,000, to the city of Phoenix. 
Nov. 12 marks the 550th anniversary of the birth of Guru Nanak, the founder of Sikhism. Guru Nanak is known for establishing tenets of Sikhism, including environmental stewardship. The Sikh faith is the fifth largest in the world. There are more than 500,000 Sikhs in the United States, and more than 4,000 in the Phoenix area.
"Guru Nanak very much believed in the oneness of the earth, the air, and water with the creator of the creation," Anjleen Kaur Gumer, a leader in the local and national Sikh community, said. "He absolutely believed that us taking care of the earth was a necessity for us, for surviving. He instilled the value of respecting nature and respecting the earth as a central tenet of Sikhism."...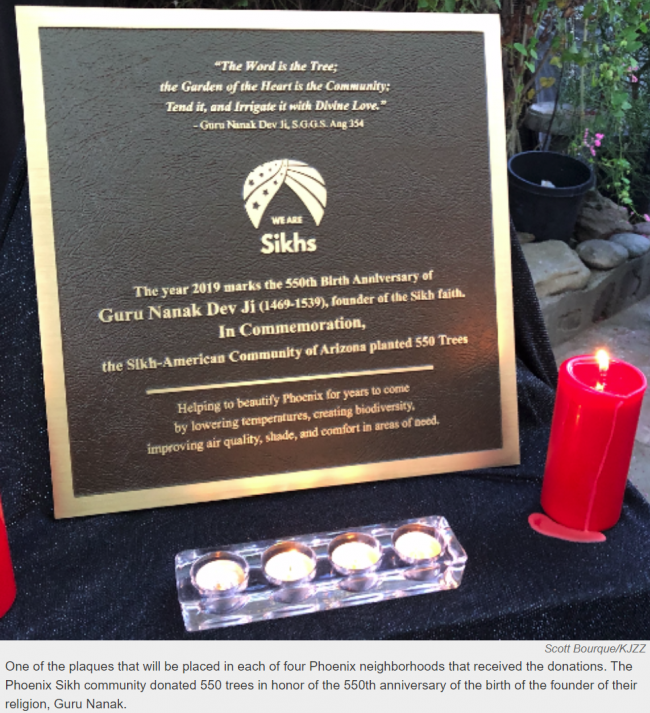 ...The tree canopy is necessary to provide much-needed shade in the summer. Areas with trees report lower temperatures and are less susceptible to the urban heat island effect. 
"Phoenix voters said that they want to have the most sustainable desert city in the world," said Mayor Kate Gallego. "We are very ambitious, but if we are making progress 550 trees at a time, nothing is out of reach."
Gumer says it's people's responsibility to love the earth as much as they love other people.  
"Trees are universally liked and appreciated by everyone," Gumer said. "Guru Nanak believed that as well. You treat your planet how you would treat other people. Mistreating the earth is akin to mistreating yourself, because we are all the same."