A story of a thrilling escape made by  four Sikh soldiers (PoWs) who got back to the British lines at El Alamein after escaping from a prisoners of war camp at Tobruk. Havildar Dhirta Singh , led 3 soldiers daringly  through the Axis lines, covering a gruelling 400 mile trek trudging across the desert with nothing to guide him, no map, no compass and no watch except the stars, and with very little food and water and practically no sleep. On one occasion they had to lie up all day near an enemy ration dump with lorries constantly passing within a few yards of them. At other times they often had to skirt round enemy positions.
The journey, which was made on foot, took 20 days. They could travel only by night, spending the days lying under the scanty shelter of desert scrub, the probing rays of the fierce sun making sleep impossible. By his fortitude and leadership he saved not only himself but also three of his brother soldiers whom he led across 400 miles of the desert occupied by enemy troops.
Havildar Dhirta Singh was taken prisoner by the Germans with a number of other men of the Battalion on 1st July 1942 at Deir el Shein during the Western Desert Campaign in the Second World War. The prisoners of war were then taken to the POW camp at Tobruk and they were harshly treated. Their cage was in intolerable condition and endured sufferings as prisoners. They were occasionally roughed up and regularly abused.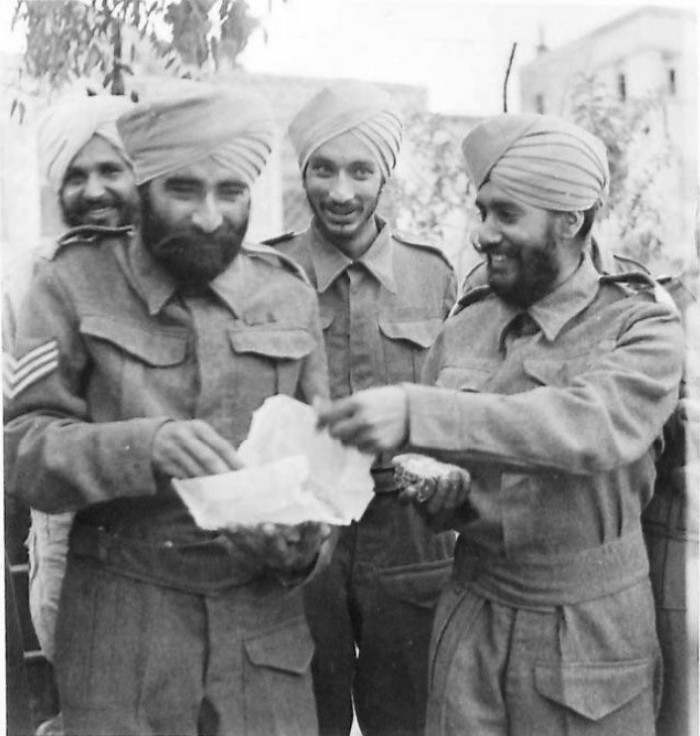 The hero of the regiment is Havildar Dhirta Singh (on left),
here enjoying some toffee with Sgt. Chanan Singh.
The Havildar escaped from Tobruk and walked 400 miles into out lines.
He was awarded the Indian Distinguished Service Medal.
They were kept without food or water, but were tormented by the sight of both being stacked up outside their compound. They were insufficiently clothed, and they were without shelter during Royal Air Force raids.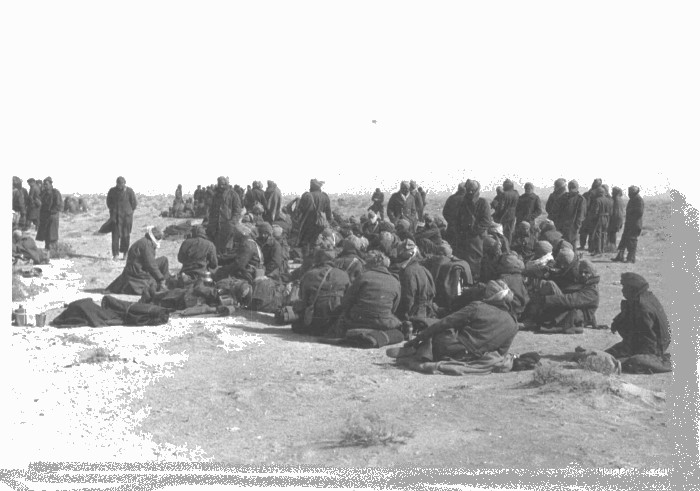 British, South African and Indian prisoners captured in Cyrenaica,
Tobruk  in the winter of 1942. Western Desert Campaign.
Courtesy of Archivio centrale dello Stato
They were sent to work on the extension of the railway to Tobruk. Very little ration and water were given to them while at  work. It is common with all Indian prisoners they were denied water. At times they had to buy water at a pound a tin and many bartered their wrist watches for a drink from a water bottle. While working as a POW on the docks and on the railway, Dhirta Singh was able to make mental notes of the activities of the enemy.
They succeeded in escaping on the night of August, 18.
Tobruk was subject to repeated ground assaults and almost constant shelling and air bombardment. One significant fact about Tobruk is that much of the enemy's oil supplies are landed there.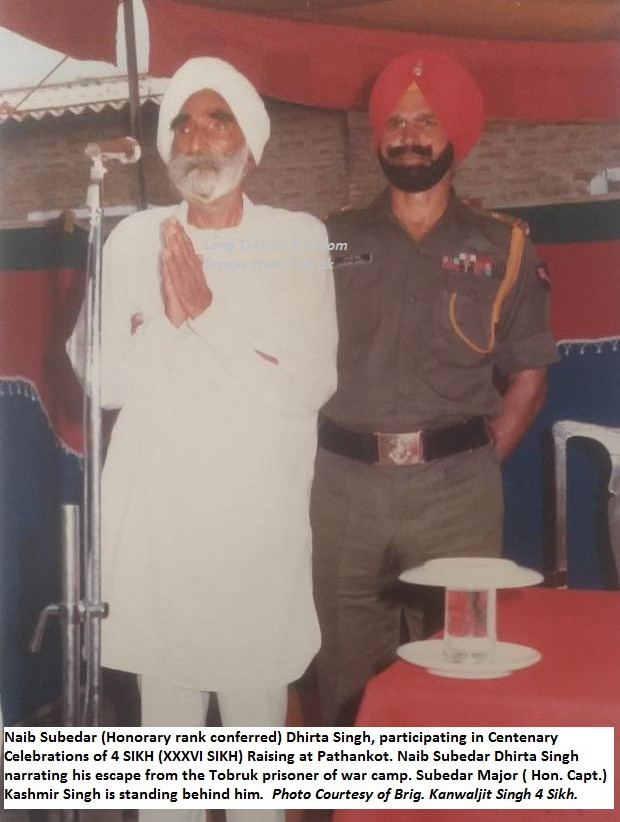 On the 18th of August, Dhirta Singh witnessed the tremendous havoc created by the Allied Air Force on the harbour from his prisoner of war cage. The Allied Air Forces made a devastating attack on the harbour defences, the jetty and ships, as well as attacking guns, searchlights, stores, camps, dumps and all kinds of buildings. Oil installations and harbour facilities were attacked, and large fires were started. In the, air and from the sea the Allied forces for five and the half hours gave Tobruk the heaviest pounding it had ever had  and was sent into a state of chaos.
Dhirta Singh  took this opportunity and made a dramatic dash .He collected three other men of the Battalion who were also prisoners of war, and on the night of 18th of August they made their daring escape. Prior to leaving Dhirta Singh had collected a sand bag full of biscuits and a two gallon tin of water.
Using his previous knowledge of the country gained during previous year's advance, he led his party via El Adem and Bir El Gubi to Sofafi. Their journey proved dreadful, wandering across the desert without map or compass. Hiding by day and walking by night, thirsty, hungry & finally they reached the interior, but had to return to the coast to get water. On their trek they found a four gallon tin of water and some biscuits which was enough for them to renew the journey. Before reaching the British lines they had to pass through, the battlefield.
Trek through enemy lines
Here they lost their way and found themselves at Sidi Omar. Recognizing the spot as that where he fought in November 1941, Dhirta Singh turned his party about and moved Eastwards again until he was picked up on 7th September by elements of 10th Armoured Division in the Southern Sector at El Alamein.
During this journey Havildar Dhirta Singh carefully noted any information concerning the enemy that might be of use, with the result that when he succeeded in once again reaching friendly forces. He was flown to Alexandria for debriefing.
By his fortitude and leadership he saved not only himself but also three of his brother soldiers whom he led across 400 miles of the desert occupied by enemy troops. By his field craft he enabled his party to avoid bodies of enemy troops which they frequently met. 
Throughout the journey he was untiring in his efforts cheering on his men when tired and not sparing himself or considering his own personal safety when reconnoitering for ways through enemy positions and his presence of mind in gathering information during his enforced reconnaissance of the enemy.
In recognition of this exceptional feat, Havildar Dhirta Singh, No.10088, 4 /11th Sikh Regiment was awarded the silver MacGregor Memorial Medal for 1943. He was also awarded the Indian Distinguished Service Medal.
 
Acknowledgments:
I am thankful to Sqn. Leader (Retd.) Sdr. Rana T.S Chhina, MBE of Centre for Armed Forces Historical Research United Service Institution of India 
Resources:
History of the MacGregor Memorial Medals 1889-1989 by Maj. Robert Hamond, Lancer
International, New Delhi, 1994.
Captain A.C.B. Wimbush from an article in "The Sikh" 1980 by Brigadier D.M. Cornah CBE
DSO (CO of 4 th Bn. 11th Sikh Regiment in 1944-45) under the title "A Desert Exploit". See also Citation for award of the IDSM sent by Clifford Parrett.
Header Image .Courtesy of IWM.
Archivio centrale dello Stato
-----------------------------------------------------------------
Related Articles::
The articles subsumed below is indicative of their tales of sacrifice, heroes and legends that give its true essence to their distinguished achievements. The stories also chronicle the zealous, effervescent and never-say-die spirit that exemplifies the true virtues of the Sikh alongside the righteous valour and bravery in the Sikh character reveals the genteel humility.
Thank you.
Harchand Singh