Background
The general perception of most people is that Guru Tegh Bahadur faced the wrath of Mughal Emperor Aurangzeb when he decided to support the cause of Kashmiri Brahmins who came to Chak Nanaki (later Anandpur Sahib) in May 1675 which later led to his martyrdom in November 1675. I have covered the martyrdom in my article 'Revisiting the martyrdom of Guru Tegh Bahadur' using Persian and non-traditional Sikh sources. This was not the only time when the Guru was arrested by Mughal authorities on behalf of Aurangzeb. He was first arrested exactly 10 years ago in November 1665.
Dislike for Sikhs
Mughal Emperor Aurangzeb disliked Sikhs and found reasons to meddle in their affairs. He had summoned the seventh Guru, Har Rai to attend his court at Delhi and give clarification on Adi Granth (later Guru Granth Sahib). He also asked eighth Guru, Harkrishan to come to Delhi. The Guru came to Delhi on the personal assurance of security given by Raja Mirza Jai Singh in January 1664. At the time, an epidemic of cholera and smallpox broke out in Delhi. The young Guru began to attend the sufferers irrespective of cast and creed. He came to be known as 'Bala Peer' (child saint). During this period the Guru contracted small-pox and he passed away on 30th March 1664. He was cremated on the banks of river Yamuna where now stands Gurdwara Bala Sahib.
Arrest warrant
This time Aurangzeb went one step further and issued an arrest warrant for Guru Tegh Bahadur, the successor to Guru Harkrishan.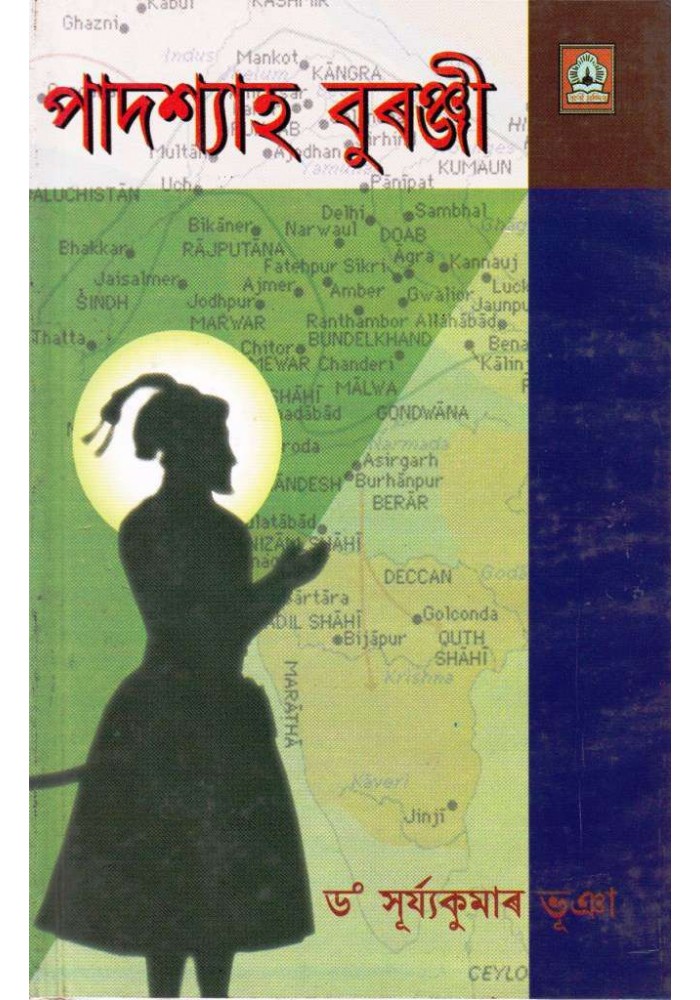 Dr HR Gupta mentions that Guru Tegh Bahadur undertook a tour of Malwa (western Madhya Pradesh and parts of south-eastern Rajasthan) where sangat had been established by sixth Guru, Hargobind. He journeyed from village to village preaching his gospel. Aurangzeb could not tolerate Guru Tegh Bahadur's preaching. In the beginning of November 1665, the Guru was at village Dhamthan situated between Narwana and Tohana, 170 kms from Delhi. Alam Khan (Alo Khan according to Assamese work Padshah Buranji) Rohilla carrying warrants issued by Mughal Emperor came from Delhi.
Bhat Vahi Jodobansian Khata Barhtian, a contemporary scroll written by Bhat records
"Guru Tegh Bahadur Ji Mehl Nama….. Nagar Dhamdhan Pargana Bangar se Alam Khan Rohilla Shahi hukam gail Dilli se lair kar aaya satrai baais Kartik mase shukla pakhe sudi II ke dihon, sath Sati Das, Mati Das bete Hira Mal Chhibar ke, Gawal Das beta Chhote Mal Chhibbar ka, Gurdas beta Kirat Barhtia ka, Sangat beta Binne Uppal ka, Jetha Dayal Das bete Mai Das ke Jalhana Blaut hor Sikh fakir farhe aae"
(Guru Tegh Bahadur, the ninth Guru was at town Dhamdhan, Pargana Bangar. Alam Khan Rohilla came with imperial arrest order from Delhi Samvat 1722 month Kartik. Along with Guru Ji, Sati Das & Mati Das, sons of Hira Mal Chibbar, Gawal Das son of Chhote Mal Chibbar, Gurdas son of Kirat Barhtia, Sangat son of Binne Uppal, Jetha & Dayal Das sons of Mai Das among other pious Sikhs were arrested)
On 8th November, 1665 Alam Khan Rohilla arrested the Guru along with several other Sikhs. They were brought to Delhi. The Guru was house-arrest (Nazarband) in the residence of Prince Ram Singh, son of Raja Mirza Jai Singh of Jaipur. Aurangzeb issued the orders of Guru's execution. Ram Singh pleaded with the Emperor for mercy and to rescind his order. He undertook full responsibility for Guru's conduct and managed to secure his liberty on 11th January, 1666. In total the Guru remained in confinement for two months and three days.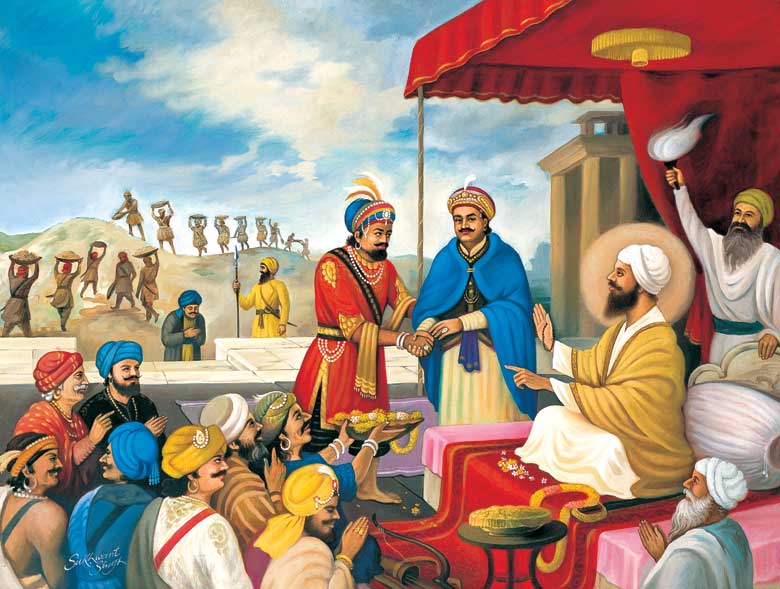 Guru Tegh Bahadur tried to mediate between Raja Ram Singh & Ahom king Chakradhwaj Singha
Bhat Vahi Jodobansian Khata Barhtian records
"Guru Tegh Bahadur Ji Mehl Nama….. ko Badshah Aurangzeb nee Kanwar Ram Singh Kachhbaha beta Raja Jai Singh Mirza ke missal me nazarband kiya jane ka hukam diya, do mas tin dihon Guru Ji bandikhane band rahe …. Sambat satrai sai baais krishana pakhe Pokh mas ki Ekam ko bandhan mukt hue".
(Guru Tegh Bahadur Ji, ninth Guru…. Emperor Aurangzeb ordered Prince Ram Singh Kachwaha son of Raja Jai Singh Mirza to house arrest in the area under his jurisdiction (Misl). For 2 months and 3 days, Guru Ji was imprisoned. He was released in Samvat 1722 day 1 of month Pokh)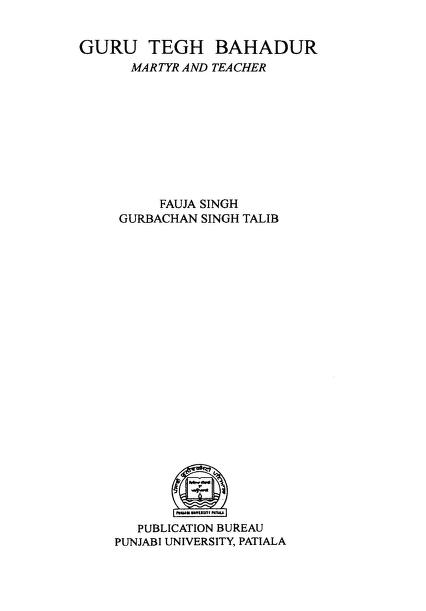 Assamese source The arrest in Guru Tegh Bahadur (and other Sikhs) and intervention of Prince Ram Singh is mentioned in two contemporary sources namely Bhat Vahi Jadobansian Khata Barthian and Assamese chronicler Padshah Buranji (also written as Badshad). Dr Fauja Singh in his book Guru Tegh Bahadur, Martyr & Teacher published in 1975 was the one of the early Sikh historians to quotes these sources.
Surya Kumar Bhuyan was an eminent historian of Assam who edited and published more than a dozen contemporary chronicles (Buranjis). These Buranji written in prose are important source of Ahom (rulers of Assam) history. Aurangzeb later sent Prince Ram Singh was sent to conquer Assam. Guru Tegh Bahadur met him at Gaya (Bihar) and together they went to Dakha in December 1666. The Guru stayed in this area and Assam till January 1670. During this period following the death of his father in 1667, Raja Ram Singh became the ruler of Jaipur state. The details regarding Guru Tegh Bahadur and Raja Ram Singh are recorded in Padshah Buranji. It was edited by SK Bhuyan in 1935.
Conclusion
The arrest of Guru Tegh Bahadur following his support to the cause of Kashmiri Brahmins in July 1675 which later led to his martyrdom in November 1675 should not be seen in isolation. Aurangzeb had previously arrested the Guru in 1665 and even ordered his execution. The noble soul, Raja Ram Singh of Jaipur pleaded for mercy and was able to convince Mughal Emperor who rescinded the order. The martyrdom in 1675 was continuation of events which happened 10 years prior in 1665. All major historians including Dr Ganda Singh, Hari Ram Gupta, Fauja Singh, Surjit Singh Gandhi among others are mentioned the arrest and relating events of 1665. I have crudely translated the above quoted Bhat Vahis extract in English for the benefit of readers. There may be some discrepancies which I am happy to correct. I hope the Sikh Katha Vachaks and historians will incorporate these events of 1665 to give a comprehensive background to the Guru's martyrdom.
References
Guru Tegh Bahadur, Martyr & Teacher by Fauja Singh & Gurbachan Singh Talib, Punjabi University, 1975
History of the Sikhs Vol 1 by Hari Ram Gupta, Munshiram Manoharlal Publishers, Delhi, 2nd edition, 1984
Editor's note: This article is related to a previous article: Revisiting Martyrdom of Guru Tegh Bahadur