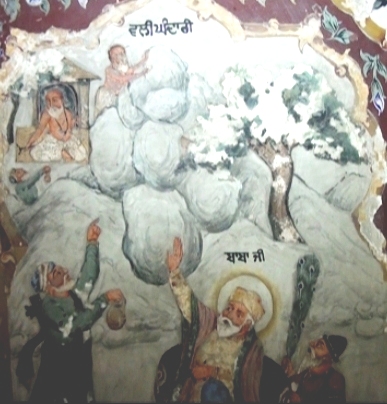 Between 1500 and 1524, Guru Nanak traveled more than 28,000 kms in four major tours of the world. During these Udasis (religious tours), he visited holy places of different faith, met people of various faiths, professed his newfound path. He challenged orthodox rituals and impressed all with his wisdom and saintly demeanor. Let us visit two historical landmarks - one in the south and other in the north. One in the south of India, where he shifted a rock with his foot; to start a stream of fresh water that provided succor to the people suffering water shortage. The other in the north of India then (now Pakistan), he firmly embedded back the boulder rolling down the hillock with his hand print. Both associated with rocks and water flowing to quench the thirst. The one in the south uplifted the poor with a source of fresh water, while the other in the north where he humbled the haughty.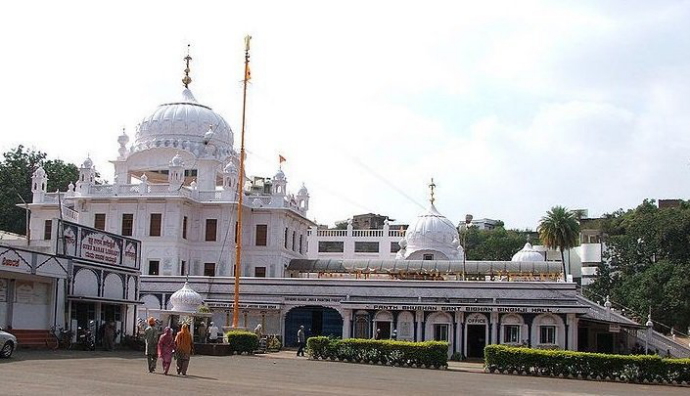 During his second Udasee he covered the south of India. After passing through Khandwa, Nanded, Nasik Guru Ji moved further down along with Mardana. Guru Ji reached outskirts of the Bidar in year 1512 and decided to camp there to meet Pir Jalaluddin and Yakoob Ali. They had built a fort around the source of water and controlled the supply. Nearby were the huts of Muslim fakirs, who took keen interest in the sermons and teachings of the great guru. The news soon spread throughout Bidar and its surrounding areas about the holy saint of the north and large number of people started coming to visit him and seek his blessings.
There used to be acute shortage of drinking water in Bidar. Guru Nanak was told that Bidar had brackish water and people had to dig deep or go far to fetch potable water. Even when wells produced water the water was found to be unfit for drinking. Guru Ji was greatly moved by the plight of the poor, while uttering Sat Kartar, shifted a stone with his wooden sandals and removed some rubble from the place. To the utter surprise of all, a spring of cool and fresh water started flowing. That is how the place soon came to be known as Nanak Jhira (Jhira=Stream). Today a magnificent Gurudwara, along with a high school, and an engineering college commemorate the visit. The crystal clear stream that still flows out of a rock near the Gurudwara is believed to be God's answer to the Guru's prayers.
Guru Nanak Dev Ji along with Bhai Mardana Ji reached Hasan Abdal in Attock District now in Pakistan in month of April in year 1521. Under a shady cool tree, Guru Nanak and Bhai Mardana started reciting Kirtan and soon their devotees gathered around. This annoyed a local saint, Hazrat Shah Wali Qandhari, who meditated atop a nearby hill but he was helpless.
According to legend, Bhai Mardana was very thirsty and asked Guru Ji permission to go up the hill and drink water from the spring. Bhai Mardana asked Wali Kandhari for water which he refused. Then he returned back and Guru Ji asked him to go back again and request him humbly. Guru Ji sent him third time to Shah Wali Qandhari instructing Mardana, to tell him that the men of God should not be selfish, but always share with others. Wali Qandhari not only refused his request but was rude to him. In spite of all this, Mardana still very politely stuck to his demand. The Wali ironically remarked: "Why don't you ask your Master whom you serve?"
Mardana went back to the Guru in a miserable state and said "Oh lord! I prefer death to thirst but will not approach Wali the egoist." The Guru replied "Oh Bhai Mardana! Repeat the Name of God, the Almighty; and drink the water to your heart's content."
The Guru put aside a big rock lying nearby and a pure fountain of water sprang up and began to flow endlessly. Bhai Mardana quenched his thirst and felt grateful to the Guru.
On the other hand, the spring of Shah Wali Qandhari soon dried up. On witnessing this, the Wali in his rage threw a boulder towards the Guru from the top of the hill. The Guru stopped the rolling rock with his hand leaving his hand print in the rock.
Bhai Mardana asked Guru Ji this was quite a challenging test for me going to Wali three times. Guru Ji replied, "This was Pir's test. The anger and pride in saints despicable." Wali Kandahri was still in shock witnessing the draining of his spring. When he saw that he could not inflict body damage on Guru Ji, he came down and sought forgiveness from Guru Ji. Guru Ji advised him, "One should not be proud of God's gift. He can take them away at his Will as he has taken away the spring of water from you."
This holy and revered place was named Panja Sahib by Hari Singh Nalwa, the most famous General of the Kingdom of the Sikhs. He is credited with having built the first gurdwara at this place. Several attempts to deface the impression of the hand of Guru Ji on the rock have failed. What I find a common and fascinating trait between two events that water became a tool for controlling and exploitation against the have-not. Now, water which is considered as a symbol of humility because of its nature to flow downwards and to assume the shape of vessel it is poured into became a ready exploitation tool in the hands of respectable clergy. But Guru Ji employed rock, considered a symbol of pride and arrogance to rectify the situation of exploitation. Guru Ji's message was exploitation was not appropriate for the religious leaders, but the service of mankind was. Guru Ji uses rock to melt rock-like hearts and turn them into service of mankind.
We just celebrated 500 years anniversary of Guru Ji visit to Bidar in 2012, and the same anniversary of the visit to Hasan Abdal is approaching in 2021. Let us start planning for a celebration for it on the grand and befitting scale.
References:
1. Singh, Satbir. Baliyo Chirag (Jeewani Guru Nanak Dev Ji) - In Punjabi
2. Singh, Prof. Jagdish. Anmol Sakhian - In Punjabi
3. Singh, Ranbir. Glimpses of the Divine Masters
4. Jagdev, Santokh Singh. Bed Time Stories -2
5. Singh, Roop, Gurdware Gurdham Jinha Ton Panth Nu Vichhodia Gia
6. Wikipedia
7. Sikhiwiki