Gurdwara Guru Nanak Ghat, Ujjain

While visiting Mhow in Madhya Pradesh, I had the privilege of visiting Gurdwaras related to Guru Nanak Dev Ji. I first visited Ujjain which was about 2 hours from Mhow where I had gone to meet my son Gurtej who was doing Higher Command Course there. Guru Nanak Dev ji came to this area during his second Udasi while proceeding to Sri Lanka. Madhya Pradesh is the central state of India located between Uttar-Pradesh and Rajasthan in the north, Gujrat & Rajasthan in the west, Maharashtra in the south and Bihar in the east. Spread over 4,43,446 sq. km. the main area is hilly and a portion of it is jungle clad and has a population of 66,181,170 (1991 census). The capital of the state is at Bhopal. The area was ruled by the Muslim rulers at the time of Guru Nanak's visit to the area. The author served in this state during 1983-1985.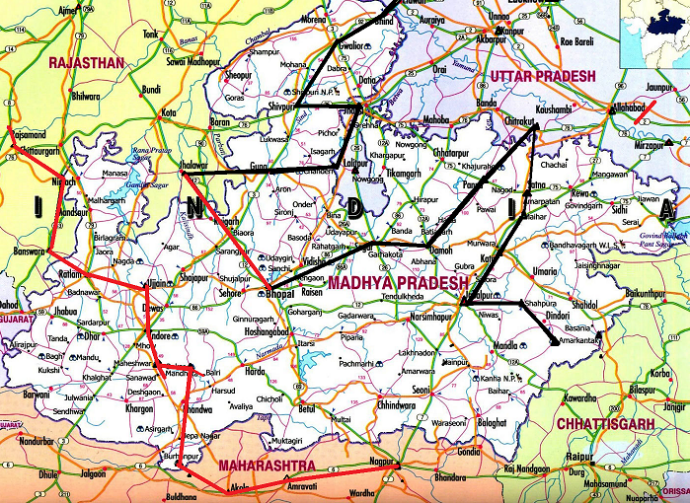 Map showing Guru Nanak travels in Madhya Pradesh
According to available records, Guru Nanak entered Madhya Pradesh twice; once during first journey and second time during the second journey while going to the south. In the first journey he returned from Puri, Bhubneshwar in Orissa and reached Sarangarh in Madhya Pradesh. He visited Amarkantak and then came to Jabalpur. After visiting Chittarkoot near Manipur he went to Mahiar Nagar.
After visiting Chanderi, Jhansi, Gwalior, Karauli, Dholpur and Bharatpur he reached Mathura. Gurdwaras at Amarkantak, Jabalpur, Gwalior and Mathura commemorate Guru Nanak's first journey.
During his second journey he re-entered Madhya Pradesh from Banswada in Rajasthan and reached Jaora in Madhya Pradesh. Thereafter passing through Mehidpur, he visited Ujjain which was known as Awantika in ancient times.
Ujjain was the seat of the viceroyalty of Ashoka, during his father's rule of Patliputra (Patna). However, it is best known as the capital of the legendary king Vikaramaditya at whose court the "nine jewels" of Hindu literature are said to have flourished. Of these the poet Kalidas was the most renowned. It was here that Shiva, the God of Destruction, vanquished a wicked demon named Tripura. Hundreds of thousands of Hindu pilgrims throng here from all corners.
It is also famous for Kumbh Fair held each 12 years. Famous Hindu temples include Shri Mahkaleshwar Mandir known for Jyotarling and Shiv Shaktipeeth.

Mention of Guru Nanak's visit is found in Janamsakhi Meharban, 'Tab...Guru Baba Nanak ji Ujjain jai niklia'1 (Guru Baba then reached Ujjain). There was the cave of Bharthari, the place where Bharthari was born and the cave of Gorakh. Many mendicants, saints, bairagis, etc. had collected at Awantika to have bath on Vaisakhi day. Guru Nanak too reached there and was invited by the followers of Bharthari for a mutual discussion. Near the cave exists a mosque and after the entry into the cave there is a platform. A tamarind (Imli) tree exists at the site. A platform existed ahead of the mosque too. Guru Nanak positioned himself on that platform. Guru Nanak was asked a question, "Will all these saints, mendicants, faqirs, bairagis and udasis who have come here for salvation, ever get it?"
Guru Nanak then recited a hymn to explain:
"If a man does spiritual deeds then alone is he true. What can the false man know about the secret of salvation? Such a man is yogi, who thinks of the way of union with God. He slays the five enemies and keeps clasped the true Lord to his heart. He within whose mind, God enshrines truth, realizes the worth of the way of union with Him. The coming to the pilgrimage is worth only if they realize the True Lord. Most of the world does business like hired-labour.
Nobody achieves anything without the Lord. Remember always the name of The Lord."2
All present were pleased to hear him.
Guru Nanak entered the cave and held discussions with the descendant of Bharthari also called Bharthari Hari. He said, "You are a worldly person, while we live in jungles and caves. We believe in mysticism which you dislike. I am afraid that I will not be able to look after you properly.'' guru Nanak said:
"What fear can a yogi have when that Lord is amongst trees, plants and within and without the house (pause) The yogi meditates on the Fearless and Pure Lord. Night and Day he remains awake and embraces affection for the True Name. Such a yogi is pleasing to my mind. He burns snare of death with Lord's fire. He sheds the fear of old age and death and stills his ego. He himself swims across and saves his ancestors too. He who serves the True Guru becomes a Yogi. He who remains immersed in Lord's fear becomes fearless. As is the one whom he serves, so does he himself become? God's Name makes man pure and fearless."3
All the present then bowed before the Guru. Having the feast of true knowledge they were satisfied by Guru's explanation.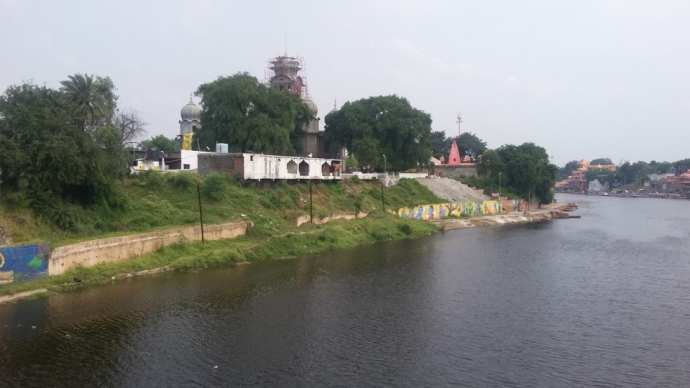 A Gurdwara known as 'Gurdwara Guru Nanak Ghat' commemorating Guru Nanak's visit. It is on the bank (Ghat) of southern bank of Shipra River opposite the famous Mahakal mandir and close to Datt Akhara. One can reach it through Nar singh Ghat bridge or the bridge next to Mahakal Mandir. The gurdwara is being renovated by 'Sant Bhuri Wale' through voluntary labour (karsewa). Tamarind tree has developed into a very large tree.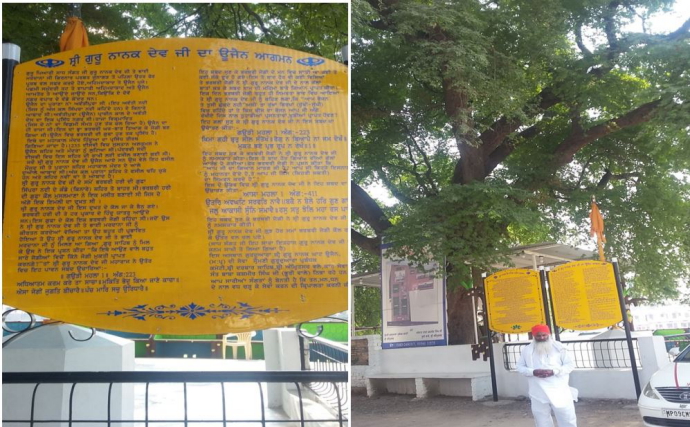 Being present at the naturally magnetic place, watching the scenic beauty around Shipra River was a real blessing. Guru Nanak came all the way from Punjab crossing thousands of miles of the burning sands of Rajasthan into this God blessed land known not only for Mahakumbh but also for its very rich history and the Hindu temples of great reckoning. He landed in the areas of Sidhas (close to Datt Akhara of Siddhas) who were dominating the Hindu thought then. People gather in large number Mahakaleshwar Mandir to pay obeisance to Jyotarling and Shaktipeeth around Mahshivratri of 1511 AD (Bikrami 1568 Samwat) when the gathering was the largest. His meeting Bharthari Hari's followers and having discussion on the principles of religion and methodology of meeting God is now on record in SGGS.
From Ujjain, Guru Nanak went the area of Indore, a city on the Bhopal-Khandwa line.