Japji Sahib ~
Light of Guru Nanak
for the World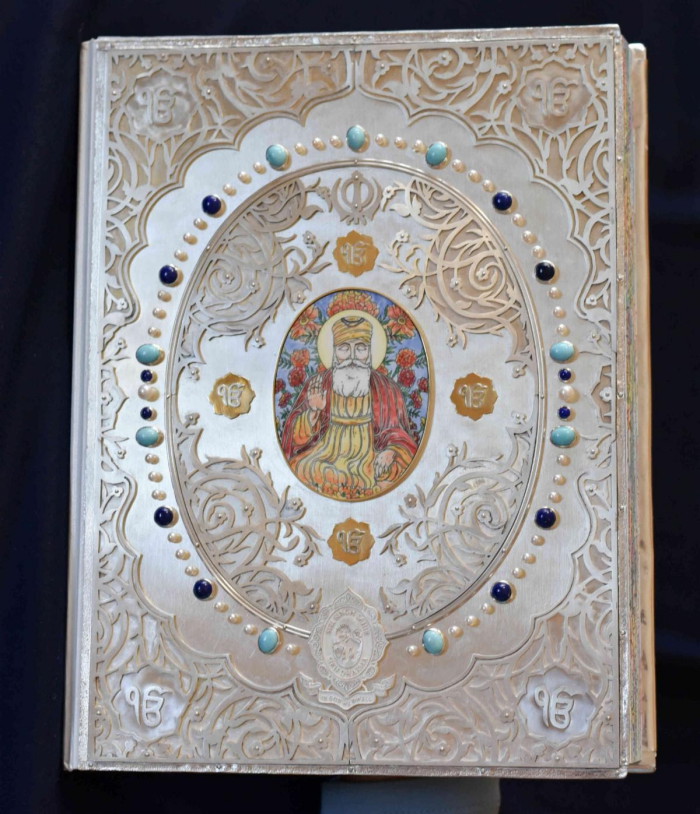 Sat Nam Everyone!
Less than 3 weeks away from November 12, 2019, the 550th Birthday of Guru Nanak Dev Ji, the Father of Sat Nam.
It's no coincidence that this year we celebrate both Guru Nanak's Birthday and 50 years of the Siri Singh Sahib Ji/ Yogi Bhajan coming to the West and introducing so many of us to the meaning and love of Sat Nam.
You are humbly invited to be a part of contributing to and celebrating the legacy of Guru Nanak by giving to the creation of a one-of-a-kind legacy volume called, Japji Sahib - The Light of Guru Nanak for the World (translated into 19 languages)  that will be given, by us, to the Golden Temple Museum to honor our love of Guru Nanak Dev Ji.
At the $108 level and receive a copy of the original-artists portrait of Guru Nanak Dev Ji...or
At the $550 level, receive a limited hardcover edition of the volume, which will be given to the Golden Temple Museum. It is a full-color replica of the interior artwork, including all 19 translations of Japji Sahib.
Blessings,
Kirtan-Singh Khalsa
Sikh Dharma International - COO
__________________________________
Photo Slideshow
of this Volume
DONATE NOW/ RECEIVE THIS GIFT
Sikh Dharma International | +1-505-629-1562 | www.sikhdharma.org