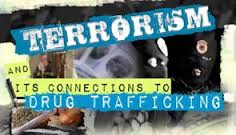 Drug is ordinarily defined as a substance used in dyeing or chemical operations or a substance used as a medication/ in the preparation of medicines but when linked to the crime world, it is referred to as an illegal substance that causes addiction, habituation or a marked change in consciousness. A narcotic is a drug (such as cocaine, heroin or marijuana) that affects the brain and is usually dangerous and illegal. Use of narcotics originally started as a medicine where it was given to people in small amounts to make them sleep or feel less pain, however, now it is being used as a weapon of proxy war where it has also been used to incapacitate a population to destroy it economically and physically as was the case of Opium War in China. Since early times, people in the Indo-Pakistan sub-continent have been known to use opium both as a mind-altering drug and as an analgesic. Its preparations are part of the traditional as also the allopathic systems of medicine. In tune with the growing international awareness of its potential to produce dependence and in compliance with treaty obligations, poppy cultivation has now been controlled for several decades.
Terrorism is the ultimate violent form of organised crime. The major difference with "ordinarily" organised crime is in the aim of terrorism that is to bring about political or ideological changes by using violent means and not self-enrichment. Most of the terrorist organisations of today are run like an army. These organisations need the three "M"s i.e. Men, Munition and Money for them to survive and grow. Al Qaeda, ISIS, are the globally marked terrorist organisations besides a vast number existing in Afghan-Pak region.
Relationship between Drugs and Terrorism
There is a symbiotic relationship between drugs trafficking and terrorism which at first sight look like two totally different forms of crime. However, the two most often exist in combination, somewhat like a horse and carriage. Sponsoring terrorism is an expensive affair and money for killing, kidnapping and sabotage does not come through legal means but from illegal and unofficial channels. Terrorism needs huge sums of money to carry out its operation. Since it is difficult to acquire that sum from official and legal sources, terrorists approach drug syndicates and underworld dons for cooperation. The criminal dons and drug smugglers too find the proposal attractive because it gives them an opportunity to collaborate with aspirants of political power (terrorists) and thereby gives them access to politics in due course of time.
The market value of narcotic drugs is much higher than any consumer product in the world. It fetches voluminous amounts of money and that too in hard cash. For instance, one kilogram of heroin from the Golden Crescent region covering Afghanistan, Pakistan and Iran that costs approximately one lakh rupees in South Asia fetches nearly a crore of rupees in the US market. The figure varies from place to place, which further depends on the law and order situation. It is worth noting that Pakistani heroin and Colombian marijuana are the most demanded narcotic drugs in the US and the European countries. It is because of the enormous money involved in the illicit drug trade that terrorists have established links with drug traffickers, smugglers and underworld dons to meet the expenses for 'Operation terrorism'.
Afghanistan and NWFP region of Pakistan are the biggest producers of opium in the world, which generate huge sums of money in the international market. The drug proceeds are used by the Pakistan government and the non-government agencies to destabilise India. Pakistan is a conduit for Afghanistan drugs and is the epicentre of terrorism. These two issues are vital in the regional politics of South Asia and the security environment of India. Afghanistan is the biggest illicit opium producing (4,600 of the world's total 6000 metric tons per annum) country in the world. Poppy cultivation is done in 18 out of the total 31 provinces of Afghanistan. The Pakistani Drug Syndicate runs a parallel economy in connivance with political and military establishments to destabilise India. According to the UNDCP report, Pakistan's heroin industry in terms of turnover is estimated to be approximately 5 per cent of its GDP.
Pakistan as Narcotic developer and exporter
Pakistan has waged a proxy war against India to avenge defeat in Bangladesh since the 1970s. It uses narcotics as an important source of income for funding these operations using terrorism as a weapon of war. Till 1978, the opium produced in this region was consumed locally and hence was not a threat. Soviet invaded Afghanistan in 1978 followed by the US-Pak joint counter-intervention. After Indo-Pak War in 1971, poppy was turned into a lethal weapon of silent war against India by Pakistan. Cultivation of poppy and cannabis was encouraged during the military dictatorship of Zia-ul-Haq to finance terrorist activities in India. General Zia's support for cultivation of narcotic drugs gave a new dimension to international drug trafficking and terrorism in India. In this process, however, he failed to anticipate its repercussions on Pakistan itself. Heroin addiction spread like an epidemic during his martial administration. During this time, drug traffickers operated freely and became billionaires within a short span of time and organised themselves as syndicates on the same lines as the Latin American drug barons. They established contacts in the law enforcement agencies, funded political parties, used economic platforms and bribed officers to maintain production and supply of narcotic drugs in the international market.
General Zia's involvement in drug trafficking came to light only after his death with the Minister of State for Narcotics, MianMuzaffar Shah, Vice president of Government owned Habib Bank close to the wife of General Zia ulHaq and numerous high ranking officials revealing how Pakistani drug syndicates grew under his patronage. After the death of Zia -Ul - Haq in a plane crash in August 1988, Ghulam Ishaq Khan, a close associate of Zia, also kept his interests alive in the drug trade. He and the Chief of Army Staff General Aslam Beg worked together for the growth of the drug industry at the Pak-Afghan border. In the name of the Islamic Bomb, they generated money from Arab countries and promoted growth of narcotic drugs in the Golden Crescent. Another equally important drug dealer was appointed by Benazir as Minister of state for Tribal Affairs who was convicted for smuggling of opium and hashish from Khyber Agency. All this goes to show the involvement of Political and military class actively in the drug trade which is continuing uninterrupted even today. Heroin production in Afghanistan is expected to touch record levels of 550-600 tonne, of which around 10 tonne is likely to pass through Indian cities. According to Indian estimates, pure heroin costs Rs 1-2 lakh per kg in Pakistan. The cost doubles to Rs 3 lakh a kg after it crosses the border to pay for the risks involved. From Punjab to Delhi, the cost reaches Rs 8-10 lakh a kg and further doubles to Rs 16-20 lakh a kg in Mumbai. But recent police seizures have pushed prices of drugs, originating in Afghanistan and routed through Pakistan, to sky-high levels and driven addicts who cannot afford their daily fix to de-addiction centres. According to NCB experts, a national anti- narcotic task force should be formed to tackle drugs for Punjab with a comprehensive statistical survey of addiction in the state.
ISI, Pak Army and Narcotics
The ISI is the key to intelligence services in Pakistan. It holds political clout and is the most important cell in decision-making. The drug connection of the army and intelligence services came to light when at the instance of Robert Oakley, the US Ambassador to Pakistan, Benazir ordered investigation into the BCCI (Bank of Credit and Commerce) scandal. The US analysts have now woken up to the problem of narco-terrorism in this region. They were the first to use it during 1970s and 80s against the Soviet expansionism. As a matter of fact, the US government encouraged drug trafficking to raise funds for Mujahideen fighting against the Soviets. LandiKotal, the capital of NWFP, is the main centre for business transaction of opium, heroin and weapons. With the help of ISI agents and army personnel, several refineries were set up to produce heroin, which is in great demand in the Western market. Ever since the ISI and the army came into the picture, opium refining techniques have become more sophisticated in this region. Chinese chemists were hired for refining laboratories at LandiKotal and Derra to improve the quality and production. The very fact that the American and the European markets are flooded with heroin from Afghanistan and Pakistan reemphasises growth of the drug industry in this region. This cannot be possible without the collaboration of the ISI and the army.
The ISI uses narcotic trafficking because terrorism incurs heavy expenditure with Pakistan not economically sound enough to siphon huge amounts from the state exchequer. The eye witness accounts of terrorists and drug traffickers arrested in Jammu and Kashmir, Punjab and other parts of India also confirm that the Pakistan government has been using them to achieve its foreign policy goals in India especially in Jammu and Kashmir. This fact was substantiated by the recent International Narcotics Board (INCB) report, which expressed concern over shortage of morphine, (a derivative of opium) an essential medicine for patients in spite of record production of opium in Afghanistan (4,600 metric tons) in 1999.
Pakistan is the immediate source of terrorism in India. The nexus between narcotics and terrorism has become a grave threat to India because of India's proximity and continuous strained relationship with Pakistan. Narcotic drug trafficking from and through Pakistan and its diabolic alliance with politics, the army and the underworld operators, mainly the narcotic drug syndicates is quite worrisome. This unholy alliance in Pakistan is the major concern for India's security. The narcotic funding of terrorists through ISI has gone to dangerous proportions where even the prime Minister of Pakistan sometimes appears helpless. As a result, terrorism through narcotic funds has made Pakistan a failed state and peace negotiations with it have become nearly impossible. Neither Political leadership nor the army can be trusted.
Increasing number of incidents of cross border drugs smuggling in last few years has raised many questions on the intentions of Pak. Is it just drugs abuse? Or a planned attack on the nation. On 24 Jan 2014, nearly 100 Kgs of drugs were seized from a truck hailing from Muzzafarabad. The cost of the seized drugs was around 1,000 crores. In two separate incidents in May 2014, 10 and 25 Kgs of cocaine was seized by Baramulla police.
Targetting Punjab - A Well Planned Strategy
Punjab has been referred to as the granary of India for its agricultural prosperity, but is now besieged by a severe drug problem, which is roiling its society, economy and politics. The single biggest reason behind the drug problem in Punjab is the easy availability of narcotics in the state from across the border. The growing popularity of brown sugar/smack/heroin can be attributed to Punjab's close proximity to the Golden Crescent region covering Afghanistan, Pakistan and Iran. These three countries are, collectively, the world's largest producers of opium. Punjab shares a 553 km border with Pakistan, which is used as an entry point to smuggle narcotics into India.
For almost three decades, Punjab's drug problem was allowed to degenerate into the present state of affairs that have now reached a breaking point. All this did not come to this stage suddenly. During the late 70s, when Pakistan was licking its wounds post liberation of Bangladesh, the easy availability of poppy via Afghanistan and the rise of fundamentalists in Punjab provided Pakistan the opportunity it was looking for to get back at its adversary.
Initially, the drug trade till the mid 80s was used to finance the terrorism movement by supply of weapons and training the various "Pro-Khalistan" groups. The powers in Pakistan were of the view that it was a matter of time that the "Radcliffe Line" separating the two Punjabs would move eastwards. Though Indian government did take some concrete measures like increasing deployment of SFs on the IB, and creation of the electric fence in 1980s, but huge on the border gaps could never be plugged.
Towards the late 1980s, Pakistan's ISI, which by now had well established proteges on both sides of the borders, started using the Punjab route for drug smuggling in a major way. It used its vast network of double agents and petty smugglers who were more than willing to be part of this lucrative trade. With deep pockets to invest in smuggling, which people in the two Punjabs had, compared to border residents in Gujrat, Rajasthan or Jammu & Kashmir, the out of work smugglers due to stabilised gold prices, gravitated towards drugs, as it gave them a new life.
Though till late 1980, even during the peak of Khalistan movement in Punjab, the secessionist militants initially blocked the drugs trade, it was the easy money and ISI pressure which made most of them later turn a blind eye to drugs flow in exchange for arms and ammunition from Pakistan. Narco-Terrorism had hit Punjab and it was a matter of time before it was going to evour everything in its path.
Impact of Narco-terrorism on Punjab
There were a total of 136 terrorist attacks in India since 1990. The northern state of Punjab has witnessed 34 terror attacks over the last 27 years, the highest nationwide, according to government data. Jammu and Kashmir and Delhi have witnessed 27 and 18 attacks, respectively, during the same period, according to data released by the Ministry of Home Affairs. The latest two attacks in Gurdaspur and Pathankot were with outside support as terrorists from Pakistan attacked after crossing the international border. As per latest revelations, even Punjab police SP Salvinder Singh and his partner are likely to be involved in drug smuggling and it is believed that they aided and abetted the terrorists in their entry into India. The involvement of such senior people in narco-terrorism is a cause of great concern.
BSF agrees that there is certainly a nexus between terrorism and narcotics since the terrorists are assisted and aided by drug smugglers as in the present case of Pathankot. Drug smuggling from Pakistan into Punjab is continuously on the rise. According to BSF data, there has been a noticeable increase seen in narcotics smuggling, especially heroin. In 2012, 289 kgs of heroin were seized, while in 2013, 322 kgs were seized. As far as fake Indian currency is concerned, the seizure last year was around Rs 52.04 lakh, while in 2012 it stood at Rs 46.21 lakh. But, with the arrest of BSF men involved in guarding the border for allegedly helping cross border smugglers sneak in heroin and ammunition, the premier security agencies role has come under the scanner and a lot of uncomfortable questions are being asked.
At a time when the nexus between terrorists and drug smugglers in Pakistan has come under a harsh spotlight after the Pathankot airbase attack, a new study by AIIMS has found that opioids worth Rs 7,500 crore are consumed in Punjab every year. Of these, heroin's share is a massive Rs 6,500 crore. The National Drug Dependence Treatment Centre (NDDTC) at the All India Institute of Medical Sciences along with the NGO Society for Promotion of Youth and Masses recently released the results of its 2015 study on drug abuse in Punjab which threw up some alarming statistics. The survey covered 10 districts -- Bathinda, Ferozepur, Gurdaspur, Hoshiarpur, Jalandhar, Kapurthala, Moga, Patiala and Tarn Taran.
Not only were drug addicts found to be spending up to Rs 2.5 crore (Rs 25 million) per day on the purchase of drugs, but the numbers of addicts were much larger than had been highlighted by earlier studies. From a population of approximately 2.77 crore (27.7 million) people, around 2.3 million people are opioid-dependent, around 860,000 people are estimated to be opioid users. More than 123,000 people are heroin-dependent. Based on the previous studies, Punjab's opioid dependents are four times more than the global average. The NDDTC also found that drug users are getting younger. Among the men aged between 18 and 35 years, four in 100 are opioid dependent, while 15 in 100 could be opioid users. The addicts are to be found in both the rural and urban parts of the state. Businessmen, transport workers, labourers and farmers are consuming drugs, the survey found, but college students are taking it in increasing quantities.
There is a recreational factor associated with drug abuse with the majority of addicts admitting they started taking drugs under pressure from their peers who act as magnets in initiating them into this deadly routine. "Once hooked, many of them admitted to spending around Rs 1,400 per day on buying these opiates," Dr Ambedkar of NDDTC adds. The widespread drug abuse in northern India can be attributed to the easy availability of drugs which young people consume for 'recreational' purposes.
Two kinds of drugs are presently being used in the Punjab; opiote drugs, which are derived from opium plus synthetic and pharmaceutical drugs which fall under the category of psychoactive substance abuse. What is of concern to doctors at the NDDTC is that 80 per cent of the patients brought to the centre have tried quitting drugs, but only 35 per cent have succeeded in getting some kind of treatment in de-addiction centres.
"The most effective treatment is the Opiote Substitution Therapy which has been endorsed by WHO (the World Health Organisation), the United Nations and by the Indian Psychiatric Society," says Dr Ambedkar. "This requires the user to take a course of opioate medicines over a course of several years. These are not very expensive and cost between Rs 30 and Rs 50 a day, but have to be taken for years."
"Most addicts believe all they need to do is to join a de-addiction centre for a few days and they will get cured," he adds. "This is not going to happen. The state and central governments must allocate adequate resources to ensure they receive sustained treatment." The other source of concern is the apprehension that increasing drug use will cause an HIV/AIDS epidemic.
Almost all the heroin that comes to Punjab is through the Pakistan border, pumped in by smugglers allegedly aided by ISI. It is this smuggler network that the terrorists who attacked the Pathankot airbase are believed to have used. Security agencies have so far insisted that Pakistani heroin is not consumed in Punjab; it merely passes through to bigger cities like Delhi. But this study - a first of its kind survey by the National Drug Dependence Treatment Centre (NDDTC) at AIIMS - busts the myth. In effect, not only are the drug smugglers being used to push jihadis into India, they are also creating an army of heroin addicts in Punjab. The study has found that 0.84% (around 2.3 lakh) of the entire state's population is opioid dependent. This goes to prove that Pakistan's ISI has been successful in destroying one of the most prosperous states of India. This excessive addiction has ruined the working culture of Punjab and destroyed complete families and villages. It is worst than the Opium War of China.
The consumption of narcotics by youth in Punjab has led to increase in its smuggling through the 554-km of international border, along two major rivers - Ravi and Satluj, which cross over to Pakistan. Due to meandering course of these rivers, fencing is not possible along 17 kms, which provides easy access to Pakistani smugglers into India. The BSF at the fenced Indo-Pak border constantly monitors the region and employs various technologies for surveillance and nabbing of smugglers. Yet, these mafia find various methods to sneak through large quantities of narcotics into India. It is also the most sought-after by smugglers to smuggle heroin, poppy husk, fake Indian currency, arms and ammunition from Pakistan. According to sources, the cultivation of poppy crop is going unchecked in the absence of North Atlantic Treaty Organization (NATO) forces in Afghanistan. So, drugs produced and processed in Afghanistan find their way across Pakistan to India, in connivance with the local farmers.
According to BSF officials, the locals and farmers living along the Indo-Pak border in Punjab are easy targets for the Pakistani smugglers who use them to smuggle these across the border. The farmers are also lured into this trade due to windfall gains and to make quick money. Although all agricultural equipment of farmers are thoroughly checked by the BSF, some of them manage to sneak into the Indian territory. A senior BSF official said Pakistani couriers easily develop relations with farmers and lure them with huge commission for supplying the consignment. The BSF officials maintained that Pakistani mobile phone Sim cards also help farmers in safely communicating with the Pakistani smugglers. Some farmers have agricultural land on the other side of the fence as well. Since there is electric fence, the package is pushed into a 10 to 12 ft plastic pipe, which is hung in the fence, so that it can be retrieved by the Indian smugglers. This modus operandi is employed in at least 90-95 % cases. At times, drugs are found abandoned in fields across the fence or thrown over by Pakistani smugglers and later on collected by Indian smugglers.
A large number of drugs are subsequently sold to users by an extensive network of dealers. Besides dealers, one of the biggest sources of drugs in Punjab is local chemists, who sell over-the-counter prescription drugs. A considerable number of these shops, especially in rural areas, are unlicensed and sell drugs to users without prescriptions. Another matter of concern is the involvement of high-profile government officials in the drug trade, including high profile politicians in what is being described as a Rs 6,000 crore drug racket which indicates political patronage of the drug industry. In two yrs(ie. 2013 and 2014), at least 70 personnel of Punjab Police were found to be working in collusion with trans-border narcotic smuggling networks. In 2014 alone, 13 police officials including a DSP rank official were sacked for terror links. SP Gurdaspur Salwinder Singh is being interrogated by NIA for his links with smugglers and terrorists. Youth unemployment, too, is an important reason for the growth in drug trafficking and use in Punjab. What is alarming is that the armed forces, to which the state of Punjab was a major contributor, is not finding the right quality of youth to be enrolled.
Ways to tackle Drug Menace in Punjab
With respect to sources of drug supply, the Government will need to coordinate with other agencies. Cross border smuggling is already being tackled to certain extent as seen from the rising number of seizures by the BSF. Customs and the Directorate of Revenue Intelligence suggest there is a greater alertness on the part of these agencies. However, steps should be taken to incentivize border villages not to indulge smuggling. The borders between Pakistan and Indian Punjab must be sealed foolproof and drugs must not be allowed. BSF, Punjab police and intelligence agencies have to work the extra mile to plug the gaps. Though more than 57,000 drug peddlers and smugglers were arrested in 48, 138 cases by Punjab Police, leading to the seizure of 1,744 kg of heroin(from 2012 to Sep 2015), a lot of ground still needs to be covered to break the existing drug distribution network.
Drug de-addiction centres should be based on WHO and NHM workers. National Health Mission workers must utilize mental health components to screen for persons who are vulnerable to addiction because of individual circumstances. Panchayati Raj Institutions should be the main backbone for implementation of drug abuse prevention programs in all rural areas. Incentives should be provided for pursuing the goal of drug free villages through awards. The Project for Awareness and Education for Prevention of Drug Abuse and Alcoholism in Punjab is a good example of an out drug abuse drive.
Schools and colleges in Punjab must have counsellors as part of the school's non-teaching faculty. Drug de-addiction centres can train counsellors and teachers in early identification of vulnerable school children as well as children addicted to drugs. The sale of drugs should be only by prescription as is done in states like Jammu and Kashmir and Maharashtra. To effectively enforce the law against all offenders, the Punjab Government could set up a Legislative Committee and under that an independent statutory body to report on the working of the drug and substance abuse programs, and suggest policies for a coordinated strategy.
Most important is ensuring that the security agencies especially BSF and Punjab Police which have mandate to stop this drug trade, are equipped to carry out their tasks without political pressures. All those found guilty should be given exemplary punishment and the present cosy nexus between corrupt border patrolmen, politicians, law enforcers and trans-border criminals has to be broken forcefully at the earliest.