Evacuation of Sikh Scriptures During Imminent Attack
A daring rescue of sacred Sikh scriptures and prayerbooks took place on March 25, 2022. As Odessa residents began defense preparations against imminent attack by Russian forces following the siege of nearby Mariupol, the recovery of religious scriptures and artifacts from the gurdwara building in Odessa became a priority for Sikhs. In an incredible act of sewa, Simran Singh Stuelpnagel, the Global Affairs Advisor of Sikh Dharma International, retrieved Sainchain (scriptures) and Gutke (prayer books) from Gurdwara Sahib Odessa located in the Ukrainian War zone, and brought them safely across the border, carrying them respectfully above his head for miles on foot.  
Level 4 Advisory Do Not Travel
Ignoring advice not to undertake dangerous travel, British military SIKH DEFENSE NETWORK-UK, European based SIKH DHARMA INTERNATIONAL, and humanitarian aid group UNITED SIKHS joined forces to plan the evacuation and provide secure travel routes to ensure the safe return of sacred scriptures. Simran Singh left the safety of London and journeyed to Iasi Romania where he procured a car that took him to Chisinau, the capital of Moldova, despite Level 4 "Do Not Travel" State advisory warnings. After advising against the danger of travel, the Ukrainian People's Self Defense Organization at Lviv agreed to help coordinate Ukrainian vehicles with non-military drivers, who despite their own personal risk, aided the rescue effort. 
Transport of Scriptures
Simran Singh collected the scriptures while following all necessary protocol to ensure respect. After safely making his way back, he crossed the Ukrainian border Moldova on foot carrying Guru Granth Sahib, and other sacred items atop his head. The scriptures, prayerbooks, and religious objects arrived at 13:40 hours on March 26, 2022 in the United Kingdom, after being transported by plane to the airport in Luton via Wizz Air UK. The National Sikh Museum in Derby has taken custody of scriptures and artifacts for safekeeping.
Giving Thanks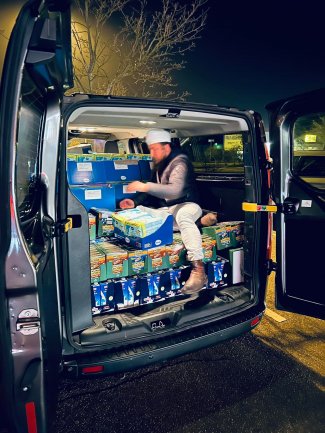 Simran Singh, Global Affairs Advisor of Sikh Dharma International, expressed his thanks for the successful mission and cooperative effort made by his fellow coordinators to give aid during times of crisis: 
"We are overjoyed that Guru Ji provided the blessing of retrieving the Sanchia at such a difficult time. Coordinating on the ground with United Sikhs and the UK Sikh Defense Network in this mission was a game changer and it is together that the panth is the strongest. Now, our focus must remain on the humanitarian crisis in the Ukraine, where millions of people are in extreme duress, where food is in short supply, and where countless refugees are hiding or worse. United Sikhs is currently running convoys into Ukraine to evacuate Sikh and Hindu students, is feeding thousands of refugees on the entire sangat's behalf at their langar hall, and is available to any person needing help. We are extremely grateful for their tireless work."
Pritpal Singh Bhullar, Vice Chairman, UK Sikh Defense Network expressed his gratitude to the Ukrainians for their vital assistance:
"When we started planning this mission with Simran Singh, it was important that he had real time knowledge of movements and travel routes to ensure his and scriptures safe return. All the while he had to navigate columns of military armored vehicles, military blockades, while avoiding shelling bombardment employing real time intelligence of military movement provided by the Sikh Defense Network. We are particularly grateful to the Ukrainian People's Self Defense Organization from Lviv for coordinating Ukrainian vehicles and non-military drivers at personal risk and during their own tremendous need. We are overjoyed that with Guru Ji's blessing, this mission was a success."
Gurpal Singh, UNITED SIKHS head of Security Operations expressed his grateful thanks for the successful endeavor and appreciation to authorities for all assistance given: 
 "Thanks to Vaaheguroo that Guru Sahib's most sacred Sanchia and Gutkes have made their way out. The collective approach of Sikh brothers and sisters in this operation with the Polish NGO's, Ukrainian Civil Authorities and their NGO's is a sign of a collective human spirit to save humanity-in war or peace. We recognize Simran Singh and the Sikh Dharma International Sangat in their collective effort to join forces and work as a truly global Team. Their humanitarian supply, evacuation, and food delivery seva for the Ukrainian people are deeply inspirational as well. This Mission is a tribute to universal protection of places of worship globally and we are thankful to the Sikh National Heritage Museum in Derby, UK where they will be placed."
Read more about Sikh Aid and ongoing humanitarian efforts in Ukraine:
Sikhs Offer Humanitarian Relief Amid Ukraine Conflict
Sikh Aid Volunteers Continue Humanitarian Efforts at Ukrainian Border
Politics Punjab conducted an interview with Simran Singh which can be viewed here: