Sikhs have lived in USA for more than 100 years with many arriving in the late 1800s. They have made many contributions to this nation including construction, farming land, hospitality, education and serving in the military. Still majority of Americans cannot even accurately identify a Sikh and do not know about the Sikh tradition. Many who are not familiar with the distinctive quality of Sikh turban often get mistaken. Outward appearance of sporting a beard and wearing a turban may result in mistaken identity. Many Sikhs have become the victims of hate crimes. Sikhs all over the country are organizing various events to improve awareness about Sikhs in the Community. These include Sikh exhibitions, Gurdwara open houses, turban tying sessions, interfaith events, cultural festivals etc. Recently, a multi-million dollar National Sikh Campaign has also been launched to increase awareness about Sikhs.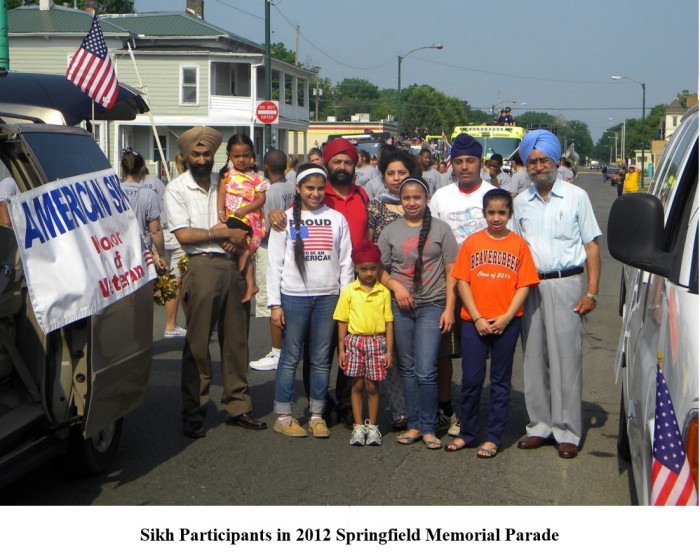 With the aim of reaching people in the Community, I have participated in various Sikh exhibitions at Universities, culture festivals, Gurdwara open houses etc. and continue to do. But an event that really got my attention few years ago is the Memorial Day Parade, held every year in the downtown of Springfield, Ohio. Every year, Springfield resident Avtar Singh and his wife would invite us and other members of Sikh community to participate in the parade along with them. It wasn't until 2010, when I along with my family participated for the first time by sitting in a minivan holding American flags and displaying the banners "American Sikhs, Honor of Veterans".
Thousands of people had gathered, lined up on the sidewalks of the streets, outside their resident homes and parks to watch the parade. As we marched through downtown, I kept on hearing people calling "Avatar" who also responding with "Happy Memorial Day" to everyone. It was a special shine, excitement and enthusiasm on his face that really impressed me. It exemplified that he feels proud to be a part of this Community and always reach out to everyone. A year later, it was time for us to walk along with my children by holding American flags and distributing hundreds of brochures published by Sikh Coalition and SALDEF to people lined up on the sidewalks of the streets. I heard only one person among a large crowd shouting a racial word to us but rest of the parade, we were cheered with many saying "Thank you".
Last year in 2016, a large number of Sikhs participated and with a float of their own. This float supported a banner "Sikh Americans Honoring Sikh and American Soldiers from World Wars" and the other with details about "Sikhs Contribution in World War I and II." One of the banner had quotations from the British General highlighting the contribution of Sikh soldiers in World Wars. The two hour and two mile long parade marched through downtown with as many as 3000 participants in attendance and a gathering of about twenty five thousand spectators along the route to watch the parade. Over 100 groups and close to 300 cars made their way to the city, making it the biggest parade in the city's history, according to Clark County Commissioner John Detrick.
Sikh Participation important in US community events
As every year, Sikhs in the United States organize Sikh Day Parades, or Nagar Kirtan to celebrate Gurpurabs and other important Sikh events. In the same way, it is very important that we also participate in Memorial Day, Independence Day, Thanksgiving Parade, and other annual events along with other communities. Participation in such events shows fellow Americans that we take pride in our country by supporting our troops, remembering the people that have fallen for us, went to war for us and fought for our country.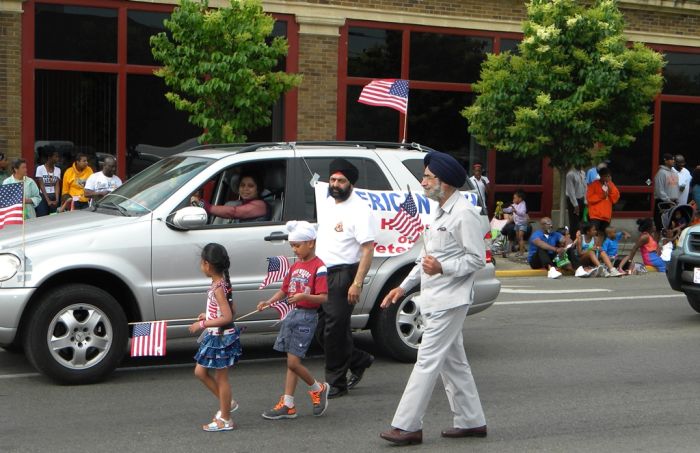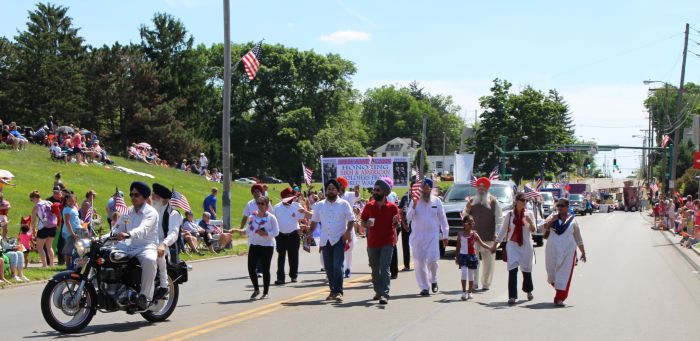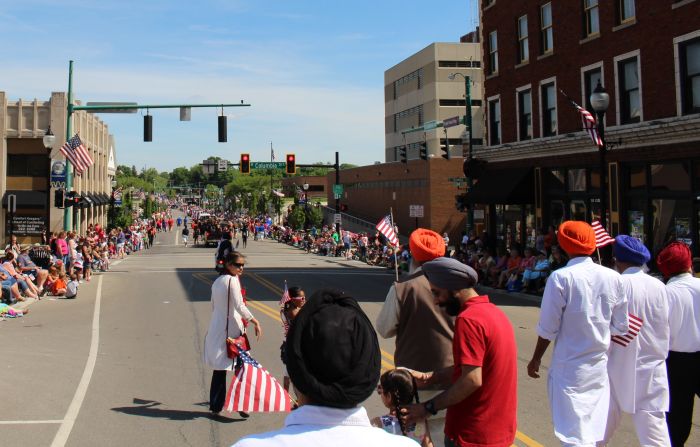 Avtar Singh and Sarabjit Kaur says, "We along with our family have been participating in this parade since 1998 to honor the veterans. After the tragic incident of 9/11 after which Sikhs have been target of hate crimes due to mistaken identity, it is important for Sikh Americans to participate in such events."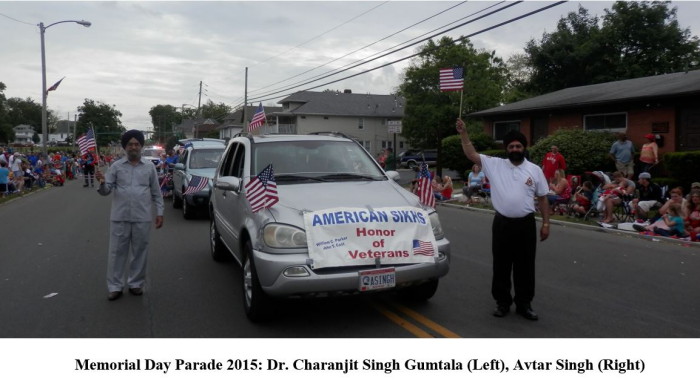 Another participant Dr. Charanjit Singh Gumtala says, "I have been part of this parade for the past 4 years along with my grandchildren, who every year are very excited to participate and walk down the street as Sikh Americans. Hosting a float at the parade is also an opportunity to educate the Americans about the Contribution of Sikhs in World Wars." Every year, along the parade route, Sikhs are cheered with a big applause, "Thank You", "Mr. Singh", "Dr. Singh" and a special cheer for "Avatar".
Many in the Community who are interested in organizing or participating in such events do have the resources to do so. Sikhs in USA definitely need a resource center that can provide material, floats, brochures etc. for parades and other events. Sikhs all over the USA should also participate in such parades as this is a very cost effective way to reach thousands of people to create awareness about Sikhs.
Please click on the link to watch snapshots from 2016 Parade https://youtu.be/TU1SzbsgJAE
Sikh Community of Springfield, Dayton, Cincinnati and other neighboring cities is participating in Memorial Day Parade 2017. All are invited to join the parade
For further information, please contact
Avtar Singh at (937)-206-4674,S
Sameep Singh (937) 654-8873 or email [email protected]