Sikhnet reached out to a series of Sikhs involved in the humanitarian sewa effort to provide relief to refugees fleeing the Russian invasion of Ukraine, and asked about their experiences. Siri Sant Kaur, the CEO of 3HO Europe www.3ho-europe.org kindly granted an interview which shared her incredible call to serve and enthusiasm for sewa.  
How was the Ukraine refugee sewa effort initiated?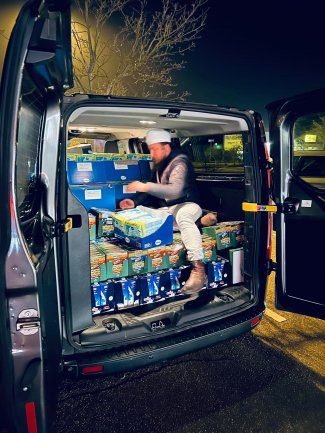 When the invasion of Ukraine by Russia began on February 24, 2020, Siri Sant Kaur, the CEO of 3HO (Happy Healthy Holy Organization) Europe called Simran Singh Stuelpnagel (who later carried Guru Saroops from Odessa gurdwara), the Global Affairs Advisor of Sikh Dharma International of Germany. He immediately began making phone calls and within three days had raised $50,000 by contributors Aniljit Singh and Malaysian Sangat, 3HO Germany, 3HO Europe, GRDA (Guru Ram Das Ashram), Gurdwara Boizenburg Germany, and Raj Khalsa Gurdwara, Sterling, Virginia USA.
During that time Siri Sant Kaur began an online 30-minute worldwide meditation via zoom along with 40 teachers and 40 musicians. Initially, 250 people joined the 80 teachers and musicians who continued until completion.
What exactly is being done to provide relief? Have any unexpected challenges been encountered?
Within days of funds being collected, Siri Sant Kaur and Simran Singh left their homes and traveled through various checkpoints to reach Warsaw where they met to assess need and best use of funds. Simran had left Belin with a van full of supplies, like diapers, milk, granola bars etc. Siri Sant Kaur had driven for 13 hours straight with only a break for sandwiches. After meeting on Thursday March 3rd and doing an initial assessment, they decided to part ways. Simran Singh stayed in Warsaw to host one of their partners Aniljit Singh of the Malaysian sangat, and to meet with the Warsaw gurdwara sangat, and finalize the logistics. 
On the following Saturday they met up again at one of the larger border checkpoints. Simran Singhs' Washington DC connections had arranged for them to meet at the main warehouse in Lviv, Ukraine. After waiting several hours at the border, Sant Siri Kaur and Simran Singh entered Ukraine. However, Aniljit had to stay behind and wait in one of the cars because of an issue with his Malaysian visa. Sant Siri Kaur and Simran Singh drove for about an hour to Lviv and met Denis, the warehouse logistics manager in his office in the city center. After ten minutes Denis generously invited them to have dinner and spend the night at his place, they had to gently decline. They needed to go back to Poland where eight refugees awaited them to be driven to Berlin the following day before the city curfew went into effect at 22 hundred hours. Denis then escorted them through Lviv to see the 8000 sq meter (about 8600 sq ft) warehouse where 200 volunteers worked day and night. Denis and his team guided them through the warehouse stockpiled full of foods and goods, explained their work, and told them the entire warehouse would be emptied out within two days, such was the need of the Ukrainian people. They spent a final hour and a half in discussion on how best to collaborate in meeting the needs of the Ukrainian population. 
Denis requested one of his teammates to escort Siri Sant Kaur and Simran Singh back to the border. With his guidance they cut through all the lights and barriers. A few from the border post a police car took them through a corridor to the other side which shortened their journey by half to only 20 minutes. They rejoined Aniljit Singh and found him inside the car where they left him, nearly freezing from the cold, but in his usual chardhi kalaa, high spirits.
Simran Singh and Aniljit Singh drove through the night to Warsaw. Siri Sant Kaur stayed behind at the border and booked a hotel so that she would be fresh in the morning for the long drive between Warsaw and Berlin.
Who are the people receiving support? Has anyone had any personal interactions with them?
The next day the team met up again at the Warsaw central train station where two days earlier Simran Singh had established contact with the refugee displacement officials. They rented a van and picked up refugees that included three women, one with children ages 11, 13, and 16 who were vulnerable to trafficking, along with a man and 2 dogs, all who welcomed them with great confidence. The women who had at first seemed a bit nervous gained trust when they saw Siri Sant Kaur. The man Mohammed, who had married a Ukrainian woman, was originally from Pakistan. Simran Singh spoke with him in Punjabi and the atmosphere had immediately become relaxed. Over the course of the trip everyone got to know each other, and enjoyed the interchange with gratitude on both sides. However, when they stopped along the motorway for coffee and chocolate everything unraveled. 
What has the experience been like both on the ground and serving refugees?
Siri Sant Kaur expressed the sentiment she felt to Sikhnet.
"To see these people just like us with only a backpack, leaving their country, homes, families, and friends, for the unknown, made us very humble in our effort to help them. On the highway we met other people, simple citizens, who had taken the initiative to help families by transporting them. Just like at the post-border centers, where the volunteers told me that dozens of private cars had come from Spain, Italy, Switzerland, France, Holland, from all over Europe with food and medicine."
When they reached the border crossing, Siri Sant Kaur asked the person in charge of the refugee center what they needed. 
The reply "Peace" and of course the need for food.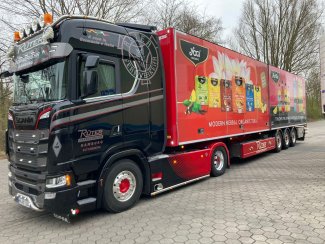 The trip took many hours. While Siri Sant Kaur continued to drive, Simran Singh made calls to their various partners and organized a set up to ship half a massive half ton of beans and 50,000 Yogi tea bags to the Lviv warehouse in Ukraine. 
Ten hours later they arrived at the main station in Berlin with the refugees, who had become their friends over the course of the journey, and handed them over to the authorities in charge. Siri Sant Kaur and Simran Singh returned to their respective hotel rooms for a quick five-hour nap before catching flights out.  Siri Sant Kar returned to France to coordinate the refugee humanitarian aid project Simran Singh flew to London to a human rights convention. 
Has there been collaboration with other organizations? 
Simran Singh has been in contact with both United Sikhs and Khalsa Aid to ensure that efforts, funds, and supplies best serve refugees. United Sikhs had tents crash due to a storm. Their team made arrangements to provide new tents to replace those damaged.
Have there been unexpected blessings?
Siri Sant Kaur told Sikhnet, that sewa is highly rewarding. "Everyone has a longing, a yearning to serve. Going through checkpoints proved to create immediate genuine and impulsive solidarity between people from all over the world in the way that all are like drops that make one ocean. The Human race should be united, exchanging in a natural way. Because of this war we can serve each other. We have an opportunity to reach out and serve each other in all parts of the world, as we have been doing here."
What support is still needed?
There is a tremendous ongoing need for funds, food, and supplies. Due to an issue with human trafficking of refugees, the team also up a convoy of two vans with the help of volunteers. Siri Sant Kaur called Levi, an MPA (Miri Piri Academy) Alumni Support Program ground officer in Berlin. He is responsible for coordinating efforts, making sure drivers have a room for the night, shipments are signed for and delivered. Everything has been in an ongoing continual stage of change from day to day which requires him to be up at all hours to be sure everything flows smoothly.  Many goods destined for Ukraine have been held up at the Polish border due to lack of drivers. Levi traveled from Germany to Warsaw where he met with Abhai Raj Singh Khalsa (Llewellyn) of New Hampshire USA, who is part of the Millis, MA gurdwara sangat, and who arrived in late March with a 3-month visa.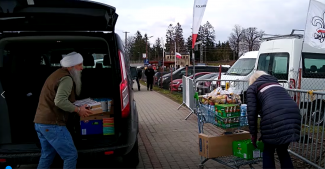 They picked up refugees from Warsaw and gave them a ride to Berlin. Abhai Raj returned to Warsaw with supplies like food, clothing, and sanitary supplies to give out to refugees. Another driver Raghurai, a physical therapist from Espanola, New Mexico USA, arrived in early April. She had worked on the Navajo Reservation for 5 years and was trained there in Emergency management. While applying for a Red Cross job, she learned about the Seva effort begun by Siri Sant Kaur and joined the team.  After her arrival the team focus shifted to transportation of refugees and goods between Medyka and Warsaw.
~~~~~~~~~~~~~~~~~~~~~~~~~~~~~~~~~~~
How can people get involved?
Donate through https://www.3ho-europe.org/help-ukraine.html
Volunteer by contacting [email protected]