Press Release


Like every year, on November 11 on the Armistice Day, about 300 Sikhs throughout Europe paid a visit to Ieper - Belgium and laid flowers at the Menen Gate the National Monument of Belgium and later at Hollebeke where Sikhs fought for the first time against Germany in October 1914. It should be noted that Sikh Monument in Hollebeke was built in April 1999 by the City of Ieper and the European Sikh Community together to mark 300 years of the revelation of the Khalsa and to pay tribute to the Sikh soldiers and was inaugurated by the PanjPiara's. Sikhs participated in the Popy parade of 11 November 1998 for the first time and are keeping the tradition every year.
Prominent world leaders like Crown Prince of Belgium Prince Philippe, Chief Minister of Flanders Province Mr. Kris Peeters, Governor of West Flanders Mr. Carl Decaluwe, Chairman of Common Wealth War Grave Commission Sir Alistair Irwin , Chairman Last Post Association Mr. Benoit Mottrie, Mayor of Ieper Mr. Luc Dehaene, Sardar Kewal Singh and Sardar Surinder Singh Miani from Gurdwara Sangat Sahib, Saint Truiden Belgium, many Belgium Sikh leaders representing all the 4 Gurdwara's and Sikh Organizations of Belgium, DrParmjit Singh Ajrawat USA whose grandfather fought in Flanders and won Medal, Sardar Bhupinder Singh Holland, Sardar Gurdip Singh Sandhu UK, Sardar Kasmir Singh from British Police, Sardar Awtar Singh Raho of CDV Party of Belgium laid Krans and Flowers at the National Monument Menen Gate and Hollebeke and paid tribute to the martyrs of World War I.
The event was well covered by Belgium National and local Press with lots of photos of the Sikh delegates and Punjabi Press was covered by Sardar Pargat Singh Jodhpuri.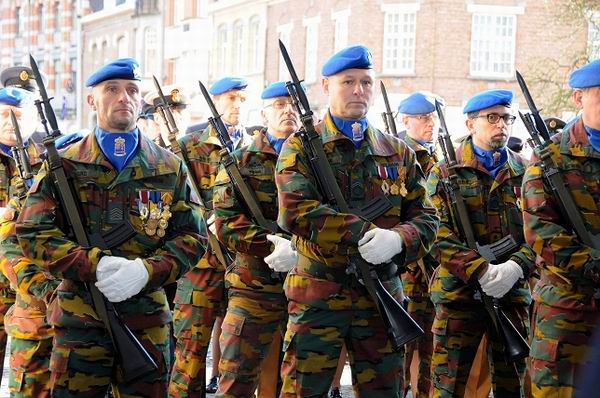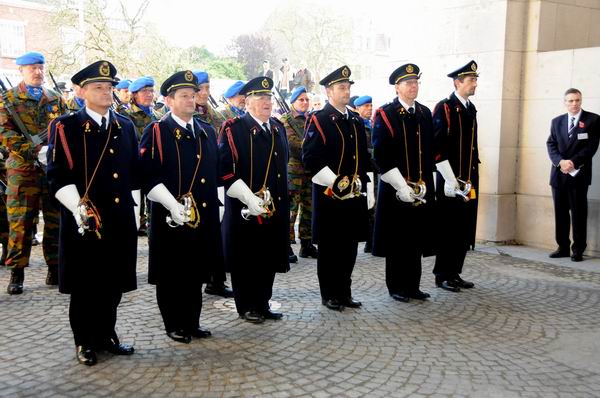 Ieper Belgium, Homage to martyrs of WW I.       
Photos by: Sr Pargat Singh Jodhpuri -- Source

For more information see links below:
Historical Information:
In the first World War, the strength of the British Indian Army rose to 1,6 million and in the 2nd World War with two and half million. During WW-1, it fought in China, France and Belgium-Flanders at Ypres twice from 22 October 1914 till 31 October 1914 and from 22 April 1915 till 1st of May 1915, La Bassee, and NeuveChapelle from 10 to 13 marches 1915, Auber's Ridge, Festubert, Loos 25 September 1915, Givenchy and Somme from July 1916 to November 1916. Mesopotamia against Turkey, Iraq, Iran, Egypt, Palestine, Gallipoli and in East Africa.
There are 15,519 Burial place ( Smaads ) of the British Indian soldiers and 64,963 are commemorated by Memorial thus total of 80,482 have died in 1st World War (1914-18) according to the register of Common Wealth War Grave Commission.
Common Wealth War Grave Commission has recorded only 493 names of British Indian Soldiers died in Belgium but that is not true.
The Menon Gate in Ieper has the name of 15 casualties from the 47 Sikh Regiment while alone on 27 April 1915 (during the 2nd Battle of Ieper) out of 444 men 348 did not come back. They are nowhere else commemorated. Between 24th April and 1st May 1915, the Lahore Division had lost 3,889 men, or 30 % of the troops it had employed." In 14 months the Indian Corps had lost 34,252 men (dead, wounded, ill, or prisoners of war) on the Western Front, mostly Sikhs." that was France and Belgium.
Basra Memorial, Iraq has the largest 33,367 British Indian soldiers Commemoration by Memorial followed by Delhi Memorial, India Gate (12,321), NeuveChapelle Memorial, France (5015) Amara (Left Bank) Indian War Cemetery, Iraq has the largest Burials (Smaads) of British Indian soldiers (5000) followed by Baghdad (North Gate) War Cemetery (2513) and Mazargues War Cemetery, France (1002)
Ist World War (1914-1918) = 80,482 2nd World War (1939-1945) = 89,218 Total : = 169,700 Besides this, more than quarter of a million were wounded, ill, or prisoners of war.
"In the last two world wars 83,005 turban wearing Sikh soldiers were killed and 109,045 were wounded. They all died or were wounded for the freedom of Britain and the world, and during shell fire, with no other protection but the turban, the symbol of their faith." - ["The Sikh Regiment in the Second World War" Colonel F T Bird Wood OBE Published in Great Britain by Jarrold and Sons Ltd., Norwich - Foreword by General Sir Frank Messervy K. C. S.I, K. B. E., C. B., D. S. O.] For more information, the link below:
Two World Wars and the Sikhs | SikhNet
We have now 3 Sikh Monuments ( Ieper Belgium 3 April 1999, Wijtschate - Belgium 9 November 2008 ) and  Forli - Italy ( 13 August 2011 ) and the Video links below will show the Inauguration of these historical Events.
http://www.youtube.com/watch?v=GT9SnXsl3Xs
http://www.youtube.com/watch?v=G7_R6-SR_bs
http://www.youtube.com/watch?v=cx2Fk-_dGxM
http://www.youtube.com/watch?v=If_tpEVb0eY
------------------------------
Bhupinder Singh Holland
Almere 14-11-2012
---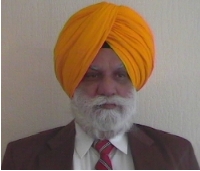 About the Author

Sardar Bhupinder Singh Holland was born in Amritsar, the city founded by Guru Ram Das Sahib. He is a proud alumnus of Khalsa College, Amritsar (1967 -1973) where he graduated with B.Sc and B.Ed degrees. For the term 1967-1968, he was declared the best football player. He was honoured by Khalsa College in 2008.
Sardar Bhupinder Singh lives in the Netherlands since 1973 where he worked for the International computer firm IBM Nederland's for more than three decades as Accounting Analyst.
Sardar Bhupinder Singh has made significant contribution to the Sikh cause in Europe. As a Sikh missionary, social worker and public leader, he is among the most prominent Sikhs of the Europe. He has earned several awards including the Ambassador for Peace for his contribution to the Dutch society, especially the Sikhs and has been honoured by many Sikh organisations and Gurdwara's around the world. He is chief of ISYF (Holland Unit), World Sikh Writers Conference (Holland branch), member Siri Nankana Sahib Foundation.
In 1996, he began research work on the Sikhs' sacrifices during the two world Wars. He collected precious information and rare photographs most of which was hitherto not known to the world. These two works are a sort of mini archive of the Sikhs. These two books earned name and fame for him and he received special commendations from the scholars, statesmen and others. Both the works are historical, precious and priceless.
His 3rd work is history of the Dutch Sikhs. Like his other works, he has made this work too as museum and archive of the Sikhs of Holland. A Sikh home in Europe, without this treasure, will be considering as incomplete house. For his work and contribution to Sikh Cause, Sardar Bhupinder Singh Holland has been honoured by Jathedar Avtar Singh, President, Shromani Gurdwara Committee, Siri Amritsar in January 2008.
The Books are :
o How Europe is indebted to the Sikhs, Role of Sikhs in Europe during World War One 1914 - 1918. Sikh University Press, Belgium. 1st edition 2005 and 2nd edition 2009.
o How Europe is indebted to the Sikhs, Role of Sikhs in Europe during World War Two 1939 - 1945. Sikh University Press, Belgium. 1st edition 2007


o The Dutch Sikhs - A Brief History. Sikh University Press, Belgium. 1st edition 2009.
---