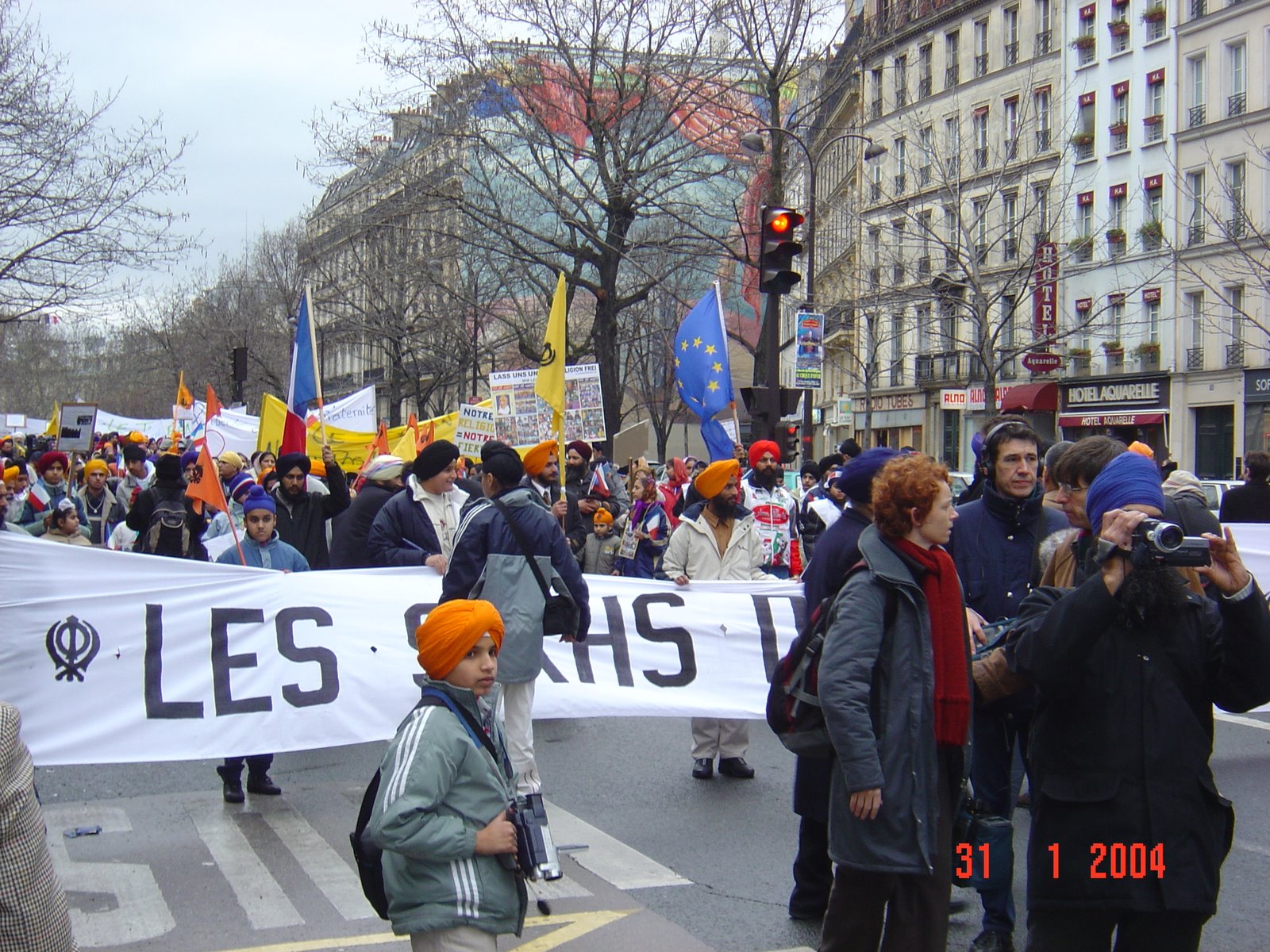 Today, the very existence of Turban reminds one of the Sikh Nation. Turban is an essential part of a Sikh's dress. It is obligatory for a Sikh. Although initiation of the Khalsa by last Guru Gobind Singh of the Sikhs dates back to 1699, the Turban for a Sikh has been an important part of the being of a Sikh as old as the religion itself, i.e. founder of Sikh religion Guru Nanak Sahib in1469 - 1539. Though Turban is a religious and social obligation for the Sikhs, it is an old costume of the people of Asia. In Persian it is called Dulband, in Italian is Turbante, in French is Turbant, in English is Turban, in Dutch is Tulband and in Punjabi is Dastaar or Pag. Europe knew Turban even prior to 15th century. An oil painting of Dutch artist Jan van Eyck with caption " a man in a Turban" dates back to 1433 preserved in the National Gallery at London.
For a Sikh, Turban is not a headgear but it is a part and parcel of his religion. It is representative of the religious identity and national cohesion for the Sikh Nation. A Sikh with a Turban is conspicuous among the crowds of thousands. About 4,5 meters of lightly starched fine cotton muslin cloth is usually used for a Sikh Turban. The width of this cloth is about one and a quarter meter. Turban has significance not only in the Sikh religion but also in the Sikh way of life. After the death of the head of a family, the eldest son is presented a Turban, symbolizing grant of the honor and dignity of the family as well as the responsibilities of the family. On the occasion of marriage, the fathers or close relatives of the bride and the groom present Turbans to each other as symbol of shared social esteem and dignity. In the Sikh homeland, good friends of long standing present Turban to each other implying the message that they will be brothers in religion, henceforth. Sikh families perform Dastaar Bandi - tying of a Turban on children as a special ceremony. When Turban is disturbed, removed or knocked off is a matter of grave disrespect and humiliation. Removing a Sikh's Turban constitutes a grave offence. A Sikh guilty of disrespect towards another Sikh's Turban is not allowed to join the Sikh ceremonies unless has expressed apologies and has carried out the punishment prescribed for the offence. In several countries, Sikhs had to fight several times to retain their right to wear Turbans.

The first such battle was in England in the eighties. To support the Sikhs of England, on October 10th. 1982, about 200 Sikhs took out a procession from Gurdwara Siri Guru Nanak Sahib Ji, 2de Weteringdwarstraat 36, Amsterdam to the British Embassy at Museum plain, Amsterdam in favor of the Sikh's right to wear Turban. A Sikh boy in England (Mandla Case) was expelled from a school because of his Turban and the court decided later in his favor admitting that Sikhs are a Nation. A very big procession took place in U.K. More countries are Norway, Sweden, Canada, Australia, USA, Austria, Netherlands (1997) and at present are fighting a judiciary battle in France and Belgium. They have lost in France and in European Parliament and have moved to Judiciary department of United Nation, New York in 2010.
As Sikhs face discrimination in the wearing of Turban in USA, Europe, especially in France and Belgium and the problem is advancing to Italy, Germany, Netherlands and other part of Europe speedily. In September 2005, 4 Sikh children were refused because the new school KTA St. Truiden own rules prohibiting the wearing of headscarves and the case was won in the Court by the Sikhs in July 2008 but School will appeal. In august 2009, the government proposed to justify the opinion in public schools to ban the headscarf. Because many schools and their school regulations for 2009 / 2010 have been completed, thus number of community schools remain the headscarf ( Turban ) to allow until September 2010. In march 2010, Council of State suspended the ban on headscarves in schools and asked the opinion of constitutional Court. Sikh delegations from Belgium ( 4 Gurdwara's ) and abroad have presented the Sikh Case before the Ministry and the Education department several times.
The legal and political leadership of the two continents would do well to read the startling revelations of what army leaders felt about the Turban in the two World Wars of the last century. Moreover at a time when social scientists claim that in reality, the ethical society is located in the West, it is time that it pays attention to what the Sikhs have done for the construction of that part of the world. The Sikhs came forward and helped the Europeans at the time of grave crisis of World War I and II and gave their lives in thousands and in return, all they are asking is the free world to come forward and give due respect that we deserve and to our symbols of faith.
On October 7, 1927 the Secretary of State for India Earl of Birkenhead, unveiled the noble Memorial which has been erected by the Imperial War Graves Commission at Neuve Chapelle in France to the memory of all Indian soldiers who fell on the Western Front in the Great War of 1914-1918. This monument was designed by Sir Herbert Baker who is well known to India as one of the creators of modern Delhi. By doing so, in a special sense, too, it marks the gratitude of the great French nation which was defended from German invasion by the supreme sacrifices of the British Indian Army in France. It marks the French gratitude of the French people who built it on their soil. For the ceremony, special units including Sikhs who engaged in the actual war were brought from India with Maharaja of Kapurthala as a special guest.
Speaking on the occasion in French, Marshal Foch of the French Army who signed the Armistice document at 05:05 hours on 11 November 1918 with Matthias Erzberger, the leader of the German delegation and one of the new German leaders, stated frankly, " The Indian Troops were thus among the first to show the way to a victorious offensive. It is only right that a Memorial should perpetuate the glorious memory of officers, non -commissioned officers and men of the British Indian Army at the very spot where later on a general attack by the Allied troops was to bring the decisive victory in sight."
Turning to the British Indian Contingent, he bade them: "Return to your home in the distant, sun bathed East and proclaim how your countrymen drenched with their blood the cold northern land of France and Flanders, how they delivered it by their ardent spirit from the firm grip of a determined enemy ; tell all India that we shall watch their graves with the devotion due to all our dead. We will cherish above all the memory of their example. They showed us the way, they made the first steps towards the final victory."
"In 14 months the Indian Corps had lost 34,252 men (dead, wounded, ill, or prisoners of war) on the Western Front. Sikhs were 40 % in the British Indian Army. They were all baptised Sikhs ( Amritdhari ) and fought with wearing their Turbans. According to one report, 8 thousands Sikhs died in France and 4 thousands in Belgium.
According to Commonwealth War Grave Commission Register France = 8318 + Belgium = 493 Thus Total = 8811 have died on Western Front which is far behind the truth. But I am sure there are many more Indian casualties whose names were never recorded and who are by consequence not commemorated. I think this is due to the battle circumstances and perhaps poor administration or India being the colony of England. According to my research I give you some examples: The losses of the 57th Wilde's Rifles and the 129th Baluchis were great during the last two days of October 1914 (during the 1st battle of Ieper). The Wilde's Rifles lost 300 out of 750, the Baluchis had 240 men killed, wounded or taken as POWs.
The Menin Gate in Ieper has the name of 15 casualties from the 47 Sikh Regiment while alone on 27 April 1915 (during the 2nd Battle of Ieper) out of 444 men 348 did not come back. They are nowhere else commemorated.
Between 24th April and 1st May 1915, the Lahore Division had lost 3,889 men, or 30 % of the troops it had employed."
After the bloody battle of Neuve Chapelle, France (10 till 13 March 1915) the Sikh Regiments had lost eighty percent of their men and three regiments stood at only sixteen percent of its original composition.
Lt. General Sir Reginald Savory K.G.T., C.B., D.S.O., M.C. states in a letter to Mrs. G. Scott, Scientific Section, House of Commons Library:
"... I have known Sikhs to pick bullets out of their turbans during and after battle. In fact the turban absorbs the shock of a bullet possibly rather better than a tin helmet. If the turban is properly tied, it will also form an effective buffer too, for instance from a toss from a motor bicycle.
During World War 1, when the steel helmet was first introduced, we British Officers of Sikh Regiments tried to persuade our men to wear them, but they steadfastly refused, and have done so ever since."
A letter from Major General B.W.Key, C.B., D.S.O., M.C. to Gyani Sundar Singh Sagar states :
"... At the outbreak of World War II I was serving at A.H.Q. (Army Headquarters). Shortly after I was sent for by the C. in C. General Sir Robert Cassells. He asked me if the Sikh Regiment was prepared to wear steel helmets. I replied that they had not done so in World War I, that it was contrary to their religion, that we had never interfered with religious tenets, and was it worthwhile arousing strong feelings to reduce head injuries by an infinitesimal proportion? I also pointed out that the Sikh Pagri (Turban) was a very good protection in itself to head wounds.
This latter point I would emphasize as regards riding motor bicycles. There is no question that the Pagri offers greater protection than an ordinary hat or cap.
The reasons given above were accepted by the C. in C. India. Sikhs did not have to wear steel helmets, and I hope the same reasons will satisfy the Government. "
A letter from Col. H.A.Hughes, D.S.O., M.B.E., D.L., and J.P. to Gyani Sundar Singh Sagar: "Thank you for your letter of 6th August 1975 enclosing Sir Reginald Savory's letter. May I say I entirely agree with all that the General says. I was in the 2nd Royal Battalion Sikh Regiment during the Frontier Campaign of 1936-38 on the North West Frontier of India.
My Regiment consisted entirely of Sikhs and of course they always wore the Khaki Safa (Turban to the uninitiated!)
During World War II I commanded the 4/16th Punjab Regiment from the battle of El Alamein to Tunis. In this battalion I had a company of Sikhs plus those in H.Q. Company. They all wore the Safa and I certainly had no more head wounds in this battalion than in any other battalion in which the soldiers were wearing steel helmets.
In Great Britain we claim to support religious tolerance. Why therefore should we try to force someone to do something which is definitely against his religious convictions?
The Sikhs have fought for us in so many campaigns and laid down their lives for us - I consider that we owe them a great deal and have now a chance to repay our debts in a small way by allowing them to wear Turbans instead of crash helmets while driving motor cycles.
I give you my full support in your struggle to get exemption and wish you the best of luck. "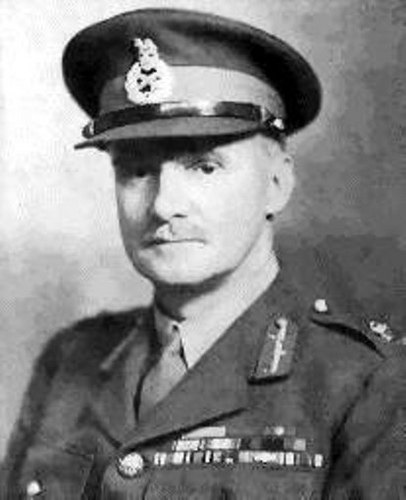 In "The Sikh Regiment In The Second World War " by Colonel F.T. Birdwood, O.B.E., the last words of the foreword of this book written by General Sir Frank Messervy, K.C.S.I., K.B.E., C.B., D.S.O. state
"Finally we that live on can never forget those comrades who, in giving their lives, gave so much that are great and good to the story of the Sikh Regiment. No living glory can transcend that of their supreme sacrifice. May they rest in peace.
In the last Two World Wars 83,005 turban wearing Sikh soldiers were killed and 109,045 were wounded. They all died or were wounded for the freedom of Britain and the World, enduring shellfire with no other protection but the turban, the symbol of their faith." Turban vs. Helmet
In the early days of World II (1939-1945) the Sikh Regimental Center , then known as 10th Battalion the Sikh Regiment, was stationed in Nowshera (now in Pakistan), when I got enrolled in June 1940. I recollect that Maj Gern Kilroy (who had earlier commanded its No: 4 Company as a Captain) was deputed by the Army HQ (then called General HQ) to visit the Training Center to convince and persuade the Sikh soldiers being drafted to the European War Zone, to wear helmets (even over their turbans ) to protect themselves from sustaining head injuries. The entire gathering opposed the idea.
Ultimately he came forward with a bet that let any one soldier accompany me to the battle field where heavy shelling is going on. If that person yet refuses to wear a helmet, I will reward him with Rs. 100 and in case he then wares it, he will pay me Rs.1 only for losing the bet. ( In those days a soldiers monthly salary was Rs.16 only).
He was astounded to see that all the listeners raised their hands, in acceptance of the challenge. He left the stage with a smile and submitted his findings to Army HQ, where the idea was nipped in the bud for good. - Gurbachan Singh Bedi, Ottawa, Canada.
As you must be aware, in March 2004 a law was passed in France that bans conspicuous religious symbols and attire in the classroom. Under this law, Sikh school children are banned from wearing the Sikh turban. The same people who fought for the freedom of mankind and the world including France have been denied their right of freedom. They all died or were wounded for the freedom of Britain and the world, and during shell fire, with no other protection but the turban, the symbol of their faith. A Sikh's right to wear his articles of faith has been challenged in schools, the workplace, Prisons and other public places. Sikhs suffer increased harassment at airports because they wear the Turban. Sikhs can't have their photos with Turban on the Driving license, Identity Card including French Passport. Is not a shame on part of the French Government. ? Our forefathers did not give their lives that their children should suffer. This is a great injustice and Sikhs throughout the World, especially in France are fighting a legal battle. On 31 May 2006 Sikhs Lobby MEP's against Turban Ban in France in the EU Parliament. And the fact that we cannot and will not ever compromise our faith.
The Sikhs came forward and had helped the Europeans at the time of grave crisis of World War I and II and gave their lives in thousands and in return we the Sikhs are only asking the free World to come forward and give due respect that we deserve and to our symbols of faith. Only then the sacrifices of our great forefathers, given for the freedom of mankind, will be worthwhile.
This anti-racism in Europe against the Sikhs should be prevented immediately and the Sikhs shall feel that they are proud European citizens like the local people of Europe. Humiliations of Sardar Hardeep Singh Puri - the Indian Ambassador to the United Nations because of his Turban at a USA airport and most recently removal of Turban of Sardar Jaswinder Singh Dhaliwal Germany, Patron of NRI Sabha Punjab, at Milan -Italy airport are a clear anti Sikh racism.
UNO can play a leading role by directing all its member's Nations to take special measures so that the Sikhs should not become racial victims because of their identity. Sikhs are also facing mistaken identity and considered as Muslim-Arabs (some Arabs are also wearing Turbans though in a different style) and are victim of ongoing conflict between USA and the middle east. Special education and information on Sikh Religion should be provided to all the Nations of the world by UNO and Sikh Organizations. Local Sikh Organizations can ,at least, provide proper information and education to their respective government and people.

Notes :
*This issue suffered because of the infighting of the Sikh leaders in some European countries as well as in India.

* Indian government is not taking Turban Issue seriously. Embassies of India who are representing the Government of India abroad has done nothing so far in favor of Sikhs facing problems abroad. Sikhs facing Identity problems in different countries are trying to solve them at their own from a long time.
30-01-2011, Almere, Netherlands.