SikhNet's incredibly popular Daily Hukamnama App is now available on the Android platform. This free app brings the wisdom of the Siri Guru Granth Sahib directly to you for daily inspiration and reflection. You can download this App through Google Play Store.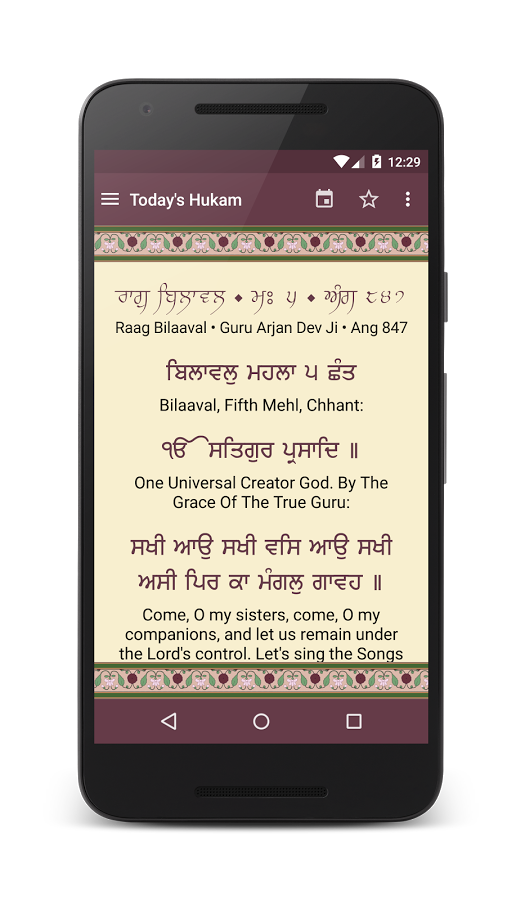 A centuries old tradition, a Hukam (order of the day) is read aloud each morning at Harmandir Sahib (the Golden Temple) in Amritsar, India to guide the hearts and minds of the Guru's Sikhs. Through SikhNet's Daily Hukamnama app, you can read the Hukam the moment it becomes available and be notified as soon as it arrives.
You can also receive a personal Hukam from the Siri Guru Granth Sahib for guidance whenever you wish, and save specific Hukams to your favorites for later reference.
View translations and transliterations of the Hukam in Punjabi, English, Spanish and Hindi.  
In the next version of the app we will be adding the ability to listen to the Hukamnama as well as audio explanations in Punjabi or English.
SikhNet would like to give a special thanks to Jasdeep Singh from San Antonio, Texas who volunteered his time to help create the Android version of this app.
The SikhNet Daily Hukamnama app joins the suite of SikhNet mobile apps which include:
SikhNet helps connect Sikhs to the heart and wisdom of the Guru and each other. SikhNet is a non-profit educational organization. Please help support SikhNet www.sikhnet.com.