Do You Want to Join the SikhNet Radio Network and broadcast your local Gurdwara live on the internet?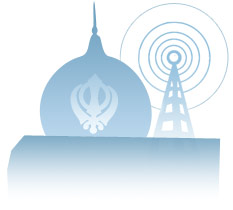 SikhNet Radio is listened to by more than 70,000 unique listeners each month from over 150 countries!
You now have the opportunity to bring your Gurdwara online and stream live through SikhNet radio for all to listen to. SikhNet has setup all the server infrastructure and will help you get started and broadcasting online. Not only will this benefit your local community who will be able to listen to the Gurdwara, but you'll be making the kirtan available for listeners all over the world. See who is listening to SikhNet Radio channel 5 right now on the listener map.
Benefits of Broadcasting through SikhNet
Gurdwara live audio stream featured on SikhNet radio page and designated a specific channel number.
Channel added to SikhNet Radio iPhone/iPod/Android/Blackberry/Windows Phone/ mobile applications.
Channel listed all over SikhNet in the Quickplay selector (eg: SikhNet Home, Gurbani Media Center, etc)
Your Gurdwara being seen by thousands of people every day.
Link to your Gurdwara website and information about the Gurdwara listed on SikhNet radio channel page.
Unlimited bandwidth and no listener limit.
Custom HTML code to embed the radio player on your Gurdwara website.
We help you get setup and provide support as necessary to start your live broadcast.
Requirements for SikhNet Radio Live Broadcasting
The following are some of the requirements that must be met in order for us to do a live broadcast from your Gurdwara.
Always on Internet Connection - We recommend that you use DSL, Cable modem, or similar fast internet connections. Dialup modem will NOT work. Upload speed should be at least 128Kbps.
Responsible person to setup and monitor the computer/live broadcast- In most cases you won't need to look at the computer very often, however there must be a person responsible for the computer who is able to fix things, restart the computer and deal with other possible problems if they arise.
Purchase ZERHEX Bridge G1 Unlocked - Digital Hardware Encoder ($249.95 USD). This is simplest option which is small device that you connect to internet port and audio cable from sound system. No computer or screen required so very compact and preferable to a computer if you are planning to do audio only. This requires physical connection to wired internet (doesn't have wifi). You can purchase an ethernet to wifi network bridge if you wish to connect this device to the internet via wifi.
(alternate option to above) Dedicated Computer - You will need a computer which is to be used only for the live broadcast & is not used for day to day work. This can be an old computer that runs Windows 7 or higher. The computer doesn't need to be in the actual Gurdwara room and can be in a back office/room as long as you are able to run an audio by cable or other method to it.
Audio output from Gurdwara sound system - Audio must be run by cable or other method to the computer from the Gurdwara sound system.
Gurdwara Schedule - We will need to get a general daily schedule so that we can list the times that people can expect to listen to Kirtan.
Monthly or Yearly Donation to SikhNet
It is not required, however we request all Gurdwaras part of SikhNet radio to make a monthly or yearly donation to support SikhNet. SikhNet is a non-profit organization, and in order to provide these services needs your support to pay for the cost and staff involved with managing it all. The process of just getting setup requires a fair amount of time on SikhNet staff as well as paying outside developers to update mobile applications to add new channels. SikhNet has dedicated servers and custom software just to manage the radio streams.
By donating to SikhNet you are getting top quality benefits and service as well as supporting SikhNet.
All the donations go towards cost of providing the many services on SikhNet, so the more you are able to give to SikhNet, the more we are able to serve the Sikh community. We suggest a donation of between $30-100 per month. If you are able to give more then that is appreciated. 
Monthly Donations are made using a credit card. If you are unable to make donation with a credit card then donation can be made on a yearly basis by check.
Ready to Get Started?
If you have the above mentioned things taken care of and would like to get your local Gurdwara broadcast live online through SikhNet Radio, then please contact us and we will let you know the next steps on how to get setup and broadcasting.