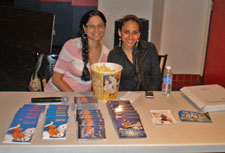 Sundri, the Brave Kaur, an animated film based on Bhai Vir Singh's classic novel, made its Connecticut debut at the Majestic Theatre in Stamford on Sunday, September 28. Sponsored by the Kaur Foundation and generously supported by Dr. Mahinderjit Singh and the Tri-State Punjabi Society, this film generated loads of excitement in the sangat.
Children, parents, grandparents and even our Gurdwara granthis came in full swing for Sundri. The theatre was buzzing. Popcorn and soda in hand, the children took their seats.
Not one child sat with their parents. Each age group had its own cluster.
I sat with the youngest group and believe me, it was the BEST.
The film begins with Sukhwinder Singh, the director, explaining how the film was created.  Characters were drawn and redrawn, scanned and then finally colored. Voices were added, and then the tedious editing process took place. "Wow," exclaimed the children, "Now we know how Tom and Jerry cartoons are made."
"When will the real film start?" the children ask. They are impatient. And then, the real film starts!
Their eyes are glued to the screen, while mine are on their faces.
Their expressions are priceless.
We have a running commentary taking place.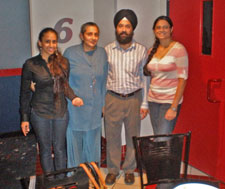 "Inni Aunty, he looks mean. Why does he grab her? What is he going to do to her?" as Surasti (as Sundri was originally called) is being taken away by the Mughal.
Her Sikh brother, Balwant Singh, rescues her.
The children are thrilled.
They are riding in their seats along with Surasti and her brother.
I, too, was riding with them – oh! To be so young and carefree!
Then comes the horrible scene. Surasti and her brother are captured by the Mughal forces. Balwant Singh is being tortured while Surasti watches helplessly. The Qazi pronounces, "Cut off his hair."
Two of the children jump into my lap. What will happen next?
Balwant Singh fights off his captors. 
The children cheer. 
They are clapping.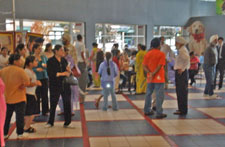 Then one of them says, "Inni Aunty, the Sikhs in the olden days were so brave. They never let anyone touch their hair. They helped everyone."
Their innocent observation struck a nerve.
Their comment, "Sikhs in the olden days," haunts me.
A seesaw of emotions we experience.
"We are going up and down – sad, happy, sad, happy," a young girl says.
The film ends.
The girls turn to me and say, "Inni Aunty, Sundri is soooo beautiful."
I reply, "Yes, and she is also beautiful inside."
They look at me with puzzled faces.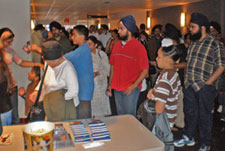 Then one of them says, "That's why she went straight to Babaji." 
Wow! They got that. I am stunned.
Sukhwinder gets a ton of questions from the youngsters.
"What is your next film?"
"Why did you make this film?"
"Did you draw any of the characters?"
"Why did you use real people for the kirtan?"
"Was it difficult to put these people in the film?
"What inspired you to choose the Sundri story over other Sikh women?"
"Educational and inspiring," declared Amereen Kaur Anand as she left the theatre.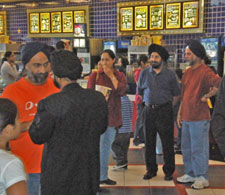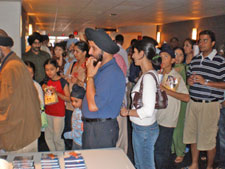 Spinning Wheel Film Festival
Toronto, Canada
www.sundrithemovie.com
Inni Kaur
(2008)