Dear Khalsa Ji!   ਵਾਹਿਗੁਰੂ ਜੀ ਕਾ ਖਾਲਸਾ, ਵਾਹਿਗੁਰੂ ਜੀ ਕੀ ਫ਼ਤਿਹ! 
I hope you and your family are doing well! 
I recently returned from Punjab where I was grateful to participate in the Guru Nanak 550 Birthday Celebrations in Sultanpur Lodhi. In talking with people in Punjab, many shared with me their frustration with the state of Sikhi today in India, along with their feelings of emptiness and lack of support. They felt that so many have lost their way from the Guru and didn't feel that leadership in India is doing things to inspire and support the younger generation.
I remember when I was much younger and full of excitement. It was the birth of the Internet age, I was fresh out of school and eager to serve, and I had a really deep desire to connect with other Sikhs. I remember taking this enthusiasm to many places – Sikh businesses, local friends and mentors, and even to the SGPC.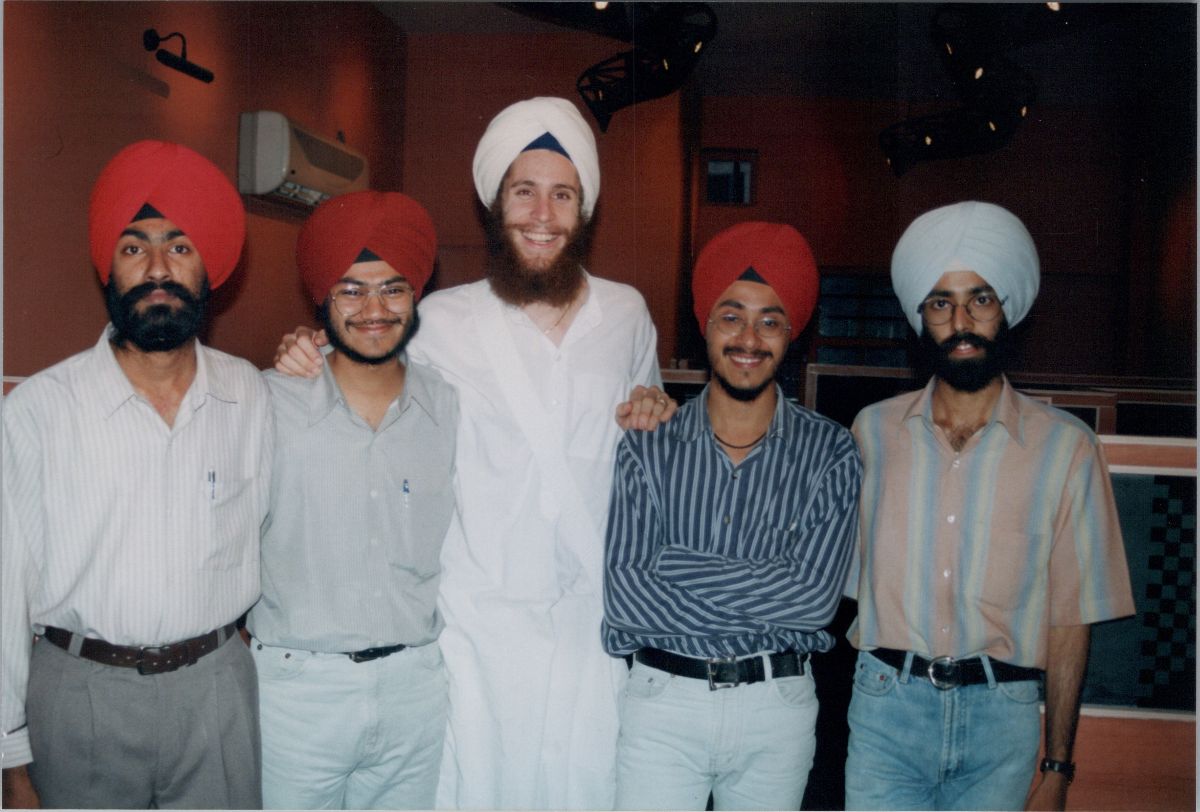 In 1999 meeting with some young Sikh tech entrepreneurs, at one of the first "cyber-cafes" in Amritsar.
I knew we could make things better. I had a little bit of knowledge, and a whole lot of passion, but it felt like people didn't care or get it. They didn't want to rock the boat by changing anything, and it seemed to me that the only way to reach more people was to just do it myself.
There were many times after I left India that I was very frustrated and disheartened. Why couldn't anyone see how many people could benefit from much needed changes in how we share Sikhi to the next generation, and using the power of technology and the internet to reach them?? There certainly wasn't a shortage of money - new Gurdwaras were being built everywhere! But I realized, that even though I couldn't expect others to see what I was seeing, I also wasn't helpless. I had the power to impact change by doing what I was able to do, even if it was small and without any support.
2008 - At the SikhNet office in Espanola, New Mexico. Showing Akal Takhat Jathedar and SGPC member the many SikhNet services that were available online then. 
Over the years. I have felt doubt, and faced abundant criticism and harsh judgment, but I still followed my heart. SikhNet is my heart, my breath, my passion. It's why I get out of bed in the morning with a sense of purpose.  I don't have all the answers, but I knew even then that I could trust myself to find them. I knew SikhNet was the Guru's service, and it was Guru ji who would allow it to succeed. All I could do was surrender and keep going.
And that's what I did. It hasn't been an easy path, but I have enjoyed it immensely and I am inspired over and over again, every day, to see how this work brings the Guru into so many people's lives.
I was able to stop complaining about the thing I considered to be a problem, and to just go ahead and take positive action in whatever way I could. Nothing happens unless we each take some responsibility and ownership (however big or small) in creating a piece of what we want to see.
I was super inspired by a video that I watched once. It gave me the courage to keep going and hold the the vision of joining together with other like-minded individuals, to create the collective impact - TOGETHER. 
Just as my wife Arjan Kaur shared in an earlier email to you, we don't all have to do big things. Sometimes doing a "big thing" is simply offering support when you see those that are putting themselves out there to create something you appreciate.
 There are 3 weeks left in 2019 and SikhNet is just about halfway to our fundraiser goal of $300K.  We need your help to reach our goal. Will you take a minute right now and contribute from your heart whatever amount you feel inspired to give towards this seva?

With much love from my family to yours! 

Gurumustuk Singh Khalsa | CEO & Founder