Women in uncountable number have immensely contributed and ably supported all through the development and growth of Sikhism and its ever increasing credit ability, not only in India but across the globe. It is thus felt necessary to highlight the contribution of a few women who created a mark in Sikh history. Besides, Mata Gujri, who has consistently bear the burnt of the atrocities of Mughals on three generations of her family and thousands of innocent Sikhs, her contribution has been lamented along with the contributions a few others brave dedicate and pious women.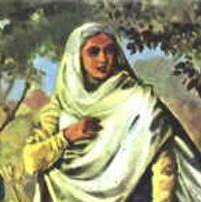 1. Mata Gujari (1624-1705) (whose formal name was Mata Gujar Kaur) was wife of 9th Guru Tegh Bahadur ji; mother of 10th Sikh and the last living Sikh Guru Gobind Singh and the grand mother of four Sahibzadas.
Her role in development of Sikh faith has been very crucial. She was the wife of supreme MARTYR, mother of great saint soldier and the grand-mother of four amazing children who attained MARTYRDOM at the age of 7,10,14 and 18 years. She has closely associated to raise two younger Sahibzadas and took up their guardianship in their movement from Anandpur under the promise for safe passage to Punjab. She along with Sahibzadas was imprisoned at Sirhind. She attained MYRTYRDOM at the age of 81 on learning that her beloved grand-children were mercilessly assassinated by the cruel hands of Nawab of Sirhind, Wazir Khan.
She was a 'IRON LADY' who has the distinction of being a wife of Hind Ki Chaddar, Guru Tegh Bahadur and giving birth of Guru Gobind Singh and raising him and his four Sahibzadas.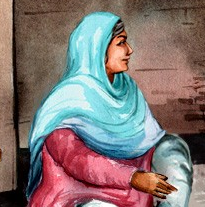 2. Bibi Bhag Bihari (Late 15 to early 16 centuries): She was one of the first woman to have occupied the seat of Sikh administrative system (Manji system) of Punjab. She was appointed to the Manji (administrative unit) as its leader of Kashmir block, as Guru Amar Das felt that she is fully conversant with the doctrines of Sikh faith. She was made responsible for social, political and economic affairs of Kashmir. This responsibility she handled efficiently and effectively.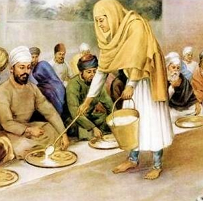 3. Mata Khivi (1506-1582)-The soup Kitchen Master. With the growth of Sikhism and establishment of Gurdwaras, Langar became its integral part from more than 500 years ago. Mata Khavi wife of second Guru Angad Dev has dedicated herself in establishment of free kitchen that provided meals to everyone. There is also a reference to Mata Khavi in Granth Sahib, wherein she is described as a good person, an affectionate mother and one who provide shelter and protection to others.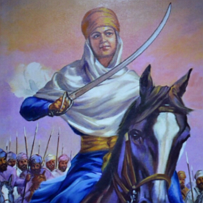 4. Mai Bhago (late 16th to mid 17th century)- the warrior body guard. Born in Punjab, Mai Bhago has learn and mastered many skills and traits. She, other than being well versed with household affairs, has learned the art of war at an early age. Her skills of martial art came handy when, in 1705, she led 40 soldiers, who had deserted Guru Gobind Singh at Anandpur Sahib. She fought bravely along with other unit of Guru Gobind Singh at the battle of Chamkaur. She was amongst a few survivor. Later on she became bodyguard of Guru Gobind Singh.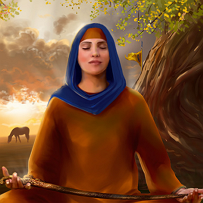 5. Sahib Kaur (Devan) (1681-1747)- the spiritual mother. She was the spiritual wife of Guru Gobind Singh with no physical relationship with Guru. She devoted herself in the service of humanity and assisted Guruji in all affairs of community service. She would join him in serving langar, fighting battles and singing hymns. Due to her dedication to Sikh maryada, in 1699, when Guruji created Khalsa Panth, he asked her to play central role in the ceremony in preparation of Amrit. To this day, she is considered MOTHER OF THE KHALSA with Guru Gobind Singh its FATHER.
(Dr. Jitendra Singh Bhatia)