This article 'When Sikhs Demonstrated for Martin Luther King' written by Gurujot Singh Khalsa and was originally published on September 3rd 2020. It eloquently details how American Sikhs, who in the past have focused more on internal Sikh or Punjabi issues, participated in an important remembrance of the American legend that is Dr. Martin Luther King Jr. We are grateful to republish this article, which goes on the offer optimistic encouragement for American Sikh youth, in honor of SikhNet 25th anniversary. Register to attend SikhNet's 25th Anniversary Virtual Gala. 
In 1890s, as the America was rising to become superpower, first Sikhs put their foot in America and since then have played their part in the American story. They encountered many challenges as they were trying to settle in an unfamiliar world. Not unlike other migrant communities, Sikhs were met with nefarious attacks of racism and hate, Nevertheless, Sikhs continued to adapt themselves. In fact, Sikhs joined together with other vulnerable sections of American society in their common quest for a more equal and dignified place in the United States.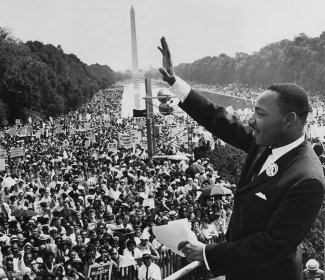 28 August 1963 was the day when America's foremost civil-rights champion Dr. Martin Luther King articulated his memorable speech during the March on Washington for Jobs and Freedom. "I have a dream'' have moved many to strive for a more just and equitable American society. More than 200,000 of demonstrators from all over the United States had arrived to join, quoting Dr. King himself, "what will go down in history as the greatest demonstration for freedom in the history of our nation.''
The momentous event was held at the historic Lincoln Memorial, named after the American President Abraham Lincoln who signed the Emancipation proclamation at the same place about 100 years ago.
This gathering highlighted the unfulfilled promises of equality, justice and dignity and people felt that ''Now is the time'' for the real fulfilment. 
Dr King, applying his sagacity, very aptly proclaimed in front of the exuberant crowd that "1963 is not an end it's a beginning."
Dr Martin Luther King's struggle to achieve equal respect and rights for the black community has been a pole star for the upcoming generations of migrant communities.  This included Sikhs who have journeyed on the path of gaining acceptance in the world's first and most powerful democracy.
Over the years, laboring through pre and post 9/11periods, Sikhs have become an integral part of the multicultural American society. The huge participation of American Sikhs in the 'Black lives matter movement ' by joining front line demonstrations and serving Langar to the protesters are most recent of its manifestations.
This takes us in the year 1988 when Sikhs were represented for the very first time in American history at a major civil rights event celebrating 25th anniversary of Dr King's 'March on Washington for jobs and employment.'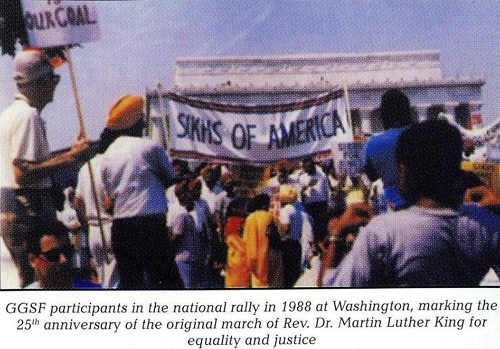 Over 250 members of the Sikh community from all over the DC and East Coast took part in this event. All the Gurdwaras and Guru Gobind Singh foundation were forthcoming in the participation and organization of the event. Even the Sangat from Richmond Hill Gurdwara in New York and New jersey Sikhs came in the buses.
This was the first time when Sikhs for the first time expressed themselves as a part of the larger American society at a major national-level event holding the banners with '' Sikhs of America'' printed on them. 
Throughout much of history, American Sikhs have had an inward orientation. They have been preoccupied with the on-going politics in their homeland (Panjab, India) or have been mostly engaged in political activism directed towards it. The natural inclination of Sikhs towards the Gurdwara level politics has also contributed to this phenomenon.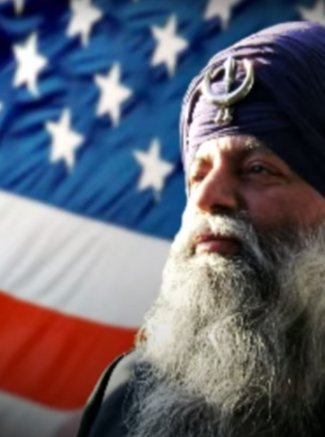 But it was about time when Sikhs realized that they ought to play an active role in building bridges with other communities and strengthen the communities in which they live.  It was felt that as a community, we need to be counted and our future depends on America as a nation becoming more tolerant and fair for all. 
Sikhs had to face a major brunt of hate and violence in America in the aftermath of 9/11 and it they had to undertake a nation-wide campaign to generate awareness about Sikh identity. A unique media initiative called National Sikh campaign was launched after a racial attack on Sikh Gurdwara in Wisconsin in 2012. This showed that with a common will, united efforts and well-thought-out strategy, community's resources can be utilized in an immensely impactful way.
The crux of the current predicament was offered by one of the founders of NSC as follows: "In the recent years Sikhs have very rapidly gained ground in mainstream politics of the United States, a huge change from their previous marginalized role. Our youngsters are so vigorous in participating in both social and political spheres, their passion fills me with optimism and gives me that confidence that our younger generation Sikhs can a play a positive role in America and beyond."