Vaisakhi is a historical, cultural and a religious festival observed by Sikhs and broadly by Punjabis across the world. It's the festival of harvest, of spring season. It also has a major religious significance for Sikhs as it commemorates the formation of Khalsa panth of warriors under their tenth master, Guru Gobind Singh in 1699. It is celebrated on 13th or 14th of April every year.
It celebrates the brotherhood of humanity and traits of the Khalsa: advocates, defenders and a unified brotherhood to stand for equality, justice, freedom of religion, and freedom from oppression.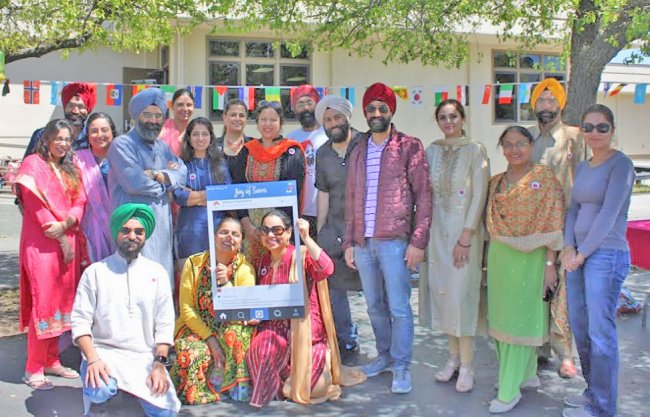 Vaisakhi Celebrations at Vintage Hills Elementary School on April 12, 2019 were an effort to promote cultural diversity and inclusion by Sikh families living in Pleasanton, CA, in association with Vintage Hills Elementary School PTA, and partnership with Joy Of Sewa (JOS), a community organization focussed on community service, community development, and Sikh Awareness. Board members Savinder Singh and Surinder Kaur of JOS and other volunteers led and managed various stations of activities. The event took place during lunch break for kids from grade 1 through 5. The celebrations were a major hit with the students and some of the staff that came by to check out the celebrations.
Turban tying was a major attraction of the event. Over 100 kids from various grades shared the joy and pride of tying a turban. Even the Vice Principal Leslie Navarrette of the school and few other staff members shared this honor of tying a turban. Students also colored pages of "Happy Vaisakhi", "Singh" and "Kaur". Another major hit among students was writing their name in "Punjabi." Kids wrote their names in Punjabi, decorated it and took it home as a souvenir from the Vaisakhi celebrations. A major part of these celebrations (as it is in Punjabi culture) is the folk dance known as Bhangra. Kids learnt few steps of Bhangra and danced to the top punjabi songs.
Ashmeet Sahni, a resident of Vintage Hills whose son, attends kindergarten at this school, had been trying to put together this event for at least  four months. Despite receiving push back from the school, she persisted and, along with PTA organizers, she was finally able to host these festivities. "Vintage Hills being a mostly white neighborhood, is low on inclusion, diversity and celebrating other cultures in a manner generally acceptable, so this is an important step towards building a more tolerant and compassionate community" - she said.
At one point during the day, you could see four or five kids with turbans playing basketball in the playground. It was a sight to behold, whereas there are only two Sikh kids in the entire school, you could immediately see the effect of Vaisakhi celebrations on the diversity in the school.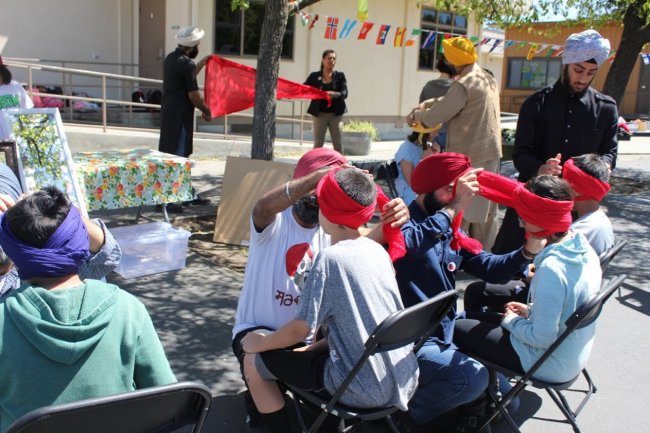 "There is hesitation from the school and school district. They do not want us to talk about different religions and faiths. " She further added, "What they do not realize is Vaisakhi is not only about religion." There is so much culture and deep heritage behind it. And people from multiple faiths have been celebrating Vaisakhi - as an important mark of the end of harvesting season - where you come together and celebrate the Spring wheat harvest and the fruits of all the hard work that was put in."
All in all, there was a lot of excitement among the kids to be part of these Vaisakhi celebrations. Over 15 Sikh volunteers living in the Tri Valley area (Pleasanton, Dublin and Livermore,) CA came together to engage kids in all these activities.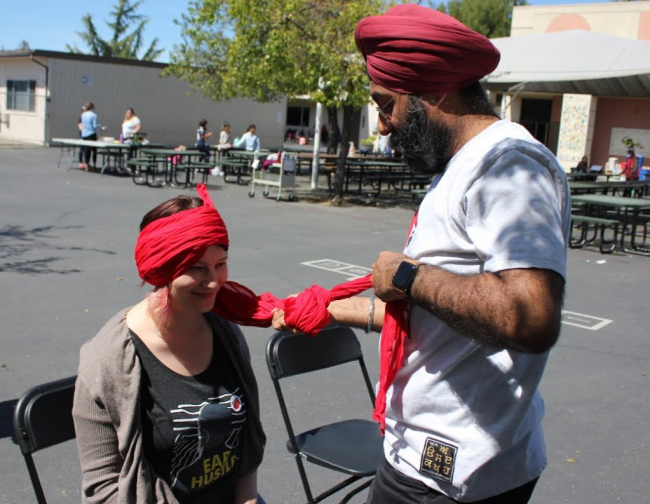 Harbir Kaur Bhatia, advisor to Joy of Sewa and founder of Ik Onkar Bridges, who is now serving as a Santa Clara Cultural Commissioner, also attended the event. Since 2012 she has been working with State of California Assembly and Bay Area cities for Sikh Heritage awareness, as a part of a larger effort of diversity and inclusion programming. She shared her vision on raising awareness about different cultures and faiths - " As we celebrate Vaisakhi, we are also celebrating diversity and inclusion of all people, the single brotherhood of humanity. It is important to encourage the schools in celebrating and educating children about the various diverse traditions of the community. Programs to create a feeling of Inclusion and celebrating diversity allow all to feel normal and a part of the mainstream, especially children. That is the goal of such programs and activities."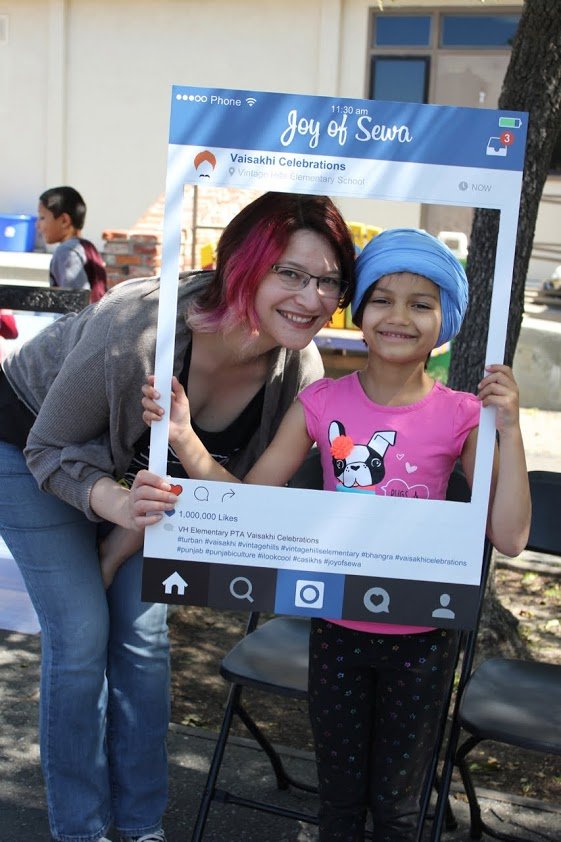 If America has to become great again, it has to be inclusive. It has to embrace all different micro cultures and people from all streams of life, race, religion, ethnicity, gender and language.
Celebrating Vaisakhi and raising awareness of different cultures and religions, especially in our educational institutions - is a very important first step towards this goal."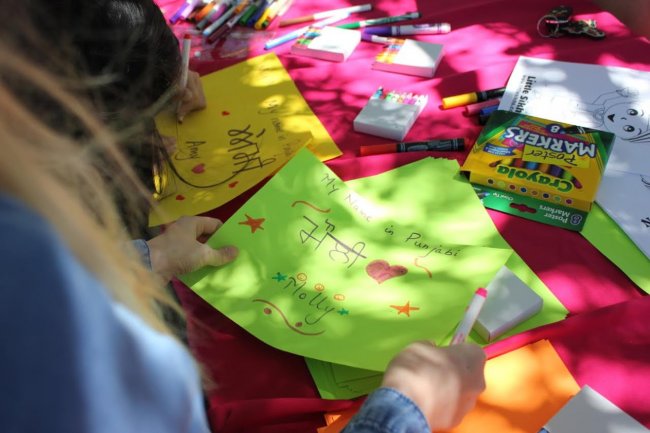 A report by Chetandeep Singh ( Pleasanton, CA )