Last week, the already vulnerable Afghan Sikh community was subjected to a serious assault when the Islamic State killed several Sikh religious and political leaders. Many now fear that this will mark the death of 500-year-old Afghani minority community
The bus was on its way through the Afghan city of Jalalabad on Sunday, July 1st. Its passengers were several of Afghanistan's most prominent Sikhs, including a candidate for parliament, who was making a serious run in the upcoming election.
They were on their way to a meeting with Afghan President Ashraf Ghani at the commemoration of a newly built hospital. The bus never arrived.
A suicide bomber claimed by the Islamic State approached the bus and detonated its bomb. 19 people died, suddenly robbing Afghan Sikhs of their religious and political leadership.
A Muslim-Majority country, Afghanistan houses a little-known centuries old Sikh population. The number of Sikhs in Afghanistan has fallen dramatically over the last 20 years due to persecution and harassment. It is estimated that in the 1940s there were about 250,000 Afghan Sikhs. Today, the figure is down to 3000.
Prominent Sikh among the dead
Two of the deaths have particularly devastating implications for the community. Rawail Singh and Awtar Singh Khalsa were among the most prominent Afghan Sikhs on a global scale.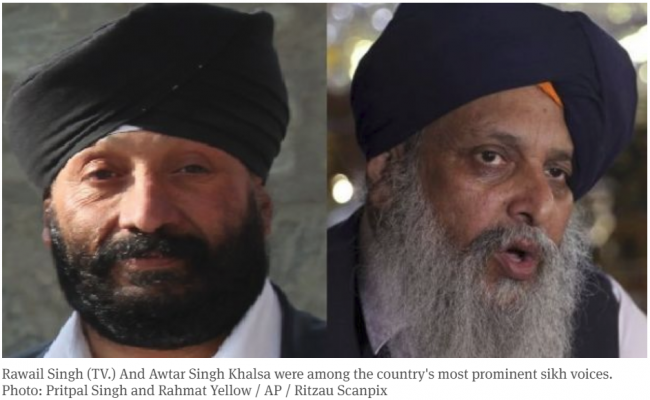 Rawail Singh was an artist and a social activist. Prior to his death, he was planning a music festival in the city of Bamyan to promote tolerance and coexistence between Afghans  different religious backgrounds. Part of his artistic work sought to shed light on the decayed and demolished buildings that characterize large parts of the Afghan cities of Jalalabad and Kabul. He was also an active union member.
Awtar Singh Khalsa acted as a Senator under the former government led by Hamid Karzai. Continuing his work in politics, he recently announced his candidacy for the forthcoming parliamentary elections as a representative of the Sikh and Hindu Unity, focusing on their human rights.
The present Sikh population in Afghanistan is largely poor and illiterate. Families with the means to flee have left the country and settled in India and the West. Nearly 90% of the population fled in the Mujahideen era of the 1990's.
No strangers to violence, Rawail Singh had previously been kidnapped and tortured by the Taliban. His brother was killed during a terrorist attack in a Sikh temple in 1988. Awtar Singh Khalsa lost eight family members during a rocket attack in the early nineties. Pritpal Singh, documentarian and spokesman for Afghan Sikh refugees in London asserts that the two leaders were particularly popular because they - despite their wealth and education - chose to stay in Afghanistan and fight for better rights for the country's poor.
The future of Afghanistan's Sikhs
It is unclear whether Afghan Sikh organizations will be able to find new advocates with the same strong network, knowledge and media coverage. A British Sikh organization wrote in a facebook post in memory of the dead:
"Imagine your country's government collapsing from one day to another. This happened to us yesterday. All these [in the pictures] were our community leaders, and they gave votes to those who have no voice. "
In the days after the terrorist attack, Ritzau reported that many Sikhs see the attack as the final signal to leave the country. Others wish to remain to ensure that 500 years of Afghan Sikh architectural and cultural history.
Popular Afghan Sikh hockey player Sandeep Singh said in a statement to Reuters, "We are not cowards. Afghanistan is our country and we do not plan to leave."
Of the country's 20 historic sikh temples, called gurdwaras, around two are still in use. The rest have been confiscated by criminals and extremists. "Our religious practices will not be tolerated by Islamic terrorists. We are Afghans. The government recognizes us as Afghans, but the terrorists attack us because we are not Muslims," another Sikh, Tejvir Singh told Reuters.
Untidy future in Afghanistan
Currently, the Afghan Sikh shopkeepers have closed their stores for 10 days to avoid further attacks. Former President Hamid Karzai has visited a prominent gurdwara to console the community. Representatives of the Afghan embassy in London as well as members of the Afghan Muslim community in London have visited gurdwaras to stand with Sikhs.
Muslim Afghans all over the world have expressed great sympathy with the survivors and even crafted art in honor of the marginalized Sikhs. They reject Islamic State's efforts to create division between Afghans.
Jasjit Singh, a British researcher at Leeds University, has conducted field work among Afghan Sikh refugees in England and has also served as expert witness in British asylum cases on Afghan refugees. He does not like the looks of the future of Sikhs in Afghanistan:
"I would be deeply surprised if there are many Sikhs who choose to stay in Afghanistan after this attack. From having been a flourishing society in the 1970s, virtually all Sikhs have been expelled from the country due to threats and violence."
Spokesman and documentarian Pritpal Singh, however, sees some new trends in the wake of the attack:
"Several of the young Afghans here in London seem to be more politically involved in the relations of the Afghan Sikhs. Several of them want to help the Sikhs to get out of the country and seek political asylum in the West. This attack will probably prove [Western] authorities that the Sikhs are heavily  persecuted in Afghanistan."
-----------------------
Editor's Note: For an in-depth discussion on the story of the Afghan Sikhs, listen to the latest episode of The One: Conversations on Sikh History, Philosophy and Culture. This week's guest is Asha Sawhney, a young researcher and activist recently graduated from Northwestern University with a degree in Political Science and International Studies. Her undergraduate thesis on Afghan Sikhs is the longest study of its kind in the English language. 

-----------------------------------------------------------------------------------------------
Pritpal Singh's documentary about the state of Sikhism in Afghanistan can be seen on Youtube: