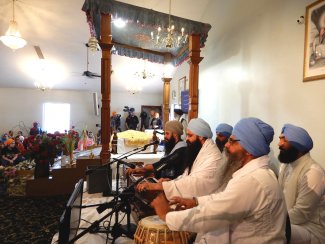 Gurdwara Sikh Satsang in Indianapolis was packed with nearly 400 good souls: The Sikh congregation, representatives from other faith communities and cultural organizations, the Immigrant Welcome Center's CEO Gurinder Hohl - the co-sponsor of the Prayer Service, Honorable Mayor Joseph Hogsett and Police Chief Randall Taylor and other IMPD Officers, and friends from the Indiana media family. There were messages of encouragement and solidarity, good will and the offers of support from a yet wider friendship circle:
A moving and beautiful Resolution 33 from The Indiana General Assembly, co-sponsored by Indiana State Representatives Sheila Klinker and Robert W. Behning, remembering all victims of the shooting at FedEx was an expression of deep love and support for the families and communities directly impacted by tragedy and for everyone that their and your lives matter. Hoosiers Indianapolis U.S. Senator Todd Young, U.S. Congressman André Carson, Rabbi Dennis Sasso, Sikh Coalition, PBS World's Sarita Khurana and Sriyanka Ray, and many Hoosier friends and fellow neighbors.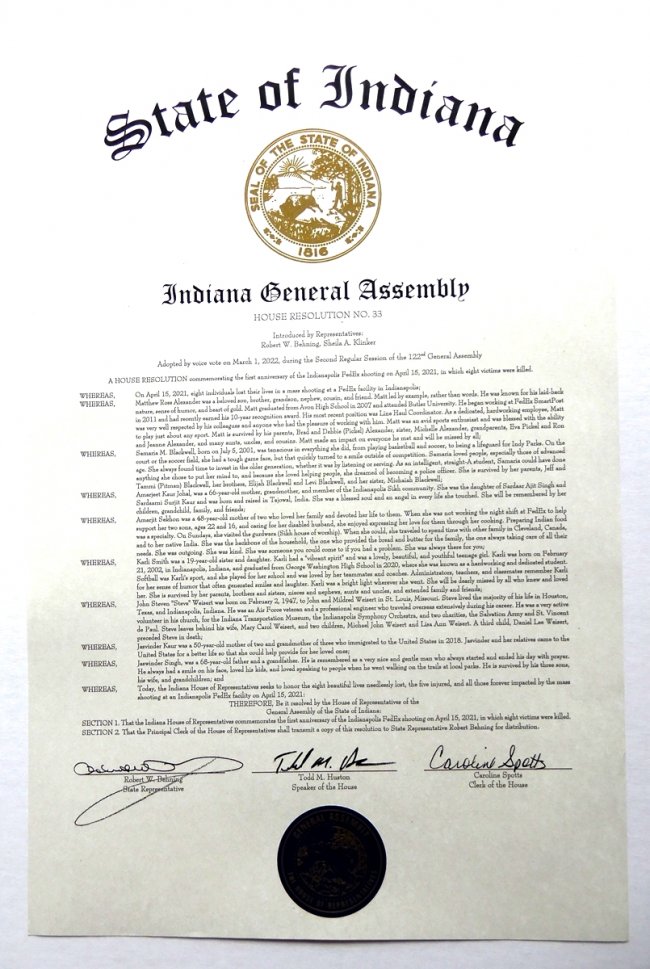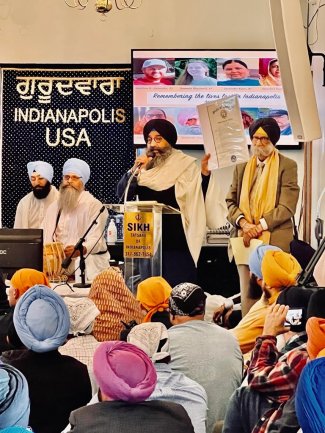 Following a brief welcome by Gurpreet Singh, President of the Sikh Satsang of Indianapolis, and KP Singh - a long time resident of Indianapolis and founding member of the Sikh Satsang who served as the Prayer Service guide, the Sikh Ragis (religious singers) offered a beautiful Invocation with a sacred hymn of unity, inclusion, and an humble Ardaas (prayer and petition) to the Wonderful Lord: Subbhay Jee Smaal Aapnee Mayher Kurr: O Benevolent Lord, extend Your Grace and Protection to all Living Beings." This was an affirmation of the Sikh commandments that all humanity is One Race, One Brotherhood; we are all Children of One God who is the Father and Mother of all sentient beings; and that he has infused the same Divine Light in all; and no one is outside the circle of God's Love and Benevolence." Always reminding and asking the question to each of us, then "Who is holy and who is not worthy?" of your love, compassion, understanding, justice and dignity. Learning from and about each another is an important key to dispelling negativity, avoiding unprovoked violence and assuring a sense of belonging and our collective well-being.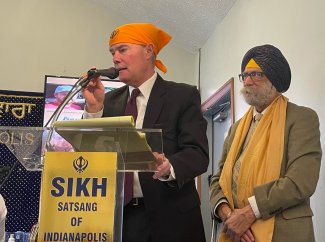 Indianapolis Mayor Joe Hogsett, in a moving affirmation answered the question in his brief remarks to the assembled guests: "I am your brother, I am your servant." These are difficult days, we have better days ahead."
Maninder Singh Walia, Chairman -Board of Trustees of the Sikh Satsang of Indianapolis greeted and thanked everyone for being a part of Remembrance Prayer Service and read the names of all victims from the Indiana General Assembly Resolution; all the while their photos were on the two screens in the Divaan (Sanctuary) Hall on either side of the elevated platform inder brocaded silks was Sri Guru Granth Sahib (The Sikh Holy Scripture)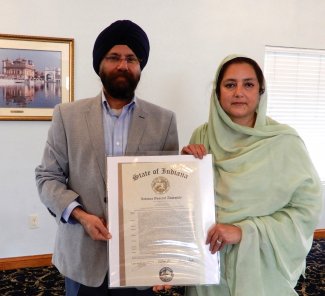 Gurinder Hohl, Chief Executive Officer of the Immigrant Welcome Center, spoke of a much-needed initiative with the help of a grant from Federal Victims pf Crime Act - Virtual Resiliency Center at IWC that would include two Punjabi Speaking navigators and assist families of victims with support in areas that may help the healing process.
The formal Prayers Service in the Sanctuary ended with a prayerful Benediction from the Sikh Sacred Scripture: "Saas Saas Simmero Gobind, Mun Unter Kee Uttray Chinnd: (O Mortal) Remember the Name of the Lord With Every Breath. That Alone Can Dispel All The Worries Of Our Mind and Spirit."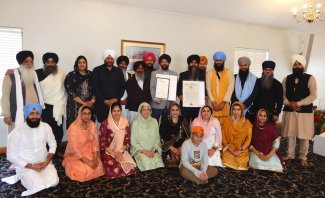 From the very moments the guests arrived till there departure and for nearly 35 minutes a reassuring a spirit of peace, goodwill, and hope graciously descended upon all. It was heartwarming to see it reflected in all the coverage by the print and television media that followed, as if they were determined to be partners not just in the healing process but to offer a thoughtful introduction to the Sikh Americans and to dispel stereotyping, the hurtful and wrongful-association challenges of the Sikh community in the USA, and to embrace them in a spirit of Hoosier Hospitality and friendship.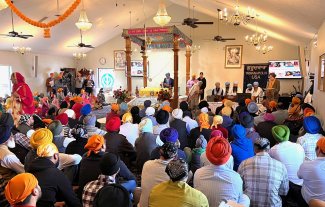 We thank everyone for this wonderful blessing and we pray to earn it everyday with our commitments and service to the City and State that are our Home, and to the Nation which has given us a new life and unimagined opportunities to pursue our dreams and be trusted partners in the noble and farsighted challenge placed before us by our late beloved President John F. Kennedy: "Ask not what your Country can do for you. Ask, what you can do for your Country." Therein may lie our collective emancipation and giant leaps to greatness. ~ Sut Siri Akal and prayers for Charhdikala (joyous optimism) for everyone - Kanwal Prakash KP Singh (KP Singh Designs) - Indianapolis, Indiana USA - April 10, 2022. Attached Photos give us a few highlights of the Remembrance Prayer service.