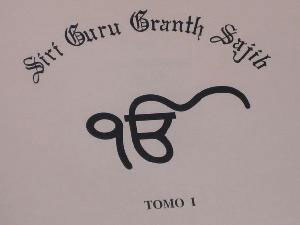 Hazur Sahib, October 26- It was the last wish of Baba Jee Singh, a Spanish-converted-Sikh, who suffered from cancer, to accomplish the sacred task of translation of Guru Granth Sahib in Spanish before his death.

It took him and his wife, Bibi Guru Amrit Kaur, also a Sikh convert, several years to complete the translation of the Granth, which has been published in four volumes. To fulfill the last wish of her husband, Gur Amrit brought the four volumes of Guru Granth Sahib, with Gurmukhi, English and Spanish transliteration/ translation, for their release here to mark the tercentenary of Gurta Gaddi Diwas.

The Siri Guru Granth Sahib began to be translated in Spanish in 1975. Six years had passed since Siri Singh Sahib Bhai Sahib Harbhajan Singh Khalsa Yogiji came to America. He was then teaching Kundalini Yoga and inspiring thousands of students who were then becoming inspired in Sikh Dharma.

Yogi Bhajan was a master spiritual teacher who touched many hearts and is still, four years after his passing, touching the hearts of many people outside of India. People of many cultures and backgrounds, but with a focused purpose - find the God within themselves.

The Siri Guru Granth Sahib has opened many hearts and the Shabd Guru has elevated their consciousness and they are living healthy, happy, and holy lives. Yogi Bhajan brought this knowledge and was responsible for so many in the West adopting Sikh Dharma through his teaching Kundalini Yoga.


Bhai Ji Singh Sahib Babaji Singh Khalsa was one of those students who opened his heart through the inspiration of Yogi Bhajan. He was born in Mexico City in 1047; raised in a Catholic family, he finished his studies in a Jesuit University in Mexico, Universidad Iberoamericana.

In 1970, as soon as he finished collage he left for Alaska. As he passed through Los Angeles, California, he was attracted to a group of young people dressed in white. He then learned of the ashram there, he met Yogi Bhajan there and adjusted his travel, instead staying to study yoga and meditation with him.

He went on to become yoga teacher himself, returning to Mexico to open the first 3HO (Healthy, Happy, Holy Organization) Ashram in its capital city, Mexico City, and teach Kundalini Yoga there, himself inspiring many students as Yogi Bhajan had inspired him. He became a Sikh and later a minister.

The Ashram began to be a success. A lot of people began to live in the Sikh Dharma lifestyle. They all wanted to understand the words of Siri Guru Granth Sahib Ji, but there was no Spanish translation available.
When Babaji became 28 years old a very strong cancer invaded his body. It was then that the Siri Singh Sahib ordered him to translate the Siri Guru Granth Sahib. Babaji Singh was cured. He survived not only that cancer, but 3 more. He died of a fourth, 31 years later, happy grateful, and blessed.

He found in translating the Siri Guru Granth Sahib to Spanish, the sense and purpose of his life. The Guru gave him courage, wisdom, patience and grace to go through the physical pain without suffering from it. Babaji Singh was a happy man.

When his wife, Guru Amrit Kaur Khalsa met him - she found him a happy man in 1999. He told her that he was not going to die until he finished the complete translation and transliteration in Spanish. It was his destiny. He wanted to honor Yogi Bhajan's words.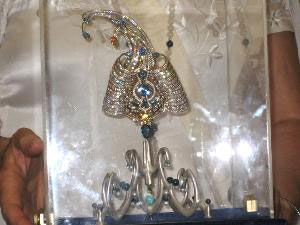 He translated the Siri Guru Granth Sahib from Gopal Singh English translation over a period of 30 years. He was working at the same time, teaching yoga, in the evenings, and spending long periods of his life in hospitals or in the bed.

In the last 3 years of his life, he worked with his wife in the early morning translating. She remembers him writing with so much devotion and love, researching the exact meaning of every word, hoping the Spanish speaking community could be able to read and understand the beauty of each word.

In 2006, he was diagnosed with the cancer again. After one of the several surgeries he had that year, he said to his wife, he wanted to die at home at the Ashram. At that time the translation had gone to print. His agony lasted 6 days. Because his kidneys were not working, he began to lose consciousness the third day.

The day prior, he had asked for the printed translation as he wanted to see it in finished in print. He had asked for the best imported Spanish fabric for the cover and wanted to be sure that the printing was well done. A group of his devoted students were in the Print House in prayer to the Creator to be able to bring this to him before he passed away. They knew that their spiritual teacher was losing consciousness and if late, he would not be able to see it.

That night Babaji went into a coma which brought a great sadness to all around him. The next day all the community gathered with chanting and prayer until the Spanish translation of the Guru arrived with the students.

Babaji Singh woke up for a moment, read the Mul Mantra at the start of Japji, with difficulty but with a spark and light in his eyes. He lost consciousness after this blessing and died 2 days later with the Mexican community reading for the first time the Siri Guru Granth Sahib in Spanish.

The first Akhand Paath, the traditional Sikh non-stop reading of the Siri Guru Granth Sahib, was performed in Mexico the 17th of November 2006.

Babaji Singh's widow, Guru Amrit Kaur Khalsa from Mexico is participating with a Yatra of devotees from all over the world from Sikh Dharma International, an organization founded by Siri Singh Sahib Yogi Bhajan who for over 30 years of traveled and taught around the world bring the spiritual technology of the Sikh religion, helping to establish the practice of Sikh Dharma in the western hemisphere. There are an estimated 24 million Sikhs world-wide. People all over the globe draw inspiration from the Sikh teachings.

Guru Amrit Kaur reached Nanded along with Bhai Sahiba Bibiji Inderjit Kaur, wife of late Yogi Bhajan, Siri Sikdar Sahiba Sardarni Guru Amrit Kaur, members of International Khalsa Council, students from Miri Piri Academy Amritsar and many other yatrees from the global sangat.

In October 2008, in Nanded, at the Tercentenary Celebrations of the Guru Gaddi of Siri Guru Granth Sahib, the Spanish translation was presented to the Takhat at a function organized by Sikh Dharma International in acknowledgement of the Shabd Guru's spread around the world since the Guruship was passed by the tenth Sikh master Guru Gobind Singh to the Siri Guru Granth Sahib. Guru Amrit Kaur facilitated  presentation of the Spanish translation. The Jathedar of Akal Takht, Singh Sahib Giani Gurbachan Singh, who attended the function organised by Sikh Dharma International, appreciated their work.

The authenticity of the Spanish translation of the Siri Guru Granth Sahib had earlier been checked by former Jathedar of Akal Takht,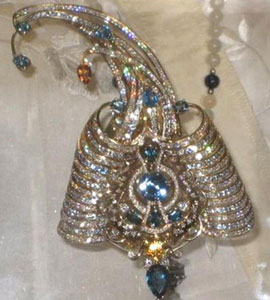 Giani Joginder Singh Vedanti, and other Sikh scholars. Copies of the Spanish translation will also be presented to the Golden Temple authorities.

Today, more than a million people speak Spanish as their native language. Spanish or Castilian is an Indo-European language that originated in northern Spain and gradually spread to the Kingdom of Castile and other parts of the world.

Sikh Dharma International has centers in Mexico, Brazil, Chile, Argentina and other Latin American countries.

Bhai Sahib Satpal Singh (Guru Ram Das Mission) said the translation of Guru Granth Sahib in Spanish would be instrumental in spreading Sikhism all over the world.

Meanwhile, the Yatrees brought a kalgi (plume) commemorative turbin pin, studded with jewels on gold. It was made with the donations from the foreign Sikh sangat. It would be presented to the Jathedar of Hazur Sahib and other high priests for preserving it at the Takht.

By Varinder Walia Tribune News Service and Ek Ong Kaar Kaur 
Download The Siri Guru Granth Sahib in Spanish