Calgary Transit spokesman said operators regularly go beyond their job description to help others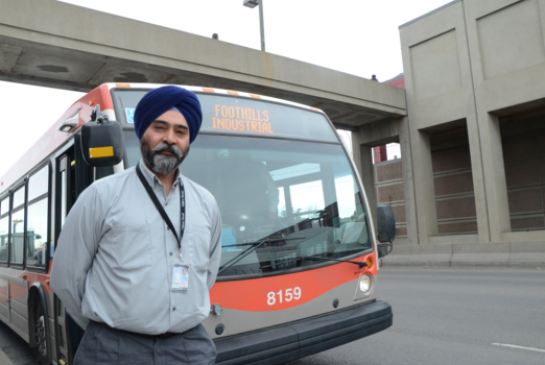 Jagdev Bual went to work Monday as a Calgary Transit operator just as he would any other day—but it turned out a little different, and, thanks to Bual's quick thinking a Calgary woman was brought to safety. 
Bual said he was leaving the Saddletown station Monday around 8 a.m. when he saw a disoriented woman on the tracks with a train rapidly approaching.  Luckily, Bual said the train operator honked the horn, prompting the woman to vacate the tracks. 
A concerned Bual watched as she got up and began walking right down the tracks again.
"I got in my bus and drove up beside her and said 'what are you doing? You know this is not a safe place to be,'" he said. "She just kept saying 'ok, ok' and I could see she was mentally not stable at the time."
Bual said he then persuaded the woman onto the bus offering her a safe, warm place to sit. 
"I took her with me for one complete circle of my trip," he said. "I could see she was not well."
Bual said a woman onboard the bus who said she was a nurse sat and comforted the young woman. As the nurse left she told Bual it appeared the woman was suffering from some mental health challenges and didn't know where she was.
Bual called his control centre who then sent peace officers to collect the woman.
Ron Collins, Calgary Transit spokesman said Bual did the right thing given the circumstances. 
"He saw somebody who appeared in danger on the tracks and he did the right thing in terms of coaxing her to come off the tracks and putting her out of harms way," he said.
But, Collins said this type of behaviour is typical of Calgary Transit operators. 
"Our transit officers do a lot of things that are over and above the regular job of driving a bus or a train," he said. 
"Going that extra mile to help people out is why many of them pride themselves in doing this kind of work."