YOU Can Help Directly - Just Click the Button Below:
Sikh Dharma Disaster Relief Fund

UNITED SIKHS Relief Efforts for Mexico Earthquake
Mexico has suffered 3 major earthquakes in less than 2 weeks. 
United Sikhs and the 3HO Sikhs are once again teaming up to provide relief in the face of disaster. Gurvinder Singh of United Sikhs-Sikh Aid and Siri Chand Singh of Sikh Dharma International are organizing relief efforts on the ground.  Joining with the sangat in Mexico City, plans are underway to provide langar in mobile food trucks to the more remote communities and villages around Mexico City who do not have easy access to support. 
The first earthquake of magnitude 8.2 hit September 7th affecting the Southern states of Oaxaca and Chiapas, killing hundreds and leaving nearly 500,000 people homeless. The second and third earthquakes hit on September 19th, all too reminiscent of the tragic 1985 earthquake, with 6.8 and 7.1 magnitude, and devastated the capital city as well as surrounding states of Morelos and Puebla. With the loss of hundreds of lives and dozens of buildings collapsed, immediate disaster relief is required. In some cases, entire towns have been all but destroyed.
Mexico City holds around 30% of the population in the Mexican Republic. While the Mexican people have been inspired to help their fellow brothers and sisters facing tragedy, it has become heavily concentrated in the city center. Remote areas are not yet receiving the assistance they need.  For this reason, we find a beautiful opportunity within the Sikh community to help in those communities where we can make the largest impact.

PERSONAL ACCOUNTS
"We have never witnessed this type of tragedy before. People are sleeping in the streets." Inderpal Singh, Team Co-Lead, UNITED SIKHS Mexico.
"Our principal focus is to provide  shelter, food and water, and eventually helping in the reconstruction of these communities and the tools that will rebuilt their means to make an honest living," Prabhu Keerat Kaur, Team Co-Lead, UNITED SIKHS Mexico.
"Support from everyone is important, no help is too small. With everyone working all as one we can bring hope so Mexicans can continue their life's journey."  Akal Sahai Kaur, Volunteer, UNITED SIKHS Mexico.
"Mexicans are ready to work and do what is necessary to support each other, we are strong and resilient, but we can not do it on our own, we need the help from everyone around the world to rebuilt our communities and be able to start once more a new chapter in the life of this country." Prabhu Keerat Kaur, Team Co-Lead, UNITED SIKHS Mexico.
"We want to re-build our communities based in the universal love that bonds us as a human race, and we as Sikhs in Mexico would like to be a light for whoever in this moment feels surrounded by darkness." Akal Sahai Kaur, Volunteer, UNITED SIKHS Mexico.
One of the sangat wrote, "Situation here is very bad.  Many people are without homes and many more homes will have to be demolished. And even now, people are still trapped under collapsed buildings. Our school is closed and my apartment unsafe to live in. There is lots of fear and uncertainty and a general feeling of shock and emptiness."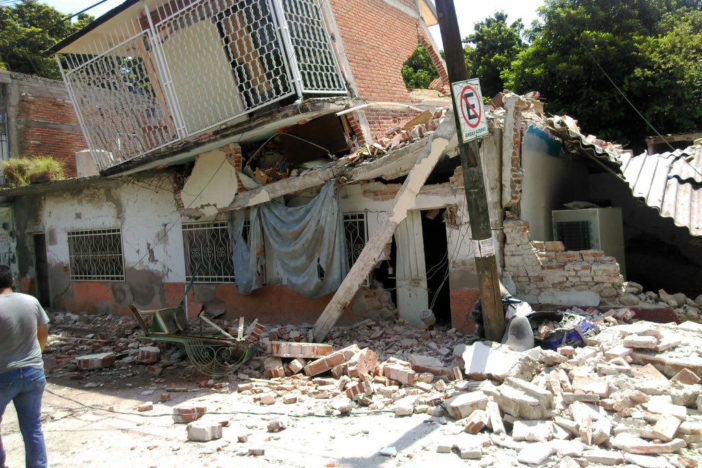 "We invite all brothers and sisters who want to volunteer, to help us rebuild our country by serving our sisters and brothers in the different communities at Oaxaca, Puebla, Morelos and Chiapas." Prabhu Keerat Kaur, Team Co-Lead, UNITED SIKHS Mexico. 
DONATE
Funds are desparately needed to help purchase supplies and provide resources for victims of these massive earthquakes. Please make a donation to help those in need – anything helps!  To donate, please visit: http://www.unitedsikhs.org/
donate.php

VOLUNTEER
If you are able to volunteer your time and effort, please email [email protected] or call (888) 243-1690.
ABOUT
UNITED SIKHS is a UN-affiliated organization with offices on every continent across the globe. Our goal is to make a direct impact in the most seamless way possible to those areas which need it most. To learn more about our organization, please visit http://www.unitedsikhs.
org for further information
Personal Contacts:
Prabhu Keerat Kaur +5213310971875 / Akal Sahai Kaur +5217772209341