Sikhs participate with other cultures in Springfield Ohio CultureFest 2016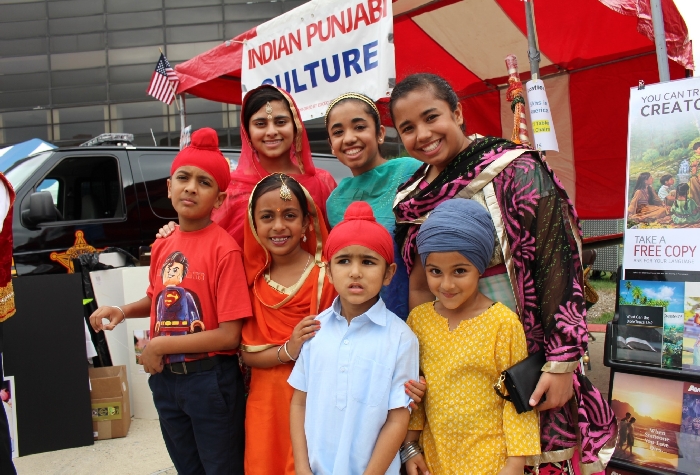 Youth participating in the Culture Fest
Dayton (Ohio): Thousands gathered to explore offerings of numerous diverse cultures in the 20th Annual Culture Fest of Springfield (Ohio) held at the Springfield City Hall Plaza. It was a sunny Saturday afternoon and once again time to celebrate culture, time to discover the tastes of many cultures including Indian, Mexican, Greek, Italian, Hungarian, time to enjoy interactive activities for all ages, wonderful entertainment on two stages and strolling musicians on the plaza, buy merchandize from ethnic vendors, and learn about the world at information booths.
Gidha Performance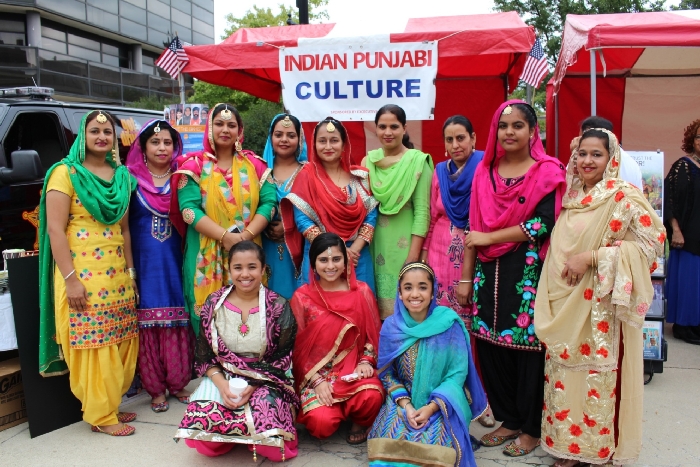 Gidha Team
Punjabis living in the Springfield, Dayton, and Cincinnati area celebrated this song and dance festival by exhibiting Gidha and Bhangra. Various booths were set up by different communities such as Indian, Italian, Greek, Chinese and Mexican. Residents of Springfield, supported by other members of Sikh community from Dayton organized the Punjabi booth. For the past several years, S Avtar Singh and his family residing in Springfield have been organizing participation in this Festival.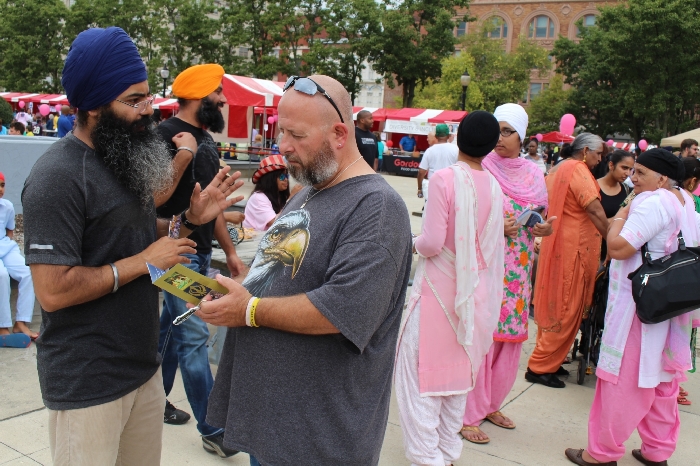 Gurtej Singh answering visitor questions
On the Punjabi stall, artifacts such as spinning wheel (Charkha), churner (Madhani), seat chair (Peerhee), grinding stone (Atta Chaki), Harmonium, hand drum (Damru), Punjabi Tong (Chimta) were displayed. To create awareness of the turban in context of Indian culture, pictures of Dr. Manmohan Singh Prime Minister of India along with American President Barack Obama, former President George W.Bush and also the Sikh soldiers wearing turbans who took part in the two World Wars were displayed. Pictures and posters about "Significance of Uncut Hair", "Tying of the Hair and Turban", "Sikh Turbans", "Sikhs Contribution in World Wars", "Sikhs in US Army" were displayed. Books such as "The Sikhs" "Harmandir Sahib", "Warrior Saints", "Sikh Wedding" and others were also displayed. Attendees were offered the chance to learn about Sikhs in the form of question answers, free brochures on Sikhs published by the Sikh Coalition, SALDEF and a booklet called "Sikhi: Faith and Followers" published by the Sikh Research Institute. Dayton Gurdwara Head Granthi, Bhai Darshan Singh, Eknoor Kaur, Gurtej Singh, Sameep Singh Gumtala, Ravjot Kaur, Manpreet Singh provided answers to the questions asked by visitors to the booth.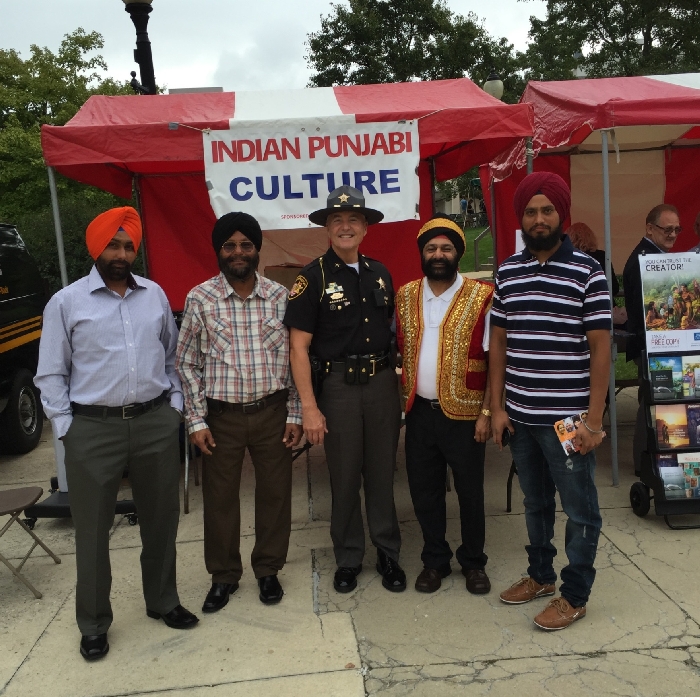 Everyone enjoyed the chance to learn about new cultures. It is also a good opportunity for the Sikh community to meet other people, learn about their culture and also tell them about Sikh identity as many people still don't know who they are they see them.
Visitors looking at the exhibits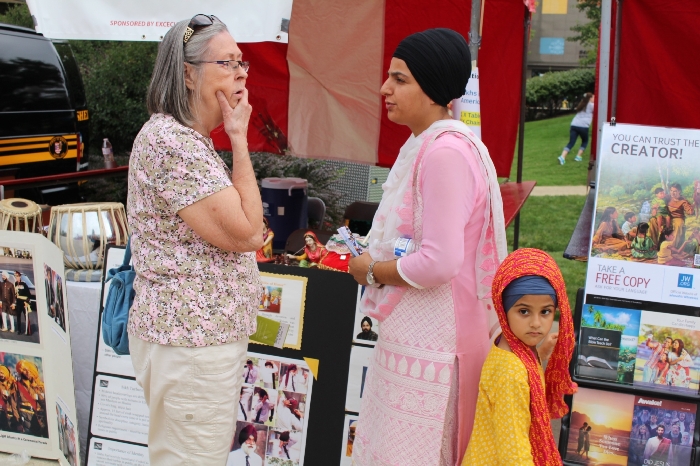 Eknoor Kaur answering visitor questions at the booth
-------------------------------
Related Article:
https://www.sikhnet.com/news/sikhs-celebrate-diversity-culturefest