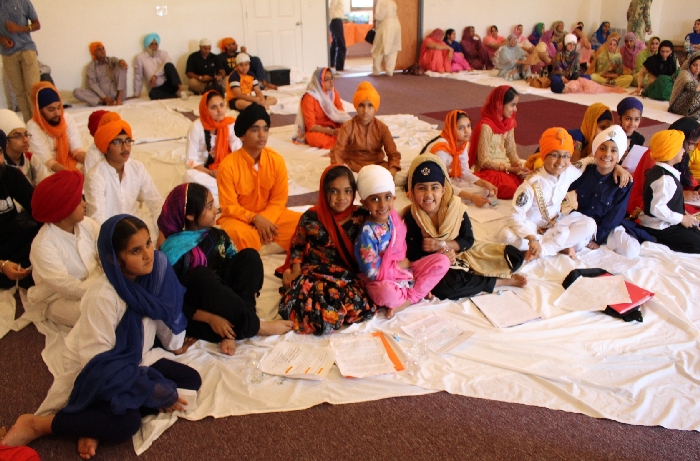 Dayton, OH: The local level edition of 2016 International Sikh Youth Symposium, a public speaking competition for youth ages 6 to 22 was held at Guru Nanak Society Gurdwara in Cincinnati, OHIO. Youth ages 6 to 22 from Cincinnati and neighboring Dayton participated in 5 separate age categories. This year marked the biggest ever - 42 participants, out of which 9 are going to the Regional level competition to be held in Cleveland, OH on June 18. Winners from the regional event are then presented at the annual international gathering.
The objective of the Sikh Youth Symposium is to provide an environment where Sikh youth can develop public speaking, oral and written communication skills. All youth learns how to engage an audience utilizing language as an effective tool. Through this experience, participants learn and connects with Sikh history and Gurmat philosophy, and expands their understanding of what it means to be a Sikh of the Guru Granth Sahib.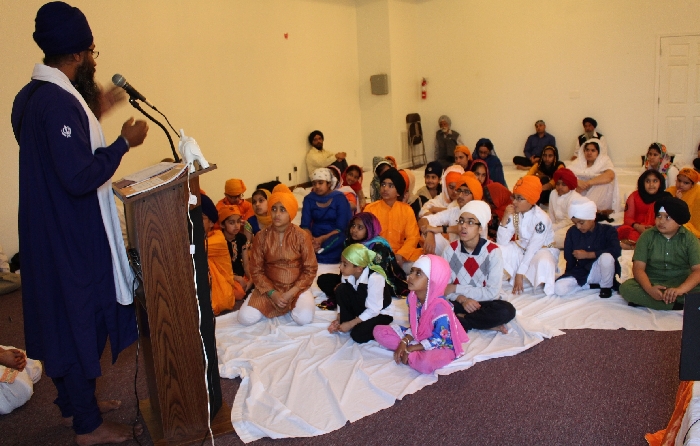 A key element of the local Cincinnati Sikh Youth Symposium is the weekly classes that were held at the Gurdwara Sahib since February, 2016. During these classes, students engaged in discussions and activities relating to the skill of public speaking and various Gurmat concepts. All symposium participants, group coaches attended these weekly evening classes that starts with Rehras Sahib followed by Gurmat class, speech activity and individual group sessions.
Each of the 5 groups were given a book to read and were asked three questions, and in their speech, they have to include answers to those three questions. All the participants put in a tremendous amount of effort during the past 3 months to prepare speeches for the final day. Symposium started at 10am in the morning with Ardas, followed by speeches, Rehras Sahib and prize distribution till 7pm. Group 1 (ages 6-8) had the greatest number of 17 participants and many of the younger entrants were amazing considering that it was their first time. Each question carried 20 points and rest of 40 marks out of 100 total were allotted for style, eye contact, voice, pronunciation, effectiveness and delivery.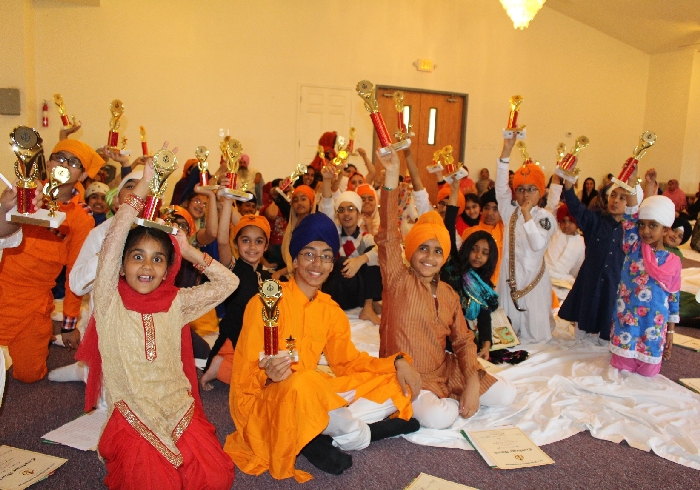 Results of the Symposium were as follows; Group 1: Sahib Singh (1st), Meher Kaur (2nd) , Maanit Singh (3rd). Group 2: Sunitvir Singh (1st), Komaljot Kaur (2nd), Amritdeep Kaur (3rd). Group 3: Anitvir Singh (1st), Avneet Kaur (2nd), Keerat Singh (3rd). Group 4: Japneet Kaur (1st), Harman Kaur (2nd), Amitoj Kaur (3rd). Group 5: Rashmeen Kaur (1st), Jasmeen Kaur (2nd). Participants and winners were awarded Fascinating Folktales of Punjab book, certificates and trophies.
Balpreet Kaur, a volunteer said, "All of this year's speeches and reflections served as reminder of our purpose in life: to conquer our Egos by understanding and adopting the qualities of Akal Purakh through a Guru-centered life".
Jaipal Singh, a local Sevadar and Gurmat teacher, said, "It was awesome to be sitting on the other side as a judge for all the 5 groups, hear them and realize, how much and how far all the youth have come from the beginning. All the speeches came from the heart, it was touching and honest." He requested them not to lose expressing yourself in an honest manner and this is Gursikhi, he said. "This year was especially unique as all the speeches focused on values, it was awesome and everybody did a wonderful job."



Harjinder Singh, congratulated all the participants and winners and announced that Cincinnati has the maximum number of participants going to the Regional Symposium due to the largest number of participation at local level. Bhai Amrik Singh, Head Granthi of the Gurdwara thanked all the students, parents and Sevadars whose hard work and dedication made this event possible.
Most importantly, this event was a great way for the children to become engaged and knowledgeable about Sikh values. Not once did it feel like competition. Every child was focused on delivering the best speech they could in the best manner possible. The entire Sangat of Cincinnati thanks Akal Purakh for this opportunity and ultimately, will pray that these sort of endeavors - that put the youth first - continue into the future.
For more information about Sikh Youth Symposium, please visit: http://sikhyouthalliance.org/.
View Cincinnati Sikh Youth Symposium video below: