A Sikh in the Sands of Arabia
Saudi Arabia is an Islamic country governed as per the Sharia law. God has gifted abundant amount of oil to Arabia which makes the country largest producer and exporter of oil. The currency of Saudi Arabia is Saudi Riyal. The official language is Arabic and very few people know English. Dates have been a staple food of the Arab and we can find many varieties of date palms, that is the reason why many people have chosen it as a business for livelihood.
Climate is usually hot. In summers the temperature reaches up to 50C and falls down at night. From October to January weather remains pleasant, usually little rain pours down from March to April.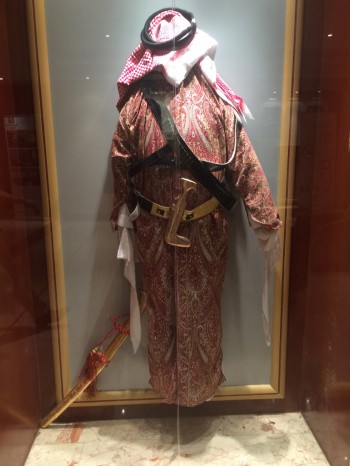 Saudi Nationals wear simple clothes. Traditional Saudi men wear a long white dress (kurta) known as "Thob", and a cap (Tagia) to cover the head. A long white triangular scarf (Gutra) to cover full head. A circular soft black rope (Agal) is used on the top of head to fix the scarf. Traditionally, women's clothing must not reveal anything about their body. Burqua is supposed to be thick, opaque, and loose.
The preaching of other religions is not allowed as most of the Saudi National's consider other religions are aweless. As Islam is the state religion so there are no places of worship to cater non-Muslims. Non-Muslims (or preachers of different religions) don't prefer to visit Saudi. Perhaps Guru Nanak Sahib was the first person who visited Saudi to preach the intellectual knowledge. According to the historians, Guru Nanak went to Mecca and Medina to awaken the spirit of dogmatic priests. Some people of Saudi accept Guru Nanak as Shah-Fakir (Holy saint), but due to Islamic customs they cannot express it because this is considered as a crime or sin in their country. Sant Syed Pritipal Singh has wonderfully described the voyage of Guru Nanak in his book "Guru Nanak's travel to Middle East". Prithipal Singh, who was from a Muslim family but due to the inspiration of Nanak's philosophy, eventually turned him into a Sikh.
Saudi is a tax free country, zero percent VAT on all the goods. It is quite interesting to know that the water is costlier than petrol here so everyone can afford a car easily. Most of the expats are from Pakistan, Philippines or Bangladesh etc. All shops including hypermarkets, malls and souqs, close during the prayer time for 30-35 minutes. Photography of governmental buildings is strictly prohibited. The Mutaween (Religious Police) in Saudi Arabia are tasked with enforcing Sharia as defined by the government.
Kingdom Tower - Highest Building of Riyadh with 100 floors (left) and King Fahad National Library
The Cinema of Saudi Arabia is a small industry that only produces a few feature films and documentaries every year. In the 1970s, there were many movie theaters in Saudi Arabia however; all these halls were closed down due to the continuous objections of religious conservatives during the Islamic revival movement in the 1980s. Currently, the only theater in Saudi Arabia is an IMAX cinema located in Khobar.
The strict laws and punishments instigated by the Sharia frighten the people, so the crime rate is very low. Saudi's are very much concerned about the clothing of the women. Women have fewer rights than men in many respects and play a very limited role in public. Outside the typical compound, gender segregation is common in all areas of the public sphere, from the more obvious places, like swimming pools, to the less obvious, such as restaurants. However, expat women do have more freedoms than their Saudi Arabian counterparts in the Kingdom. Driving is strictly forbidden for women. However, the country is making slow progress toward some form of gender equality.
King Abdullah has endeavored to grant women a larger role in Saudi society. The very structure of government itself has changed under his reign, with female suffrage and the right to run in municipal elections beginning in earnest in 2015. Moreover, the strength of the guardianship law, which dictates that all women regardless of age must have a male guardian to either accompany her in public, grant permission to travel, attend school or marry and if needed identify her in the eyes of the public, will be reduced.
I (writer on the right) was working for one Saudi Project so it was my official visit. Earlier, my two Sikh friends were there but when they came back to India, I was surprised by their appearances. They were clean shaven which made me think how to keep my identity there. According to my conscience there is no law in Saudi which bans turban as in France.
At Mumbai airport, during the security checks I was dreaded and ecstatic at the same time for my international tour to a Middle Eastern country like Saudi. Some of my colleagues warned me that Saudi is a country of strict and staunch Muslims, it would be better for me to hide the Sikh identity in Saudi. I prayed to god for a safe journey and boarded the flight. Next morning, the flight landed in Riyadh (Capital of Saudi Arabia) and without any hassle I reached my hotel.
It was the holy month of Ramadan. For the whole day market used to remain closed and groceries could be bought after magrib (evening) prayers. My Saudi Muslim friends were keeping the Rozas (Fasting), so they were restricted to eat or drink anything for the whole day but some of them forced us not to eat anything in front of them. From mid-day meal to evening tea, my hunger used to remain unbearable. However as they say "Where there is a will there is a way". My fellow Indian friends found a way out of this trouble. We discovered an empty store room which was at the top of the office. We used to eat our home-made sandwiches and fruits there. This particular situation seemed like the students enjoying their lunch secretly in the absence of a class teacher. Once our Muslim colleague caught us, but he was broad minded and well natured. According to him, the restriction of food is applicable on the Muslims only other should not get persecuted.
I was enjoying my visit in Riyadh. Riyadh is famous for Malls, Al Faisaliah Tower, King Fahad National Library etc but Kingdom Tower is the heart of Riyadh, It is a sensational piece of modern architecture - it's particularly conspicuous at night when the upper sweep is lit with constantly changing coloured lights. Rising 302m high, its most distinctive feature is the steel-and-glass 300-ton bridge connecting the two towers.
The office was shutting down for the Eid al-Fitr vacations. I decided to spend my vacation in Dubai (which is very liberal as compared to Saudi) with a family friend. The broad mindedness of the Swayers of United Arab Emirates and their model of business is driving its economy with revenues from tourism and therefore, it has emerged as a business hub of the Middle East and South Asia. Dubai has recently attracted world attention through many innovative large construction projects like Burj khalifa, Palm Beach Island, Atlantis The palm etc.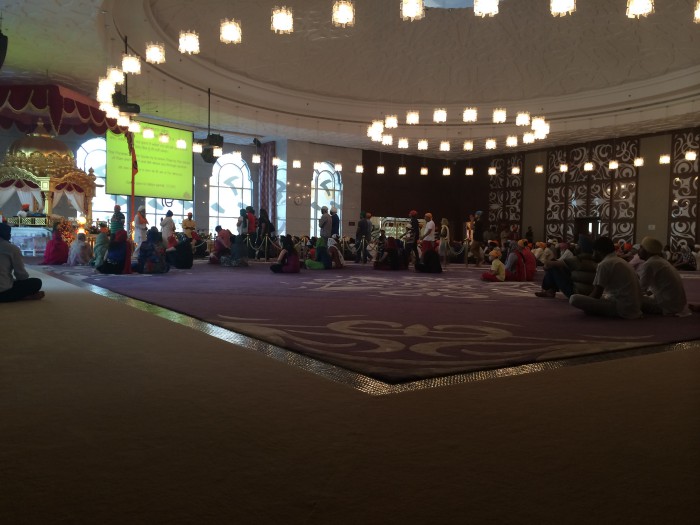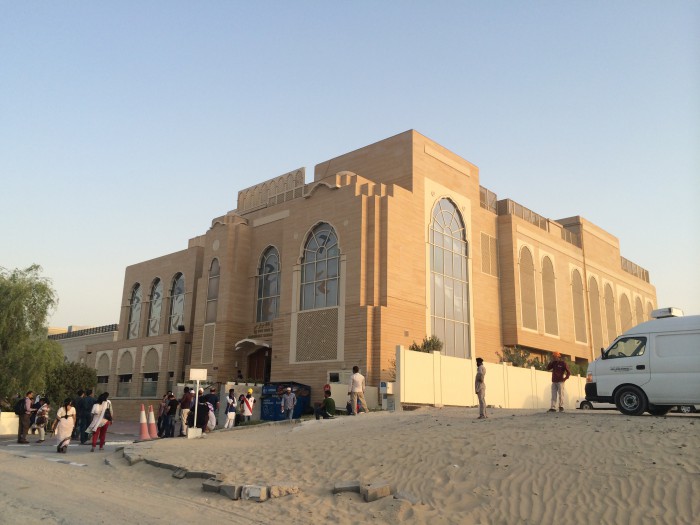 Inner view of Gurdwara of Dubai (top) and Only Gurdwara of Dubai
The Gurudwara Nanak Darbar of Dubai is also in the list of its wonders. It is situated on the outskirts of Dubai in Jebel Ali area. Here people think beyond the lines of religion so everyone can come and offer prayers. The ambience was comforting the inquisitiveness of mind and the Langar (Free Meal) gratified the starvation of the body. The visit to Gurudwara made my excursion completed and I was heading back to Saudi. At Riyadh airport, I was encountered with a strange incident. A Muslim brother came to me while I was waiting for my luggage. He questioned me "What are you wearing on your head?" I replied with a smile "It is a Turban."
"Why are you wearing it"? It was his next question.
"It is the part of a Sikh's dress, it is important for a Sikh to don a turban as it is a gift of our Nabi (Sikh Guru)."
The word Sikh agitated him and he started shouting at me with these words "You Sikhs have burnt our Mosques and Quran in India, get out from here and it is not allowed to wear a turban in this country."
I replied calmly "Sir, You have some misunderstanding regarding the Sikhs; we respect every religion and recognize the whole human race as one."
He didn't even hear a word and left immediately. I observed that some people of Saudi Arabia have some misconceptions about the Sikh identity. While living in Riyadh I came across only with two turban wearing Sikhs. Saudi people are unaware about Sikhism.
One day, I visited a local hospital for my medical checkup. The doctor shared the reports and started chit-chatting with me. The conversation went like this-
Doctor: The cloth on your head looks nice, is it a new fashion of Arab?
Answer: No doctor, it is the part of our dress code known as Turban.
Doctor: Are you a Pakistani?
Answer: Sir I am from Punjab Province in India.
Doctor: What is your religion?
Answer: I follow Sikhism.
Doctor: Are Sikhs the part of Islam?
Answer: No Sir, Sikhs follow the teachings of Guru Granth Sahib and Muslims follow Quran. Sikhism originated with the birth of Guru Nanak in 1469 whereas Islam originated in 610 A.D. with Prophet Muhammad. Sikhs believe in Ik Onkar, One Creator (Waheguru) who is present in all of creation whereas Muslims profess belief in Allah and his prophet Mohammad and likewise there are other differences too.
Doctor: How many Sikhs are there across the globe?
Answer: Approximately more than 30 Million.
Doctor pushed a pen and paper in surprising manner towards me and asked to write the name of my Guru and my Religion. He wanted to have more information from the internet so he would be using that piece of write up for reference. When I was leaving, the doctor greeted me "Insha'Allah, May you live long life full of gladness".
As part of my work assignment I got a chance to have a conversation with the people of different countries i.e. Pakistan, Bangladesh, Japan, China, America and South Africa. I enjoyed my visit in Riyadh. After few months I gave my blessings to Arabians while standing at the departures gate of the Riyadh Airport for my flight to India. I knew that I would be cherishing the memories of Riyadh hereafter.
References: internations.org and Wikipedia
Pardeep Singh
[email protected]